Cross-selling on WooCommerce is a process of suggesting to existing customers similar or complementary products that they are already buying. It is a simple but important technique that supports sellers to generate higher revenue with less effort & time. It is applied and practiced during the buying process of customers in most eCommerce platforms or WooCommerce.
The main motive of cross-selling is to convince customers to spend more during the purchase process, helping the store increase sales. To help you successfully apply this strategy, we suggest the best 8 plugins for cross-selling on WooCommerce.
Let's dig in!
1. Benefits Of Cross-Selling On Woocommerce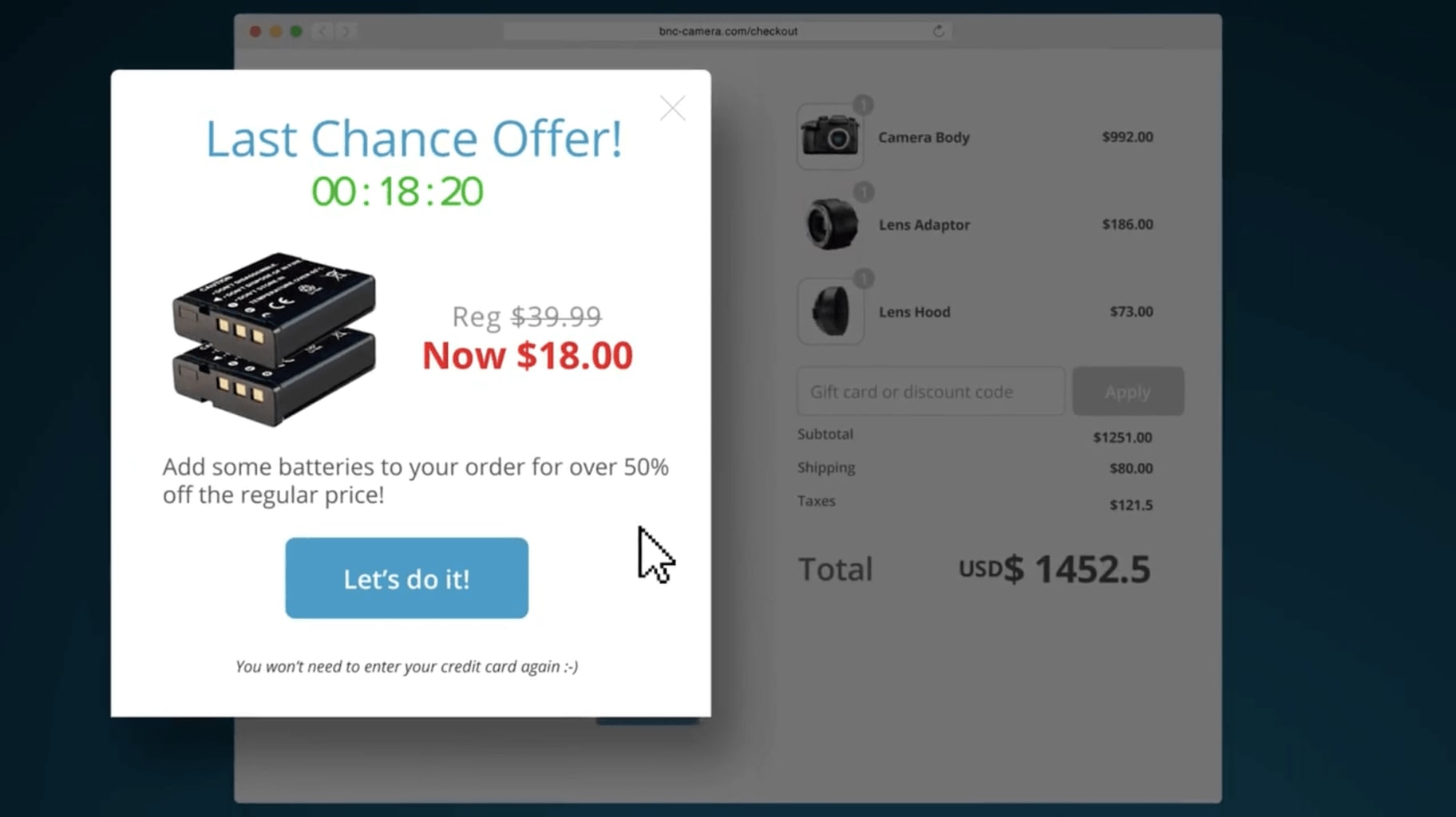 Increase Sales & Profit: Cross-selling plays an important role and brings great efficiency in increasing the revenue of the business. This is a sales technique whereby a company increases its sales by getting customers to spend more by purchasing related products to what has already been purchased. Consumers always tend to prioritize buying products from brands they have traded with and have a good impression. A study in the book 'Marketing Metric' has shown impressive numbers:
Sales profit earned from a new customer is 5 – 20%.
Sales profit earned from a patron is 60-70%.
Of course, a customer buying more means your business will make more money. Business growth is not only about customer retention, but more about promoting the "wallet allocation" of existing customers to other products.
Increase Customer Loyalty: In fact, cross-selling is closely related to customer satisfaction. With a view to providing customers with all the suitable products so that they can make the most optimal choice, this strategy conveys a strong message "You are interested in the needs and the ability to pay off the customer."
Obviously, with good care, customers will feel respected and become much more engaged with the business.
In addition, not only helping to increase customer loyalty, but cross-selling is also an effective form of free marketing. Customer satisfaction will be the best KOLs, marketers you have.
Increase ROI: Reaching a new customer requires a lot of expensive investment. Meanwhile, cross-selling on WooCommerce gives you the ability to increase sales quickly without having to calculate the costs of advertising or attracting customers. In fact, skipping cross-selling means you have locked your products out. Let's try to provide customers with related products to what they are looking for to get a better benefit.
Provides Convenience & Flexibility To Customers: The benefits of cross-selling are not only for businesses but also for customers. In fact, by providing customers with more options or related add-ons, they won't need to risk buying with a new company to get what they need. By offering cross-selling to your customers, you're giving them the convenience and flexibility to choose what they need.
Helps In Promotion Of Products: Cross-selling on WooCommerce is an efficient solution for promoting products or services. This technique helps customers get to know about different products of the brand. These people tried these products with good experience, they might recommend to their friends
2. Top 8 Best Plugins For Cross-selling On WooCommerce To Boost Sale Drastically
2.1 YITH WooCommerce Frequently Bought Together by YITH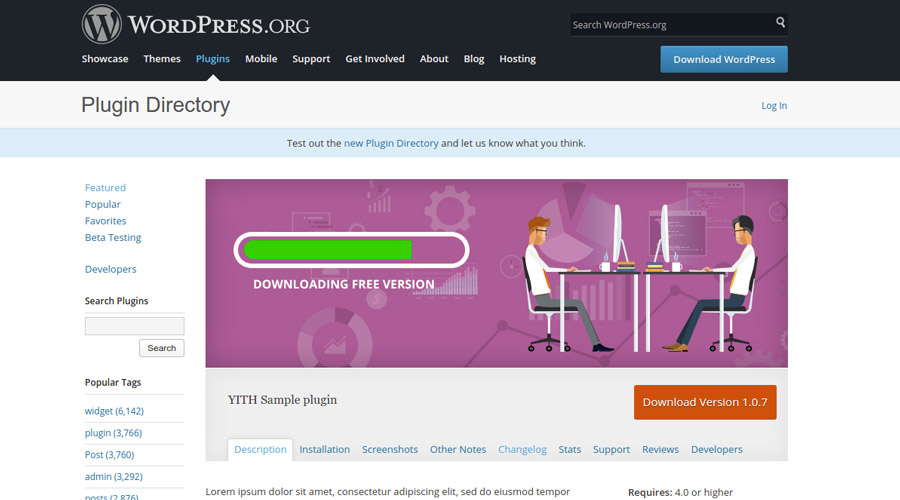 YITH is one of the WordPress plugins, that is responsible for showing products often bought with a particular one on your product pages to encourage cross-selling on WooCommerce. The right cross-selling strategy directly affects conversion rates while products suggested as "frequently bought together" are much more appealing. Customers who see those suggestions might be interested in them, which leads to high conversion rates.
Its explicit design and a well-planned proposal allow you to show your offers in the most direct way ever and double advantages for both shop owners and customers at the same time. Furthermore, good suggestions allow customers to save a lot of time.
Main features of YITH WooCommerce Frequently Bought Together plugin:
Completely customizable: You are able to change everything that you want such as the text and colors of the button "Add to Cart", image size, link text, placement of the widget, and many more.
Unlimited suggested products number for every single product.
You can link products with each other, and modify all of them based on your convenience. All of those tasks can be done from a single page.
Automatically create groups of products: That can be implemented based on the data of cross-sales on WooCommerce.
Set your desired discount for products bought together to encourage the conversion
Price: Pay $69.99 per year to use YITH WooCommerce Frequently Bought Together plugin.
2.2 WISDM Custom Product Boxes by WisdmLabs
The first plugin for cross-selling on WooCommerce is WISDM Custom Product Boxes. Setting the right cross-selling strategy is crucial. It can be the factor that affects conversion rates in a very significant way. To do that, you need to create product bundles and they will be sold in the form of various packages. This strategy helps you introduce related products grouped together in a box to existing customers. Obviously, that way your customers can make a purchase a whole set of products rather than a single product. In fact, businesses that use this approach show really high conversion rates.
Features of this plugin:
A frontend box customizer: Responsible for users customizing or changing the layout and styling of product boxes
Create bundles: Customers can create bundles themselves
Setting subscriptions on bundles: Allowing you to earn recurring revenue.
Set price: Based on which products are added to each bundle, you are able to set fixed or dynamic pricing it.
Price: To use WISDM Custom Product Boxes, you need to pay $79 per year. You also can use a lifetime option at $199.
2.3 Cart Add-ons by WooCommerce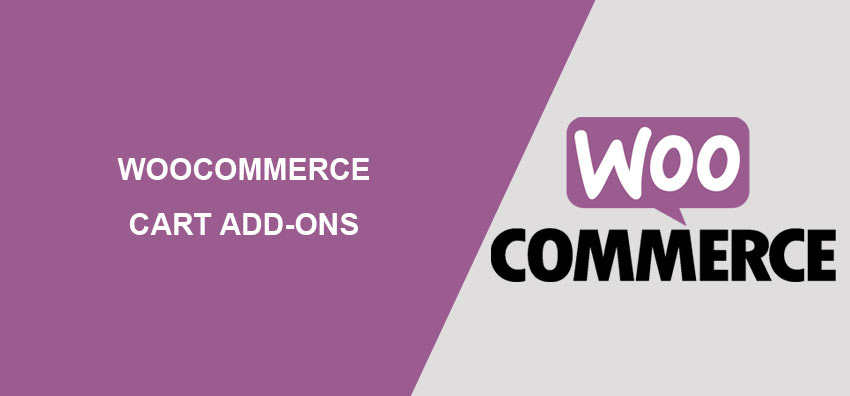 Cart Add-ons by WooCommerce is developed by the developers of WordPress and WooCommerce, is a powerful tool for driving incremental and impulse purchases by customers once they are in the shopping cart. This plugin is designed for cross-selling on WooCommerce. Since Cart Add-ons works on the Cart page, the selected products for cross-selling are only shown on the Cart page of your site when a particular product linked with them has been added to the cart.
You need to know that when a buyer adds a product into the shopping cart, it doesn't mean they have finished and are ready to checkout. Cross-sell items always need to be displayed on cart views because online shoppers access the shopping cart for any reason, adding recommendations to the shopping cart also means adds another layer of interest for buyers. Furthermore, that helps add value to their buying experience. Studies shows show that those stores that have suggested products in the cart show a higher conversion rate than those that don't have.
Cart Add-ons by WooCommerce Features:
Three different types of Add-on products:
Category linked add-ons: Showing the products belonging to the same category
Product linked add-ons: Showing the products predefined by you
Default add-ons: Showing up for all those products which don't have any other matching products.
Customization: Easy to customize the title and number of products to display.
Robust support and compatibility: It works continuously with every update of WordPress and WooCommerce. You can ask for the support of their wonderful team if you meet any trouble.
2.4 Boost Sales for WooCommerce by VillaTheme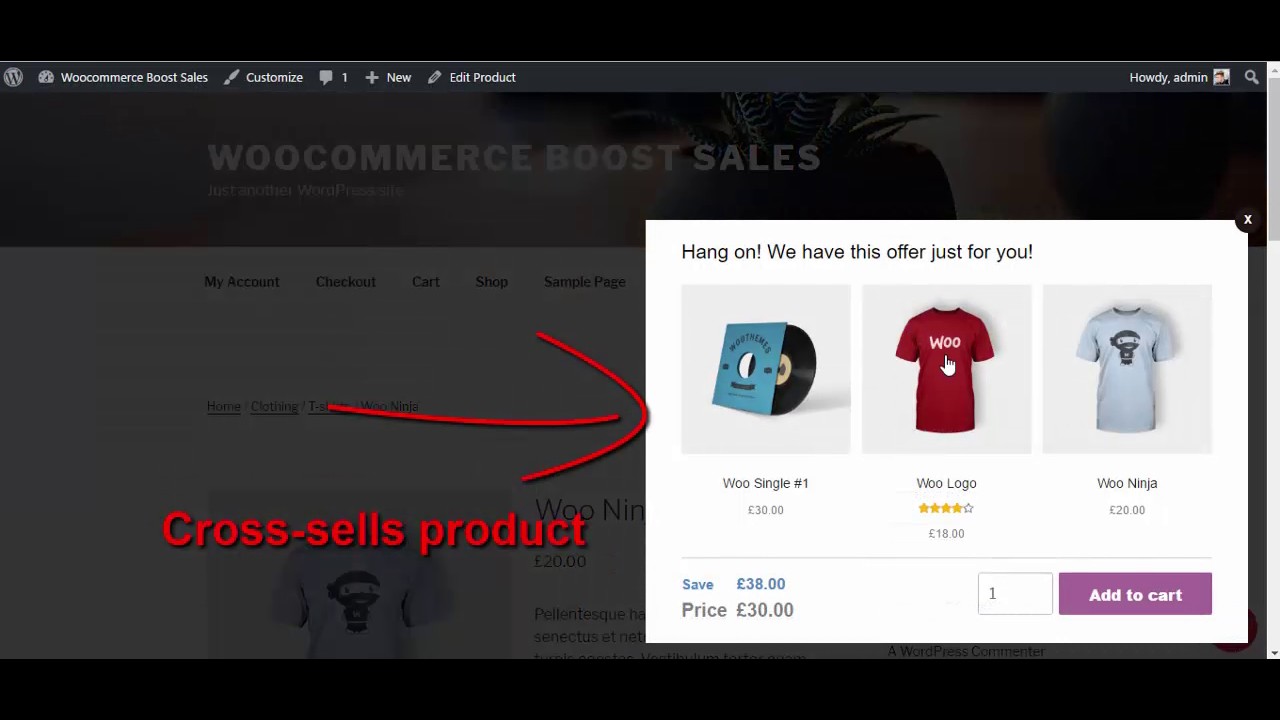 Cross-selling on WooCommerce is a marketing technique in which a business tries to persuade customers the purchase additional products for sale. WooCommerce Boost Sales stimulates customers to make more purchases as well as increases profitability for your stores by cross-selling on WooCommerce. This platform allows users to add cross-sell products in an independent system of WooCommerce. This strategy is beneficial for businesses in order to generate more revenue and provide a valued consumer experience.
Major features of WooCommerce Boost Sales plugin by VillaTheme:
Product Bundles: The ability to create product bundles
Display under Add to cart button: Cross-sells bundle will be shown up under the Add to cart button.
Unlimited design: You can customize the cross-sell bundle like background, text, etc, as well as customize the cross-sell pop-up message.
Sync Cross-Sell from WooCommerce
AJAX Add to Cart: adding bundles to the cart without wasting time reloading the page.
Different product selection criteria: Products chosen by you, Products belonging to the same category, and Products frequently bought together
Price: $30 per year
2.5 Product Recommendations by SomewhereSam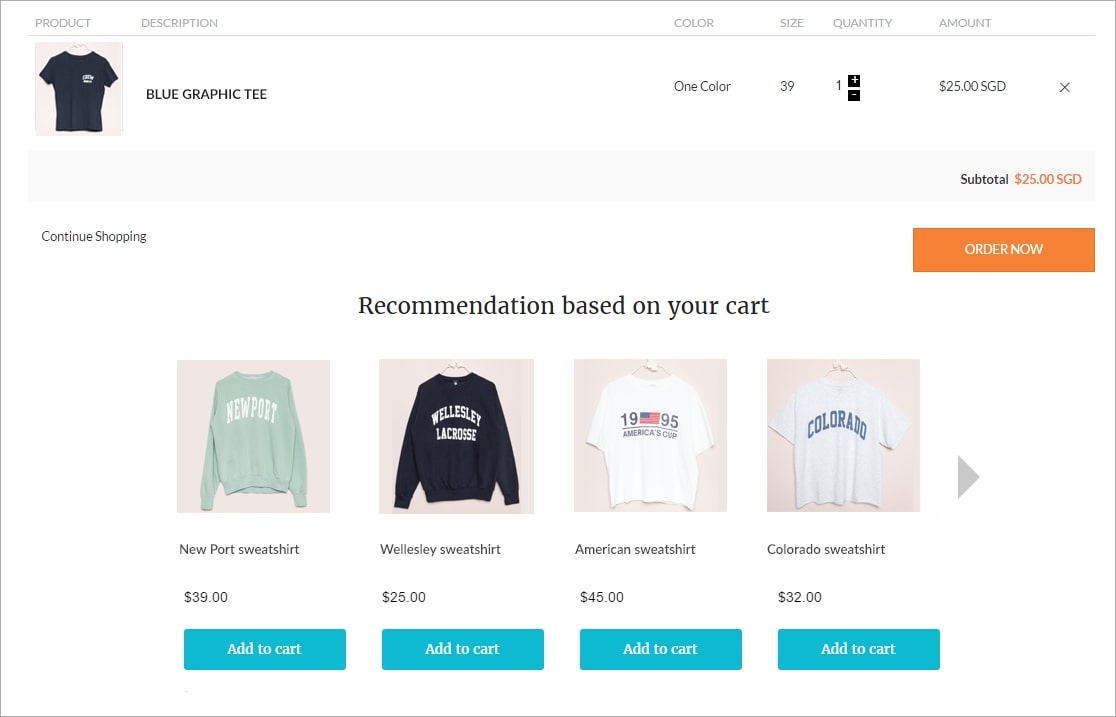 Cross-selling on WooCommerce provides a more engaging experience for your visitors that not only helps them find products they like, but keeps them coming back. Product Recommendations by SomewhereSam allows you to build rule-based recommendation engines and set the suggestions at various locations of your WooCommerce store. This plugin is doing well at using techniques to add recommendations across your entire catalog effortlessly instead of manually implement this process.
Main Features:
With Product Recommendations, you can create cross-sells in bulk, add a category, attribute, tag, or price filter to narrow down products. Users can use the amplifiers feature to generate a specific result based on advanced criteria.
Promote product: Recommending the right product, to the right customer, at the right time by checking recently viewed products and products from recently viewed categories on the checkout page.
Recommend products anywhere: Suggested products can be displayed in more than 20 locations in your store.
In-depth analytics: Drill down into insightful reports to understand and refine your recommendation strategies. This feature also helps you to track and analyze different metrics including Gross and Net Revenue, conversions rate, and more.
Price: Start at 79$
2.6 WooCommerce One Click Upsell Funnel Pro By Makewebbetter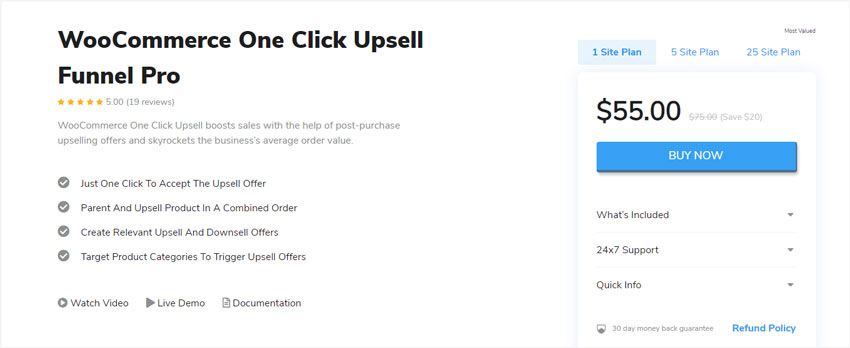 With WooCommerce One Click Upsell Funnel Pro, sellers are able to create upsell offers displayed after checkout, customers can accept these post-checkout offers and buy them without re-entering their payment details. This offer stimulates customers to spend more and increases the Average Order Value. If the customer doesn't accept the first offer what should you do? In this situation, you can present them with another one with a more attractive discount by adding multiple offers to your upsell funnel.
Main features of One Click Upsell Funnel Pro:
Shows upsell offers at the right time: Up-sell offers will be shown up after checkout. This is the best time to persuade customers to buy more.
Report&Track: Seller can view comprehensive track report for every single funnel and all your upsell funnel sales data will be tracked on Google Analytics and Facebook Pixel.
Offers can be purchased with one click
Compatibility with all leading page builders
Secure payment transactions without requiring customers to provide card/account details again to purchase over-the-counter products.
Price: Start at 55$
2.7 WISDM Customer Specific Pricing By WisdmLabs

The next plugin for successful cross-selling on WooCommerce is WISDM Customer Specific Pricing. Research says that after getting a personalized shopping experience, 44% of consumers become repeat buyers, so personalization is absolutely a key conversion factor. With The WISDM Customer Specific Pricing plugin, sellers can proactively set dynamic prices that make customers feel special.
WISDM Customer Specific Pricing Features:
Create cart discounts based on the cart value to encourage customers to increase purchases or buy more products to save more.
Pricing per customer: Individual discounts for special customers or a specific group by setting exclusive prices for your products help increase recurring revenue and increase customer loyalty.
Users can set site-wide discounts using the Global Discounts feature.
Price: Start at 79$
2.8 Smart Offers By Store Apps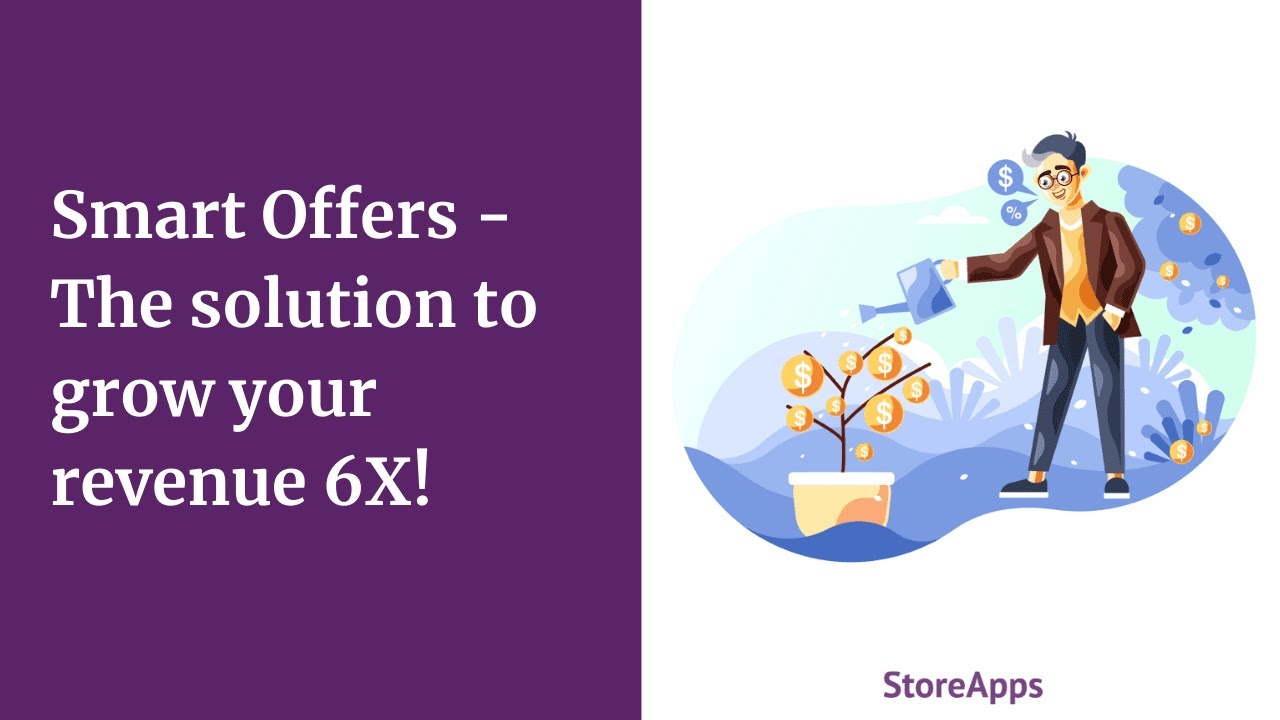 This plugin can be used for the purpose of both up-selling as well as cross-selling on WooCommerce that help sellers boost sales with dynamic offers in the checkout funnel, etc. This plugin also can use for down-selling to ensure that you get at least some revenue from your shoppers. With Smart Offers, Sellers can set up simple offers within minutes without touching any code line.
Smart Offers Key Features:
Integrates with popular WordPress page builder plugins, WooCommerce plugins, and WPML
Create bundles of products and up-sell them at a predefined discount
Target your offerings based on a number of different parameters
Showing a low priced additional product for cross-selling to increase cart value
Track your conversion metrics to get a better picture of how your upselling efforts are performing.
Price: Starts at $99.00 per feature, per year without a free version.
3. Final Thought
This is our list of the 8 best plugins for cross-selling on WooCommerce that you can install on your site to boost your revenue. Those tools can help you implement cross-selling strategy and increase your average order value that is more important than acquiring new customers. So, start cross-selling products today and grow your business!