One of the greatest advantages of email marketing is that nowadays people use email quite widely. As a result, this platform becomes a completely effective tool to help you build lasting relationships with customers, contributing to the growth of revenue. To ensure a successful campaign, the preparation stages before each campaign plays a crucial role. In this article, we'll show you the top 10 successful email marketing campaign examples you need to take a look at.
1. What Is An Email Marketing Campaign?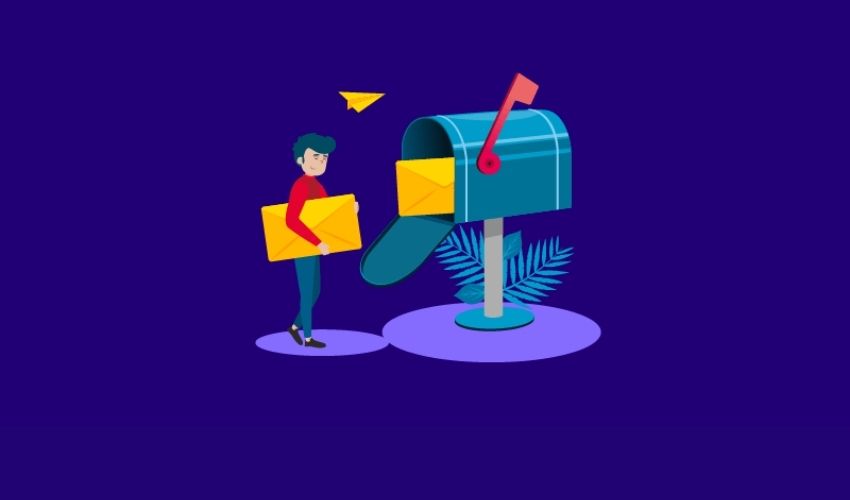 An email marketing campaign is a type of email that is used most in eCommerce businesses to connect with current customers and reach out to potential ones. Emal marketing content is conceived according to each campaign to accomplish a specific goal such as nurturing leads or encouraging engagement. Usually, CTA buttons will often be embedded in the content to boost clicks and direct customers to your store.
Here are some of the benefits an email campaign can bring to your online store:
Increase Traffic: Most people use email so Email can be an effective channel for promoting the high-value content you create on your website.
Awareness: Not everyone on your email list is ready to buy the products or services you recommend. However, you can use email marketing to make your brand name more visible in your customers' lives.
Lead nurturing: Spending time on customers who are least likely to buy is a waste of time and money. Identify leads with the highest purchase intent and provide conversion-focused content to "nurture" them towards sales.
Increase Revenue: As one of the most powerful marketing platforms, Email marketing campaigns have the ability to drive revenue opportunities through the "Buy Now" CTA button. Besides, those campaigns are also aimed at converting potential customers into customers or reminding customers of abandoned items in their shopping carts.
2. Top 10 Successful Email Marketing Campaign Examples
2.1 Modcloth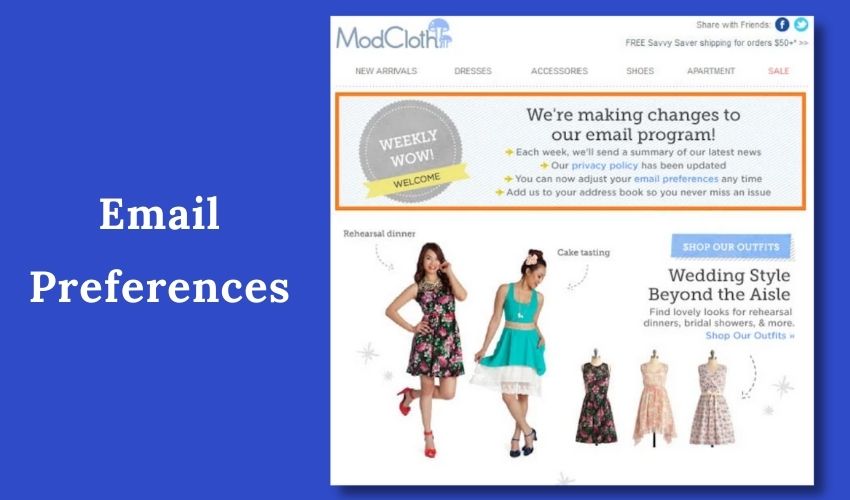 'Email Preferences' – Email Marketing Campaign Example
Customers are looking for unexpected new experiences. To become a large-scale online business, creating fresh changes in campaigns to improve customer experience is a constant strategy. ModCloth has done this very well. ModCloth's change in how email campaigns are created plays an important role in connecting with customers.
However, you should keep in mind that if you're going to change the way you communicate with your customers, give them a clear, concise announcement before they make the necessary adjustments to keep their inbox clean.
2.2 Tory Burch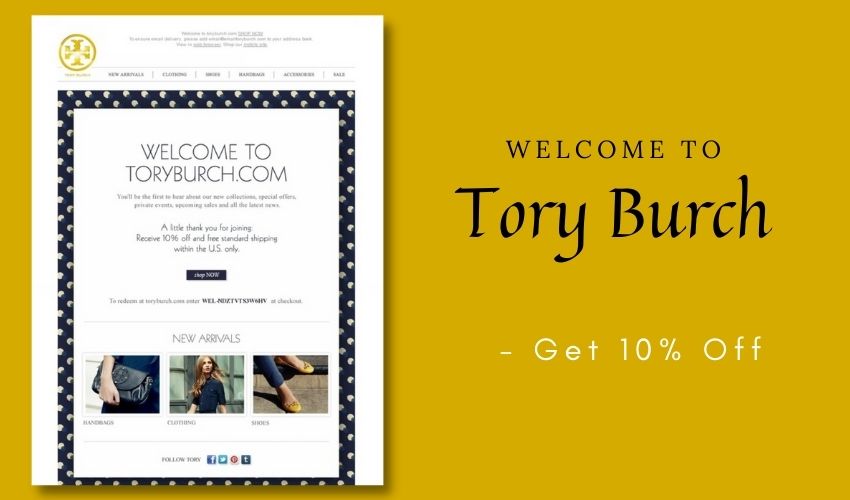 'Welcome' – Email Marketing Campaign Example
Email Welcome is the first email that the company sends to customers after they register on the company's website with the desire to receive online services, product promotions, and more. However, not every company has a specific Welcome Email strategy. On average, Welcome Emails have a fairly high open rate around 50%.
So Welcome Emails are 86% more effective than regular Emails. It helps define and spark the expectations of newsletter subscribers and new customers. Besides, the Welcome Email also introduces potential customers to the company's products and services that increase the ability to boost sales.
2.3 RedBubble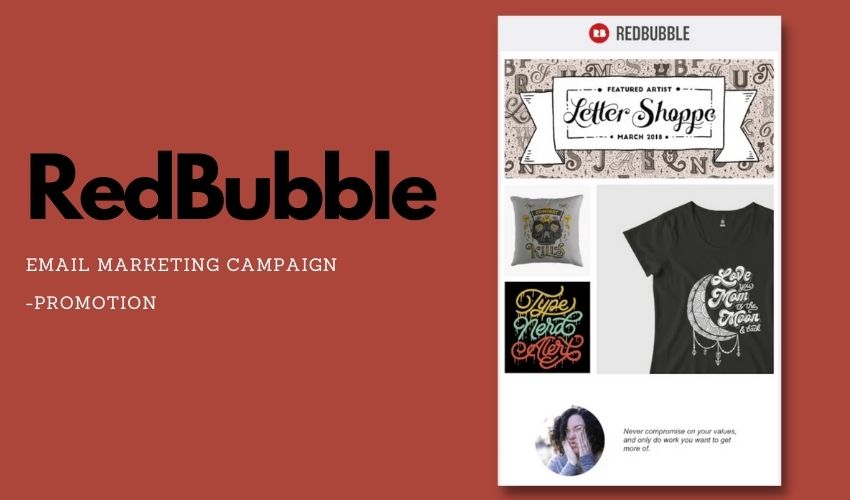 'Promotion' – Email Marketing Campaign Example
This email marketing campaign delivered unexpected results and for many reasons, one of which was the super eye-catching email template design. RedBubble sells designs by artists around the world, providing a golden opportunity to showcase popular submissions across the RedBubble community.
For example, the image above artwork is from "Letter Shoppe". The good thing starts when the owner of that work notices that her content is introduced in RedBubble, she may likely forward it to others. This also promotes the process of improving sales as well as brand recognition.
2.4 Banana Republic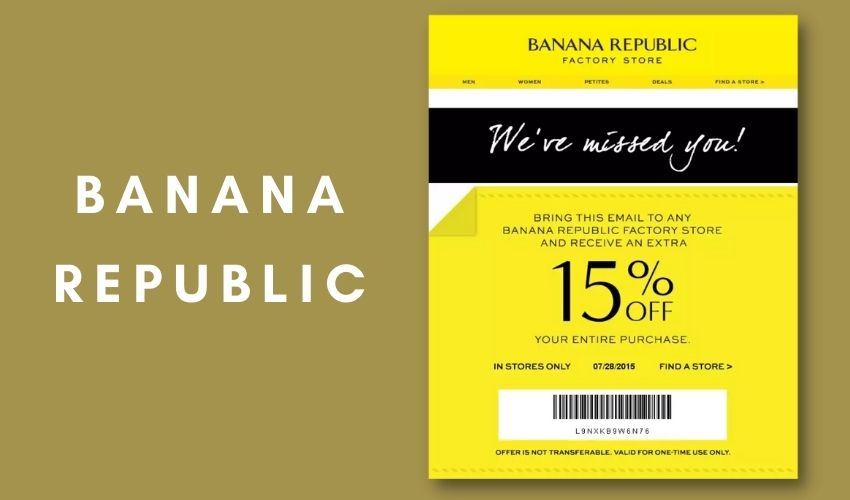 'Re-Engagement Campaign' – Email Marketing Campaign Example
Investing in acquiring new customers will cost a lot more than retaining old customers who already have previous experience with the store. The problem of customers stopping using or interacting with your business is an obvious situation. Before applying any marketing campaign to solve this situation, you need to understand why your subscribers are not interested in you anymore.
Banana Republic tries to re-engage lost users by creating friendly email campaigns. These emails highlight the positive changes and benefits of the service to entice recipients to return. Small inclusions like the "We're missed you!" or "Hi friend!" make your content feel welcoming and less aggressive.
2.5 Cook Smarts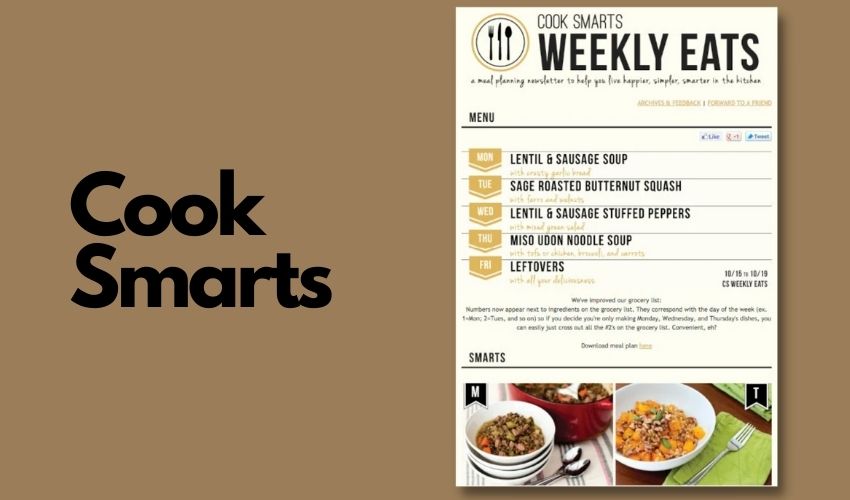 'Newsletter' – Email Marketing Campaign Example
Cook Smarts' "Weekly Eats" newsletter is not strange anymore, that's how they show their interest to subscribers. Each week, Cook Smarts will send a delicious recipe in the form of meal plans via email to users' inboxes. To attract attention and increase clicks, the email layout of Cook Smarts is well-designed. The content is divided into 3 sectors: the menu, kitchen how-to, and the tips.
A smart way to help Cook Smarts approach new users is to include the "Forward to a Friend" CTA in the upper right corner of the email. A lovely email with delicious recipes will surely be shared widely with many people.
2.6 Loft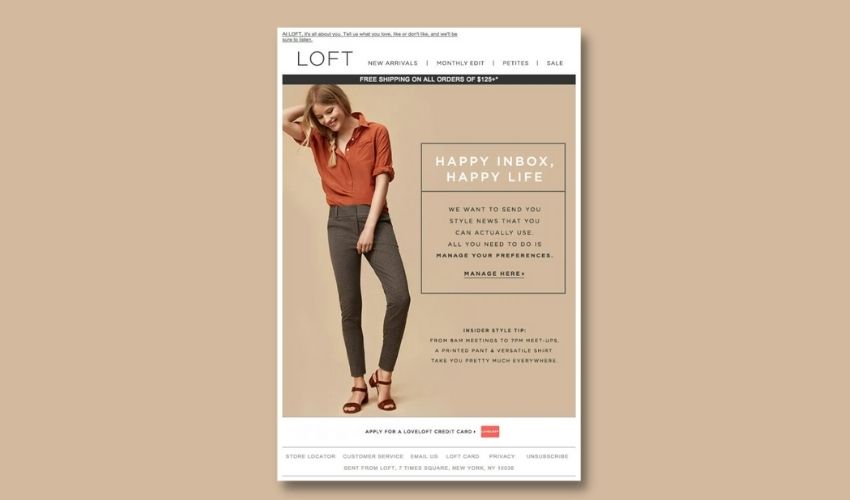 'Email Preferences' – Email Marketing Campaign Example
This Email campaign from Loft aims to give users emails that they actually want to open. Loft requires recipients to update their preferences to help them deliver a more personalized experience. Customer-focused email is an extremely effective way to make recipients feel that their opinions really matter. The meaningful content goes with the slogan "Happy Inbox, Happy Life" and a little CTA to create a successful campaign.
2.7 Harpoon Brewery
'Customer Delight' – Email Marketing Campaign Example
The best way to connect with customers is to become their friends. Simple, timely emails feel like they were sent from a close friend, which is why it's so effective. Don't try to create sales emails, this will only make customers feel more disgusted. Analyze and make plans carefully to create interesting content, which is essential when mailing has become easier thanks to automation.
Regular mailing is great, but it also needs to be scheduled to avoid Spam. Personalization in campaigns is also preferred by many businesses as birthday greetings.
2.8 J.Crew Factory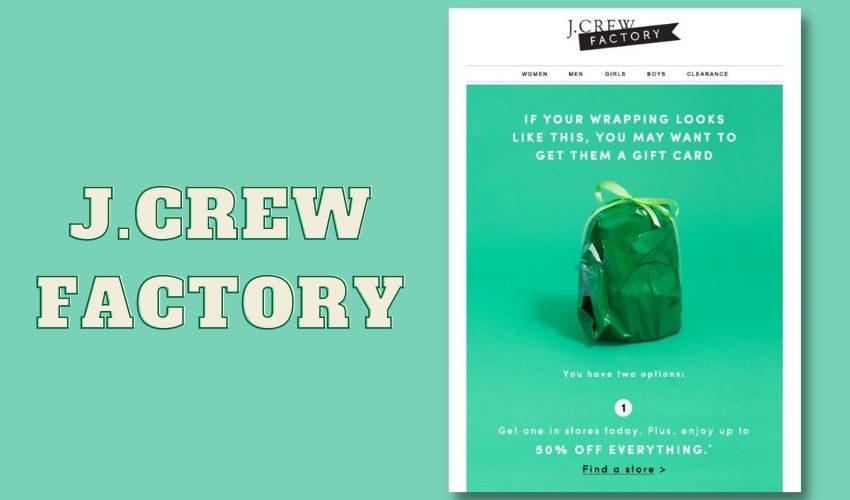 'Promotion' – Email Marketing Campaign Example
For many people, not everyone has the ability to wrap a gift, while the appearance of a gift means a lot. J.Crew Factory as a solution for this problem and they created promotion email campaigns on holiday to do the job of wrapping Pinterest-Esque: gift cards. Email offers two different ways to receive gift cards: in-store or online. A map of the nearest store location is provided at the end of the email to help reduce the barrier to purchase.
2.9 Rip Curl
'Promotion' – Email Marketing Campaign Example
"JOIN THE REVOLUTION". Combining urgency and defining the right audience are the two key factors in creating an excellent on-page email subject line. Rip Curl, an Australian surf sportswear retailer, creates designs to make people believe that a "revolution" is happening and it's their turn to act. The use of phrases like 'revolution' motivates customers to take action by purchasing this sleek timepiece.
2.10 KonMari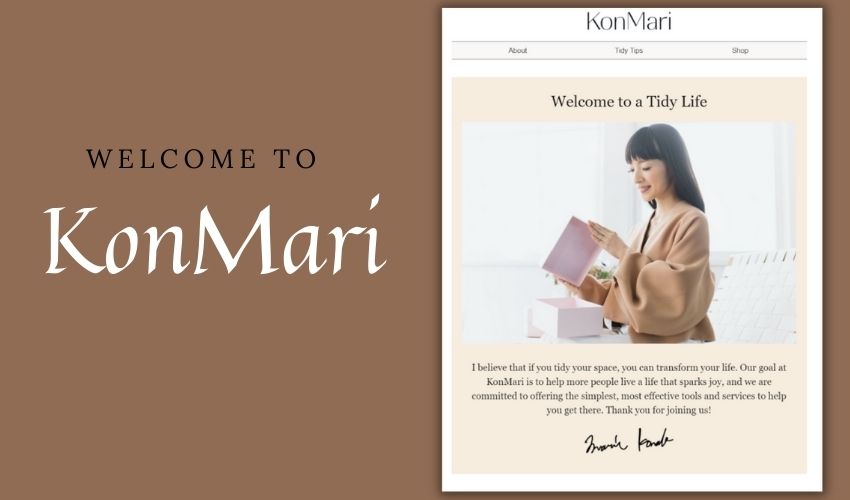 'Welcome' – Email Marketing Campaign Example
When you become part of KonMari's email list you will receive a beautiful welcome email that makes a great first impression. Besides a friendly greeting, famous KonMari products are also introduced to you right in the same content. Email marketing campaigns often come with a CTA, just clicking "shop now" takes you straight to the checkout page. This translates into more profits and better engagement!
Overall, Marie Kondo's welcome email includes:
Friendly greetings and focus on a personalized feel
Perfect introduction of brands and products
Emphasize the benefits of participating
2.11 MVMT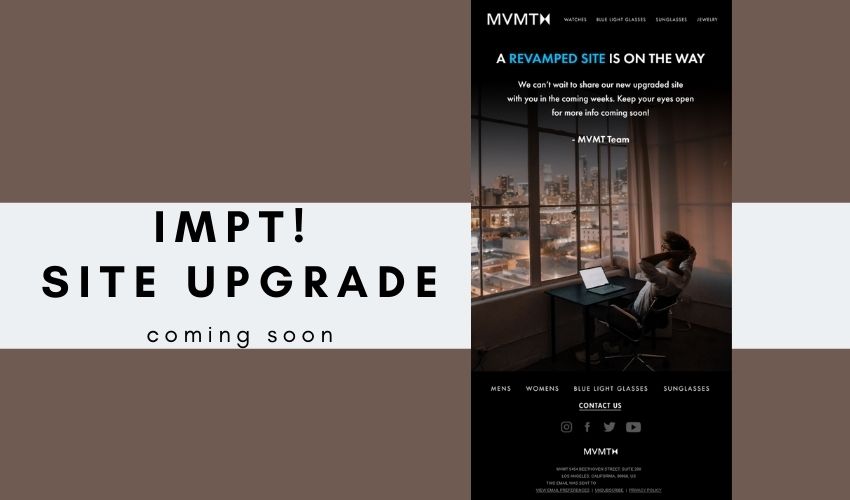 'Email Preferences' – Email Marketing Campaign Example
The main goal of when MVMT created this campaign was to stimulate subscribers about the new website design. An outdated website is often not appreciated for its quality, so change is a good thing. However, when your website has the highest number of customers, you need to let them know that you are preparing to remodel your website.
The example above by MVMT is also intended to inform their customers of exciting changes coming soon. Imagine how excited they are when they get the following message: we're making your experience better! Just relax and we'll let you know when you can access it! Finally, add some promotions to entice subscribers to click on the CTA where they can buy new watches.
3. How To Run Design Your Email Marketing Campaign
3.1 Build A Targeted Email List
After considering email marketing campaign examples, let's learn how to run design your email marketing campaign.
Before you start creating an email list, you need to find out who you want to target. The most traditional way is to sketch out the ideal customer portrait. The necessary information includes name, education, income, family, place of residence, goals, and more. Launching a successful email marketing campaign needs to start with an email list full of potential customers who are genuinely interested in your product and what you have to offer. It's the best way to build a targeted email list is to convert your website visitors into subscribers.
Besides creating a customer email list, clearly understanding the goals, what you want to achieve is equally important as increase engagement, nurture customers, increase sales, and more.
3.2 Know Your Audience
Before getting to know your customers, you need to understand the types of emails to come up with the most suitable campaigns which include promotional emails, relational emails, and transactional emails. Hopefully, those email marketing campaign examples help you have a more specific view about them. Once you know the types of emails you can move on to the next step to create a successful email marketing campaign that is understanding your target audience.
If you've been doing email marketing for a while, you probably already know who your audience is, but if you're just getting started, reading material and doing research is essential to being able to know your customers. Know who your target customer, what they want will help you to realize consumer behavior and make the most reasonable plans not based on emotions.
3.3 Plan Emails And Followups
Once you know your goals, email types, and understand your audience, it's time to plan your email marketing campaign. Remember, the first campaigns may not be very effective in terms of revenue but are necessary metrics to have real customer insight. As a result, the improvement in upcoming campaigns is obvious.
Don't annoy your subscribers by sending emails too often. Instead, stick to a schedule and create quality emails. You also can ask your customers about the quality of your service or product to receive real feedback.
3.4 Email Marketing Design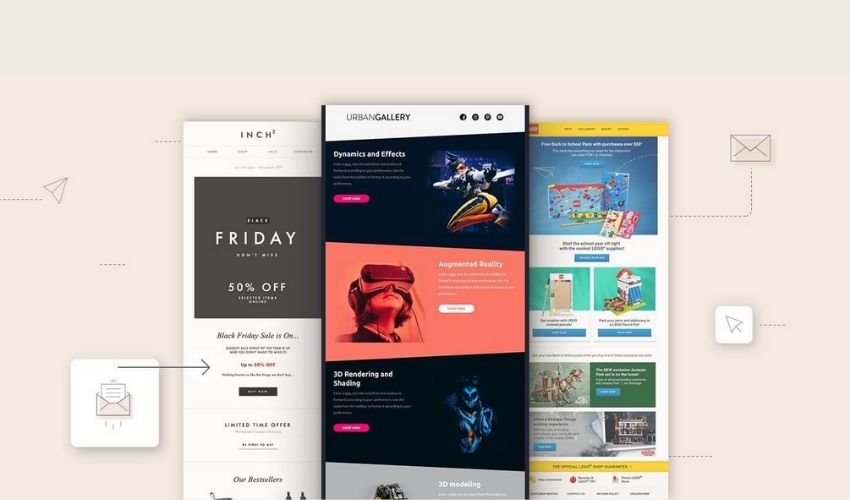 Firstly, the email subject plays an important role in getting people to open and click your email. This is the key to giving a good start to any successful email marketing campaign. Therefore, email subjects need to be concise and must attract people's attention. Your subject line should ensure the following:
Highlight the benefits they will receive when they open your email.
Personalize emails. You can include people's names in the subject line which can make them more interactive.
Include a CTA button to direct ideal buyers to your site.
Secondly, email design is very important in any successful email marketing campaign. No one will read an email that looks terrible, which at the same time reflects poorly on the quality of your company. It's important to design an email template that automatically resizes for different types of devices. For example, many people often read emails on mobile phones.
3.5 Test And Track
Finally, after completing the above steps, proceed to send the email. This is just the first step to achieving email marketing success. Early campaigns greatly influence the success of future campaigns. Observe and collect data carefully. To make this process easier, you can invest in Email marketing tools. They will provide the most specific and accurate metrics in the report and allow you to know what's going on in the campaign.
4. In Conclusion
Email marketing is a popular Digital Marketing strategy, widely used by many marketers around the world, but it is also a difficult form to deploy effectively due to frequent abuse and misuse. The most obvious manifestation is in the form of Spam Email. Hopefully, these email marketing campaign examples above are useful for your online business, however, they are only capable of giving you an overview. Every business will need unique methods to create successful email campaigns.