To expand your online store, connecting more with customers is essential. Normal marketing campaigns are time-consuming and less effective. Email marketing automation tools are great for nurturing customers and increasing sales.
Email marketing automation tools will help sellers automate the process to send to the right target customers, the right message, and the right time. Using an efficient automation process saves you time and money. Potential customers will become loyal customers if you know how to build relationships through this tool.
1. What Are Email Marketing Automation Tools?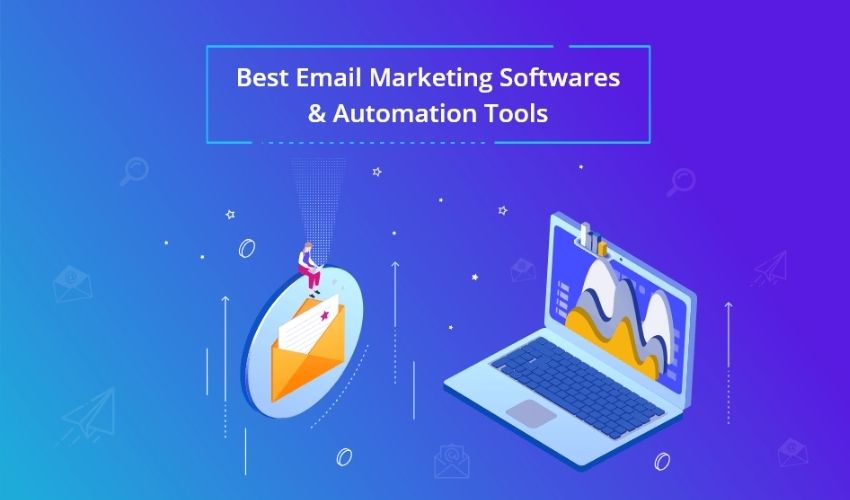 Email marketing automation tools help businesses send promotional emails to their customers. This is an effective tool that offers many benefits such as increased brand awareness. They also allow you to send a variety of content options such as advertising emails. These messages regularly include CTA buttons, which can encourage your potential buyers to move up to your sales channel.
Most eCommerce stores use email marketing automation tools that allow you to reach a larger number of ideal buyers. For big businesses, where the amount of repetitive work is huge, automation is an indispensable feature. This helps you eliminate repetitive tasks to spend more time focusing on other important duties.
You won't be able to collect all of your company's metrics accurately and quickly, but email marketing automation tools do. In just a few clicks, the tool will summarize and provide detailed campaign performance.
2. Benefits Of Email Marketing Automation Tools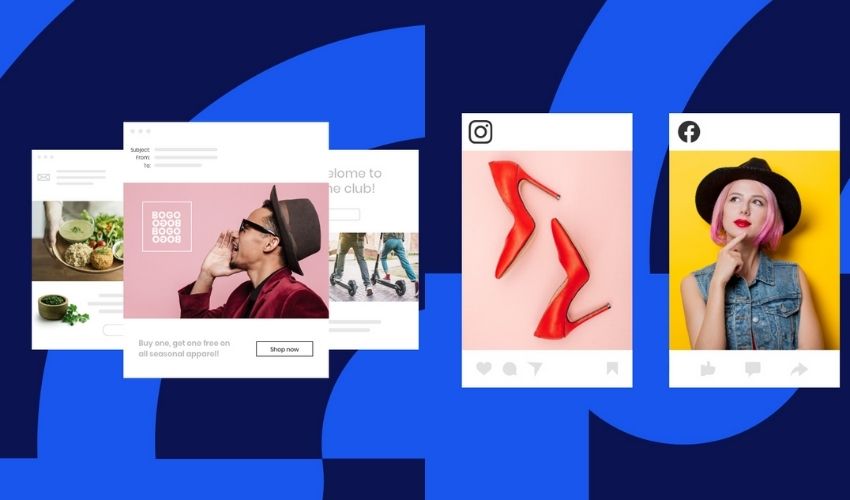 2.1 Automated Sending
To create brand awareness, many industries require manual labor, which is grueling but inefficient. Meanwhile, email marketing automation tools help you automate processes, take your brand everywhere, incentivize customer loyalty. All you need to do is to make content plans and take them into beautiful email templates to send to customers.
This strategy can be done regularly to help your customers increase brand awareness. This method is especially cost-effective, but surprising results.
2.2 Low-Cost Marketing
Most of the marketing methods that bring results to the stores are expensive. However, email marketing has been proven to offer significant benefits in terms of reaching more potential customers but the overall cost is lower than other forms of online marketing. One interesting feature is its incredible accessibility. No matter how many people on the list you need to send the email, email marketing automation tools can do this task quickly and efficiently at the same time.
2.3 Better Personalization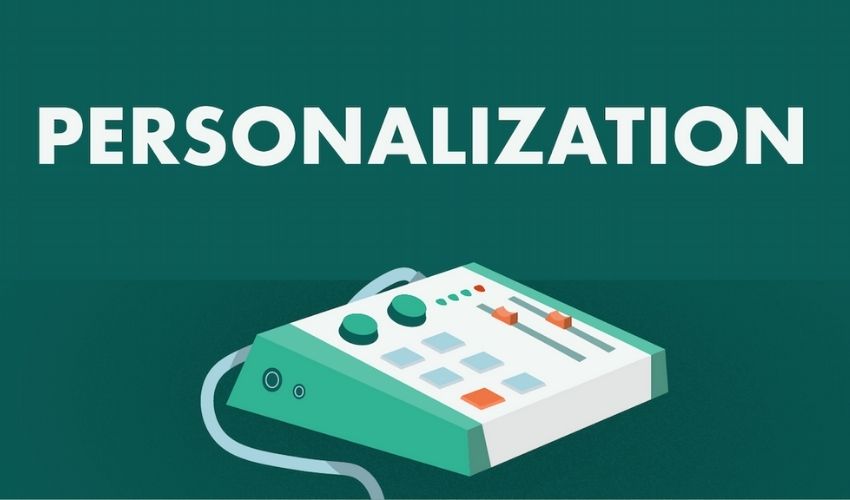 The best form of personalized marketing for marketers is Email, according to Mailchimp:
Most customers find email messages appealing when the email content contains their own information.
91% of customers tend to favor brands that regularly recommend products that are tailored to their individual needs.
71% of customers respond well to email ads that focus on their interests.
Email content can be made up of many unique templates and can be sent to many users at the same time. What makes email marketing automation tools even more special, however, is the ability to personalize each message using a visual editor. You just need to add swappable data in the email like the username.
For example, to connect more with your customers and create intimacy, you should send personalized birthday wishes to them via email. That's really simple!
2.4 Higher Customer Interaction
Most jobs today need to exchange information via email, so opening email every hour is not strange. Like social media marketing solutions, some email marketing software is created to help your brand interact with its audience on a regular basis. The special thing is that their speed is faster than other means and can easily reach customers, including international customers, without spending too much.
Personalized feelings in each message promote customer interaction, they easily ask or answer questions with high security. These tools also allow you to use autoresponders to work based on trigger keywords.
3. Top 10 Best Email Marketing Automation Tools For eCommerce Business
3.1 ActiveCampaign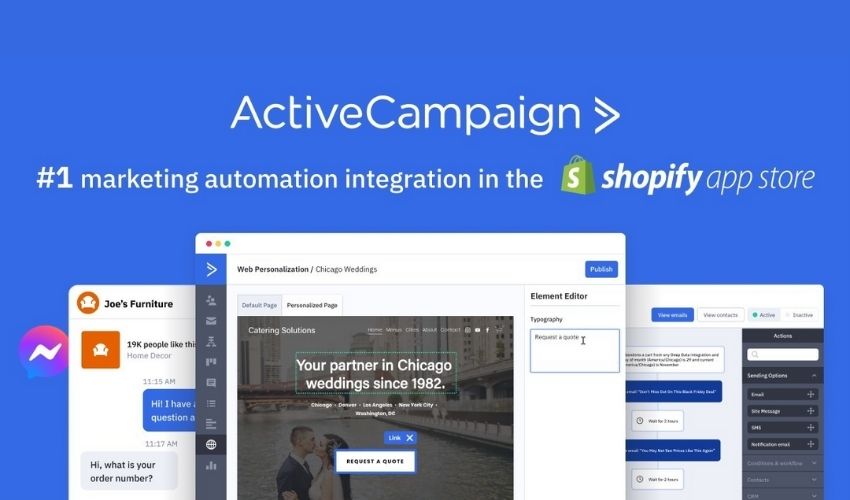 ActiveCampaign is first and foremost an affordable email marketing platform. However, this email marketing software includes all the features a mid-sized business would expect such as automation, segmentation, triggered emails, autoresponders, A/B testing, and more. It also includes other advanced features, especially the ability to geo-track, show you where your subscribers are coming from, help with managed distribution and multi-user editing.
Key Features:
Segmentation and dynamic content: This feature allows users to easily customize messages and send targeted emails to the right contact.
Personalize your emails: have the ability to personalize messages based on the contact information on the system.
A/B testing: This function is responsible for finding the best-converting emails
Simple split testing: Using this feature helps your email increase the number of opens, clicks, and buys.
Pricing: You can offer the package starting at $9/month.
3.2 ConvertKit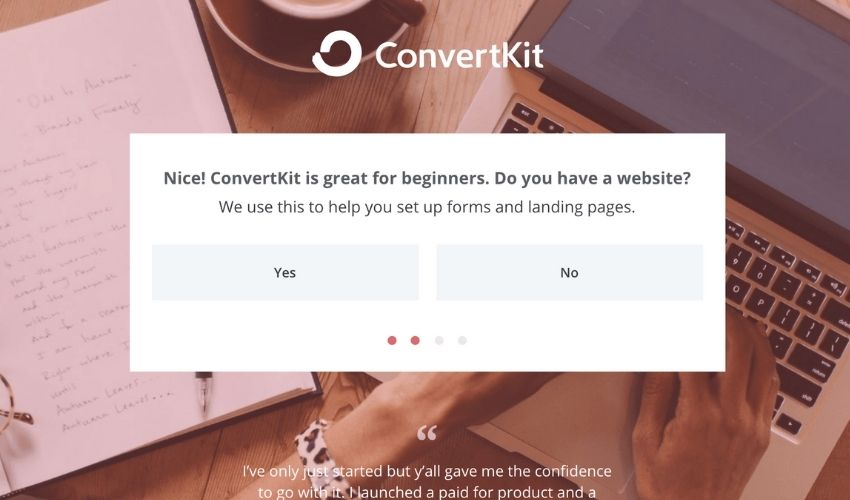 ConverKit is a great email marketing automation tool for both eCommerce businesses and creators. The clean interface increases the enjoyable experience with feature-rich. Its features are both basic and advanced with landing pages, ing opt-in forms, email workflows, tagging systems, data management, and list segmentation, personalization, automation, and more.
Key Features:
Sales funnel automated: The automation feature reduces the needed time to send content to customers.
The ability to change the URL after sending the email with Creator Pro
Better personalized: This Email marketing automation tool is doing good at creating personalized email marketing campaigns.
Its features allow users to create professional landing pages and sign-up forms.
ConvertKit Integrations: This tool integrates with helpful platforms like Woocommerce, PayPal, Stripe, and WordPress.
Pricing
A free plan offered for up to 1,000 subscribers
Paid plans start at $29/month.
3.3 AWeber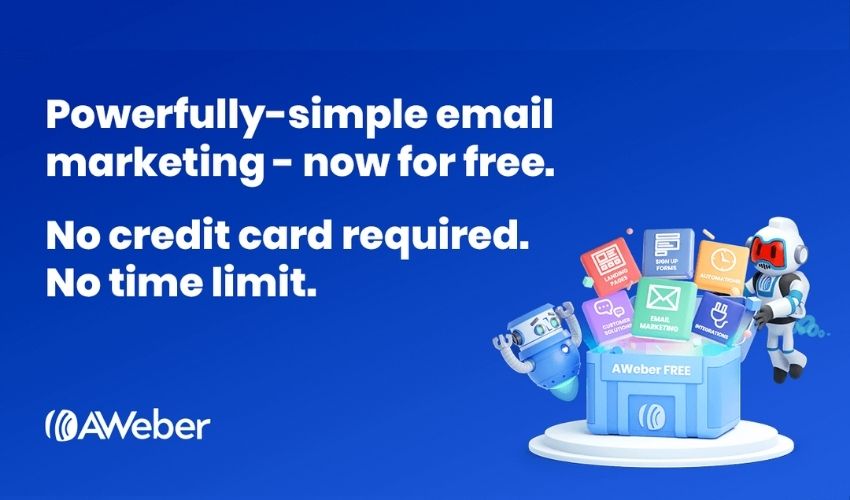 AWeber is a great email marketing tool for brands. What makes it such a powerful tool? Designed with useful features like a drag-and-drop email editor, automation, segmentation, autoresponders, and a lot more. The landing builder is no exception. This feature supports users to quickly build a landing page along with an email campaign.
Key Features:
AI-powered email template designer: Users freely create stunning branded emails without spending too much effort.
Automate email content creation: Stuck in finding ideas? AWeber features are good at creating email content automatically by broadcasting the latest posts from your blogs.
Tagging and dynamic content: It will direct campaigns to the target customers accurately.
Pricing
Free tool for up to 500 subscribers.
Pricing starts at $16.15/month.
3.4 Constant Contact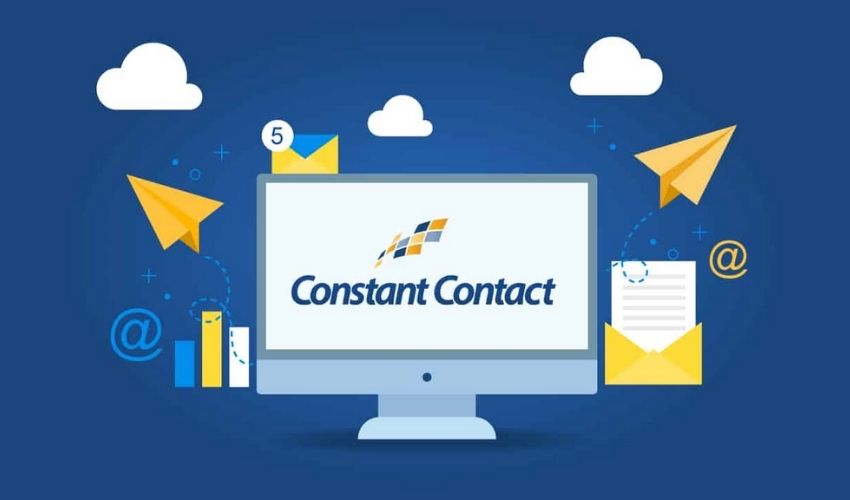 Constant is a solution for small businesses that focus on customer relationships with Email Marketing. This is an easy-to-use system at an affordable price. That means users don't need to know much about computer engineering. Constant Contact is Web-based and will show you how to effectively build, manage and grow an email list, you can create and send professional email newsletters.
To attract online business attention, there are features like automation, social marketing for lead generation. This tool also has the ability to create websites and landing pages.
Key Features:
Using professional aesthetics to design smart email editor to pleasing emails.
Easy email editing with drag and drop: Constant Contact's editor makes it easy to customize email templates and design emails that are suitable for all interfaces such as on computers and phones.
Easy email list management, email rate tracking: a tool to help you manage your email list in the simplest and most intuitive way. At the same time, you can also easily track the rate of receiving mail, opening mail, clicking on a certain link in the mail.
Website and landing page creator.
Pricing: One-month free trial for newbies. The first package starts at $20/month.
Sendinblue is one of the largest and fastest-growing email marketing services in the world. Besides their outstanding advantages, they are also considered an easy-to-use and customer-friendly email marketing service. This service is generally similar to other services with the same function.
Namely, it allows you to manage a list of followers, send emails to all followers, schedule automatic sending, automatically reply to emails after customers register but the price is very affordable.
Key Features:
60+ responsive email templates.
Built-in CRM.
Built-in SMS and Chat
Facebook Ads for lead generation
Contact Segmentation: make your emails more relevant by targeting the right people with a tailored message
Pricing: Free for up to 300 emails per day with unlimited contacts. The first package starts at $25/month (for up to 10,000 emails).
3.6 Mailchimp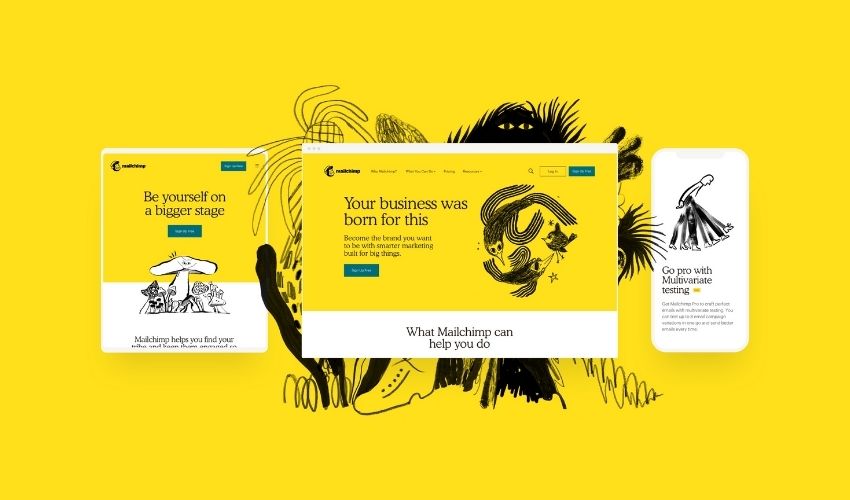 Mailchimp is an email marketing automation tool that makes it easy to share emails and promotional campaigns with customers and other interested parties. This automation email software allows users to send advertising campaigns to many customers and interested people at the same time via email. Thanks to this support software, users can save a lot of time, effort, and cost.
The results will be higher than the previous traditional method. Mailchimp focuses on key factors such as helping users design an impressive and eye-catching email marketing campaign. Thereby attracting the attention of the recipient of the mail.
Key Features:
Personalization: Help personalize individual content within your emails with dynamic content.
Analyze and manage customers with CRM system, customer segmentation, behavioral targeting, lookalike audiences
Analyze customer insights with reports and analysis, intelligent direction suggestions
The ability to build websites and landing page
Pricing: Free account with up to 2000 contacts and one audience. Essentials package from $ 9.99/month up to 500 subscribers.
3.7 MailerLite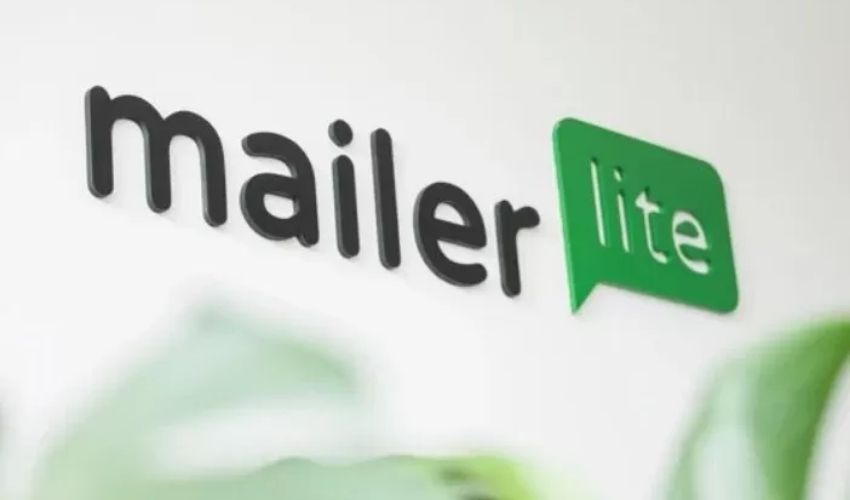 The next email marketing automation tool is MailerLite. This email tool is focusing on simplicity, great customer support, and beautiful design. MailerLite's user-friendly software allows you to quickly create and share your beautiful email campaigns, manage subscribers, design custom pop-ups and landing pages, set up automated submissions advanced, and much more without any technical knowledge.
MailerLite has a lot of useful features and integrations, however, they manage to keep it simple and easy to use for everyone.
Key Features:
Website and landing page builder
Attracting more customers by using pop-ups and embedded forms
Advanced targeting features allows user to personalize campaigns
Customize HTML code, create notification templates, manage file uploads, and even edit images
Pricing: Free trial for up to 1,000 subscribers and 12,000 emails per month. The first package starts at  $10/month.
3.8 Hubspot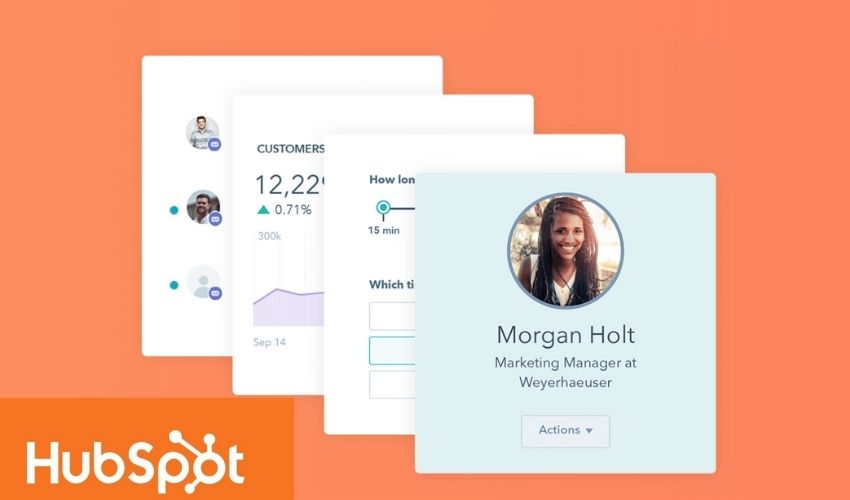 What is HubSpot? It is a sales and inbound marketing software that helps eCommerce businesses attract visitors, convert leads, and create loyal customers. You can use their tools to host websites and landing pages, create blogs, manage interactions with your leads and customers, and at the same time, analyze the success of your campaigns and track them. track user behavior.
HubSpot has a wealth of tools and capabilities that make a difference at every step of the buying journey. Tools are divided into "Hubs", which you can buy separately, but when combined, they work together to give you a complete and extremely powerful toolkit.
HubSpot Marketing Hub
HubSpot CRM
HubSpot Sales Hub
3.9 EmailOctopus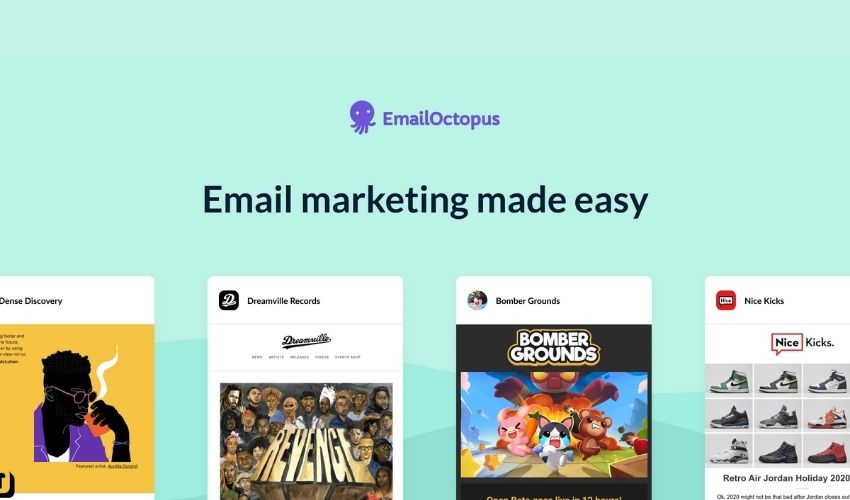 EmailOctopus is a favorite email marketing tool that provides email marketing that's simpler, more intuitive, and better value than the competition.  This email marketing automation tool offers templates you can customize in a drag and drop editor, or you can begin your emails from scratch. The email marketing app also includes a landing page builder with everything you need to generate leads and grow your email list. Integrations are a drawcard for agile brands. Many of email existing tools, including Shopify, Gravity Forms, and WordPress easily pair with EmailOctopus and make it an attractive tool, especially for brands with ambitious goals.
Key Features:
Grow your audience
Build beautiful emails via the easy-to-use email editor
Set campaigns on autopilot
Tailor your messages
Analyze the results: Keep track of the open, click and bounce rates
Connect with apps: Integrate with apps like Shopify, Gravity Forms, and Squarespace to directly import new users into the system
Pricing: A free plan for up to 2,500 subscribers and 10,000 emails per month. The first package starts at  $20/month.
3.10 GetRespond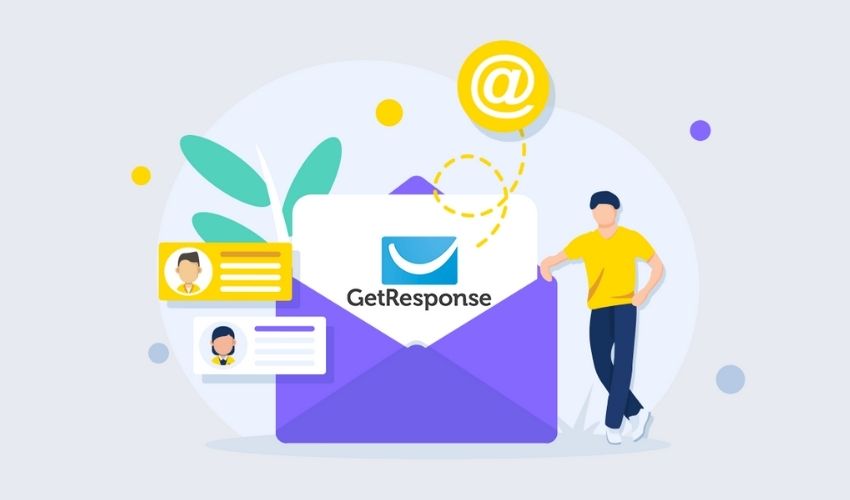 GetResponse is an "all-in-one" versatile email marketing software that helps businesses send automated emails, manage customer relationships, turn potential customers into loyal customers, reach Potential customers on many different platforms: desktop, mobile, tablet, …
This is one of the popular tools used by many businesses. Specifically, Getresponse is an email marketing automation tool that allows you to:
Key Features:
Import and manage email lists. At the same time, you can use data from Getresponse software to create newsletters sent to subscribers on your email list.
Automatically send nurturing and customer care emails through the "autoresponders" feature.
Ecommerce CRM
Smart list management tool will help you market your contacts with utmost precision.
Analytics and breakdown tools to enable you to create effective goals to improve conversion rates.
LandingPage editor easily helps users create professional Landing Pages.
Pricing: One-month free trial for newbies.
4. In Conclusion
Buyers today prefer marketing emails that are unique and tailored to their needs over tedious one-way emails. To meet this demand, your emails must be behaviorally targeted and data-driven. That's why email marketing automation tools are powerful. Hopefully, these tools suggested above are useful for your online business.