Email marketing funnel has always been a critical part of the success of any marketing strategy, especially for eCommerce businesses. In this article, we will provide some key information about building your eCommerce email marketing funnel to win more customers.
1. What is an eCommerce email marketing funnel?
An eCommerce email marketing funnel is a popular and effective tool that is utilized to help eCommerce marketers to optimize their email marketing effort, increase the conversion rate of their websites, and turn leads into buyers.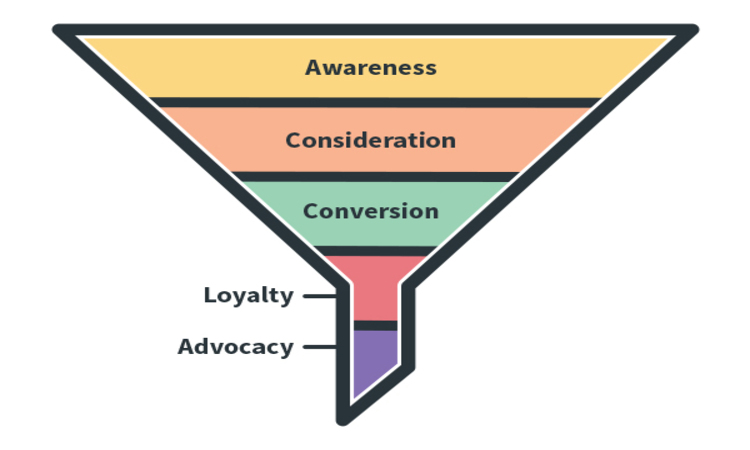 For eCommerce business, you can see every kind of data of your customers who visit your online store: how many people visit your website, how many of them see and click on certain products, place them in their online cart, and how many purchases you actually get. And all of these decisions made by your customers will be recorded in the eCommerce marketing funnel. Therefore, business owners can gain a deeper insight into their customers' behaviors on their online store, evaluate your email marketing performance and flexibly adjust your email marketing funnel and strategy to increase conversion rate.
2. Benefits of building an ecommerce email marketing funnel 
Every eCommerce store can reap a lot of potential benefits from making use of the eCommerce email marketing funnel.
2.1 Increase profitability
First and foremost, it is undeniable that being able to use an eCommerce email marketing funnel effectively can make a great contribution to boosting revenue growth and increasing profitability. When you have a prospective customer into your eCommerce email marketing funnel and they are satisfied with their experience in your online store, it is very highly likely for them to close the orders quickly. As a result, your revenue will be improved significantly.
2.2 Increase conversion
In addition to that, an effective eCommerce email marketing funnel plays the most crucial role in converting most of the traffic that comes to your website every day. Setting up your own eCommerce email marketing funnel, making sure each stage is nurturing, interesting, and engaging, there is a bigger chance that your potential customers will make a purchase. It is useless paying for customers who just visit, leave your website without buying anything and perhaps never return. Therefore, it is of utmost importance to build an optimized eCommerce email marketing funnel to ensure the best customer experience.
2.3 Increase customer retention
These days, every type of business, especially eCommerce platforms, are fighting for their customer retention rate. According to some typical opinions, eCommerce email marketing funnels should be built as a bowtie shape instead, in which the bowtie will be opened up again to create and promote a new journey after purchasing a product.
Existing customers are sometimes even more important than new customers, therefore, it is profitable to invest in optimizing their experience and encourage them to come back. Setting up your eCommerce marketing funnel and you can implement list segmentation so as to make sure to keep your existing customers updated on every new relevant service and product. This is the process to build a loyal customer base who will continue to buy and try all types of products you offer.
Besides, they also contribute to spreading the popularity of your business by word-of-mouth, attracting a large number of new customers and resulting in substantial revenue growth.
In eCommerce, the key is to turn current visiting traffic into sustainable online purchases. And building an optimal eCommerce email marketing funnel for customers to experience the best service in each stage plays the most crucial part.
Usually, there are 4 stages of an eCommerce email marketing funnel.
3. 4 stages of an eCommerce email marketing funnel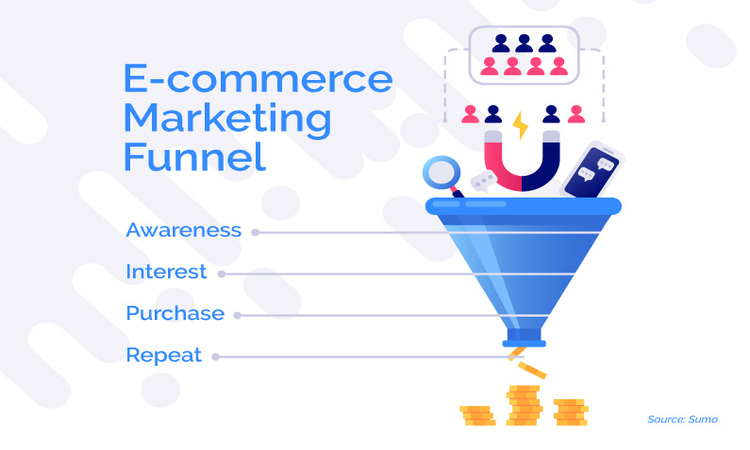 3.1 Awareness
Awareness is the first stage in any eCommerce email marketing funnel.
At this stage, your responsibility is to make your potential customers who have a certain kind of demand become aware of your products and services. Your email marketing comes to them at the right time and offers them the opportunities to find out some feasible solutions for their problems.
It is of critical importance to create the first good impression on your potential customers. This stage includes the use of welcome email, lead nurturing emails and promotions for the products and services that match with their problem. You can also offer discount coupons and create more attractive content to persuade customers that your products are the most suitable solutions for their needs.
Your goal is to draw the attention of as many users as possible, make them aware of your brand so that you can easily move them to the next stage in your eCommerce email marketing funnel.
3.2 Interest
Let's move to the next stage in building the eCommerce email marketing funnel.
Now you have succeeded in winning your customer's attention and making them take a look at your website. They are either the ones who are aware of the existence of your brand or the ones who are really interested in your services.
You can get the data about their behaviors on your store, what they are particularly keen on, what they usually search for, how much time they spend on each type of product, and then, create and send relevant and valuable content to their email to sustain their interests.
Now your customers are considering buying from your store. You need to move them down the funnel and make them take decisive action in buying products such as fulfilling their wish list or adding some things to their online cart. Focus on your customers' pain and their concerns, send marketing emails to remove any doubts about your products that make them less inclined to stay longer.
Then you have delivered effective marketing emails to increase their engagement in your online store.
3.3 Purchase
The third stage in your eCommerce email marketing funnel is a purchase, your responsibility is to push your customers to finally decide to buy your products.
At this stage, your customers have known the value of your service through persuasive emails and added the products to their online cart. They are ready to decide whether or not to make a purchase. What they need now is a push to help them complete the transaction.
Once you reach this stage in your eCommerce email marketing funnel, you need to start convincing your customers about your competitive advantage over other competitors, what is your unique selling point, and why your products are the most suitable match to solve your customers' problem and satisfy all their needs.
It is better to focus on the long-term benefits and the difference of your products than just telling about products' features.
Here are some tactics you can use to drive your customers' motivation to buy the products:
Create a series of emails that explain your key difference
Send your subscriber emails that offer sales or discount coupons when buying within a limited amount of time and a limited number of products.
This is how you can create a sense of urgency in your customers' psychology, make them feel that this is the most perfect time to buy your products.
3.4 Repeat
Now you've reached the final step in your eCommerce email marketing funnel: Repeat. Even when you can convert them into buyers, your job related to customer relationships is not done yet.
This stage requires you to go beyond to ensure and retain your customers' interest in your brand. Unless you develop a detailed strategy to further your customers' loyalty and retain your customers, it is highly likely that you will lose a lot of opportunities to win customers' attention again, make them less inclined to repurchase and recommend for their friends, which means all your previous marketing efforts are wasted.
This stage seems to use the same technique as nurturing in stage 2, however, the message you deliver to your customers can talk more directly about your products.
Here are some recommended ways you should take into consideration when creating content for email to strengthen the positive relationship with your customers:
Send customers surveys and ask for their feedback to measure customers' satisfaction with your products and services..
Keep customers updated with new products by weekly reports to increase customers engagement and remind them of your offer.
Utilize referral marketing to win more customers by offering loyalty programs with discounts and encouraging word-of-mouth advertising and sharing.
These are the 4 most critical stages in building an eCommerce marketing funnel. Marketers should research carefully and plan out exactly what they want to do in each stage to attract more customers.
However, strategy is not enough, if you look over small factors and make some mistakes in writing emails, your customers are unlikely to take a look at your brands.
So here are some tips for creating valuable and creative content for your eCommerce email marketing funnel.
4. 10+ Tips to build an email marketing funnel for Ecommerce
4.1. Write great copy, a catchy subject line
Firstly, it is important to write a great subject line as this is the time to create the first good impression on your potential customers that decide whether or not they will open your email.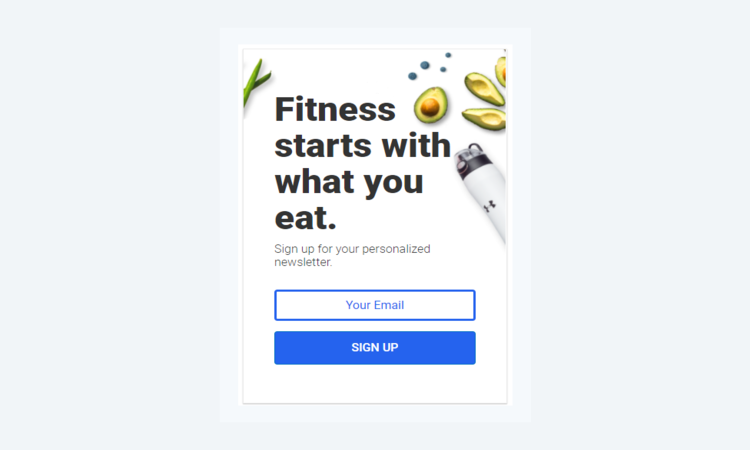 The key here is you have to understand your customers' pain to spark an 'yes' answer in their mind.
Let's write as if you were talking to a close friend, but still create some urgency, curiosity and personalization in that email to encourage customers to open your email immediately.
4.2. Do not overcomplicate
Secondly, simplicity also is the key in winning customers' intention and succeeding in building an eCommerce email marketing funnel. They can not agree to click and visit a website that they found their products and services difficult to understand.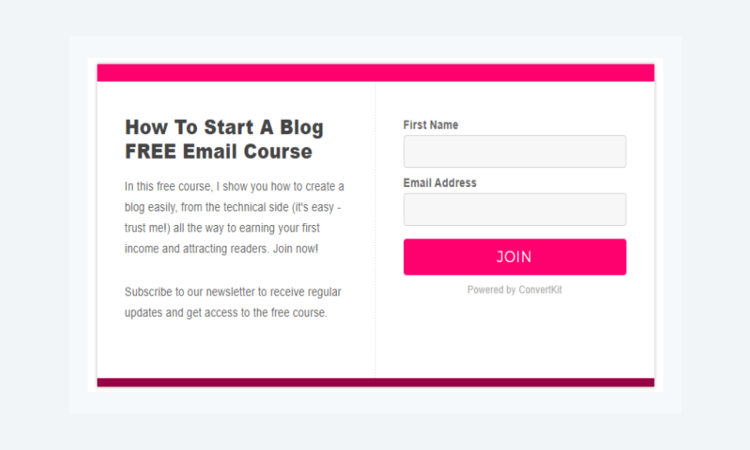 Focus on your main idea and message, and avoid any clutter and vague words as much as possible. Also it is better to use less color, font, simplify the design and utilise the theme that goes with your brand image.
4.3. Optimize the number of form fields
In addition to that, in this aspect, you also should make it as less complicated as possible in your eCommerce email marketing funnel.
A recommendable option is to use from 2 to 4 forms fields. Just collect the most usable information and ignore other unnecessary and distracting factors.
Another tactic you might use to make customers unconsciously fill in the form and give you key needed information is using ghost text. This ghost text is less visible inside the form fill which can drive customers to give out their data.
4.4. Make the CTA button pop
This is one of the most critical factors in building an eCommerce email marketing funnel and retaining customers' engagement with your brands.
Getting this CTA in the right place and using the right words mean you have won half of the game.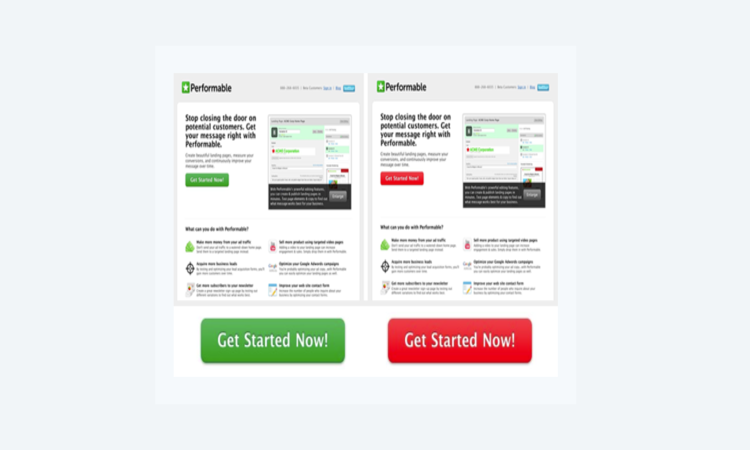 It is proven by Hubspot's research that using friendlier terms such as: Go, Click here, etc will sustain a higher conversion rate compared to: Sign up, Register, or Subscribe. You can try many options with different words and designs at first and figure out what is the most suitable term to use.
4.5. Emphasize the benefits
It is very easy to understand that customers do not disclose their personal information for a strange website. And in order to solve this problem, you should offer them something in return.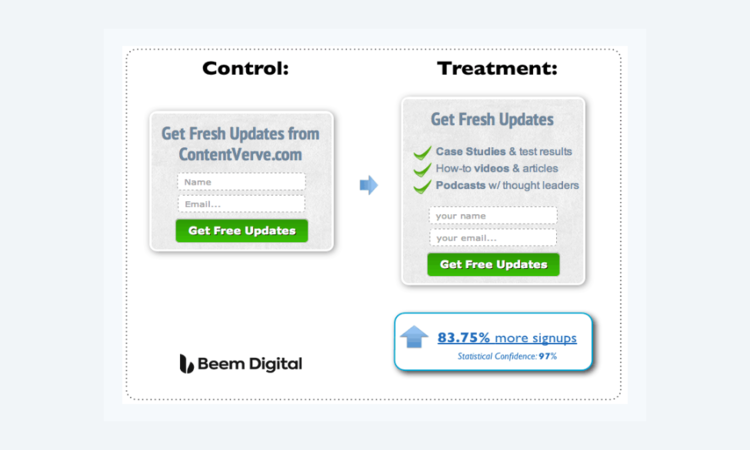 Let's emphasize the benefits they can reap from giving email and subscribing to your channel. Instead of just inviting them to register or click on subscribe, your business can offer them something that matches with their preferences such as online courses, webinars, access to unlimited resources, etc.
4.6. Add social proof
The next tactic to use in order to succeed in creating an eCommerce email marketing funnel is adding social proof in your email.
If you have attracted a large number of subscribers, why not show to your potential customers to win their trust. People tend to believe good reviews and lean to something that is popular, therefore, bringing them the sense of belonging to a large community and get access to many valuable contents and interesting products is highly likely to make them entrusted in you and your brand.
4.7. No spam, equals no subscribers
Furthermore, be careful in using sensitive words such as spam or privacy if you want to sustain your eCommerce email marketing funnel.
Customers seem not to notice about spam or breach of privacy but when you remind them about this matter by using words like: We will not spam you or We respect everyone's privacy. This is when you lose one of your potential customers.
4.8. Automate but personalize
In building your eCommerce email marketing funnel, the number of emails you send out is not the key factor to evaluate the success of your marketing effort but also conversion rate.
And personalization to bring good feelings for customers can make a great contribution to drive them to your website. Make sure you collect sufficient data to customize and personalize emails for each of your potential customers.
4.9. Delay the sale
Another noteworthy point is not to rush to the sale. If you neglect building a long- term relationship with your customers at first, you can not ensure a sustainable sales growth in the long run.
Let's show customers the value of your products and services at first to build and nurture trust in your buyers and gradually change their attitude towards your brands.
4.10. Simplify the design
The last notice when creating an eCommerce email marketing funnel is to simplify the design. Do not try to add too complicated designs with many colors, fonts and words to catch your customers' attention.
Just focus on your key message rather than going on too much about other additional information and use the theme and design that matches with the image of your brand.
That is all the key information you need to bear in mind when starting to build your own eCommerce email marketing funnel: The definition, all necessary stages and tips to win your customers trust.