To run a successful business on eBay, merchants need to know which items and product categories buyers are currently looking for and are profitable and how to keep up with the ever-changing eCommerce market demand. One of the ways to understand that is by doing your research on eBay, then taking a lot of notes. However, that's not a smart recommended strategy since wastes too much time. You can spend time wisely and save money, and figure out what to sell or what is the market trend by using professional eBay analysis tools.
1. List of 10 Best eBay Analysis Tools
1. Terapeak – Most popular eBay Analysis tools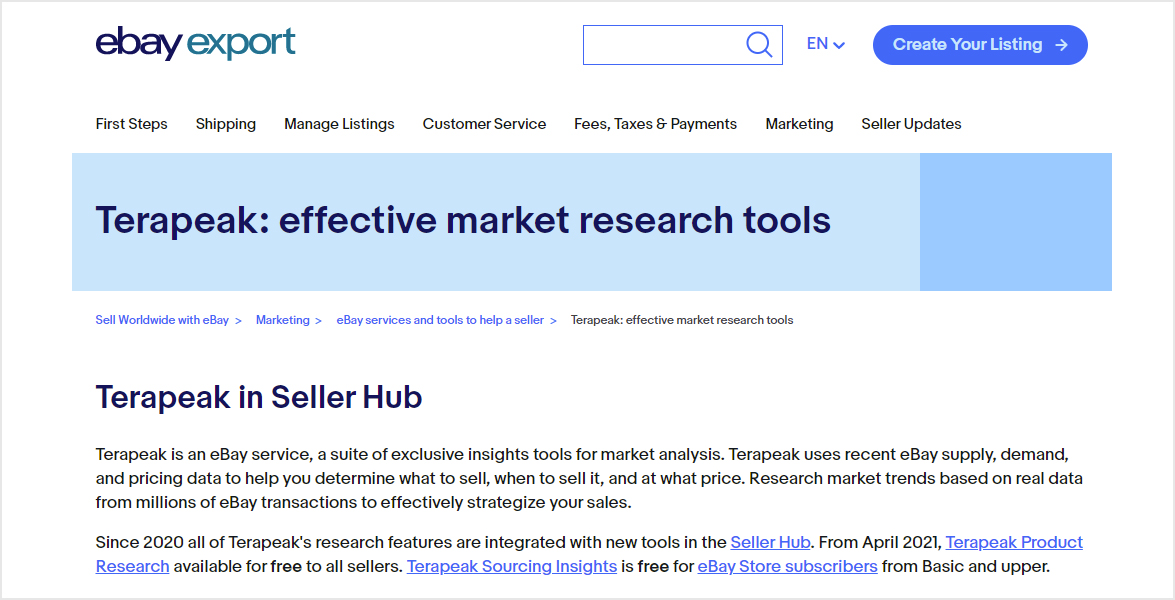 Terapeak is an effective eBay insights tool that helps eBay sellers research who their competitors are, which products are currently on-trend, etc. In addition, Terapeak takes advantage of recent eBay supply, demand, and pricing data to give you suggestions of what profitable products you should sell? when you can sell it? and much more information.
Terapeak also allows you to do research on recent marketplace price trends and real-world sales data for millions of products. This helps you optimize your listings and improve your sales velocity. With this eBay analysis tool, analyzing markets, competition, hot trends, etc becomes much easier than ever.
Benefits of using Terapeak eBay analysis tool:
Identify which product categories are in high demand
Stay ahead of seasonal demand by having a view of trends over time.
Understand easily statistics, graphs, and charts.
Get an overview of successful strategies for attracting buyers and potential areas to improve.
Search by keyword or product and get the information you want by using the filters.
Optimize listing and research the top-performing listings by looking at listing details such as photos, price, etc.
Retail standard optimization
Market research to better understand changes in supply and demand, and identify the sales volumes, etc.
Reactivate underperforming listings
Pricing Plan:
Basic, Premium, Anchor, and Enterprise eBay Store subscribers can use it free
$12/ month for the annual plan: Starter Store subscribers and non-store sellers:  & $19/ month with no commitment.
2. Algopix – eBay Analysis Tools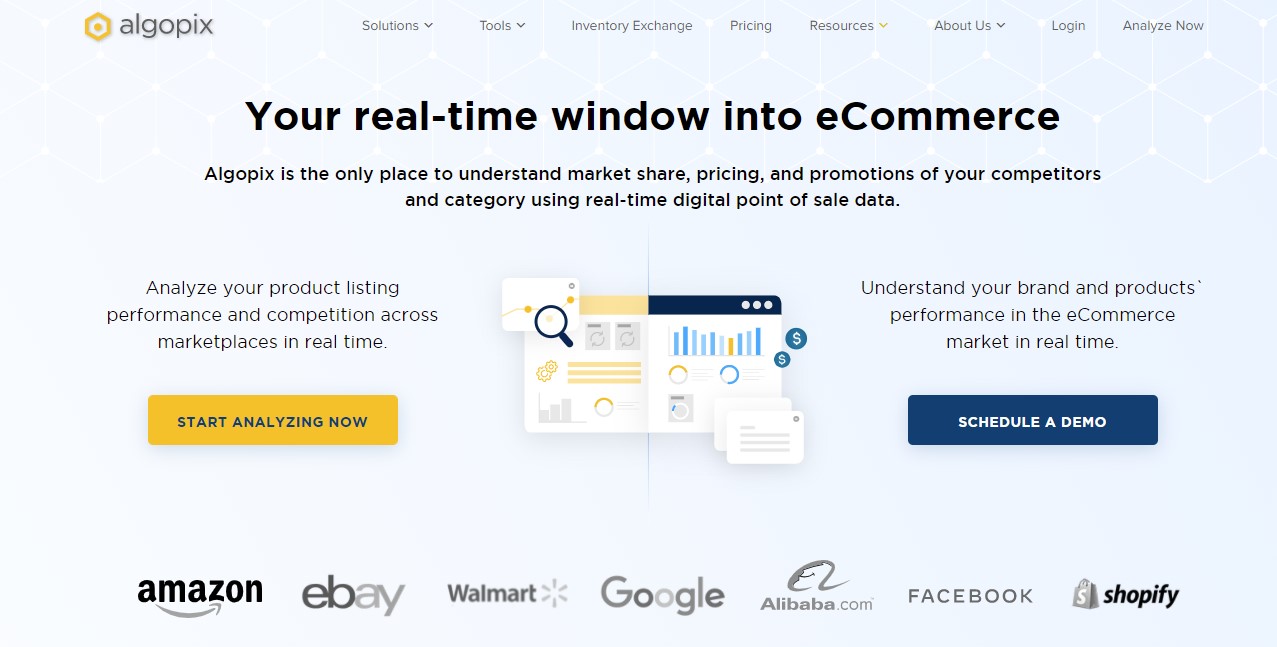 Alopix described itself as the "leading cross-channel product market research solution," that will let eBay sellers conduct fast and easy category research, market research, bestseller research, keyword research, product analysis, multi-product analysis, store analysis, and more. On top of that, Alopix allows you to research the marketplaces that you want, for instance, eBay UK vs. eBay US.
You can get data such as sales prices, sales trends, product details, and performance for different markets worldwide by entering a keyword or product UPC/ ASIN. Algopix eBay analysis tools also offer you the option to upload a CSV file containing up to 200 products and research in bulk in just a few minutes. Alternatively, this tool allows you to get a detailed analysis of all products sold in competitor's eBay store and their performance.
When it comes to getting product ideas, you can have a list of current items, that are related to the terms you search, being sold on eBay. And you can click on the Analyze button to see comprehensive data about that product including:
Sales performance over the last 30 days
Estimated demand
Estimated expenses breakdown for the seller
Estimated profit
Competition
Recommendation score
Pricing plans:
Free Plan
Monthly Plan: $34.99/ month
Annual Plan: $27.99/ month
3. ShelfTrend – Ebay Tools for Analytics

ShelfTrend has both a free and a paid version that uses inventory and product listings from thousands of product categories worldwide to help you identify what profitable products to sell, what is the best keywords to use, best-selling categories, and much more. With ShelfTrend, you can monitor competition by identifying and researching competitor activity, their listing levels, price changes, and more.
ShelfTrend – eBay analysis tools support to analyze marketplace movements by checking changes to the Top 500 to uncover emerging competitors and new products, gauge sales, and shift buyer demand. To run a successful business, it's important to know where you stand against others selling similar products. You can do know your position in your market area thanks to the ability to benchmark the business of ShelfTrend.
Your favorite reports and report history are also available with a simple, clear, and concise data structure in the dashboard. ShelfTrend offers four types of report options for you including:
Top 500 live listings
Average Weekly Sales
New Listings
Supply and Demand
With the real-time overviews feature, you can view the most important stats such as search rank, inventory levels, sales velocity, location, price ranges, and listing volume quickly in real-time.
Pricing plans:
Free Plan
Premium Plan: $19.99/ month
4. Zik Analytics tool for eBay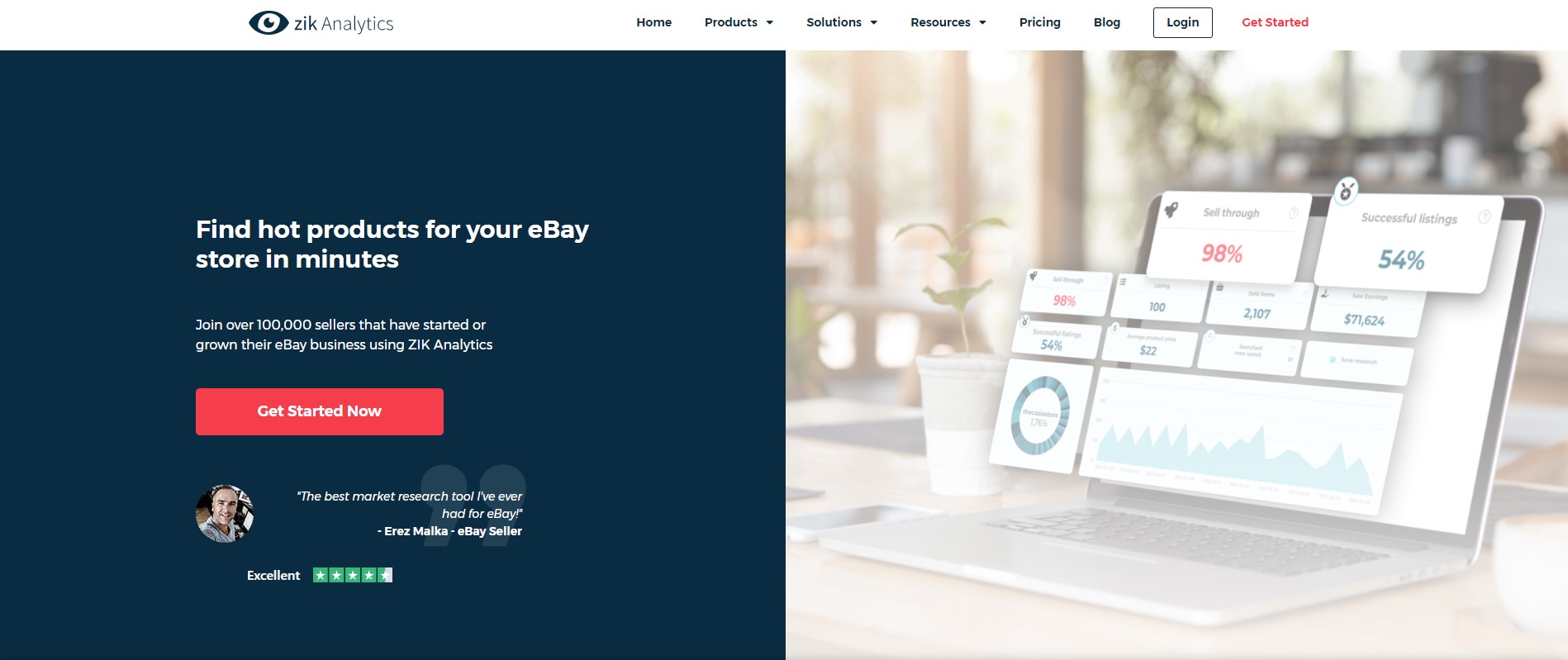 ZIK Analytics is an eBay market research tool that helps your eBay store find profitable products by scanning competitors for product ideas, uncovering hot item categories, and ranking your products on the first page.
What benefits you can get from ZIK Analytics? As mentioned above, this eBay analysis tool will help you fill your eBay store with profitable items. By getting eBay sales data for any item, ZIK Analytics provides you with a list of products that have a huge potential to sell.
With the Competitor Research Tool, you can know what's selling well, who your competitors are. On top of that, you can use this tool to know what strategies that successful sellers use to dominate on eBay, and other information such as sell-through rates, active listings, average prices, sold products, and much more.
Moreover, ZIK Analytics gives you a chance to rank your products higher than your competitors by getting your products on the first page of eBay's search results. This eBay analysis tool is good at finding the best keywords for any eBay product, sorted by the number of competitors and sales. This data is then used to create titles that rank your products high and drive sales to your listings.
Pricing plans:
Starter Plan: $29.99/ month
Standard Plan: $59.99/ month
Enterprise Plan: $89.99/ month
5. DataLabs – Free eBay Analytics Tool
DataLabs allows you to know the most popular products on eBay in real-time by showing you what's trending on eBay each hour. This eBay analysis tool has a simple layout, so you can filter your search by heading to the 'What's Popular' section and narrowing things down a little more.
After following those steps, DataLabs's screen will show an assortment of items from different categories. You should select your own categories to better match your own inventory. If you're stuck on product ideas, you can start off by choosing a category and seeing what's trending within those and possibly a good idea for you to sell.
Pricing plan: Free!
6. Mark Sight
Mark Sight is another effective eBay analysis tool that is easy to use for every seller. Just by simply entering any keyword into the free tool, you can see results based on the past seven days including sold vs. unsold statistics, the average price, sell-through rates, and more. These result also includes charts with various keyword ideas for you.
With Mark Sight, you can set a minimum price for items. And you also can choose between results showing the median price and results showing the average price. Besides, you are able to learn more about the niche you're researching, check profitability, spy on competitors, and more through its paid Market Reader tool. You can access The Gold Plan to explore the top 10,000 best-selling products to sell on eBay, this gives you an insight into what's happening in the market.
Coming with a free eBay fee calculator tool, Mark Sighthelps you calculate your income based on several fees such as eBay fees, PayPal fees, and shipping costs.
Pricing plan: Free. Purchase Market Reader tool for $12.95
7. KeywordTool.io Keyword Tool for eBay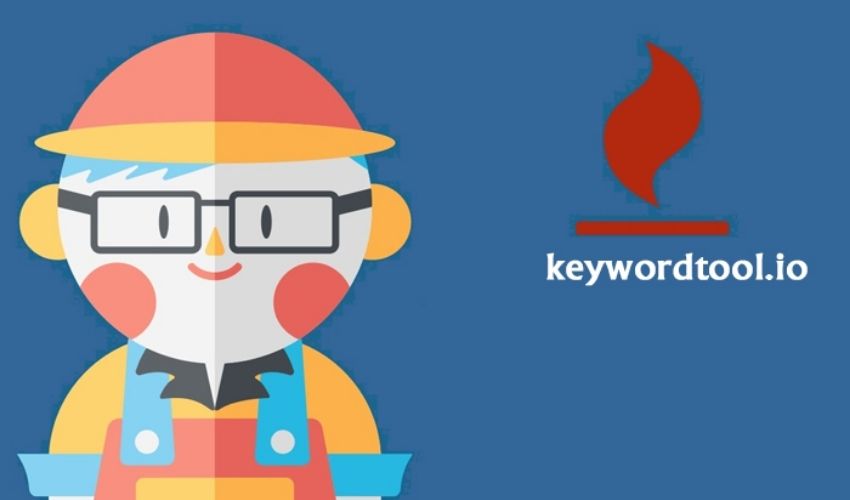 When it comes to eBay analysis tools, you can not miss Keyword Tool. This keyword search tool will help you to understand what products that people are looking for to buy on eBay by giving you a list of the best keyword ideas. Those keyword ideas are extracted from real search queries that people use when searching on the eBay app or website and provide them to you for free. They are also will be shown alongside search volume data to help you estimate the relative popularity of eBay keywords. Then you could determine what is and isn't popular.
To narrow down the list of generated keywords and make your keywords more relevant, you can use various useful features of the Keyword Tool such as filters and negative keywords.
If you are a huge business, you can consider using the paid version of Keyword Tool, instead, the free one. The paid version of Keyword Tool provides on average two times more keywords than the free version and even supplies the search volume data for search terms. The latter benefit will help you understand the popularity of any given eBay keyword easily and choose the most or the least popular keywords on eBay and use them for eBay SEO or any other purposes.
In addition, Besides the ability to provide hundreds of useful keyword suggestions for eBay SEO in a matter of seconds, you need to know that all generated keyword suggestions come directly from real searches made on eBay.
Pricing plans
Free Plan
Pro Basic Plan: $89/ month
Pro Plus Plan: $99/ month
Pro Business Plan: $199/ month
8. LimeStats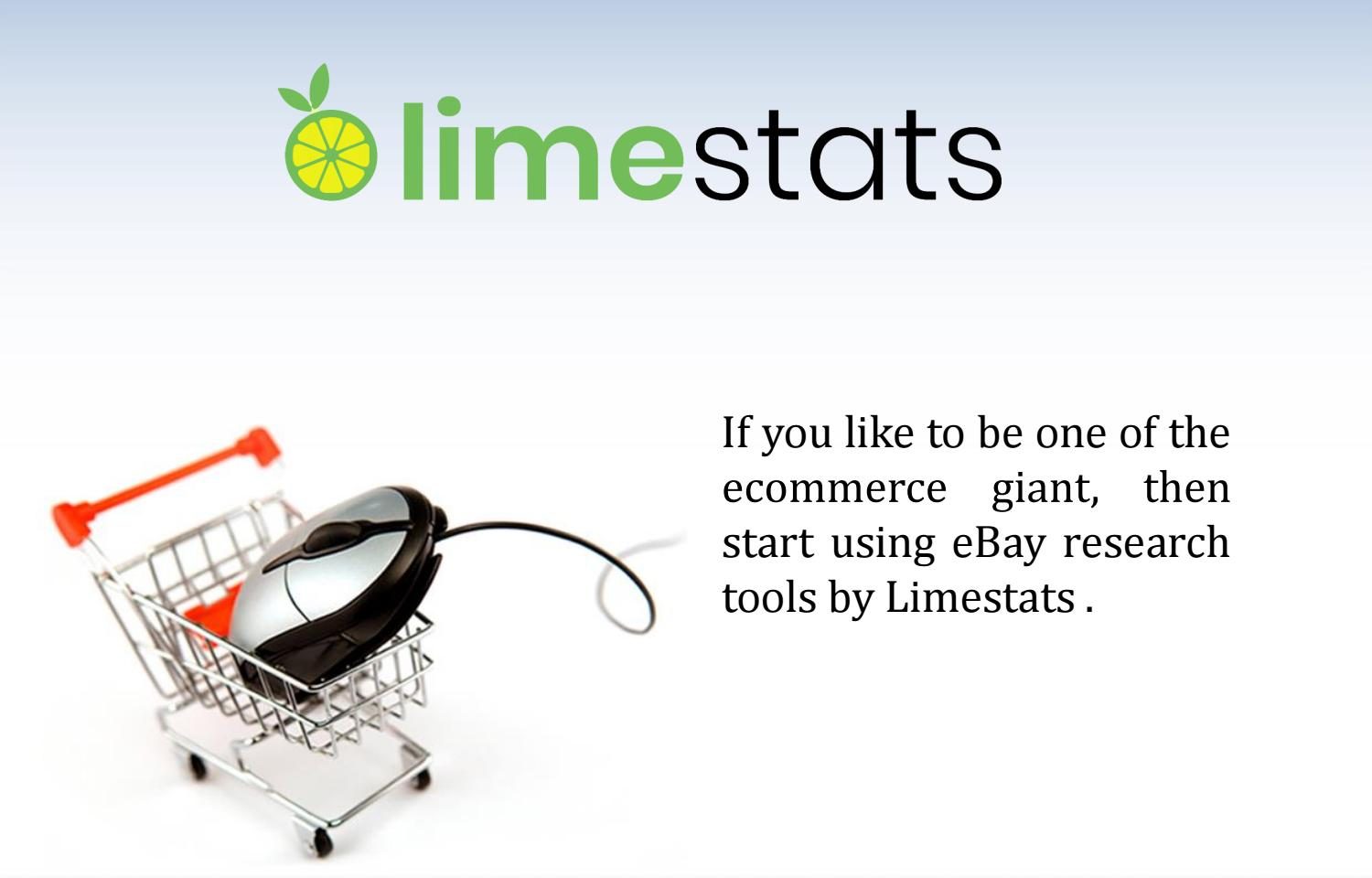 LimeStats is a good eBay analysis tool that offers fully useful features to help you track eBay products and keep track of your competitors. By searching keywords, SKU, or item number, you'll get a list of related products with statistics such as price, revenue, quantity, items sold, and much more. To avoid getting duplicate results, LimeStats will group multiple variations of a single listing together if a product has several variations like several sizes or colors, that's an amazing feature.
Furthermore, this eBay analysis tool also allows you can to get an overall view of your historical sales, historical revenue, quantity change, and more. In addition, you can access a variety of charts including daily, weekly, and monthly charts to track revenue, sales, promotions, etc. Having a snapshot of those statistics and charts enables you to determine how profitable a product would be and what price you should charge for it.
However, Limestat free plan only allows you to track only five product listings per month. To track more listings, you will have to upgrade your account to the Standard or Enterprise plan.
Pricing plans
Free Plan
Standard Plan: $19.99/ month
Enterprise Plan: $39.99/ month
9. Megasaleboot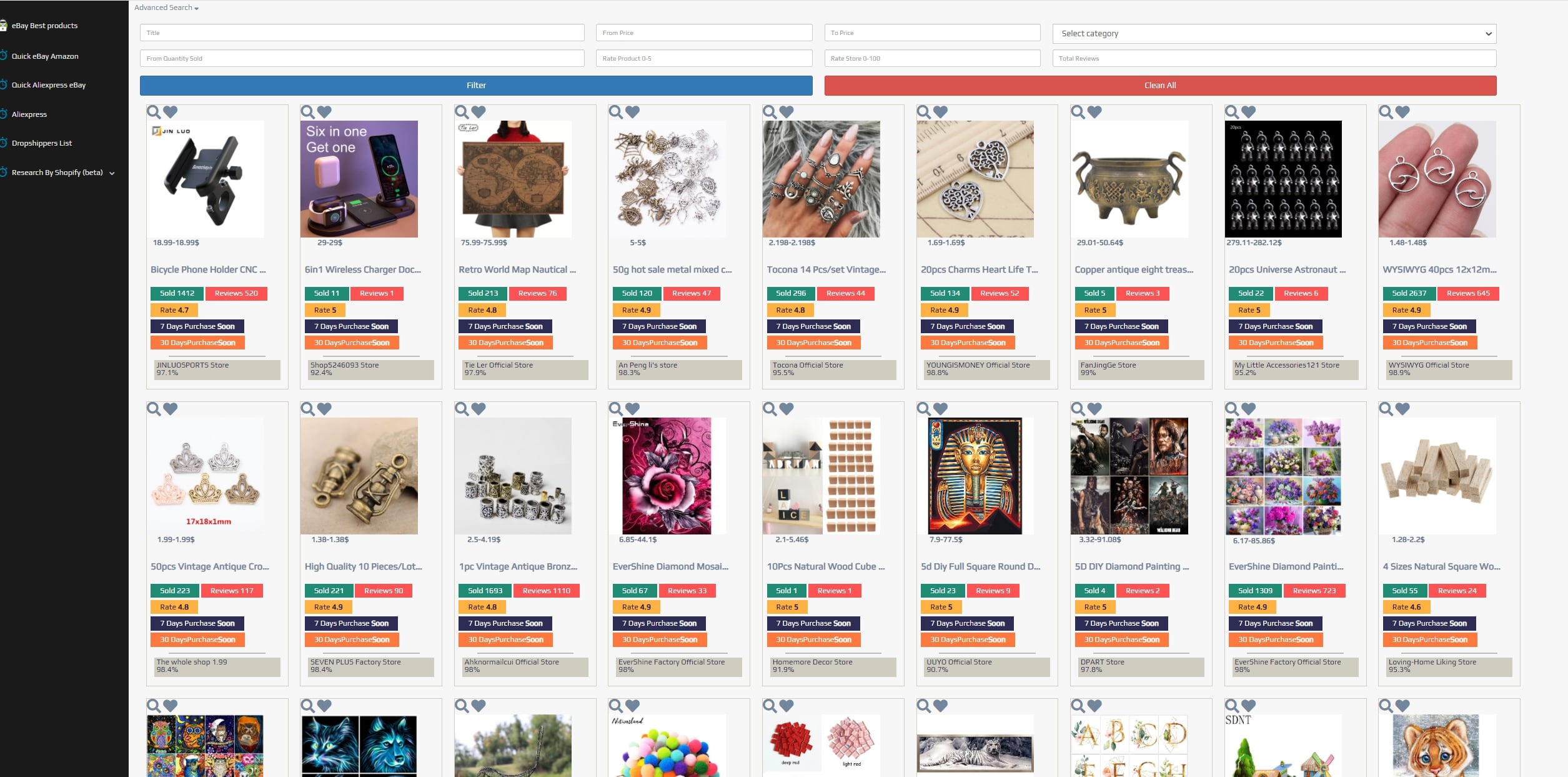 Megasaleboot is one of the best eBay analysis tools – it helps you find winning dropshipping products from eBay easily with only the touch of a button. This tool can give you an inside look at the best-selling items from one of the world's biggest marketplaces like AliExpress and other product information including product info, product rating, number of reviews, how many have sold in the past 30 days, 7 days, and more. Plus, Megasaleboot will add product ideas to your eBay store, and locate from other suppliers quickly in a few seconds.
Megasaleboot ​allows you to identify profitable, high-volume items being sold by top dropshippers in your country. Additionally, you can access lists of Shopify stores to view their bestselling items, their ratings, number of visitors per day, monthly revenue, and more. Those features help you have profitable product ideas as well as learn from the top seller.
In general, with Megasaleboot, you could have several benefits including:
Unlimited scans of sellers per day
Niche and keywords research
Found profitable items based on recent sales
Products can be found via seller ID
Pricing Plan: Start 7 days free, then get purchase with 6.99$ per month
10. Dropeex

Dropeex helps you find winning products easily on eBay and other marketplaces based on the products that you search. In addition, this tool also lets you filter for products that have sold at least 5 times in the past month, get a list of the top dropshippers in your country. Uploading items to your eBay store in bulk within a few clicks is easy with Dropeex.
The tool also works well with various language work with multi countries like ebay.de,ebay.es. Every detail of the products will be copied in the right language by just selecting the right language on the Aliexpress website. All the order fulfillment process is automatically conducted thanks to the order fulfillment tool. This way helps you avoid having orders go unnoticed and unfulfilled while planning strategies to increase sales and customer satisfaction.
Pricing plan: $1 for the first 7 days, then $19.99/ month.
2. Conclusion
To be successful on eBay, you will need to stand out from the crowd by providing customers with the right products and understanding the competitors as well as the market. Using an eBay analysis tools can help you discover profitable products to sell on eBay and get an insight into market demand deeply.