Customer contacts occur in various forms and sizes for eBay vendors. There are lovely customers you hope you could have every day, and there are some you never want to talk with again.
Ideally, every buyer transaction should be a happy one. Customers—both good and bad—are an important part of your business's success, so you don't want to send them away on a frequent basis. However, for your own peace of mind, you may need to ban certain consumers.
If you've ever experienced this kind of unfavorable experience, block eBay buyers' function can help. We'll show you how to detect when you need to block a buyer and how to go about doing so.
1. Reasons you might need to block eBay buyers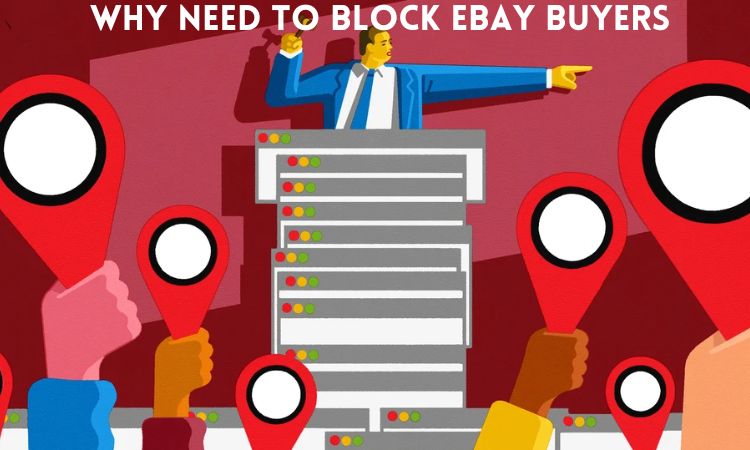 When you block a buyer on eBay, they won't be able to buy anything from you. When you block the user, they can get access to your listings, but they will be unable to bid, make an offer, or select 'Buy it now.'
It is not, however, the same as banning someone on WhatsApp or Facebook. They'll still be able to contact you (but there's a way to block these people's messages as well!)
Block eBay buyers should not be done on a regular basis. However, there are situations when it's justified to restrict someone from bidding on or purchasing your things – especially if you've had a bad encounter with this customer in the past.
The following are some valid grounds to prohibit a buyer:
Purchases not paid for

Bids being withdrawn

Interactions that are negative or abusive

Fraudulent behavior
You don't want them to be able to buy your items since they're a rival. When you block eBay buyers, the restriction will be applied to all of your listings. As a result, eBay cautions merchants from using this function.
2. When do you need to block eBay buyers
Block eBay buyers should not be done on a frequent basis. After all, you're in business, and not every customer is going to be pleasant. However, there may be times when you need to put a buyer on hold. In circumstances, you can check at the following are examples of these circumstances:
They have not reimbursed you for previous transactions. It's time to ban a customer if you've given multiple reminders and they still haven't paid after several days.
They frequently withdraw from offers. If a customer is constantly bidding on your things and then canceling their bids, you may need to ban them since it wastes your time.
They are constantly unpleasant or abusive in their interactions. You should ban a customer if they are consistently verbally abusive or if your dealings with them are always tough.
They've been identified as committing fraud. You should avoid selling to a buyer who has been accused of fraudulent behavior by other purchasers or eBay.
You don't want them to be able to buy your items since they're your competitors. To avoid seeming petty, if your product is one-of-a-kind and you don't want your competitors to buy it, try barring them.
When you ban a buyer, they will still be able to access your listings but will not be aware that they have been barred until they attempt to bid or purchase your product. They receive the following notification at this point: "This vendor is not taking bids from you." It's ultimately up to you to decide when to block someone. eBay provides no specific instructions on when or to whom you should do it.
3. What happens if you block someone on eBay?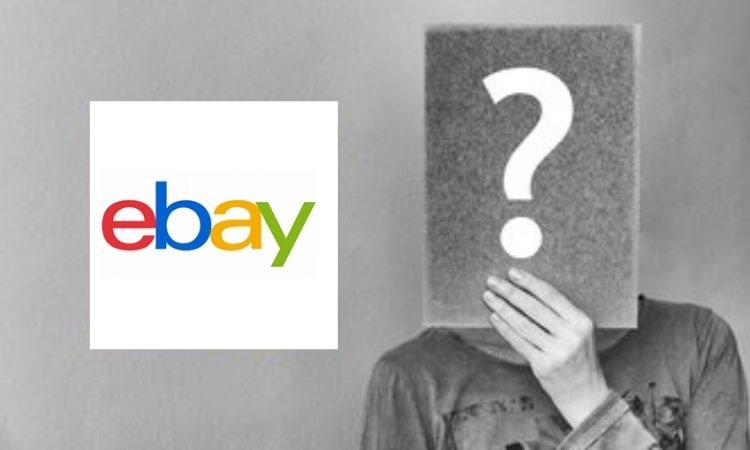 It is common for a seller to reject a buyer for a variety of reasons – block eBay buyers. In this scenario, people are curious as to whether or not purchasers will be able to see the postings that have been restricted. Or do they get some type of notice when they try to buy something, or they don't get any kind of notification?
In general, no, unless they attempt to bid on or purchase any products. eBay merchants usually do not inform their clients that they have already been placed on their prohibited lists. However, it is only as individuals approach to purchase products that they become aware of and see the listings, which include them. You won't be able to see the listing if you're a new eBay buyer. Signing out or using a browser that isn't linked to eBay, on the other hand, is a certain way to see whether you're prohibited.
Blocked purchasers do not get an official notice telling them that they have been blocked. Nonetheless, as seen in the image below, they may receive a refusal notice.
When a person is blocked, he or she will be unable to bid on your listings, purchase from you, or contact you about any of your listings. Furthermore, for personal reasons, such as shipping, you can ban all eBay purchasers from specific states or countries. This is especially handy if you're attempting to keep your selling costs down by just selling in specific areas.
4. How to block buyers on eBay
Sellers on eBay have complete control over who may bid on and purchase their things. The methods below will allow you to add customers who have disputes with you to your Blocked buyer's list. Add a buyer to your block eBay buyers list if you've had a problem with them do not want them to buy or bid on your things anymore.
Step 1: Log in
First and foremost, go to eBay's main page and click on the "Sign in" text. After that, log in to your personal account and select the "Help & Contact" tab at the top of the page.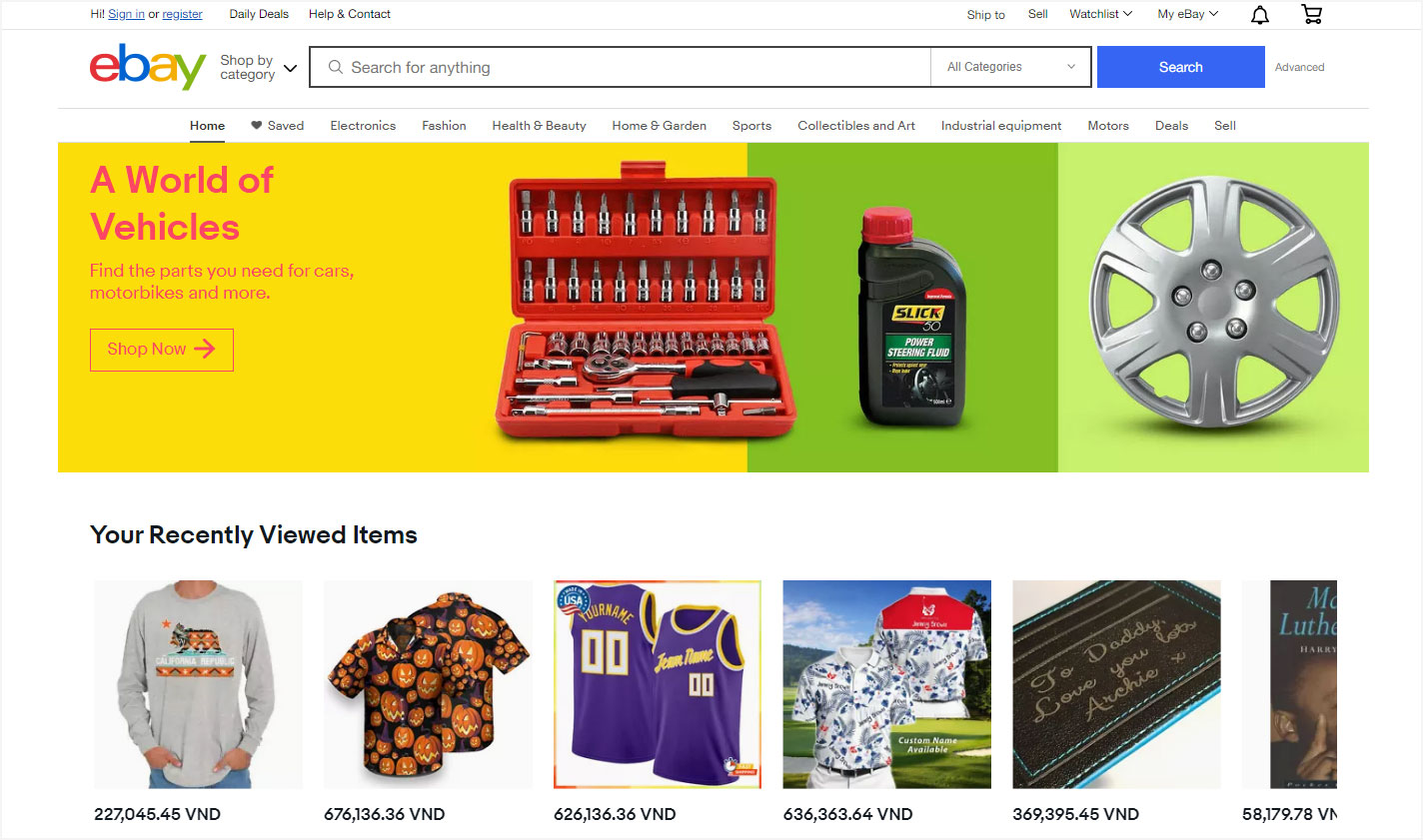 Step 2: Search "Block a buyer" link 
Secondly, to block eBay buyers, type "block a buyer" into the search field on the following page to discover the link to block someone.
Step 3: Click on the link appearing 
Then, when you see the blue "Block a buyer" button appears, you can click it to get to the Block Bidders Page.
Step 4: Enter the username
The final and most critical step is to input the login on the Block Bidders Page. To save the list, fill in the username(s) of the buyer(s) you want to ban and click the "Submit" button. There is a limit of 5000 usernames or email addresses that you can input. Every username could be separated by a comma. By choosing the Recover list, you may also restore a previously blocked bidder/buyer list.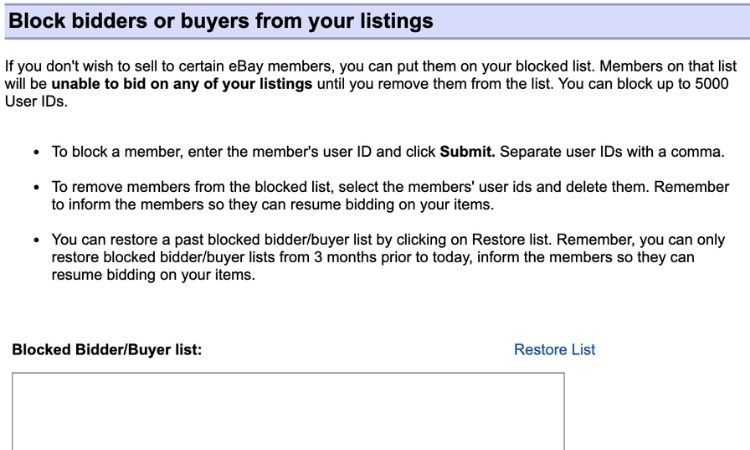 Blocked purchasers – block eBay buyers will be unable to locate or purchase your things until you remove them from the list. You can unblock people by following these steps:
From your listings page, go to Block bidders or buyers.
Remove the member's username from the text field.
Choose Submit.
After successfully adding users to your prohibited list, you'll receive the statement "Your blocked bidder list has been successfully updated with the new information you supplied." Please be careful to add correct buyers to the block. In some cases, though, you will be harmed by inputting incorrect usernames. If you type in incorrect usernames or email addresses, you'll see a notice similar to the one below.
As a result, you should carefully search for their names to avoid inputting erroneous usernames. If they are also sellers, this procedure may be completed by clicking on one of their items and seeing their precise username. Also, even if you don't recall their names, the eBay search page will give you the right usernames.
Optional step
Users who have been blocked are still able to message you about a listing. You may adjust this on your eBay account's buyer criteria page if you want to. This page may be found under your account's 'Site Preferences' tab.
'Don't allow blocked buyers to contact me' should be checked. That's everything there is to it.
The 'Contact seller' button on your ads will no longer be visible to block eBay buyers. They'll still be able to contact you about any previous transactions they've had with you.
5. How to block buyers or add buyers to your black list on eBay by country or state? 
You can opt to ban purchasers based on particular criteria in addition to barring a single person to block eBay buyers. Purchasers from a nation or state you don't wish to ship to, or buyers who haven't paid for their purchases, for example. Follow these procedures to block eBay buyers by state, nation, or territory.
Step 1: Click on "My eBay"
Click the "My eBay" option in the top right corner of the home page after login into your account.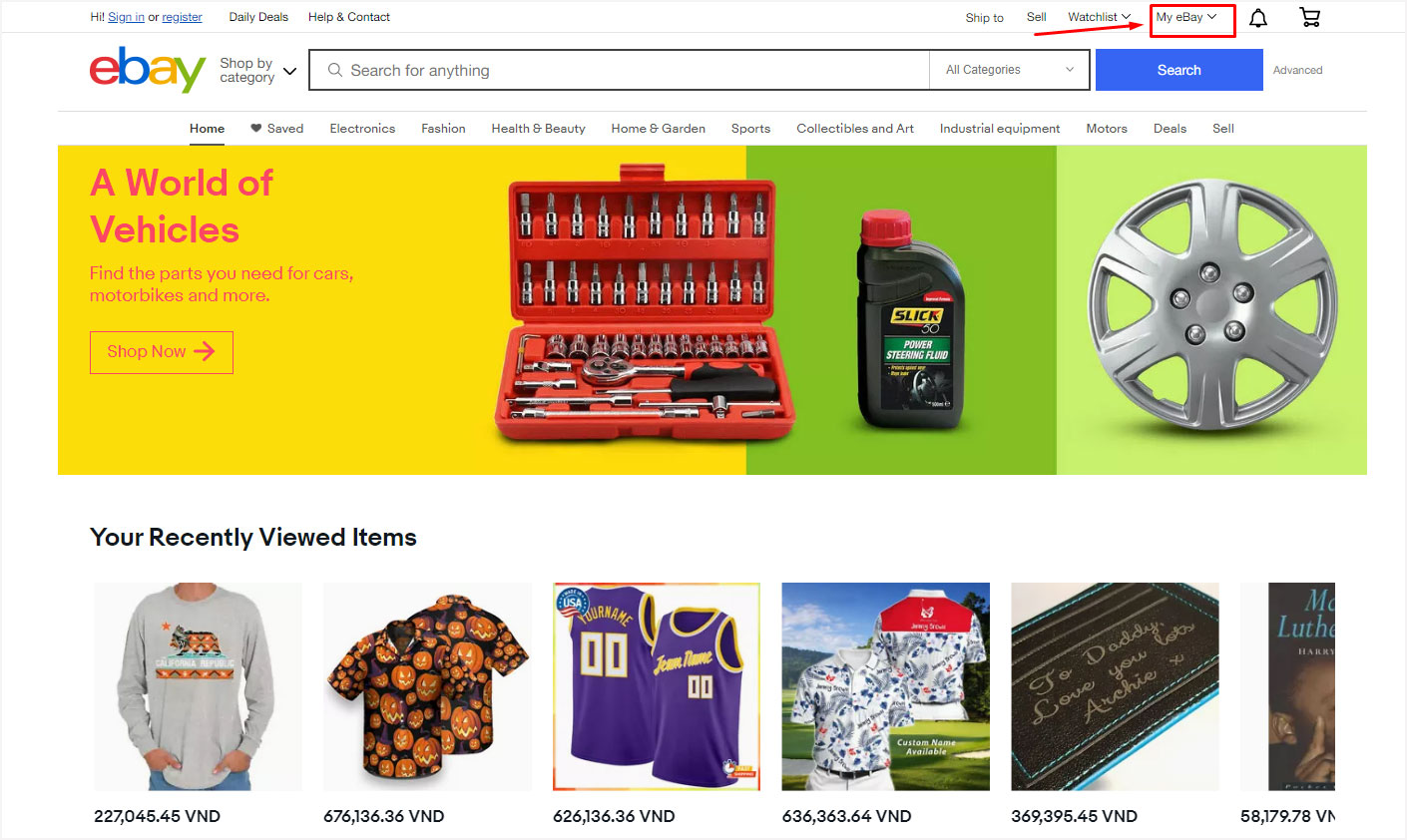 Step 2: Click on the "account" tab 
Click the "Account" option in the top right corner of the home page after login into your account.
Step 3: Go to "Site preferences" in My eBay 
By clicking the "Site preferences", you will travel to your account preferences to adjust your purchase and delivery settings.
Step 4: Click on the "shipping preferences" link 
Next, scroll down to "Shipping Preferences" and click the link to see a page allowing you to restrict whole areas.
Step 5: Edit the "Exclude shipping locations" section 
Then select "Edit" after scrolling down to "exclude shipping regions."
Step 6: Choose blocked regions 
Click the locations you don't wish to ship to in this section. By clicking on "Show All Nations" beneath a given region, you may omit individual states and countries in addition to choosing whole regions to block eBay buyers.
Step 7: Edit the "Buyer Requirements" section
Return to the "account" page and choose "site preferences" after choosing the restricted locations. Then, on the "Buyer Requirements" page, scroll down and select "Edit."
Step 8: Click "Buyers In Locations To Which I Don't Ship" and then "Submit"
6. Before you ban eBay shoppers, check these alternatives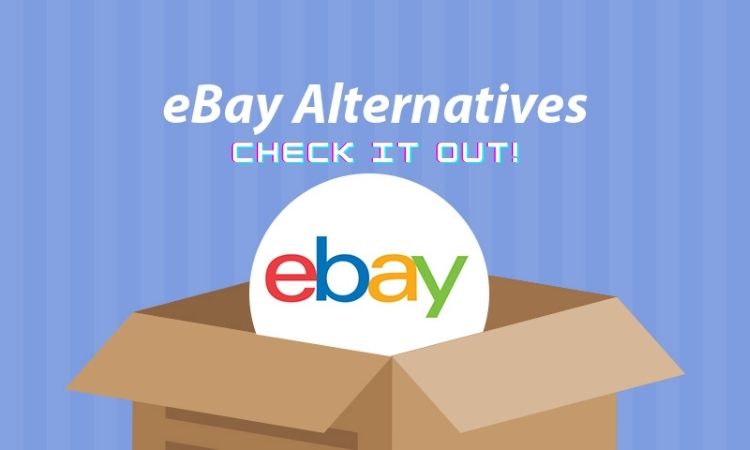 Some exchanges may irritate you, but they may not be worth blocking. You may take various steps to keep purchasers in control without completely prohibiting them. Check out eBay's Seller Safeguards website for a more in-depth look at the protections available to you as a seller, as well as the following points.
6.1 Create a list of buyer criteria
Buyer criteria on eBay are a set of broad rules that filter out customers you don't want to contact. You may minimize your encounters with buyers who can make the deal difficult for you by setting buyer conditions. This is preferable to blocking since it reduces the likelihood of dealing with unscrupulous customers.
Buyers in the following groups are allowed to be restricted:

Buyers from locations where shipping is prohibitively expensive

Buyers that have a history of not paying their bills
Buyers who buy your items on a regular basis but only provide negative comments
To restrict buyer categories, go to the Buyer Management page and pick the categories you want to restrict.
6.2 Report the buyer in question
You can report purchasers who act in ways that are against eBay's policies. As long as the reason you're reporting them is proven accurate, you'll be able to take effective action against them. You should report customers to eBay for the following reasons:
They want something that wasn't included in the first place.

They are abusing eBay's return policy.

They want you to complete an eBay sale.

They take advantage of the retraction procedure for bids.

They massage you regularly, even if they have no intention of buying from you.
Reporting customers saves you the trouble of barring them and protects other vendors from troublesome buyers.
6.3 Utilize the resolution Center
When you have a problem with a buyer as block eBay buyers, use eBay's Resolution Center. After you've sold an item, eBay allows you to submit problems in the Resolution Center.
If you still believe you can reason with a consumer about an issue, the Resolution Center is a viable choice. It only offers two alternatives, however: reporting an unpaid item or canceling a transaction. You will profit from reporting unpaid items through the Resolution Center because failing to do so may have an impact on your seller performance level.
While you may report unpaid-for things in the Resolution Center, activating the Unpaid Item Assistant on your account to begin and end cases swiftly may be beneficial.
6.4 Make any necessary changes to your transaction record
Automatic Defect Removal on eBay allows you to fix any flaws that have been unfairly applied to you. "A component of a transaction that eBay judges to have generated a negative purchasing experience for purchasers," according to eBay.
If a buyer was found to be the incorrect party in a transaction or there were other circumstances beyond your control, you might have flaws erased from your record. Delays in delivery or troubles caused by eBay site faults are examples of such occurrences.
Conclusion
How to block eBay buyers is explained in the simplest and most precise way possible. If you follow these procedures, you should have no trouble banning someone on eBay. 
Consumers come and go, but their impressions and reviews about your service might have an impact on future potential customers. Instead of barring consumers who are rude or difficult, focus on providing excellent customer service to win them over.
Create a customer interaction playbook to assist you in positively influencing your customers' shopping experience. Ideally, this resource will assist you in reversing unpleasant customer encounters so that you don't have to block them or deal with poor reviews.