In Q2-2020, eBay's revenue increased 18%, and needless to say that eBay is one of the best eCommerce channels. This platform is especially well-known for its auctions and is available in countries around the world. Anyone can open an eBay account for free. You can choose to sell as well as buy the product. If you are going to start your business journey with eBay, this is the right decision.
Before actually opening your online store on eBay, make sure that you have identified your target customers and products through researching what are the best selling products on eBay.
1. Top 10 Best Selling Products On eBay You Need To Know
1.1 Electronics & Tablets/Desktop – Best Selling Products On eBay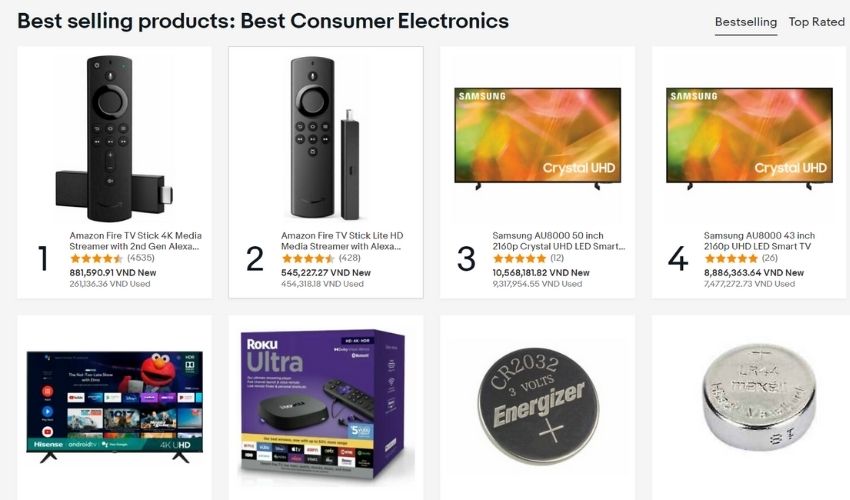 Electronics& Tablets/Desktop products are the top best selling products on eBay. In 2020, computers and consumer electronics are responsible for 22% of the US retail eCommerce market share. The top best-sellers items include Voice Remote, headphones, and automated home technologies that Voice Remote and smart TV are the two hottest products.
The trend of shopping for these products continues to increase due to the strong development of technology.
However, there are some issues you need to know when selling these products:
DOA (Dead on Arrival issues): In fact, electronic products are often faulty by the supplier. So check them one by one before sending if you don't want to be returned or get 1 star.
Battery issues: When selling some battery-powered products such as BlueTooth speakers, you may need to handle some problems related to Lithium-Ion Battery restrictions such as meeting requirements for shipping service and more.
The complexity of use: Sometimes you have to deal with customer support issues more than other sellers when selling electronics because not all of your shoppers are tech-savvy.
1.2 Clothing, Shoes & Accessories – Best Selling Products On eBay
Clearly, Clothing, Shoes & Accessories is one of the best selling products on eBay. This is an attractive industry for any merchant doing online business on eBay as the need to dress well occurs year-round. Other than tech stuff, there aren't many lower digital barriers for all clothing merchants offering the opportunity to market. They can sell and fulfill orders globally and automatically.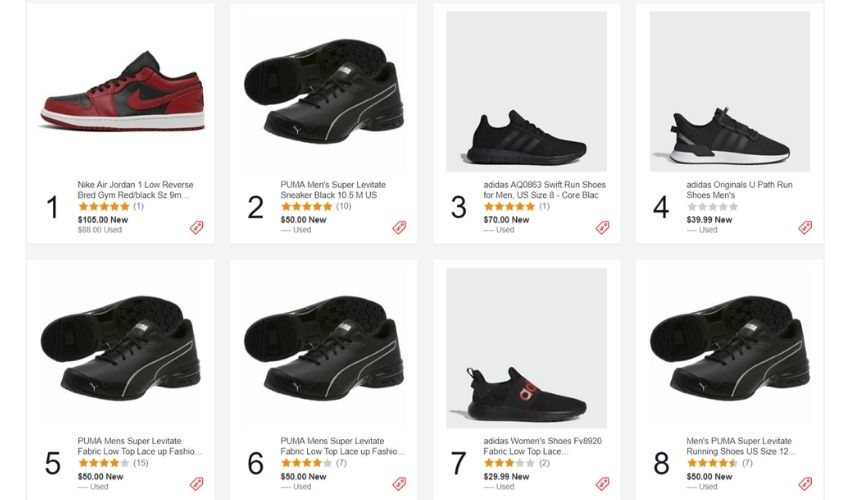 eBay sellers tend to sell products that come from well-known brands like Adidas, Nike, or PUMA. If you are considering this category, there are some notable things,
Large MOQs (Minimum Order Quantities): Most of the clothes sold on eBay are imported from China. In fact, products in China are often sold in large quantities, which is difficult for you to import in small quantities, especially with little capital.
Sizing issues: Selling products in this category sometimes experience high return rates. While clothing or footwear products often have detailed size charts, it's inevitable that you may have to deal with returned products that don't fit the buyer.
Overstock: Shortages and over-stock are easy to happen when shoppers often shop based on-trend. Therefore, you should manage your stock carefully and launch the necessary sales campaigns.
1.3 Fitness Equipment & Gear – Best Selling Products On eBay

Today, health is a matter of great concern, many people go to fitness centers to be healthier, or have scientific diets to create and healthy lifestyle and have a balanced body. However, not everyone has enough time and money to go to the centers while doing the gym at home giving them more flexibility in terms of time. And exercise products including yoga equipment are becoming one of the best selling products on eBay.
Best-selling Fitness Equipment and Gear products include Fitness Tube Exercise Resistance Band Set, Exercise Floor Mat, Finger Strengthener, and more. Most of the bestseller fitness products are home fitness equipment that the customers can easily purchase and do exercise at home.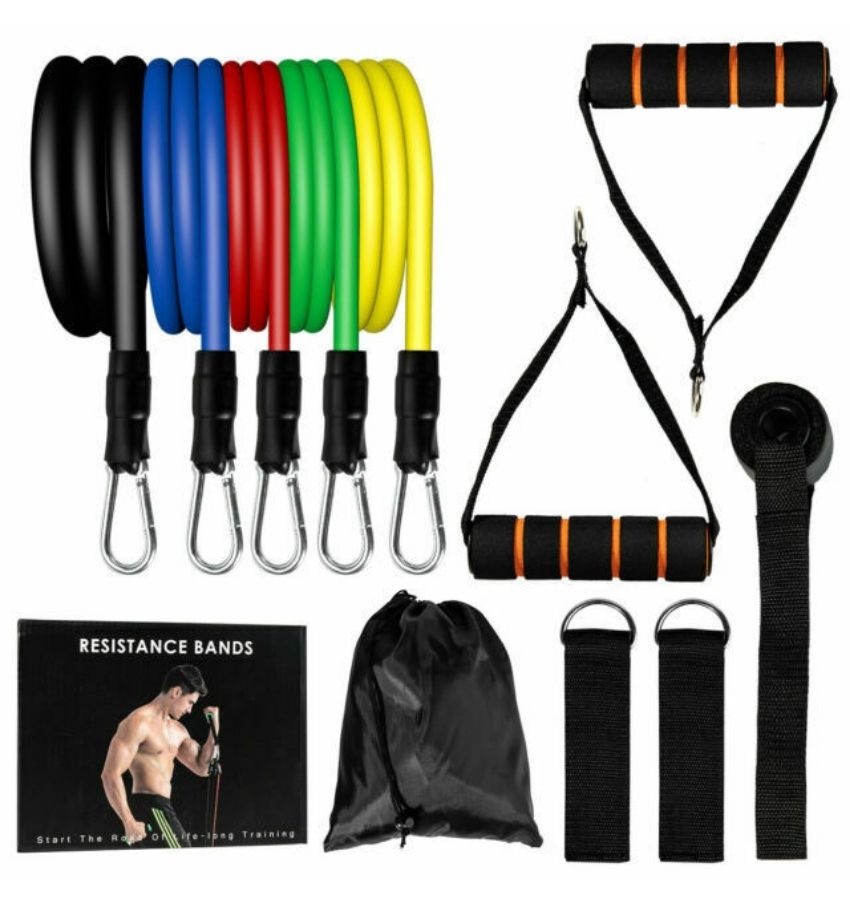 However, if you are interested in this category, you need to read the following things:
Technical specifications: Each product will only be for a specific number of exercises. You need to show the information of specific products depending on the usage and technical complexity of the products to avoid getting a low rate
Industry competition: High demand means high competition as you may be selling products with the same brands and designs as your competitors. To stay competitive, make sure to offer better deals like a return policy for after-sales service, maintenance and warranties if necessary.
Service and repair plan: Just like any other product, fitness equipment also requires maintenance. You may need to pay for some additional costs for equipment maintenance policies. Although, these policies help you retain customers, make sure that you have balanced this with other fees to keep profits reasonable.
1.4 Furniture And Home Decor – Best Selling Products On eBay
According to Home Decor Market Report, the home decoration market is witnessing strong growth worldwide as decorating homes is becoming a trend for many people. It is not difficult to find groups specializing in sharing their decorating styles.
Home furniture, blankets, and Bookends are the best selling products on eBay.
This is also one of the most profitable products to sell on eCommerce, however, to start with this category, sellers need to notice:
Expensive shipping fee: One of the best ways to attract customers is to offer free shipping, but this seems impossible for this item. Shipping cost depends on the size and weight of the product, not to mention the geographical distance, most furniture is made of wood or other heavy materials. This factor pushes shipping costs up very high as well as it will be more difficult to deliver nationwide compared to other items.
Delivery time: For some complex products, it can take several weeks or even a month to deliver.
1.5 Jewelry And Watches – Best Selling Products On eBay

Global online jewelry sales are strongly increasing. According to Statista, this category is expected to reach $340 billion by 2023 – an impressive number! Due to its small and light in shape, they're easier to deliver than some other items, making them ideal for selling on eBay.
Fashion Necklaces & Pendants, Wristwatch Bands, and Wristwatch are responsible for the top best selling products on eBay.
Note:
Designs: As a fashion store, make sure everything on your page from the look of the page to the product images looks good. Especially product photos need to be of high quality, eye-catching to sell more.
Auction style listings: eBay is well-known for its auction, and it's a great feature for selling jewelry, especially if you're marketing used items. As a seller, you need to notice that feature to make strategic plans.
1.6 Collectibles – Best Selling Products On eBay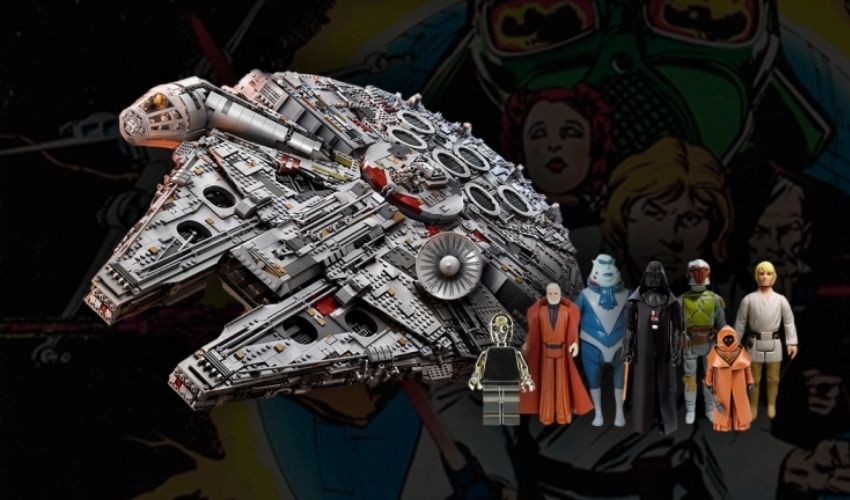 Based on the 2020 toys and games trends report, collect cartoon characters from TV shows and movie franchises like Star Wars, Marvel, and more. is becoming a new hobby in recent years, especially for those of you who are big fans of some movies like Star Wars. Shopping demand for toys skyrocketed, people did not hesitate to spend large sums of money to own them.
In the Collectibles category, TV & Movie Character Toys are the best selling products on eBay. However, the resources for these products are often rare, so it is not easy if you want to sell for popularity.
1.7 Pet Supplies – Best Selling Products On eBay

The Online Pets market is growing strongly in recent years. To meet this strong potential market, thousands of pet shop owners sell pet supplies on eBay and reap significant profits with a diverse customer base. When it comes to Pet Supplies, as a seller, you should notice Dog and Cat Supplies. The best selling products on eBay including dog food, cat food, and cat tree.
Besides, you may be interested in some niche products such as pet costumes, pet toys – these pet products are also in high shopping demand!
1.8 Crafts – Best Selling Products On eBay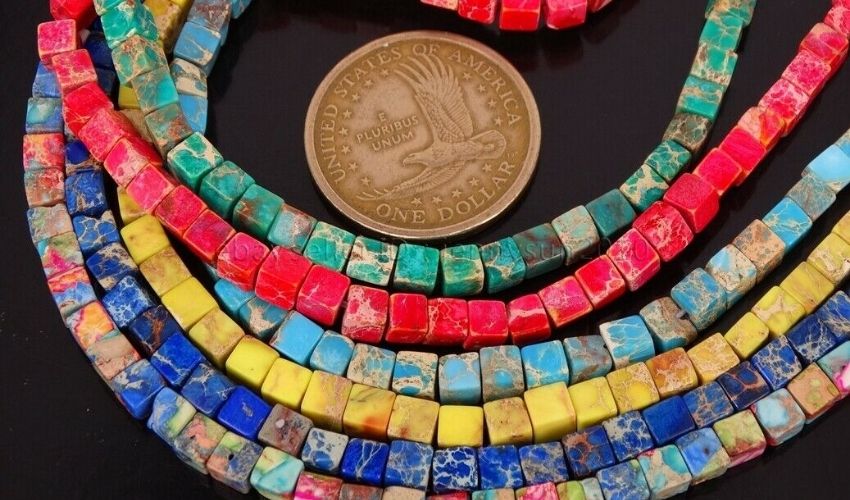 Recently, many people search for crafts to make things like bracelets, necklaces… This hobby is getting more and more attention and has become a new trend even though it has been a long time. Sales of craft catalog items are in high numbers and are among the best selling products on eBay. There are more than 800,000 items are displayed on this platform, divided into different categories.
The most popular Crafts products:
Beads & Jewelry Making
Loose Beads → Stone
Beads & Jewelry Making
1.9 Baby Essentials – Best Selling Products On eBay

Another best selling products on eBay are children's essentials, with about 318,893 items for sale. Children's products are usually simple, uncomplicated, easy to ship, and have a high probability of providing free shipping. Besides, the demand for this category is year-round, less dependent trending, more focused on quality. As such, jute continues to be an ideal item to generate profits on eBay.
Feeding bottles, plug protectors, pregnancy tests, pillows, baby bibs are the top best selling products on eBay.
To start with this category you need to seriously consider about product's quality.
Some products in the baby essentials category such as feeding bottles or baby clothing have the ability to directly affect the baby's health. Children's skin is very sensitive and prone to allergies. So to be able to compete with your competitors as well as build trust and reputation for your store, you need to source quality products that are thoroughly tested.
1.10 Video Games – Best Selling Products On eBay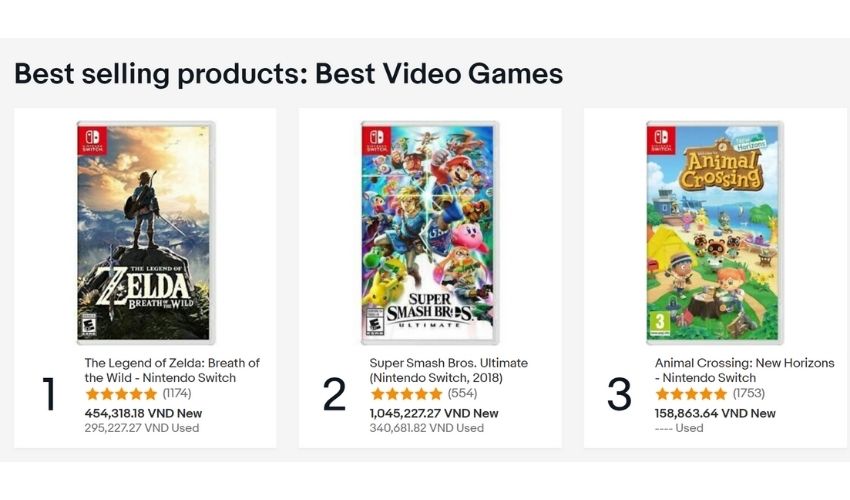 Most of the younger generation spends time playing games for entertainment and relaxation. Video Games, Video Game Consoles, and Video Game Merchandise are the best selling products on eBay coming from famous brands like Microsoft, Sony, and Nintendo are the brands.
To compete in this category, you need to update your video games products regularly. Especially you need to grasp the market demand to know what video game titles are most popular. However, old video games should not be ignored, many people have a hobby of collecting them. Even when old items become scarce, you can earn more profit.
2. Tips To Increase Sales On eBay
2.1 List New Items Every Day
If you haven't listed anything new in a while due to a combination of factors, it's made a huge difference. Most customers are supposed to find what has been newly listed via "Newest first". So, the more new listings you post, the more chance of someone finding something they like and make a conversion.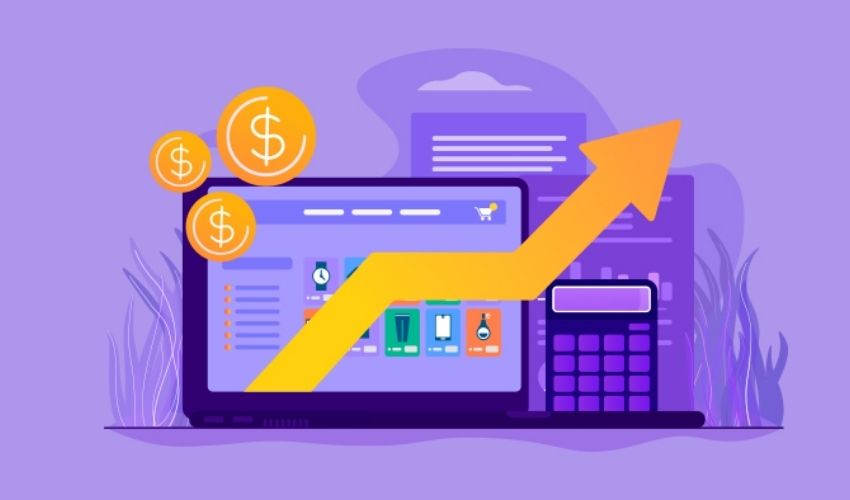 The eBay algorithm favors sellers who regularly list new products, so stores that are able to consistently offer new products are rewarded. Moreover, keeping your eBay listings fresh will also help you increase your sales on eBay. If you can't list every day, tweak your current lists a bit so they don't look exactly the same as before. No need to edit too much, you can change the title or description a little bit, but the more new content the better.
2.2 Use eBay Promoted Listings Campaign
eBay Promoted Listings Campaign is a must-have solution to increase your eBay sales quickly. It brings 4 key benefits to users:
Boost visibility: eBay Promoted Listings Campaign can boost your listing visibility up to 36%. Besides, with the ability to reach the correct target customer, your sales will also increase.
Pay only for sales: You are only charged until having a real sale from the promoted items within 30 days.
Guided set-up: eBay's guide tools will help sellers select highly profitable promotional items and at what cost.
Detailed reporting: Detailed campaign metrics help track performance and refine your campaigns.
All of these are very beneficial for users to minimize risk as well as test it as a new marketing tactic. However, the cost you'll pay to eBay depends on the type of item you sold.
2.3 Ship Fast And Free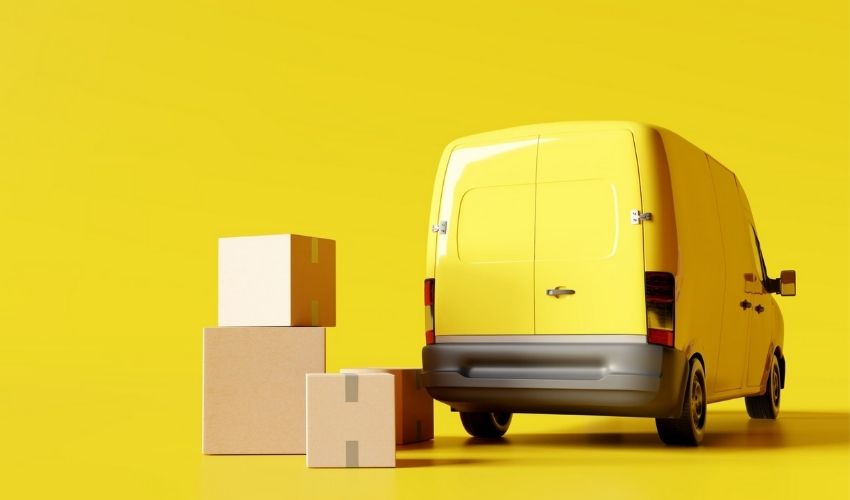 Offering free shipping is another great way to increase sales on eBay. This is useful in most eCommerce platforms. However, make sure that you only offer this service once you have checked all other costs. Offering free shipping is often easier for small and light items, but quite difficult for complex ones.
However, customers want to receive their orders as soon as possible, so have a delivery system that is as fast and stable as possible. Don't forget to check out eBay's shipping options to see what's available through the platform.
2.4 Handle Negative Reviews
In business, building customer trust is extremely important. Besides building a store full of five-star reviews, you must also have strategies for dealing with bad reviews. for bad feedback, you can remove negative feedback on eBay in some cases or remedy the situation to encourage customers to remove themselves, overall fast and efficient customer service helps a lot. To learn more about how to deal with negative reviews, you can visit here!
2.5 Seo Strategy
Consumers often search for items using very specific terms on eBay. Put yourself in the shoes of a shopper and ask yourself what words people are likely to type into search engines when searching for what to buy. To make SEO more accurate and easy, you can use keyword research phrases.
Once you get the important keywords, make sure to use them in your store, description, custom categories, page titles, meta tags, image alt tags, and more. Use them wisely, avoid violating eBay's policies.
3. Conclusion
Hopefully, the best selling products on eBay that I mentioned above can give you an overview of the high-demand products on eBay as well as provide some useful ideas for your eBay store in the future. If these above products are not in your interest, make sure to use them as a reference to do better market research.