More than 1 million new sellers join the Amazon marketplace in 2020. The competition is so fierce. If you don't know how to find a unique product that doesn't meet the needs of buyers, you can't compete with other sellers on Amazon. Therefore, it is extremely important to research trending products in the market. However, if you use conventional research methods, with a small amount of data from reports, general articles on market trends, or free resources from the market research web, you probably never get a good result.
In this article, let's figure out the top 8 Amazon Product Research Tools.
1. Benefits Of Amazon Product Research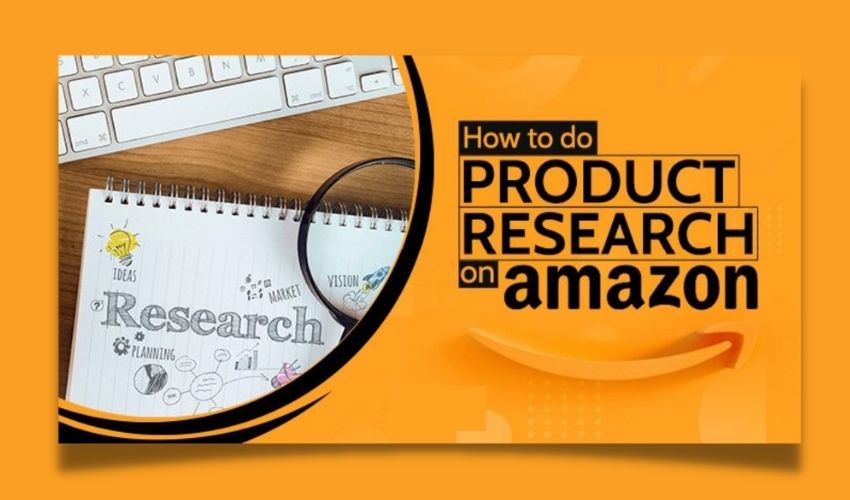 First, let's figure out what is the Amazon product research tool? Amazon product research tools are online services that help you research and discover valuable information about a product and how to sell it effectively, and know which products are profitable. high profits. To find the best products that fit your store, these tools will provide information or aspects, about historical prices, sales volume, trends and expected sales, keyword optimization, and more.
This information helps sellers make predictions about the product potential to make the right investment.
1.1 Identify A Niche Market
You cannot build a store and sell products randomly, but you need to research the product to determine the right market for your business so that you can minimize the risk. Marketing campaigns play an important role in reaching the exact target customers without wasting time and money. Besides, it is necessary to monitor the search volume to know the purchase demand.
A product with no or low demand is unlikely to bring positive results, products in high demand can help you increase your visibility and get more customers.
1.2 Find Keyword With High Volume Search For Users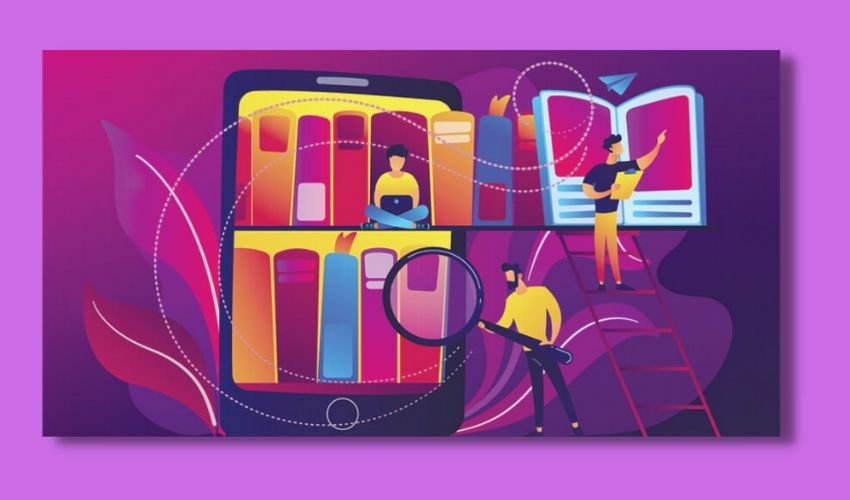 Amazon Product Research Tools are also doing so well at finding high-volume keywords. Using the right keywords helps drive traffic to your Amazon product page and gives you a chance to rank high in the Amazon search engine. This is a surefire way to generate more sales and increase your profits as the majority of customers searching for products on Amazon use keywords.
Meanwhile, Amazon's A9 search algorithm will find the most relevant product among millions of products with the keywords used in the search. That's why keywords are one of the key factors that will determine the success of your online business.
1.3 Overview And Analyze Business
The benefit of overview and analyze business helps your online store on Amazon identify customer needs. Then making changes to provide practical solutions to improve service quality and increase revenue for your Amazon store. A great analytics tool that can give your business an overview of what's going on and what's been achieved through the metrics like sales, ranks, revenue, and more. Using business analytics effectively surely increases product visibility.
1.4 Find New Opportunities In The Market
The biggest benefit of Product Research is its ability to uncover previously unknown niches or impending trends. This is a key to successful help finding new products for customers. While your store keeps selling a fixed number of products, leaving customers with little choice, your competitors are constantly trying to find new items to attract customers' interest. This can allow competitors to seize opportunities with new products and easily rob you of your customers.
1.5 Stay Ahead Of Your Competitors
Product research not only helps you to know which products are leading the trend but also tells you about the competition in the market. Doing business on a large shopping platform like Amazon gives you a lot of opportunities but is also very difficult. The launch of a new product means more competition from reputable sellers in the world's largest eCommerce marketplace. Always keep an eye on your competitors to learn their business strategies to increase sales as well as customer service.
2. Top 8 Powerful Amazon Product Research Tools For Sellers
2.1 SellerApp – Amazon Product Research Tool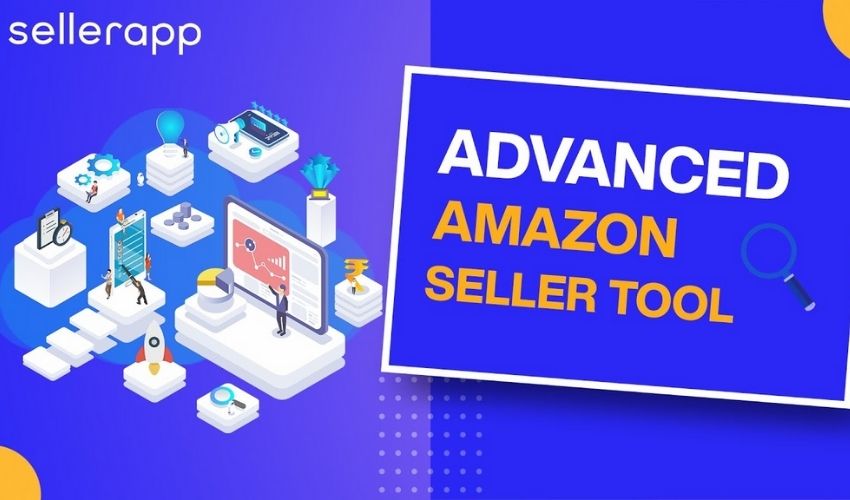 This is an Amazon product research tool, which combines a lot of outstanding features including product research and keyword research capabilities.
Feature
Market research tools: This feature allows users to take advantage of "advanced product intelligence" that will help them to find high potential products with low competition.
Analytics: More than 300 million data points are collected each day to give users an in-depth analysis of your online business metrics like sales and revenue estimates, ratings, and more.
Keyword database: You can use more than 135 million keyword databases to optimize each product listing as well as Amazon Listing Optimization Tool to check the quality of your product listings.
PPC (pay-per-click) tool: You can use both PPC with a keyword tracker to view your listing rank.
All-in-one dashboard: You can take a look at the metrics of your business with in-depth insights in one place.
Price
Amazon Sellers (Self-service):
Pro-Lite Plan: $99/ month
Professional Plan: $199/ month
Enterprise Plan: Custom pricing
2.2 Jungle Scout – Amazon Product Research Tool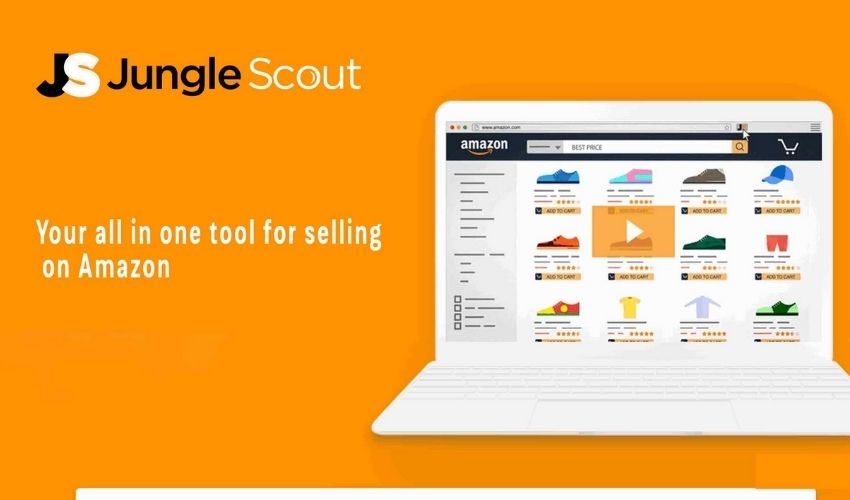 Jungle Scout is an Amazon product research tool that helps sellers research outstanding products in the market. Besides, this tool also allows users to research keywords, track competitors, estimate sales, and more to help you sell the most orders on just one dashboard. In particular, this tool contains a huge data source of more than 175 billion products.
Perhaps, you are wondering how Jungle Scout has features that can help you do research so quickly, right? Business is not a simple job, you will have to spend a lot of time, money, and effort to implement. With advanced features, Jungle Scout will help your product research and market research process become faster.
Feature
Brand extension: This feature is doing good at searching for new trending items that fit your brand.
Opportunity Finder tool: This feature is especially for new sellers that allow you to search for high-demand or low-competition keywords.
Product tracker: You can have an insight into seasonal or year-round sales for each item.
Extension tool: It is best for existing sellers to increase their product rankings
The Inventory Manager: You can organize your products quickly by doing some simple steps. Jungle Scout also provides users with data that can be used to predict market trends.
Analytics report: An analytics report is available to view your profit in real-time.
Price
Basic Plan: $29/ month
Suite Plan: $49/ month
Professional Plan: $84/ month
2.3 Helium 10 – Amazon Product Research Tool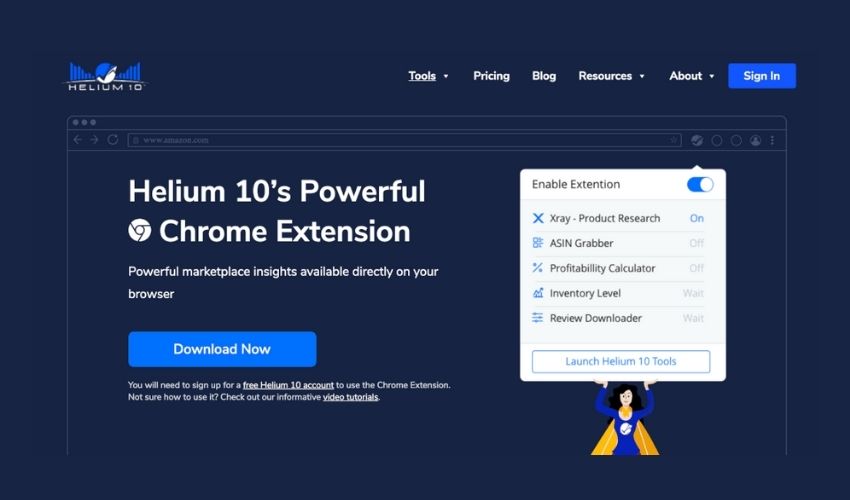 Helium 10 is impressive software created to help Amazon sellers accomplish their sales goals by assessing the competition, finding product ideas, and ranking for valuable keywords.
Feature
Product Research: This feature is so powerful that will help you find the trending products before your competitors by using product research tools. Helium 10 is capable of scanning Amazon's database of 450 million products, validating product catalogs, and finding the best fit for your store.
Keyword Research: Powerful keyword research tools help you see how customers are searching for a product, then apply it to your store and generate more traffic. The ability to find high-volume keywords helps optimize organic traffic, build powerful lists, and drive sales.
Listing Optimization: This feature helps you create a powerful list with powerful keywords that attract high traffic and ensures the best keywords are connected to your list.
Manage Your Business Effortlessly: This feature is responsible for constant alerting, updating, and monitoring making it easy for you to view what's happening with your products, account, and marketplace. Built-in security tools keep you away from malicious threats.
Analytics: The ability to analyze based on real data helps you create a better competitive strategy. At the end of the day, you can see profit, market share, and more displayed in clear graphs.
Price
Free Plan
Platinum Plan: $97/ month
Diamond Plan: $197/ month
Enterprise Plan: custom pricing
2.4 Viral Launch – Amazon Product Research Tool
Viral Launch is the key to your success at the Amazon platform, providing the ability to research products that help your business become the dominant force in the world's largest eCommerce marketplace.
Feature
Product discovery: This feature lends you a hand to look for your next bestseller by access to more than 200 million products, keywords, and more to filter and give the best answer.
Keyword research: Ability to discover top sales earning keywords
Market intelligence: The validation of product choices is based on in-depth insight into a bunch of data about market price trends, sales estimates, reviews, ratings, and more.
Competitor intelligence: This feature helps you know the strengths of your competitors as well as their weaknesses with some information about their sales tactics, advertising strategies, and keyword usage.
Pricing
MI Extension Plan: $25/ month
Beginner Plan: $59/ month
Pro Plan: $99/ month
Brand Builder: $149/ month
Kinetic: $199/ month
2.5 AMZScout – Amazon Product Research Tool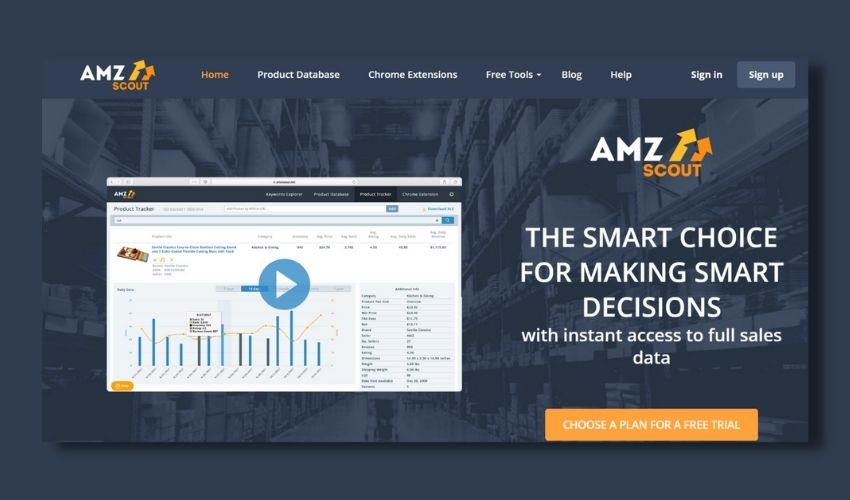 It's a great toolkit for finding high-margin products, optimizing your listings to sell more on Amazon, and helping you with the hard work.
Feature
Find Profitable Products: This tool is doing well at looking for the best product opportunities by using a 550 million Product Database.
PRO Extension: It's much easier to discover the highest profit potential niches and products and evaluate the competition with this feature.
Search for suppliers: Find affordable and trustworthy suppliers from everywhere.
Get all of the long tail keywords needed to create an attractive product listing and run a PPC campaign using AMZScout Keyword tools
AMZScout Keyword tools: Ability to send users all of the keywords needed for an attractive product listing and a successful PPC campaign.
Using Optimized listings with PPC campaign to rank the top search results on Amazon leads to boost sales.
Price
PRO Extension: $44.99/ month
Amazon Seller's Bundle: $49.87/ month
2.6 Keepa – Amazon Product Research Tool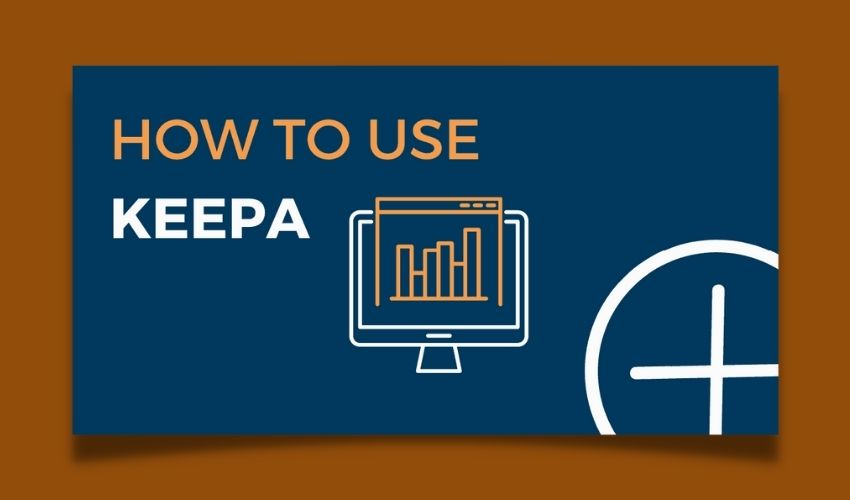 Keepa is a useful amazon product research tool that gives Amazon sellers an overview of product sales data. It is an extension that you can add to your internet browsers like Chrome, Internet Explorer, Google, and more.
Feature
Monitoring pricing trends: Figure out how a product has been priced on Amazon.
Sales Rank: The ability to access the rating data of the desired product helps you to know if the product is a best seller before you invest. Focus on investing in products that will actually increase your income.
International Market Analysis: Keepa is that it's not just available for the American marketplace but also available in other countries. If a product is not selling well in your preferred region, you can find out which countries have a higher demand for that product. That way, you can make more money on your investment.
API: This is a service the Premium Subscription to gives you an overview of your Amazon product pricing, rankings, history, and listings.
Alerts for Price Drop and Availability
2.7 Unicorn Smasher – Free Amazon Product Research Tool
Large-scale sellers on Amazon often face the problem of data overload, with a lot of information that needs to be stored correctly. All of these jobs can be done encapsulated in Unicorn Smasher, especially with the ability to research products to help you find the most suitable products to increase sales.
Feature
Unicorn Smasher features give users an opportunity to score. In more detail, this platform allows you to have an insight into products that have a high percentage of selling well on Amazon.
This platform provides users real-time and reliable information based on real data like product ranking, reviews, ratings, and more. The real data of thousands of different products on the Amazon platform gives you an overview of actual sales estimates along with the revenue.
You can easily research all the products based on the keyword through the product research dashboard.
The convenient integration with the AMZ tracker gives all users a golden opportunity to make a profit.
2.8 Amzbase – Free Amazon Product Research Tool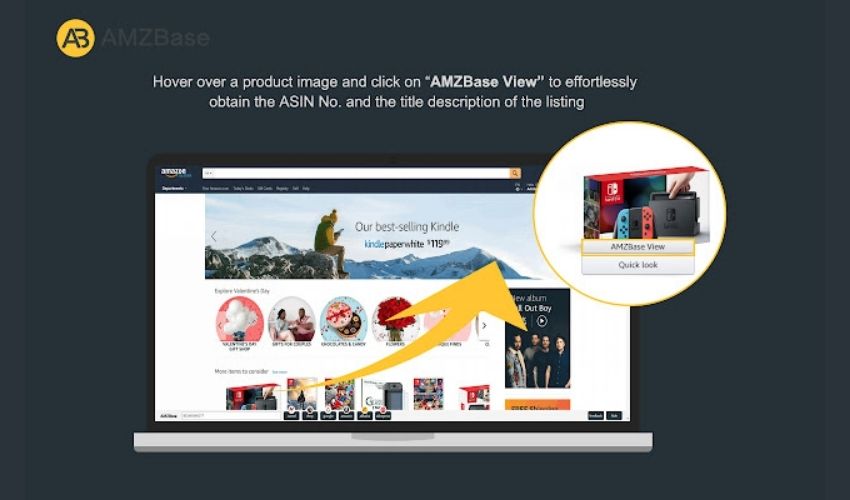 "A Free Tool To Speed Up Your Amazon Product Research." AMZBase is another Amazon product research tool to help you find high-margin products to sell on Amazon. Helps you quickly get Amazon listings ASINs, titles, and descriptions, including estimated FBA fees.
Feature
All-in-one Instant Search Tool: All the best profitable products will appear on your screen after doing research on Google.
Ability to collect data from other major online marketplaces like AliExpress, eBay, Alibaba.
You can visit CamelCamelCamel to see historical prices of the product
3. In Conclusion
It's hard to win the Amazon buy box, increase sales or compete on a giant shopping platform like Amazon with heavyweights if your store doesn't offer products that meet the needs of customers as well as customers. provide poor quality service. Hopefully, these Amazon Product Research Tools introduced above will help you to solve the problem perfectly.