According to statistics in 2014, more than 2 million sellers on Amazon have sold more than 1 billion products with a value of tens of millions of dollars. The competition on Amazon has become more fierce than ever. To improve your competitive position, you must win favor from Amazon instead of investing in expensive advertising to attract customers.
The Buy Box feature is one of Amazon's priority benefits for sellers that helps increase sales effectively. Only one seller owns this feature for a certain period of time with many outstanding advantages. In this article, let's consider 9 useful tips to win the Amazon Buy Box when selling on Amazon. 
1. What Is Amazon Buy Box?
The Buy Box is the white box located on the right side of the Amazon product pages. Multiple Amazon sellers can sell the goods, but only one seller will receive a Buy Box. In this box, if you win the Amazon Buy Box, your product is considered default to be sold when customers enter "Add to Cart". Because the product appearing in the Buy Box is well-known as quality and prestigious products. In other words, this is the easiest way to buy a product on Amazon.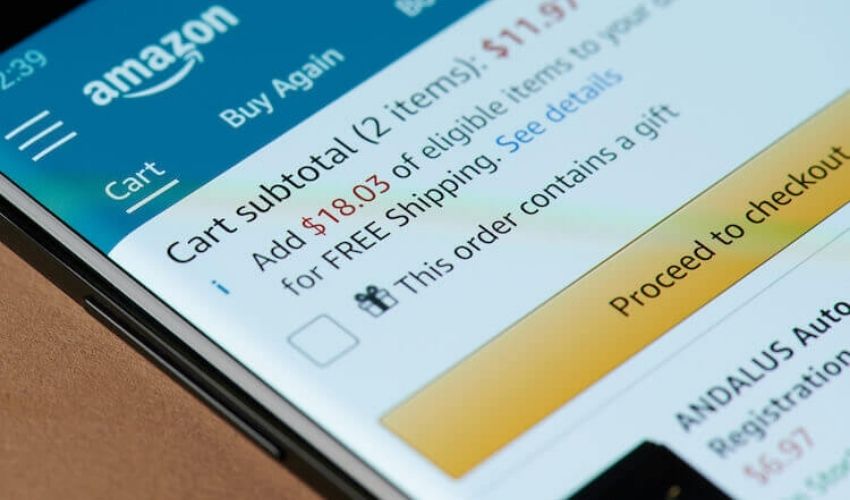 The same type of products might appear at the bottom of the page, but there is nothing to compare those ones. Customers still can take a look at them, however, they tend to buy products introduced on Buy Box. That's also why the sales in the Buy Box have a much higher rate.
From the seller's perspective on Amazon, Buy Box will help these sellers increase sales.
From the perspective of Amazon, Buy Box is not just a feature, it is a business model that contributes to 80% of sales on Amazon.
The number of Amazon's private labels is expanding every year, it is impossible for a seller to compete with Amazon. The creation of Buy Box as an implicit certificate (psychology of use) of Amazon that this seller has the same quality as Amazon.
2. The Important Of Amazon Buy Box
As we mentioned above, Buy Box contributes to 80% of sales on Amazon. There is a huge advantage that sellers should care about about the Buy Box.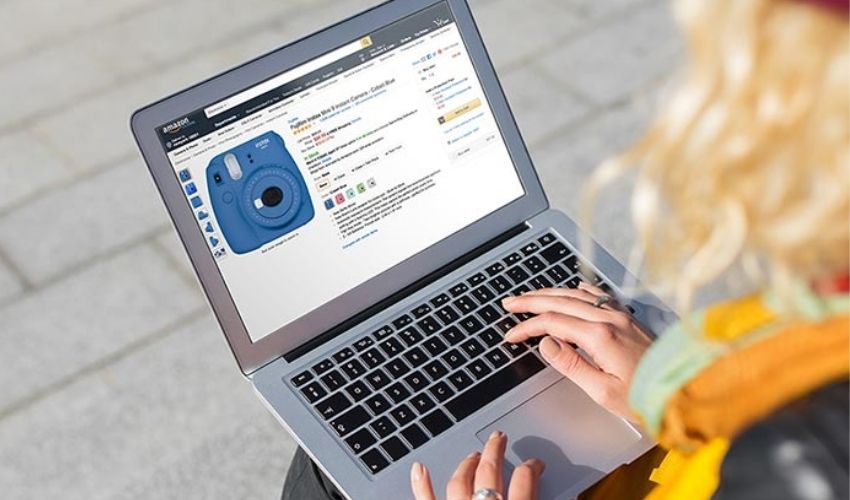 2.1. Win The Amazon Buy Box Increases Your Sales Volume.
Products appear on the Buy Box as implicitly certified by Amazon, and as the first 'call to action' in the most visible location for shoppers. As a result, nearly all Amazon purchases are made through the Buy Box. However, although the Buy Box provides complete product information, it is unlikely that these factors influence the customer's buying decision.
The other part is mainly based on the convenience of the Buy Box location. This is enough to generate sales.
2.2. Win The Amazon Buy Box Creates Amazon Ppc Ads.
The Amazon PPC (pay-per-click) supports Amazon sellers to bid on prices of clicks for certain keywords. If sellers win the Buy Box, they have a chance to create sponsored listings for their product via the Amazon PPC. In contrast, if they do not own the Buy Box,  you are not allowed to create ads for products,  even if it is on the listing.
3. Amazon Buy Box Eligibility
As an Amazon seller, to grow your online store, getting to win the Amazon buy box is essential. However, only 1-2 out of 10 people are capable of winning this utility. To be eligible, you must first be a subscription-based Professional Seller that meets Amazon's buy-box criteria and has box-purchase-eligible products.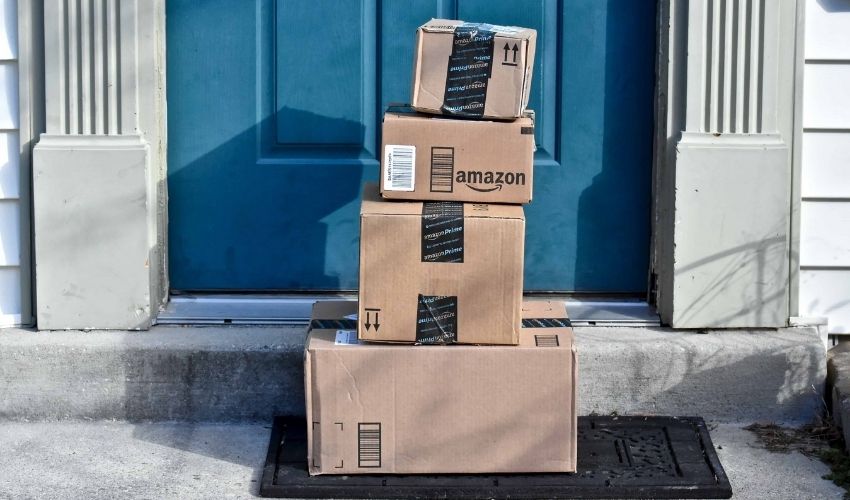 Amazon buy box factors:
Order defect rate
Performance metrics
Customer service quality
Length of time on Amazon
How Amazon chooses the buy box winner based on:
The price of products
Fulfillment
Seller rating, and more.
However, the factors that determine buy box eligibility are always changing, buy box winners can change over time.
Note: If you're just getting started with a new Seller Central account and you're not shipping with Amazon Fulfillment (FBA), you'll notice it takes some time to win the Amazon buy box. This happens expectedly, Amazon can not know that you really have the product or not. They also have no proof to prove that you have the ability to fulfill an order if you win the Buy Box. Using FBA, however, makes it much quicker to get approved for a box purchase.
According to Mr.Joe Selze, Director of Amazon, brand new Seller Central accounts that are FBM are not eligible for the buy box. Making sufficient sales volume, determined by Amazon and varying by category may be the most effective solution for this issue.
4. Tips To Win The Amazon Buy Box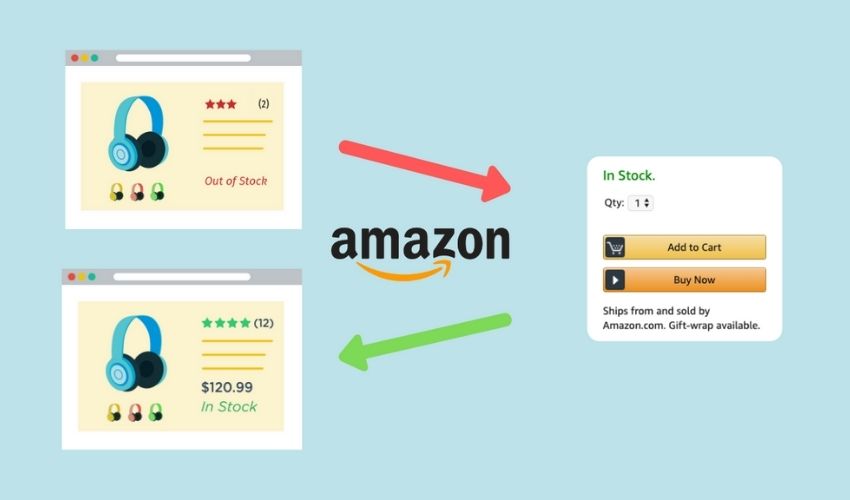 What does it mean if someone says that they win the Amazon Buy Box? That means every time customers click the 'Add to Cart' or 'Buy Now' button, that person will automatically purchase from the Buy Box winner. It happens as if you have become Amazon's exclusive supplier for a particular product for a certain period of time. They can lead to a significant amount of revenue and profit.
4.1 Understand Buy Box Eligibility
The buy box eligibility will be affected by the main two factors below:
Product pricing
Fulfillment methods and metrics
From actual experience, sellers should deliver products accurately and as quickly as they can, respond and solve problems quickly, and keep the inventory up to date and fully stocked (FBA Inventory Replenishment can support that). In other words, when a product is extremely popular and many sellers are on par in terms of price and responsiveness, other aspects become more competitive.
4.2 Keep Strong Inventory Levels
Amazon obsesses with shoppers and always tries to provide the best shopping experience.  They want shoppers to find the items they're looking for quickly, so if your inventory is out of stock (almost out of stock), Amazon's system will automatically recommend another seller. The more you maintain a steady stock of products, the more likely you are to win the Amazon buy box.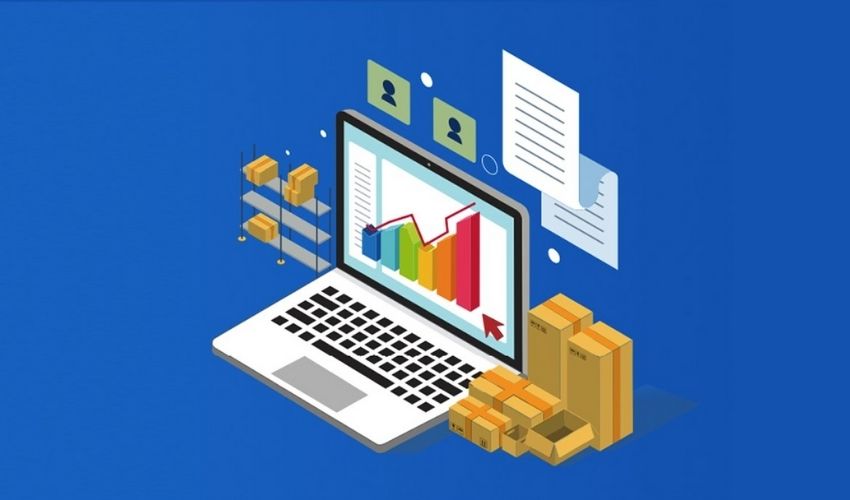 In case you can't guarantee that all the items on your listing can't always be full, you should at least make sure you have plenty of inventory for the best-selling products. If your inventory has one item left and another seller has 30, you might lose the game and the chance is for others.
Note:
If you're using your own fulfillment process (FBM), make sure to manage your inventory properly so your products are always in stock. Ideally, you should do this for the majority of your inventory.
If you use FBA, product availability is determined by the product in stock at Amazon, not in your inventory.
4.3 Select The Right Fulfillment Method
Amazon allows sellers to use their own fulfillment process (FBM) or rely on shipping units on Amazon (FBA). However, using Fulfillment by Amazon (FBA) is becoming a popular option. This feature helps you perform order fulfillment from storage, packaging to shipping to customers some or all of your products.
Due to Amazon's physical control over the inventory, this platform can better ensure the quality and quantity, and position of your product in the FBA buy box.
4.4 Affordable Landed Price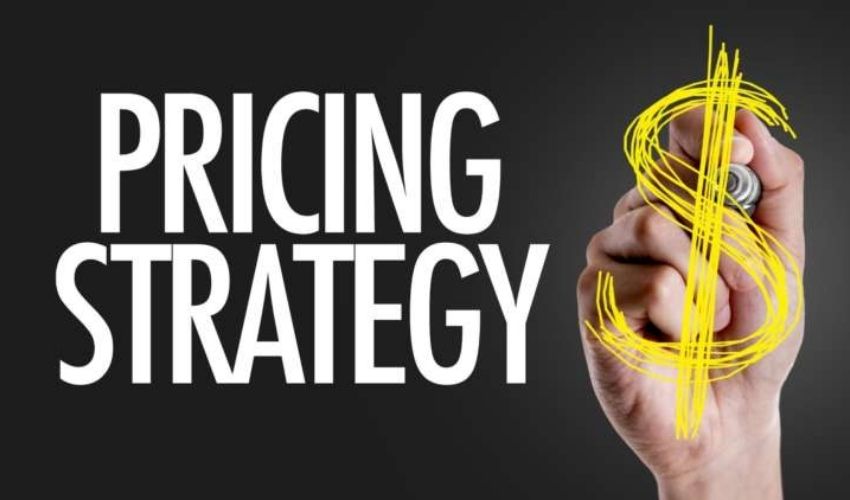 The next factor to win the Amazon buy box is an affordable price. What is Amazon's landed price? The landed price is simply the total price of a product sold on Amazon, including shipping and handling costs. The lower the landing price will give you more chances to win the buy box. So, keep your prices low and consistent with other sellers.
It is easy to understand that many Amazon sellers constantly change prices to get a position on the buy box. Remember that the buy box is not everything, you should not blindly lower the price of your products than you can afford. Make a decision about  the current price after looking at:
Amazon seller fees
Margins
Return cost
Shipping costs
Amazon budget
4.5 Build Your Amazon Account Health
This part is very important if you are completing orders. FBA performance metrics are processed based on shipping and customer service. Amazon has a policy of favoring trusted sellers. These sellers are more likely to deliver on time, sell high-quality products, and provide superior customer service.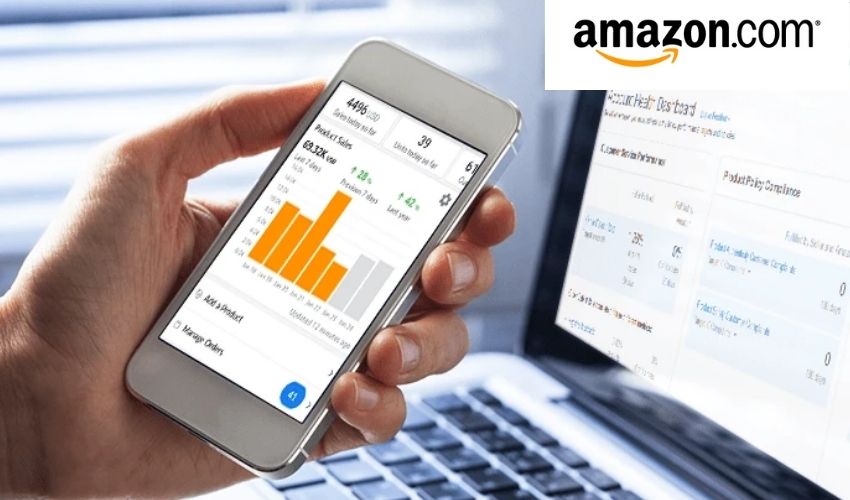 Your Seller-Fulfilled seller rating is calculated basing on a few key metrics:
Order Defect Rate (Target = < 1%)
Filed A to Z Claim Rate
Service Chargeback Rate
Return Dissatisfaction Rate (Target = < 10%)
Negative Return Feedback Rate
Late Response Rate
Invalid Rejection Rate
Buyer-Seller Contact Metrics (Target = < 25%)
Response Times > 24 Hours (Target = > 90%)
Late Responses (Target = < 10%)
Average Response Time
Recent Customer Metrics Data
Pre-Fulfillment Cancel Rate (Target = < 2.5%)
Late Shipment Rate (Target = < 4%) Refund Rate Valid Tracking Rate By
Category (Targets = > 90%)
Delivered on Time (Target = > 97%)
Amazon's standards for these metrics are drastic, especially for the buy box conditions. Amazon's strict standards also affect the ability to compete on price. Faster shipping solutions are often more costly and can increase the total cost of items sold on Amazon. You can get an overall look in "Account Status" in the Seller Center.
4.6 Speed Up Shipping Time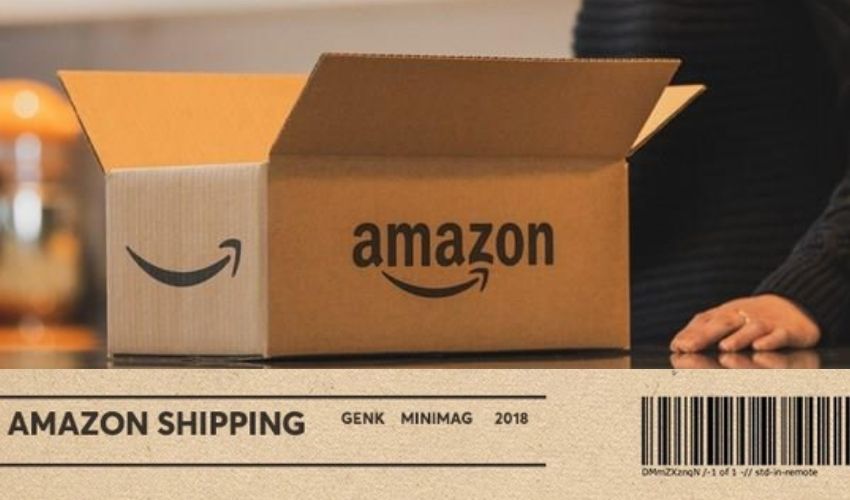 Amazon regularly reviews your performance with shipping based on your estimated and actual shipping times. Shipping time will vary depending on the nature of each item. For example, there are time-sensitive and perishable items and more, but Amazon typically charges shipping based on the following delivery timeframes for Amazon sellers:
0-2 Days
3-7 Days
8-13 Days
14+ days
4.7 Maintain Positive Seller Feedback
To win the Amazon buy box, your Amazon seller account has to maintain positive seller reviews. Your Amazon feedback rating is constantly updated based on orders from the previous 365 days but is most important for orders in the last 90 days. This is also the average of all seller feedback ratings. The functionality of the Amazon Seller Feedback System gives Amazon customers the ability to review other people's buying experiences for each seller.
Customers often use this feature to make decisions about which seller to buy from. Remember that seller feedback is far different from Product Feedback. Please check continuously as many customers often confuse these 2 feedback pages. They mistakenly leave product reviews on the Seller Feedback page, which can be especially harmful.
4.8 Order defect rate
Order defect rate (ODR) includes 3 different metrics:
Negative feedback rating
A-Z guarantee claim rate
Service chargeback rate
Amazon relies on these 3 metrics to calculate and figure out the number of defective orders. According to Amazon, the ODR must be below 1% and any seller above this level will be penalized. Your account is penalized which means you no longer have a chance to win the Amazon buy box.
4.9 Consider Using FBA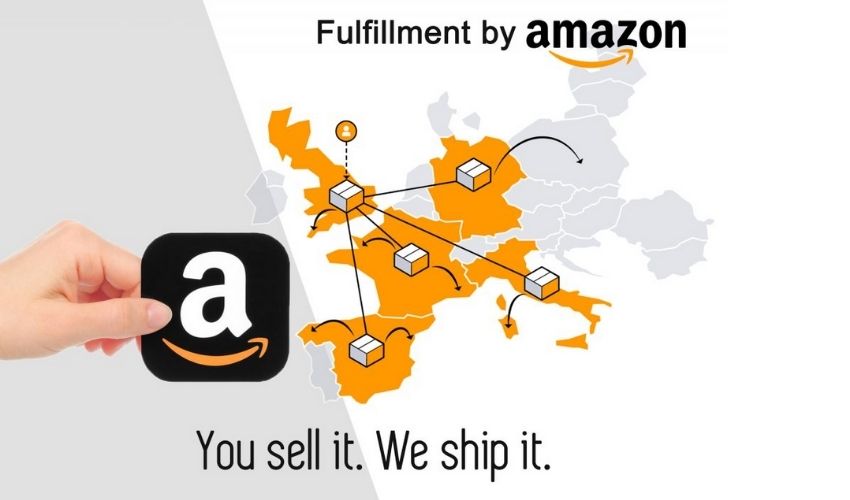 The last suggested tip to win the Amazon buy box is to consider using FBA. Amazon has two types of sellers, FBM and FBA.
FBM – Fulfilled by Merchant: Amazon Sellers choose to pack and ship their own products to customers.
FBA – Fulfilled by Amazon: Amazon will support the order fulfillment for sellers.
Being an FBA merchant is arguably the factor that has the biggest impact on winning BB. Amazon favors FBA sellers because orders for this type of account are usually quality assured and delivered on time. To benefit Amazon Prime members, FBA accounts will start landing at the Buy Box much faster. This is not to say that FBM sellers can't compete at all, but it takes more time.
5. How To Solve with Low Amazon Buy Box Percentages
Amazon Buy Box Percentage is a metric report that helps you see how often your products appear in the Amazon buy box. Opportunity for everyone. If 4 sellers sell the same product with the same price and same performance metrics, each of them will get a 25% chance of getting the buy box.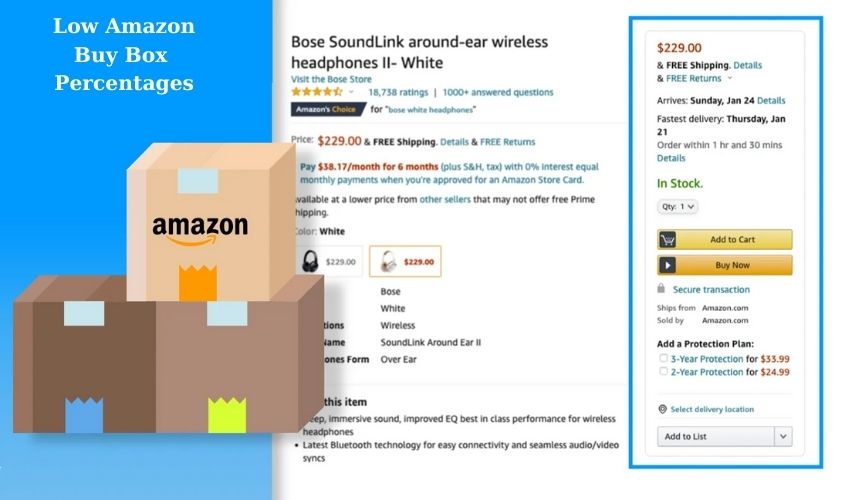 5.1 Price to win Amazon buy box
Look at your competitors' products and adjust your SKUs accordingly. However,  most of us don't have time or there are too many SKUs to apply this manual solution. In this case, sellers can use reprice tools to handle those issues. Two different repricing tools you need to know:
Rule-based repricing
Algorithmic repricing
Doing some research and making a decision of which type is the best for your eCommerce store.
5.2 Confront unauthorized resellers
Your brand may discover some of its most profitable SKUs are being thwarted by unauthorized sellers of your products. Essentially these people give your product away for free. In that case, you need to reach out and let those resellers know that you know what they're doing. Besides, you need to have some solutions to prevent this. If they continue to sell your products illegally, having an attorney can really help.
6. Final Thought
To win the Amazon Buy Box is important if you want to boost your sales and make more profit. It's not easy to compete with hundreds of other sellers to get the buy box, as long as you notice those tips above, you can achieve that advantage.