With the strong development of eCommerce in the world, the habit of using the Internet for online shopping of the majority of consumers has changed. Accordingly, online money-making models like Dropshipping keep getting hot and becoming a trend for many years. One of the most visible benefits of dropshipping is that you won't need to worry about capital investment, inventory, fulfillment, or shipping. So if you're looking for a low-risk, budget-friendly online business idea, you should consider WooCommerce Dropshipping.
1. Benefits of WooCommerce Dropshipping
Dropshipping is a way of selling products online where instead of making, storing, and shipping products yourself, a third party will fulfill the order for you (shipping and delivering the product to your customer). In other words, the only thing you have to worry about is driving traffic to your store.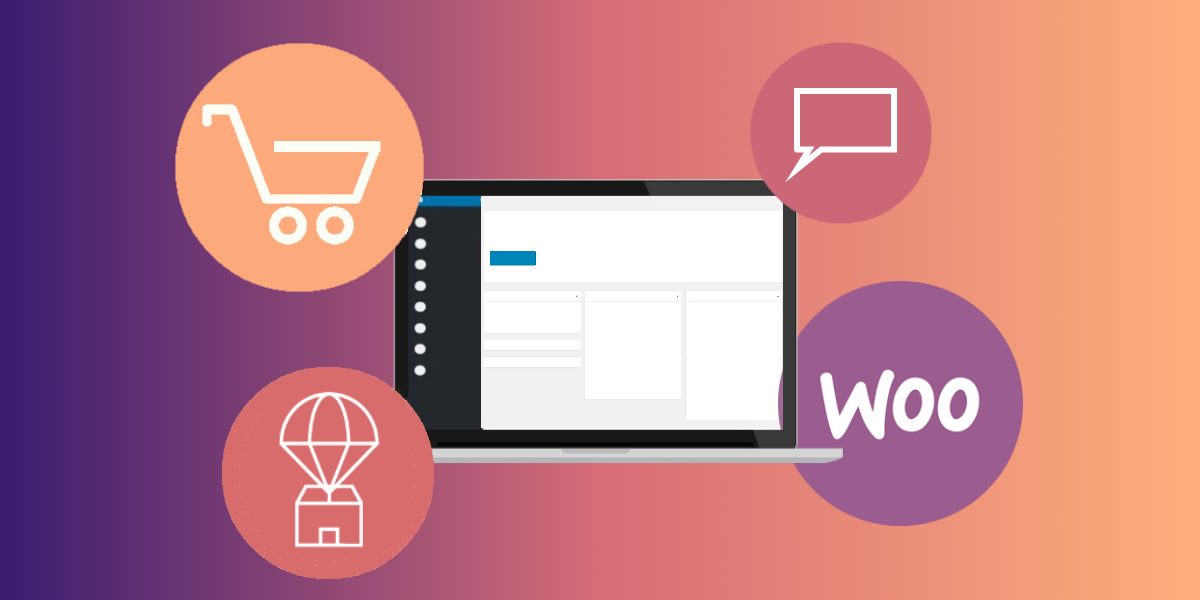 When compared to the traditional eCommerce business, the dropshipping model has several benefits:
Easy to get started: You don't need to prepare much to get started with dropshipping since there is no need to find a physical location for your store, buy equipment, or worry about the warehouse. All you need is an idea to drive traffic to your store, a dropshipping supplier that is integrated with WooCommerce and your online store.
Low overhead costs: As we said above that there is no need for a physical location, storage, etc with dropshipping. So the only costs that you will have to cover are your domain name, marketing, and hosting fees.
Location-independent: You can work anywhere as long as you have an internet connection.
Scalability: With Dropshipping model, you can easily scale your venture by opening another dropshipping store in a different niche or expanding the types of products you offer in your store.
2. Steps To Get Started With WooCommerce Dropshipping
2.1. Create Your WooCommerce Dropshipping Store
To get started with WooCommerce dropshipping, first, you need to create your WooCommerce store. For this, you will need to buy a domain name – which allows your customers to find you online and a hosting plan – which will store all your store's website pages and necessary files. There are many hosting companies out there, but you should pick one that lets you buy both the domain name and the hosting plan at the same time to save time. You will then have to set up your WooCommerce store to start adding products.
2.2. Add WooCommerce Dropshipping Products
After setting up your store, it's time to start adding products. There are two ways to add products to WooCommerce:
Manually: Adding products manually on WooCommerce gives you more control over how the products look and display on your website, however, you just should consider this method if you only plan on selling a handful of products.
To add products manually, follow these steps: Log in to your WordPress dashboard and then go to Products > Add New. Then you can add the product name and description, set the price, upload images, set WooCommerce dropshipping shipping … That part can be a little boring as you have to copy every information manually but gives you the freedom to optimize product details.
Via plugin: This method is so convenient if you want to add products in bulk in one sitting since it is faster, but you won't have much control over the way the products are displayed.
2.3. Choose Which Products To Sell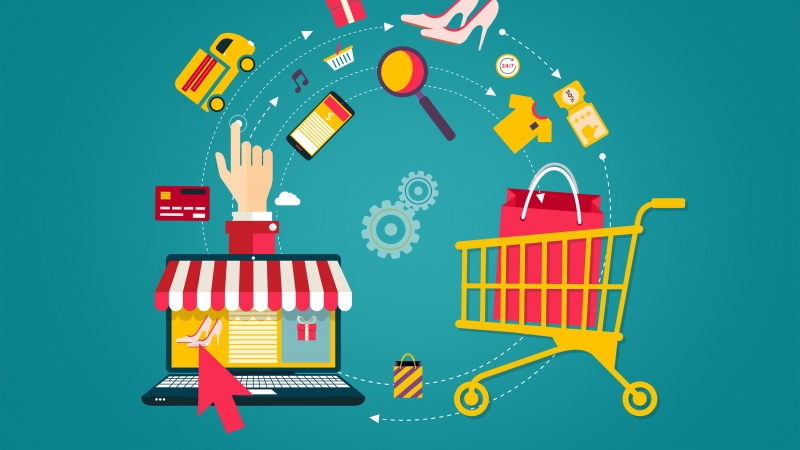 As mentioned earlier, finding a profitable product niche is the key to successful WooCommerce dropshipping but not always easy because almost all profitable niches have a lot of competition. So if you want your WooCommerce dropshipping business to be successful, you must find a product with high demand but not so popular to make it worth selling.
Keep in mind:
Opt for a product that can make a profit.
Pay attention to the product dimensions to roughly estimate the shipping costs.
Do keyword research on other marketplaces like Amazon or Google Trends to view what's trending recently and find product ideas.
Choose a product niche you know enough so you can create a marketing campaign and promote your products better.
2.4. Find WooCommerce Dropshipping Suppliers
Once you've identified the products you want to sell, it's time to look for product suppliers. There are a few popular places that you can consider including AliExpress, SaleHoo, DHgate, Wholesale2b, and Worldwide Brands, check through these marketplaces to see if they have the products you want to sell. The second thing that you need to keep in mind is whether that supplier is reliable and will deliver your products in a timely fashion or not.
A few things to check before selecting a supplier:
Check the supplier ratings and read reviews to see how satisfied their customers are.
Check their shipping times and policies (you should steer clear of suppliers that want to charge you an ongoing monthly fee).
Ask for free samples to make sure the product quality yourself.
Make sure that the supplier responds quickly to customers' issues.
2.5. Calculate the Costs and Logistics
When it comes to successful WooCommerce dropshipping, sellers have to know how to calculate the costs and logistics like shipping times and fees. This is important to calculating business profitability as well as providing buyers with accurate information. Most reputable dropshipping plugins will let you see the shipping cost and the shipping time for each product. You can check this metric and charge your customers.
2.6. Calculate Your Profitability
The easiest way to figure out your store's profitability is to calculate the difference between the price you paid for the product and the price that you're selling the product for, plus additional costs such as shipping fees.
The formula: Profit = Product sale price – (Product purchase price + Shipping costs + Returns)
This formula doesn't mean you need to price your products as high as possible, instead, the formula helps you find the best pricing model for the products you want to sell and enables you to make a profit.
3. Top Best WooCommerce Dropship Plugins For Your Business
3.1 DropshipMe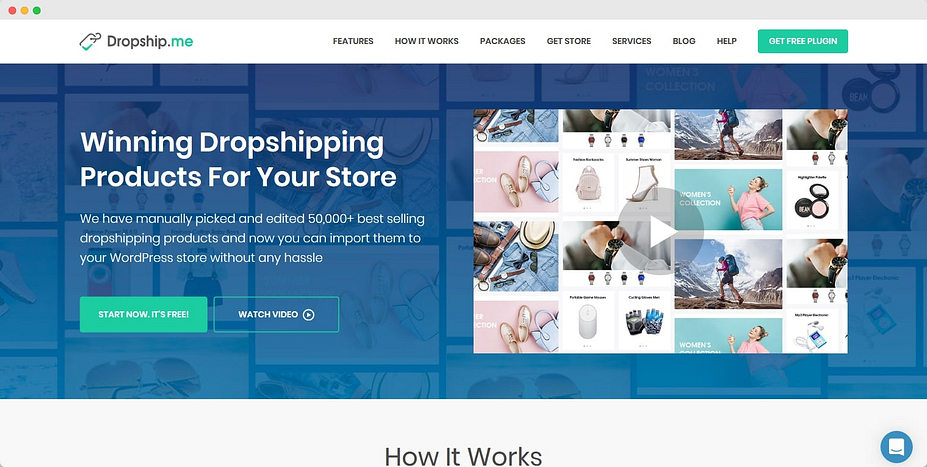 DropshipMe is widely known as one of the best WooCommerce dropshipping plugins that are "freemium". It gives users the ability to access the top best-selling products that are available in AliExpress. On top of that, this plugin is easy to use for beginners. It is incredibly user-friendly with a professional interface that allows you to view all products after installing the plugin. In addition, 1-click product import makes it incredibly seamless to master WordPress dropshipping.
Top features
Professionally-edited product titles&images: You can have flawlessly optimized product pages that your clients assume to land on in actually no time. All the guide work is already executed for you. Your net keep will seem to be a way higher than Amazon or any different huge online retailer, and you will get greater profits.
Over 50,000 products hand-selected from AliExpress: DropshipMe is revolutionizing product sourcing in AliExpress dropshipping. A base of hundreds of top-selling AliExpress merchandise is curated to combine with WordPress-based stores. There is an honestly HUGE quantity of merchandise you can pick out from.
Real customer reviews: 63% of clients are greater probable to make a buy from a web page that has consumer reviews. And in accordance with the last researches actual clients' reviews of eCommerce shop merchandise can enlarge income up to 400%. Don't lose such an amazing probability, import evaluations with DropshipMe now.
Easy to use
Quick product search
1-click product import
High-caliber customer support
Recommended pricing markups
Price
50 product imports: $0
100 product imports: $29 + 10 free imports
500 product imports: $119 + 200 free imports
1000 product imports: $199 + 500 free imports
3.2 Spocket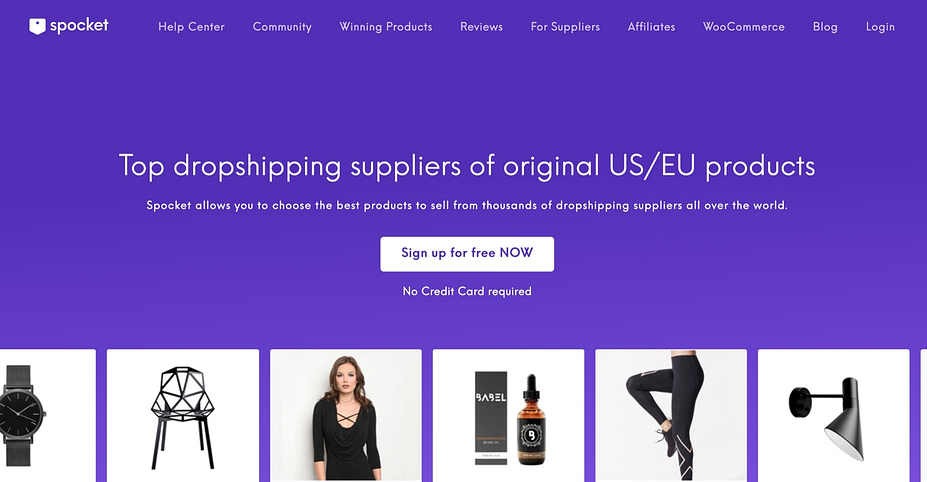 Spocket is one of the best WooCommerce Dropshipping recently. Unlike a lot of different WooCommerce dropshipping plugins that connect you to AliExpress, Spocket focuses on connecting you to suppliers who are placed inside the United States or Europe. The upshot of that strategy is that you'll be in a position to provide quicker transport for your clients in contrast to different options that have to ship from China. You can consider products in any one of the following categories:
Fashion and Clothing
Electronics and Tech
Home and Garden
Automotive
Toys
Gaming
Computing
Top features
Discounted import products: Spocket products are between 30 – 60% discounted that can help you increase your sales margin.
One-click order fulfillment: With automated order fulfillment, all of your customer's orders will be quickly fulfilled.
Shipment tracking: This plugin will automatically track the orders in real-time. Then you and your customers can get an update about the location of the product.
Markup automation: You can add rules to add mark-ups to all products automatically.
Fully-WooCommerce (and Shopify) compatible: Spocket is available on both Shopify and WooCommerce platforms.
Real-time inventory updates: This ability give users an update of their stock level in real-time. This makes sure you never sell an out-of-stock product.
Global pricing rules
Unlimited orders
Flat rate shipping
Branded invoicing
Premium chat support
Price
Starter – $12 per month
Pro – $49 per month
Empire – $99 per month
Unicorn – $299 per month
3.3 WooDropship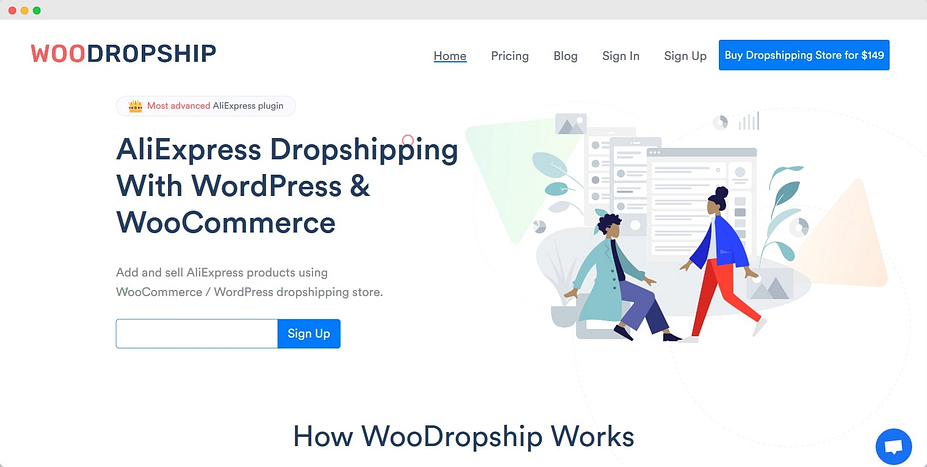 WooDropship is a premium WooCommerce dropshipping plugin. By using this plugin, you can easily import products from AliExpress. Don't worry about the fulfillment process, WooDropship will fulfill all your orders quickly.
Top feature
Import products from AliExpress: Once your store is connected with WooDropship, you can import directly from AliExpress as many products as you want to your dropshipping website and have them fulfilled with just a click by using the Chrome extension. The import feature also makes it easy to edit every product you're trying to import from AliExpress since the majority of the product description available on AliExpress are mostly not well written.
Auto updated: With WooDropship, you can easily track all your products from your supplier. In addition, all products that are out of stock on AliExpress will be automatically removed from your catalog, so you don't have to worry about this. In other words, everything will be updated accordingly, the same thing goes for price changes, you will be noticed if any price changes.
Automated order fulfillment: The auto fulfilling feature lets you automatically add your customer's details on the AliExpress checking out page. The only thing you need to do is to make payment for the products
Customizable pricing: Woodropship allows you to easily set all the prices of products imported from AliExpress with bulk edit.
Inbuilt Image Editor: The inbuilt image editor feature allows you to remove watermarks from images copied from AliExpress that will save you from promoting products with a branded image. You also can edit the images by adding a sticker to even make them more attractive.
Novice oriented dashboard
Sales reporting
Regular inventory updates
Unlimited product variant
Daily products sync
Price
WooDropship offers a 7-day free trial
Monthly plan: $20/month for 5,000 product variants and 100 orders
Lifetime plan: $97 for unlimited variants and orders
3.4 AliDropship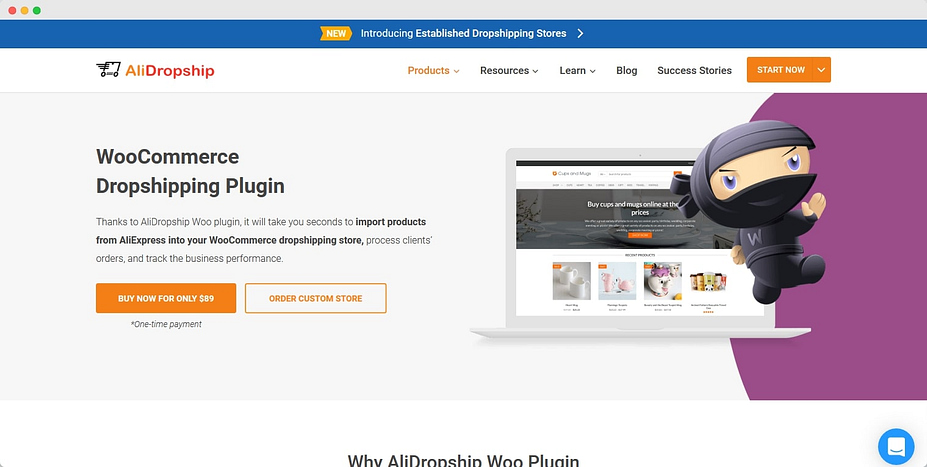 AliDropship is another WooCommerce dropshipping plugin that supports WooCommerce sellers to easily import products from AliExpress and fulfill orders.
Top features
All-in-One Dashboard: You can monitor and control your sales, orders, traffic, and all-important online store activities in AliDropship's intuitive user dashboard.
Inventory management: This plugin allows you to manage your entire inventory including tracking your stock counts and stopping selling products when any inventory runs out…
SEO product tags: AliDropship helps you optimize your product pages for search engines with product specific meta tags, titles, descriptions, and keywords.
Unlimited Number of Products: You can sell in your online store with unlimited products.
Product Customization: This feature allows you to edit your products anytime including changing titles, descriptions, images, prices, etc.
Fulfill Orders Automatically: With AliDropshop, you don't have to order every product manually, instead, click the 'Order' button and quickly confirm your order on AliExpress.
Automated order tracking
Live statistics
Functional addons
3.5 Spreadr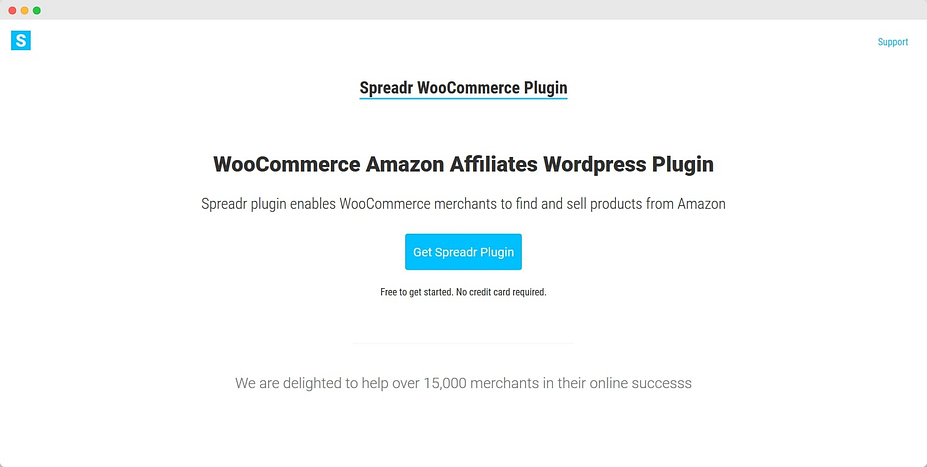 Spreadr plugin helps sellers import Amazon products to WooCommerce stores and earn affiliate commissions. This plugin also supports you to run your WooCommerce dropshipping business.
Top features
Fast & Easy Product Import: Amazon API will pull product info and insert it into your WooCommerce store, all you have to do is paste the Amazon product URL in the dashboard and click Add.
Customizable Product Information: This feature allows users to customize the product name, description, images, and other details after importing the products from Amazon.
Keep 100% of Your Commissions: Spreadr redirects 100% of your links to Amazon with your Amazon affiliate ID, so you are eligible for all the sales that get referred from your site.
Real Product Pages: Every product in your store has its own crawlable, indexable URL. More products with optimized descriptions lead to better SEO and an increase in organic traffic.
Locally Stored Product Data: All product data is stored in your website's database on WooCommerce.
Amazon Customer Reviews: Import reviews from amazon to WooCommerce store with Spreadr.
Price
Offers a 7-day free trial with no credit card required
Basic – $6 per month
Pro – $12 per month
Gold – $20 per month
Super – $35 per month
Jumbo – $60 per month
4. Conclusion
No warehouse needed, no inventory management required, and low capital investment, WooCommerce dropshipping is now being the top-notch platform of online selling. Let's start your dropshipping journey and make money today!