T-shirts are a staple of many people's wardrobes across the world. Brilliant business people, like you, may have recognized the popularity of this product and began to sell T-shirts on Shopify. Because of the low cost of sourcing T-shirts, their universal popularity, and SUPER easy customization.
This article will guide you to sell T-shirts on Shopify in 6 detailed steps. Let's check it out!
1. Set up your Shopify store 
Step 1: Add your product
To create your first product listing, navigate to Products > Add product in your new Shopify store.  
We'll be making a lot of decisions on this page, so let's divide them down into phases.
Make a title for your product and a description for it
Customers browse to product pages to learn more about a product before deciding whether or not to buy it. Details matter, and communicating the appropriate information in the right way, from pricing to size, whether text or images, may make a big impact. If you're not sure what to add in your own online shopping website, you can get ideas from others in your area.
The title of your product shows what it is. Customers will notice this as they browse your business, and it will aid them in locating the items they want in your catalog. Keep it brief and sweet, and utilize your product description or variations (more on those later) to bring up further details or product alternatives like colors or sizes.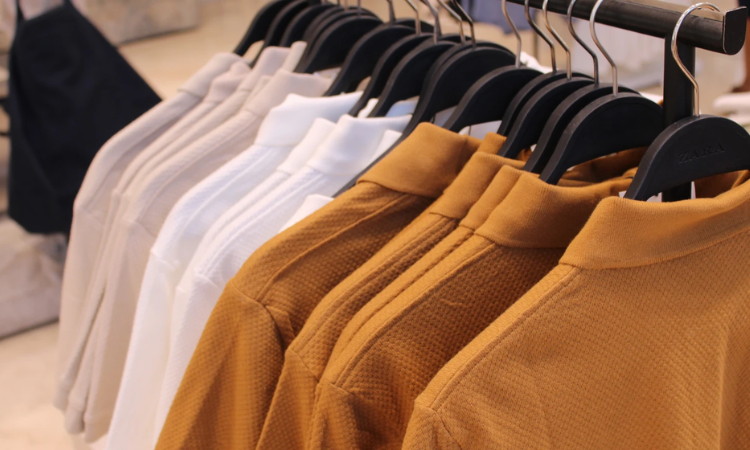 Your product's description serves to both describe and sell it. They're also one of the most typical causes of writer's block. The good news is that writing a captivating product description does not necessitate being a skilled copywriter. All you have to do is:
Make sure you know who you're talking to. 

Consider what your buyer needs to know in order to feel comfortable purchasing your goods and strive to convey that information in your description.
Incentives should be highlighted. Is there a large return policy or free delivery available? Are your items environmentally friendly? Consider what features, perks, and offers are truly important, then eliminate the rest. To swiftly explain key selling aspects on their product pages, several businesses use a combination of text and icons.
Prepare for frequent objections or queries
What may cause a buyer to hesitate before making a purchase? Are they concerned about purchasing the incorrect size? Is it necessary for them to know the ingredients in your goods in case they develop allergies? Is it necessary for them to know that your items are manufactured in an ethical manner?
Make it simple to scan your text
Use brief paragraphs, bullet points, subheadings, bolded language, and other techniques to make your descriptions simpler to read. Then consider how quickly a visitor may get the information they require.
Photographs of the product or other material can be uploaded
You may submit any visual media that helps you offer more details about your items in the Media part of your product page: images, GIFs, videos, or even 3D models.
Use high-resolution photographs that showcase your items to their full potential. Maintain the same aspect ratio (the ratio of width to height) across all of your product photographs so that they all appear to be the same size. When you construct your online store, this uniformity gives it a cleaner, more professional image.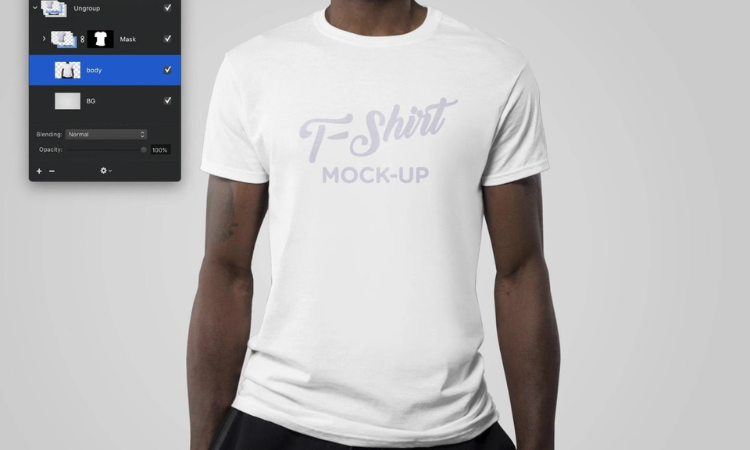 Step 2: Decide on a price
You may utilize the Compare at price section to express how much the product would normally cost, especially if it's a discount. For example, we could insert the original price of three bottles here to illustrate savings on buying our spicy sauce three-pack. However, I advise avoiding doing so unless you have a strong reason, especially if you're selling high-end items, since it may devalue their perceived quality.
It's also possible to leave out the Cost per Item column. You may use it to track your profit margin for a specific product if you like. This is only available on the Shopify plan or higher, and it allows tracking profit when you sell T-shirts on Shopify.
Step 3: Shipping
In the shipping area, you'll provide information that will allow you to calculate shipping prices and print mailing labels for each order automatically.
Step 4: Variants
Instead of adding each choice as a separate product, you may simply add them as variations of the same product if your product has many alternatives, such as sizes or colors. Each version can have its own picture, pricing, inventory tracking, and parameters connected with it.
You may also add extra product options using variations, such as offering several colors in various sizes. When you add variants to your product and save to refresh the page, you'll need to configure the Media, Pricing, Inventory, and Shipping sections for each variant separately.
Step 5: Product availability and organization
The following are the definitions for each label:
Availability of the product: You may offer your items on a variety of sales platforms, such as Facebook Shops or Amazon, which we'll go over later. For the time being, just make sure your product is in the "Online shop" otherwise it will be hidden.

Type of product. A product category that may be used to categorize items (e.g., t-shirt).

Vendor. This is the product's manufacturer, wholesaler, or third-party vendor. You may sort your product list by vendor, which might help you order goods more quickly.

Tags. Tags are words or phrases that you may use to describe your goods. You may tag a product with several tags to make it easier for buyers to discover it using your online store's search bar. Tags may also be used to automate operations in your business, such as adding a product with a certain tag to a particular collection.

Collections. Collections are crucial. They allow you to arrange and curate your items based on their intended use and audience. A garment firm, for example, may design a collection focused on women's items, men's products, a summer discount, or new arrivals. A single item can be found in many collections. After we've added additional goods, we'll build up our collections.
Preview of a search engine listing
You may alter how a website appears in search engine results in the search engine listing preview. It's also where you can increase your items' discoverability on search engines like Google.
If you know what keywords your target consumer uses to find items similar to yours, you can incorporate them into this area to improve your chances of appearing in search engine results over time.
2. Find a new hot niche to sell T-shirts on Shopify 
When attempting to figure out how to sell T-shirts on Shopify, you'll hear the phrase "niche" thrown about a lot, but it's crucial to pick one. One of the most crucial aspects of a successful online t-shirt company strategy is the capacity to stand out, and catering to a certain target demographic or interest group is great to do so.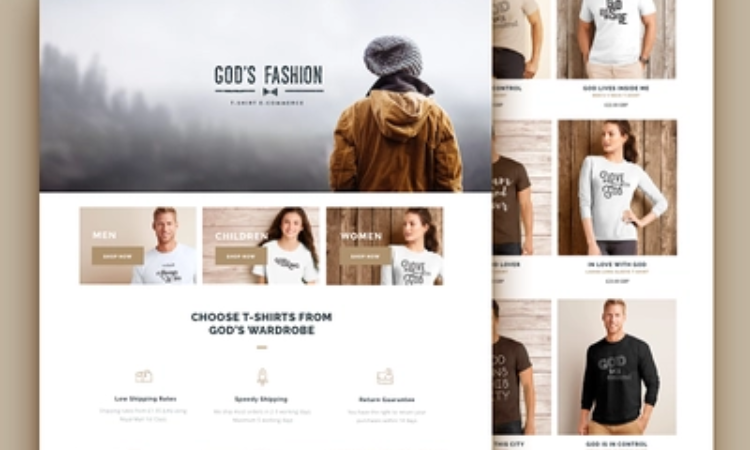 In a mature market, categories like "t-shirts for people who adore witty slogans" are likely to be too wide to be recognized. You'll need to tighten it up a little bit more. T-shirts featuring hilarious phrases about physicians and nurses, or dog owners, as shown below, are an example of a more particular specialty.
When it comes to learning how to sell T-shirts on Shopify, there are several methods for locating and evaluating a niche. Here are a few examples:
Examine the subscriber numbers and degree of activity on subreddits in your potential topic.
To determine the size of your niche on Facebook, use the Audience Insights tool..

Consider your own interests and the communities you're a part of—OK it's to go with your gut occasionally.

Create a business plan for your shirt-selling business that includes your goals and various chances to

sell T-shirts on Shopify

after you've narrowed down your specialization, and then work out how you'll carry out that strategy.
3. Design your T-shirts
The next step in starting your own online t-shirt business is to create designs. Here are a few ideas for getting a head start on your t-shirt design company.
3.1. Discover the most popular designs and topics
If you're having trouble coming up with t-shirt specialty ideas and designs, start by looking at what else is popular and selling well right now.
The pages for some of the most popular graphic t-shirt markets are listed below. You may utilize them to find ideas for your next specialty or t-shirt design by searching the "best sellers" and "most popular" categories.
Zazzle

Redbubble

SnorgTees

Kickstarter t-shirt campaigns
3.2. Invest in a designer
After you've come up with a concept for some t-shirt designs, you'll need to create them. You can probably make some fantastic designs on your own if you have Adobe Photoshop or a comparable tool. If you're like most individuals, though, you'll need to enlist some assistance.
You may choose a good graphic designer to assist you using a number of tools and markets.
3.3. Communities of designers
Dribbble: Dribbble is a community of designers with a diverse range of skills. Look for the style you like and contact the designers you like to see if they're open for freelancing work.
Behance: Behance is an interesting place to explore. You may browse portfolios from artists all over the world who specialize in illustrations, niches, and styles, among other things. If you like a designer's work, you may contact them for a quotation on your custom t-shirt designs.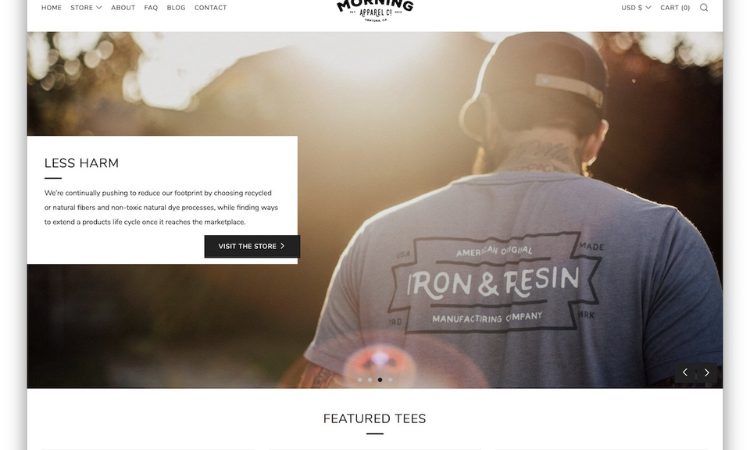 3.4. T-shirt designs are available for purchase
You may always buy pre-made designs if you can't locate a designer for how to sell T-shirts on Shopify. Keep in mind that if you take this way, other individuals are likely to be selling whatever design you choose, making it more difficult for you to sell T-shirts on Shopify.
The following t-shirt graphic markets are worth checking out:
Designious is a website that provides vector packs, PNG t-shirt designs, and clip art to let you make your own items.

Tshirt Factory: provides a selection of vector pictures for t-shirt printing firms, ranging from old school to punk rave and urban styles.

Creative Market: This site doesn't just

sell T-shirts on Shopify

; it also has over 3 million unique fonts, graphics, themes, pictures, and templates created by independent designers from all over the world.
Keep in mind that you may need to purchase a commercial license if you want to learn how to sell T-shirts on Shopify.
4. Find Fulfillment Provider
A Shopify store owner has three basic fulfillment options: 
4.1. In-house fulfillment
You may fulfill orders yourself if you're just starting out or don't have the funds to engage a team and rent a warehouse. While this provides you complete control over every stage of the supply chain, it may also consume a lot of time and increase logistical expenses as your company grows.
It's fairly unusual for companies to go from in-house fulfillment to outsourced fulfillment as they develop online. Instead of investing in fulfillment infrastructures, such as warehouses, manpower, equipment, fulfillment software, and more, you may use someone else's fulfillment operations.
4.2. Dropshipping
Dropshipping is the least hands-on fulfillment option, but it also provides you with the least control over the process. If you choose drop shipping, the manufacturer is in charge of the whole order delivery procedure.
Though dropshipping has advantages and disadvantages, it has a considerably longer transit time (typically from Asia) and higher quality control concerns because your buyer is the first to view your final goods.
4.3. Logistics from a third party (3PL)
Many fast-growing Shopify shops connect with a 3PL to save time and money while preserving control. Many 3PLs include several fulfillment centers (including foreign fulfillment sites), cutting-edge technology to automate and expedite inventory procedures, and data and analytics to help you make smarter supply-chain choices.
For example, Onospod Spotify App for Print on demand is a good start for those who are new to fulfillment services. You can download Onospod Shopify App Print on Demand here. 
5. Sell T-shirts On Shopify with Onospod 
5.1 Connect Shopify Store with Onospod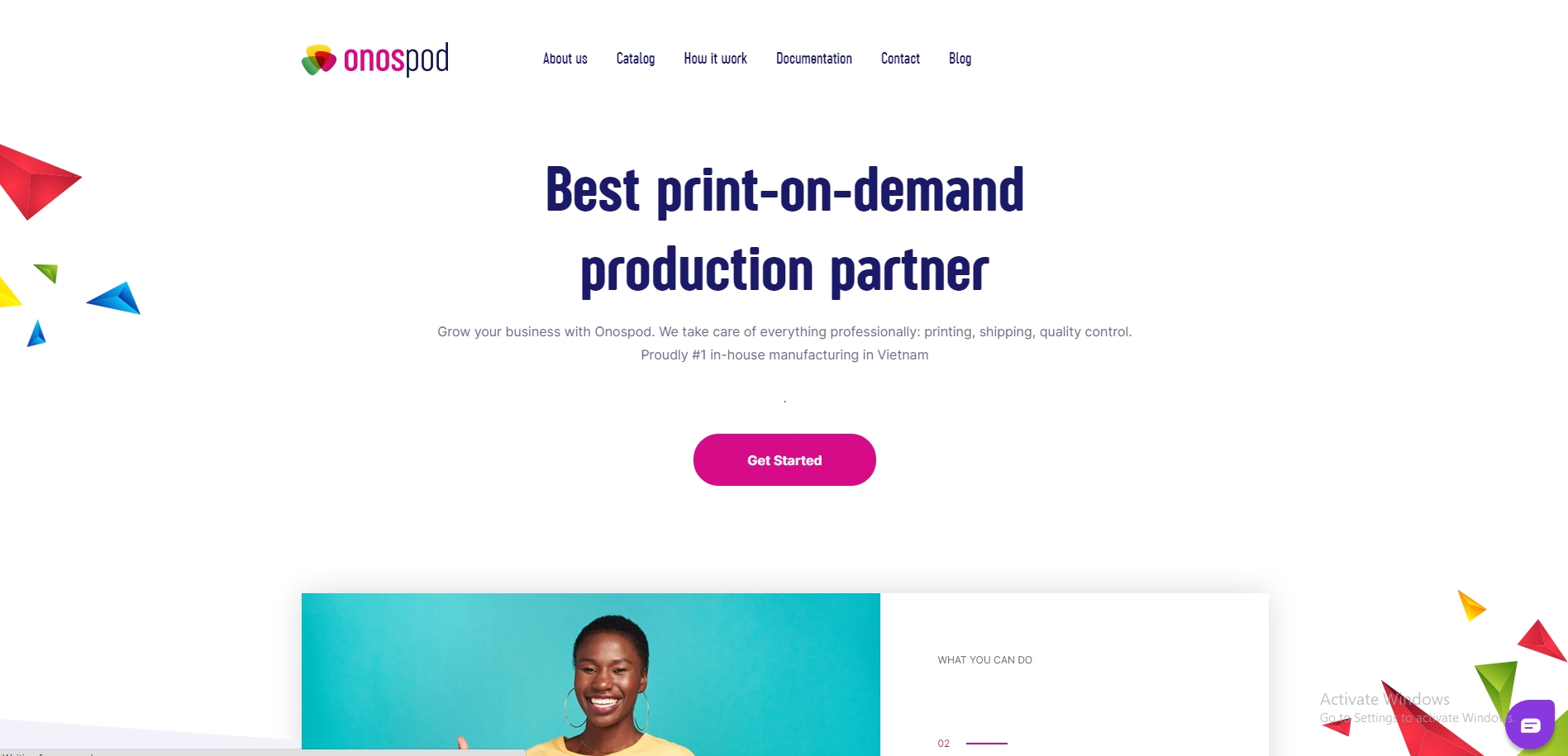 First, you have to connect your Shopify Store with Onospod here. After downloading, follow the following steps to get connected: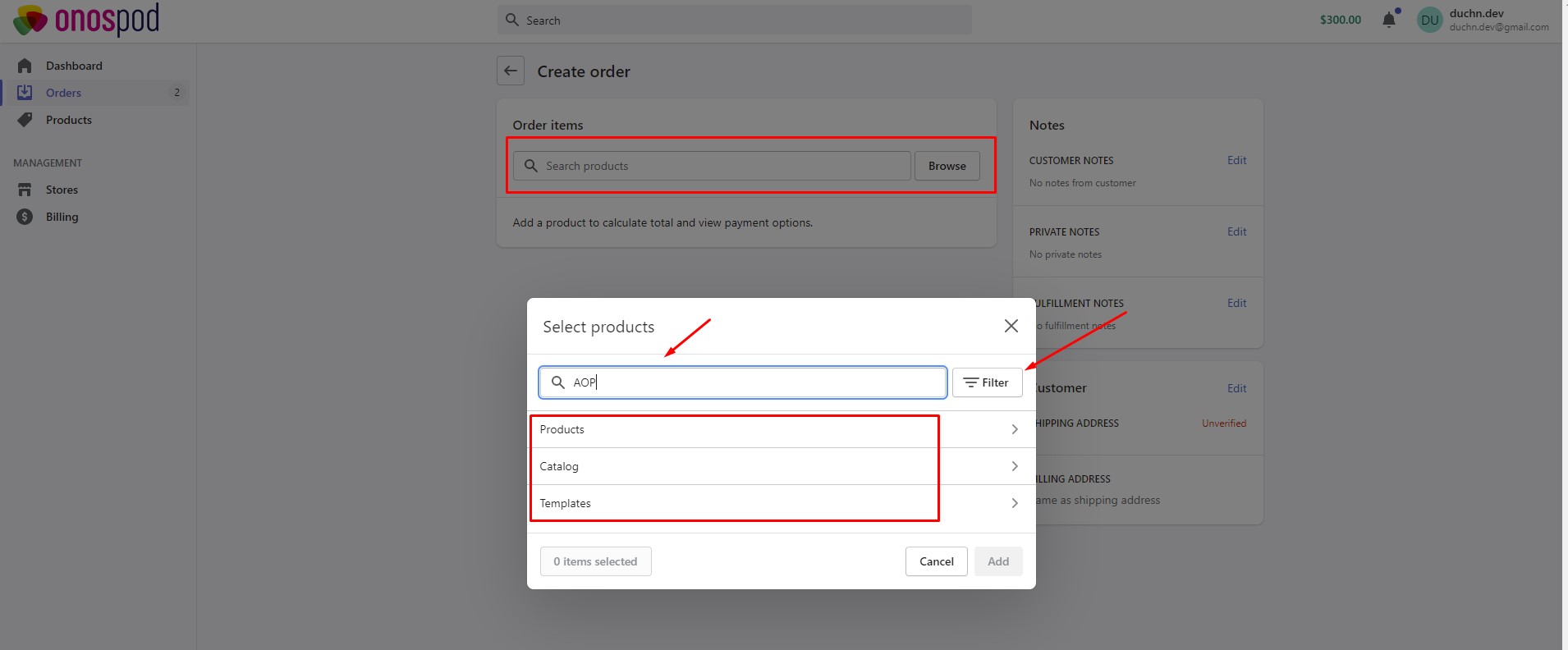 Click Orders > Order items > Browse > Select Products > Fill in your product name > Filter
5.2 Create T-shirt Product with design and upload to Store
In this process, you have to create your own T-shirt Product with design. 
Remember to fill in information about the title and descriptions of your T-shirt products. You can divide your content into 4 parts: product information, size chart, production & shipping, and replacement or return policy. 
Next step, you have to create an order or import orders from the store. Remember to fulfill the options which are related to the product. For example, with the product "AOP Hoodie", you may have to tick 3 options which are Same Design/S, Same Design/M, Same Design/L. This step is aimed to acknowledge buyers about the sizes that are available to sell.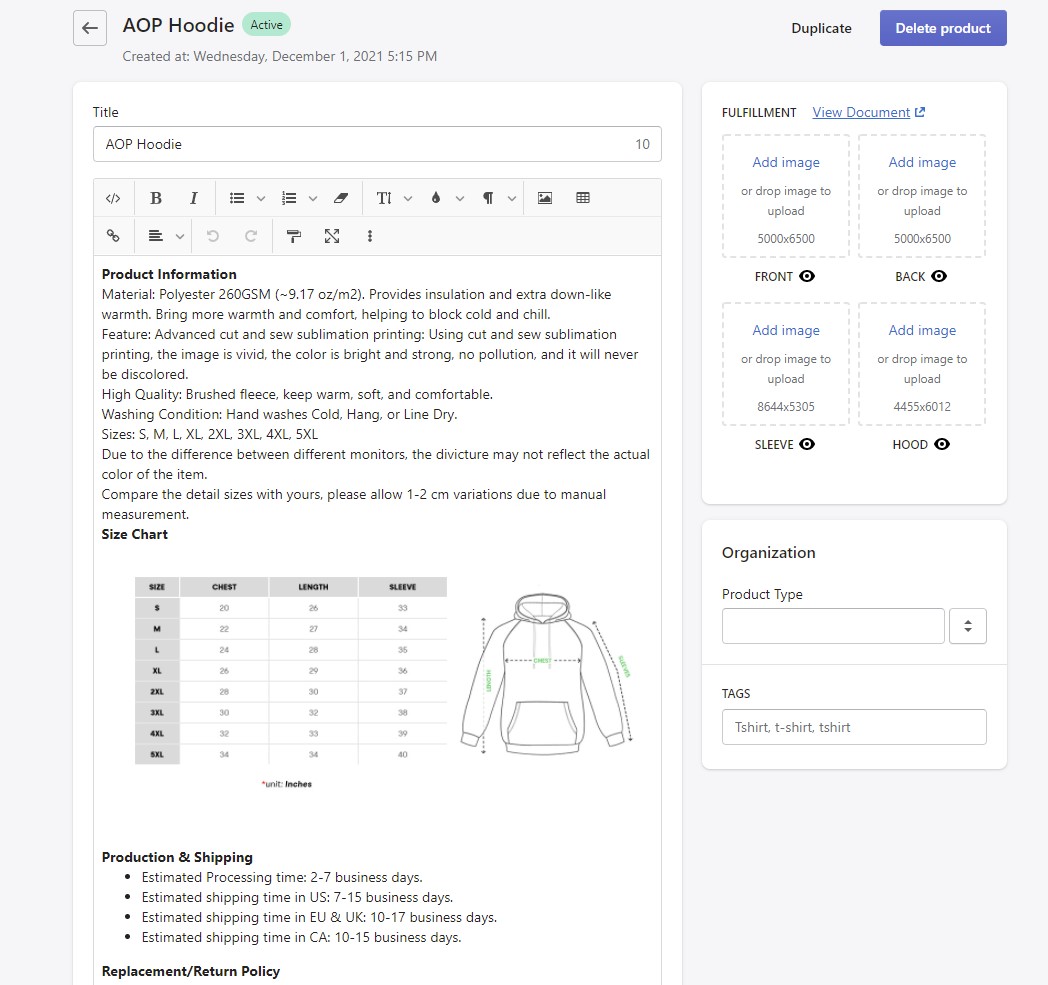 After all, information is set up, you can choose the date to upload your product. Oops! Your product is ready on Onospod Shopify App Print on Demand. 
5.3 Create manual order/Import Orders from the store
Now it's time to create an order or import orders from the store.
To do this, choose an account to publish the schedule submission.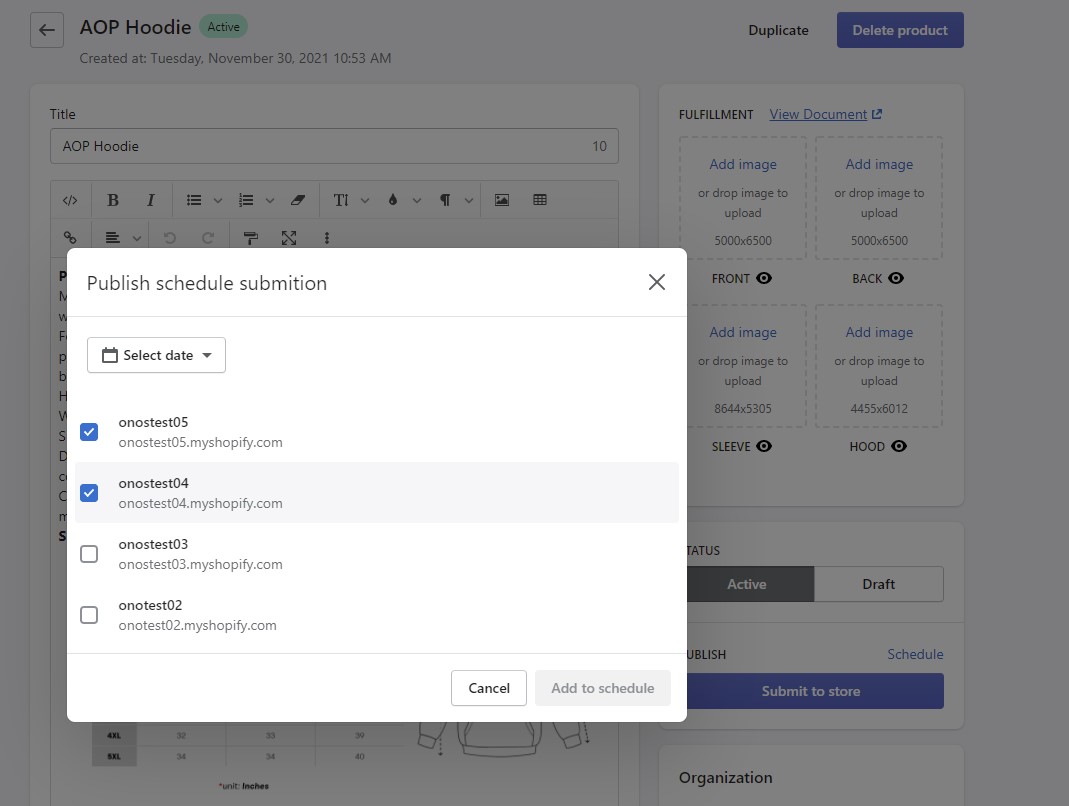 Then, as similar as above, click "Create order".

Select the products that you want. Then, click "Add".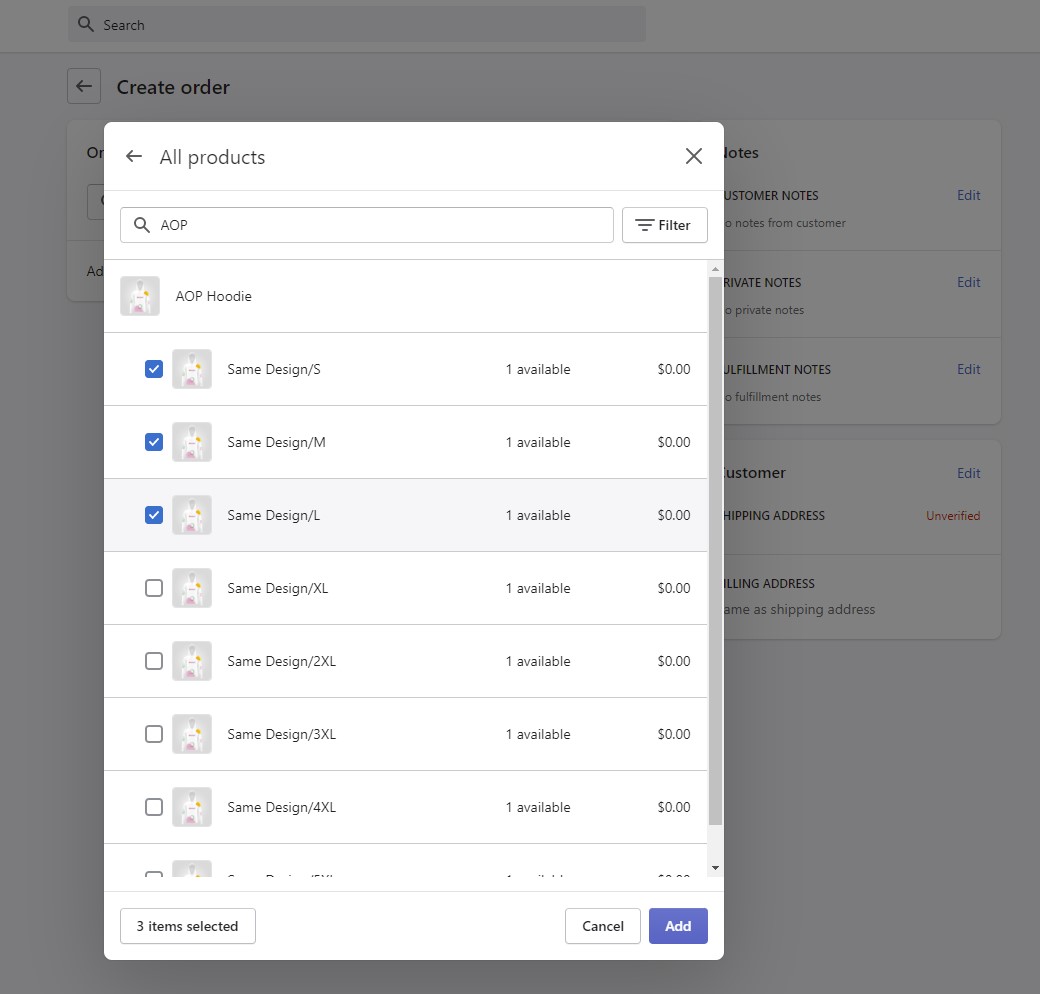 Remember to choose the right number of orders that you need and click "Save".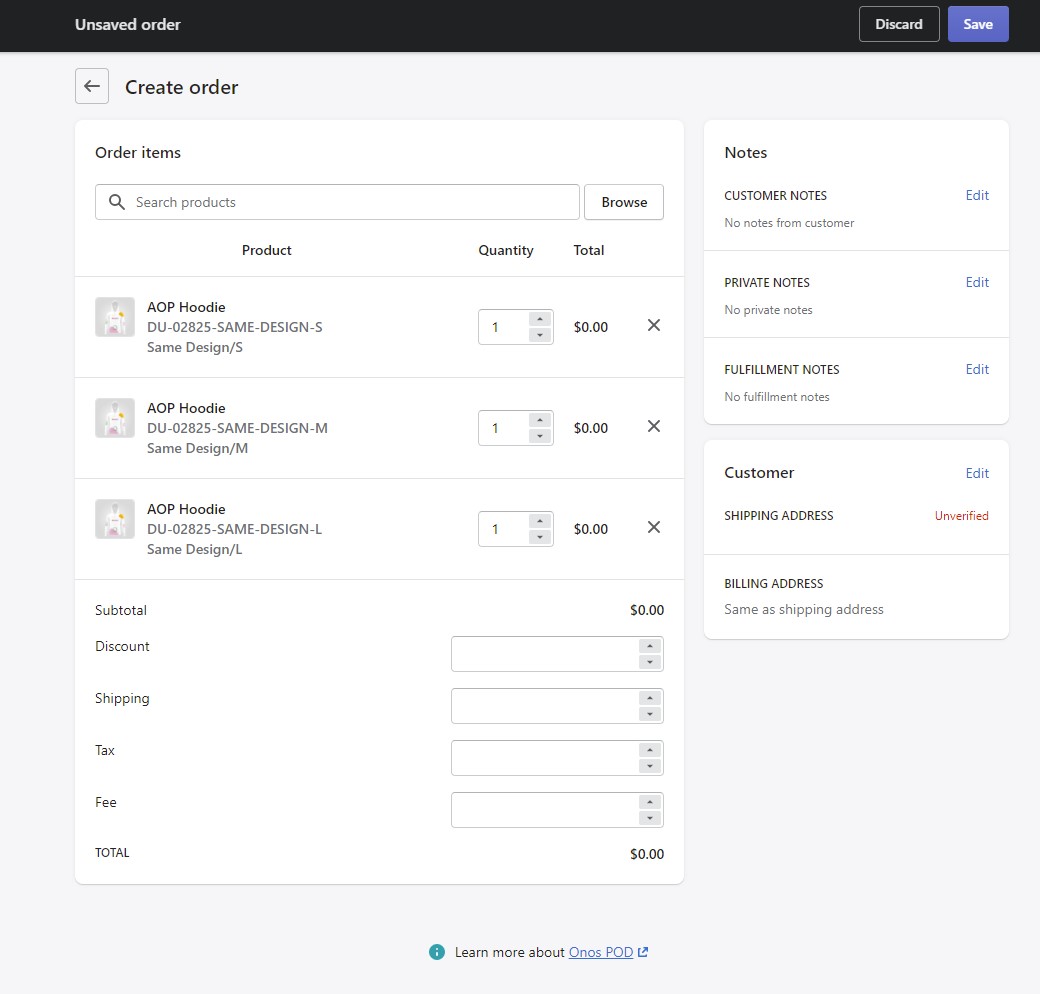 5.4 Topup Money to Onospod
After choosing the right product and making a perfect order, it's time for your payment. Take a look at this section!
You have to top up your money to Onos!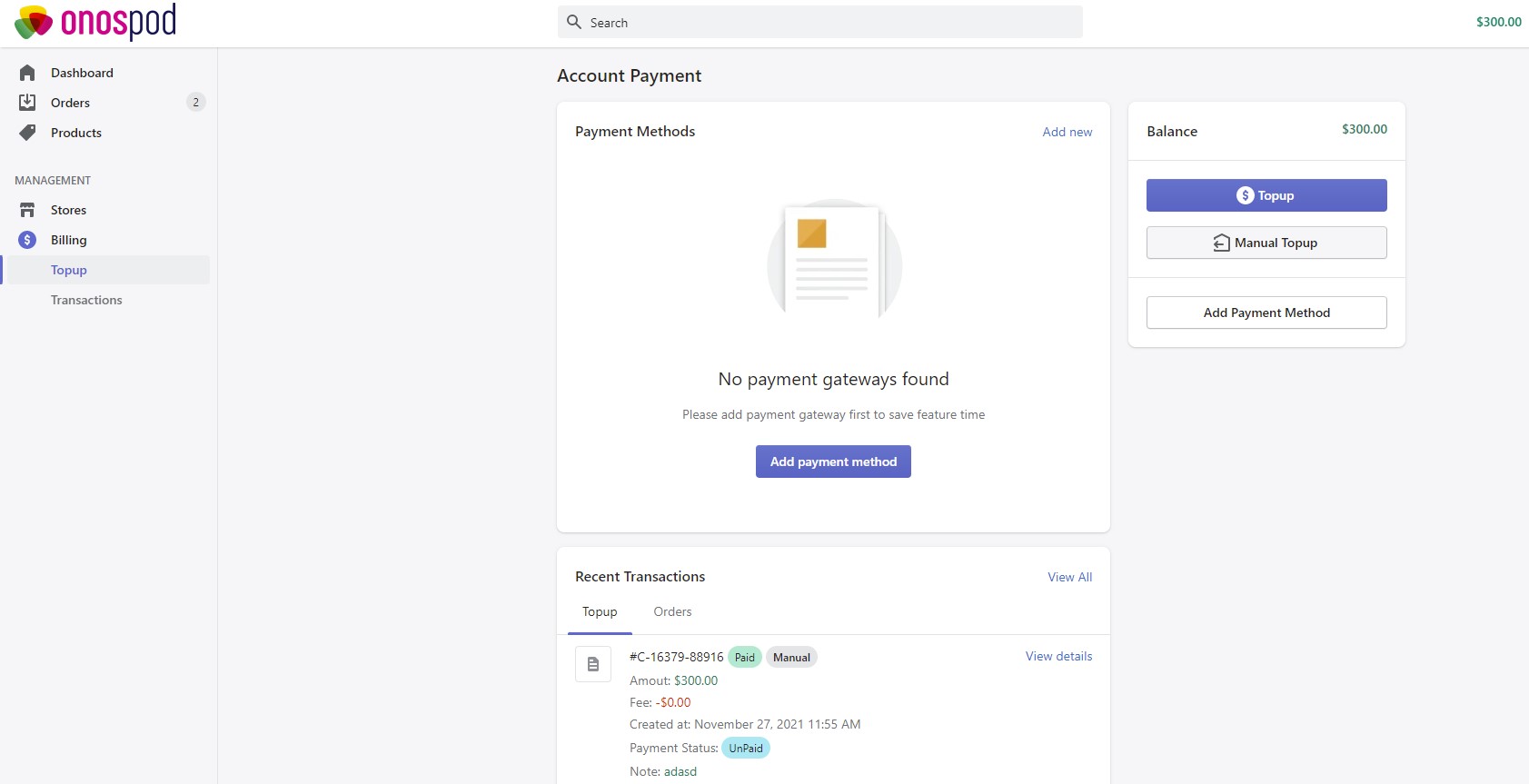 5.5 Request for Fulfillment
After topping up your money, the next step is to request for fulfillment. 

5.6. Marketing for Shopify 
To attract customers to your business, use the following Shopify marketing methods.
Put your marketing strategy on autopilot
With the aid of Shopify applications and integrations, you can automate the majority of your tasks as a platform. This allows you to concentrate on growing your business while manual, operational, or repetitive activities are handled automatically.
Pin your latest products
Use these idea-seeking internet users' behavior to increase traffic to your Shopify store. To reach them, create enticing product photos, infographics, or just show a product in action and share it on Pinterest.
Pinterest allows you to build mood boards, lookbooks and much more depending on the things you offer. It's all about getting your strategy correct, considering that pinners are 70% more likely to engage with things in scenes.
Pay attention to SEO
Around 60% of online buying journeys begin with a search engine. This implies you must be available for the correct searches at the right time.
Invest in community marketing 
Community marketing is sometimes mistaken with social media marketing. However, it is a technique in which businesses interact with their clients or potential customers through online communities and groups made up of aficionados of a certain issue.
6. Final thought 
We hope that now that you have all of the necessary knowledge, you can figure out how to sell T-shirts on Shopify and build a successful brand in the business. Because the key to success is your creativity and individuality, you should think outside the box to stand out from the crowd.