WooCommerce is a highly popular WordPress eCommerce plugin that has over 5 million installations. Therefore, any business can sell Print on Demand WooCommerce plugins with a potential outcome. 
However, to make the best use of WooCommerce platform, you have to integrate with an integrated plugin. This article will show you 10 best-integrated plugins to sell Print on Demand WooCommerce plugins for businesses.
1. What is an integrated WooCommerce plugin?
A plugin is a piece of software that works as an add-on to a web browser and provides additional capabilities to the browser. Plugins enable a web browser to show material that it was not meant to display.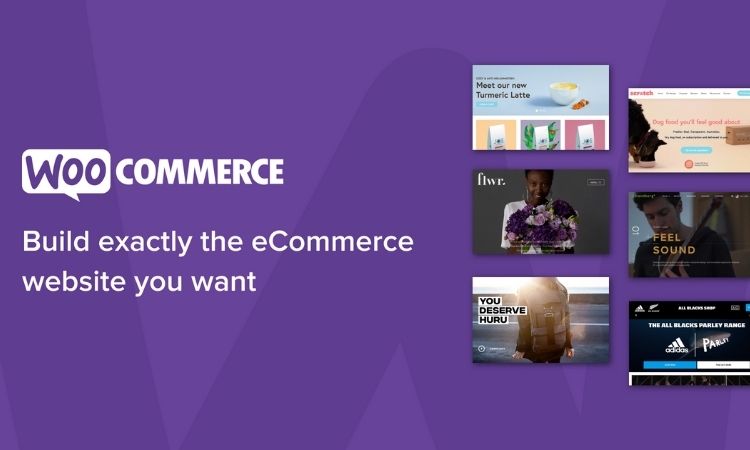 The Integration Plug-in components are a collection of Pro Cloud Server Plug-ins (or extensions) that allow data from external sources to be presented within Enterprise Architect.
As a result, an integrated WooCommerce plugin is a plugin that allows users to connect and allow data from WooCommerce to be presented on their web. This enables them, especially print on demand businesses, to efficiently manage their products and stores.
2. Common print on demand products to sell in WooCommerce
These are common print on demand products in WooCommerce that you should consider.
2.1 Phone Cases:
It's not simply a safety feature meant to keep your phone secure from the inevitable ups and downs of contemporary life. Phone users enjoy customizing their phones, whether it's with a cherished photo, a logo, or a phrase.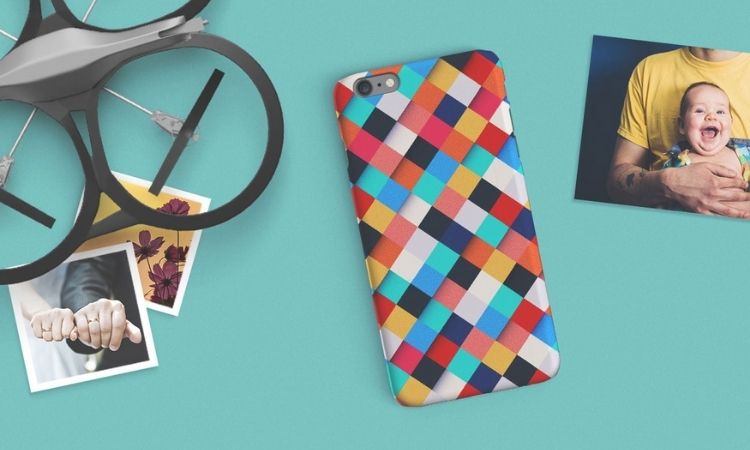 2.2 Fine Art Prints
Professional pictures printed on very high-quality paper are sometimes referred to as fine art printing. This certification, which is not a label, satisfies specific quality requirements which are sought after by many photographers and printers.
2.3 Canvas Prints
Canvas prints are ideal for sellers because they're much less expensive than standard frames.
2.4 Sublimation
Unlike traditional screen printing, sublimation allows you to put your design on the whole garment. For a colorful, long-lasting effect, the artwork is printed into the fabric rather than just on top of it.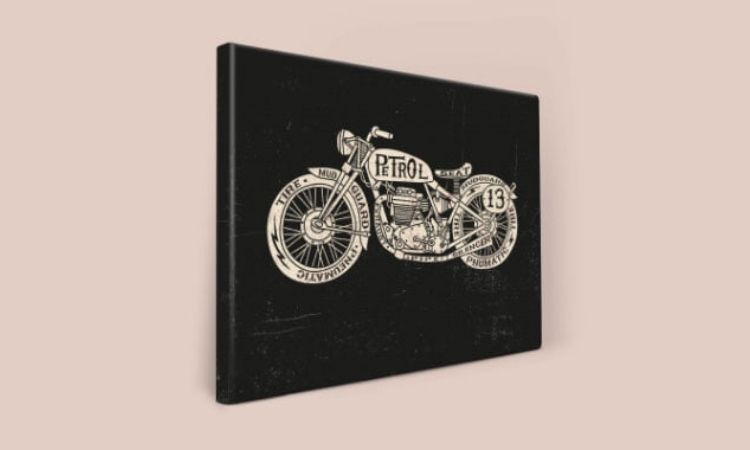 2.5 Hoodies
Warmer on cold winter evenings; a comfy, low-cost buddy for gym-goers and couch potatoes alike; and worn by millions every day.
2.6 Tank-Top
Tank tops are popular all year round due to their adaptability. They are appropriate for gym exercises, long runs, and yoga sessions. If you're a fitness influencer wanting to offer to this active and massive market, you may even pick performance materials.
2.7 Baseball T-shirt
These t-shirts, with their unique contrasting colored sleeves and collar binding, were originally used as undershirts for baseball players in the United States.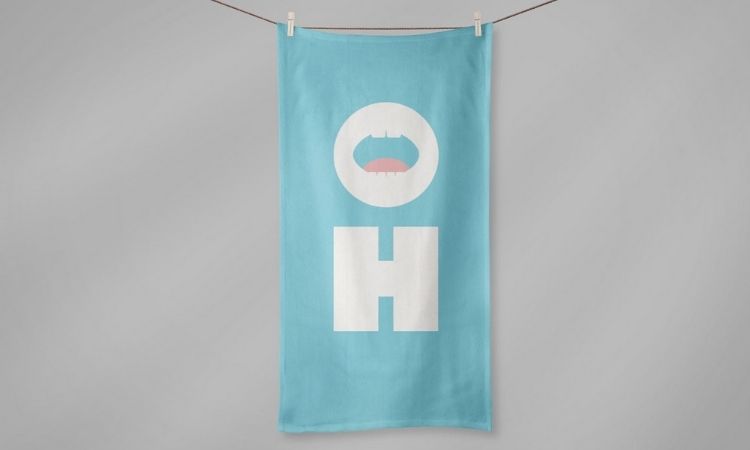 2.8 Towels
Towels are beautiful because of their adaptability; they are ideal for sporty-type influencers and businesses since they can be used for everything from home exercises to yoga courses.
2.9 Mugs
Nearly 60% of us have an emotional relationship to a cup, and one-third told researchers they would be 'devastated' if their mug broke. So there you have it. We place a high value on our mugs.
2.10 Tote Bags
A tote bag is a big, frequently unfastened bag with parallel handles that protrude from the pouch's edges.
3. 10 Best integrated plugins to sell Print on Demand WooCommerce plugins
3.1. Printful Print on demand WooCommerce Integration
Printful is a well-known company for print on demand products. The site has fulfilled over 21 million goods orders since its inception.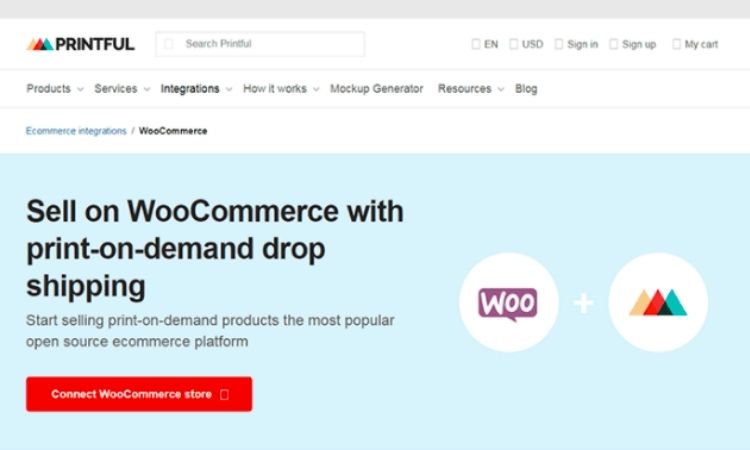 To link your stores to Printful to sell Print on Demand WooCommerce plugins, just install the plugin from your dashboard. Then, utilize the Printful Product Push Generator to choose and post goods for sale in your store. Finally, establish a pricing range for shipping and taxes, and you're ready to begin selling.
There is no limit to the number of items you may publish to your store, and Printful offers an inventory management tool. Printful has around 258 distinct items. T-shirts, backpacks, caps, phone cases, laptop cases, blankets, towels, and other items fall into this category. You will be setting the selling pricing for these goods, so simply add your margin to the basic price.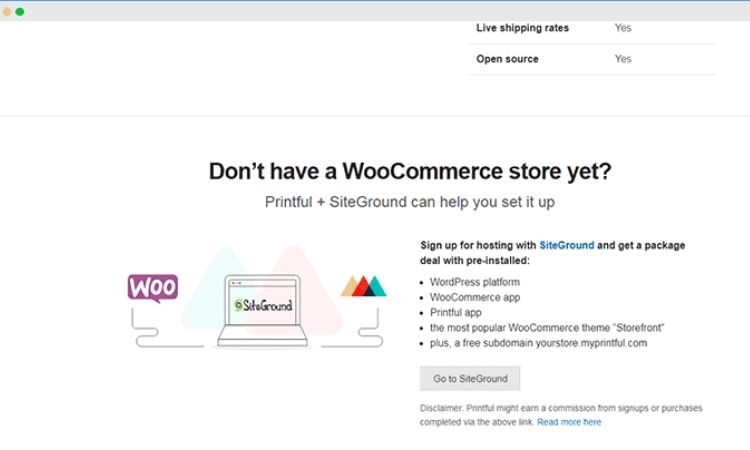 Fortunately, Printful is a free platform to sell Print on Demand WooCommerce plugins, so there is no need for a membership. You are solely charged for product production expenses. Customers pay for shipping, and Printful's rates are determined in real-time in your store.
After payment, items are instantly transferred to Printful for fulfillment. Because Printful is a white-label platform, the mailed packages do not have any Printful branding. You may also use your own brand labels, logos, and bespoke slips.
3.2. Printify WooCommerce Integration
Printify is a worldwide platform to sell print on demand products, especially in WooCommerce, that operates over 90 printing facilities in the United States, the United Kingdom, and China.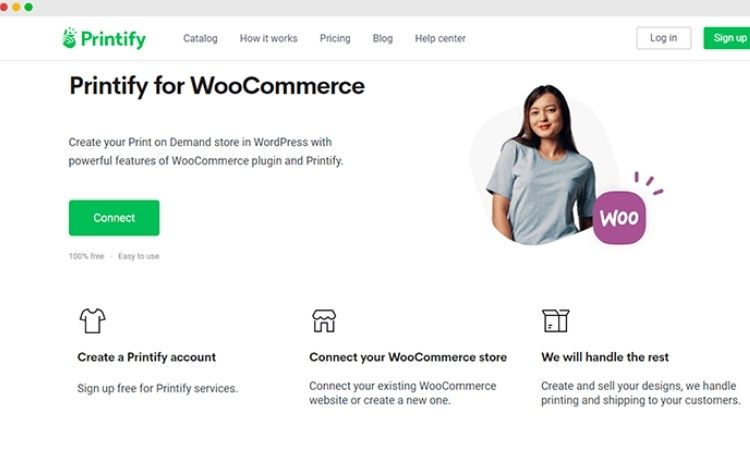 Men's clothes, women's clothing, children's clothing, headwear, accessories, and home & lifestyle products are among the items available on Printify. You can rapidly develop product designs using the Printify mockup generator before uploading them to your store.
You may add warehouse items to your online store if you utilize the Printify WooCommerce plugin. Not to add that Printify offers flat product pricing, which varies based on the product type.
Simply enter your desired profit into their profit calculator to get the selling price for items. Monthly discounts are available if your total sales exceed $1,000. The greater the discount, the greater the sales.
Shipping prices are determined in real-time on product pages. A shipping rate calculator is provided to calculate shipping prices for large orders.
3.3. Scalable Press  
Over 5,000 people have used the Scalable Press platform, which has completed up to 9 million product orders. Fortunately, they offer a WooCommerce plugin that allows them print on demand.
Scalable Press handles Print on Demand WooCommerce plugins, such as DTG printing, screen printing, sublimation printing, embroidery, and so on. They have numerous production facilities, however, they are all located in the United States. Nonetheless, Scalable Press accepts purchases from clients outside of the United States.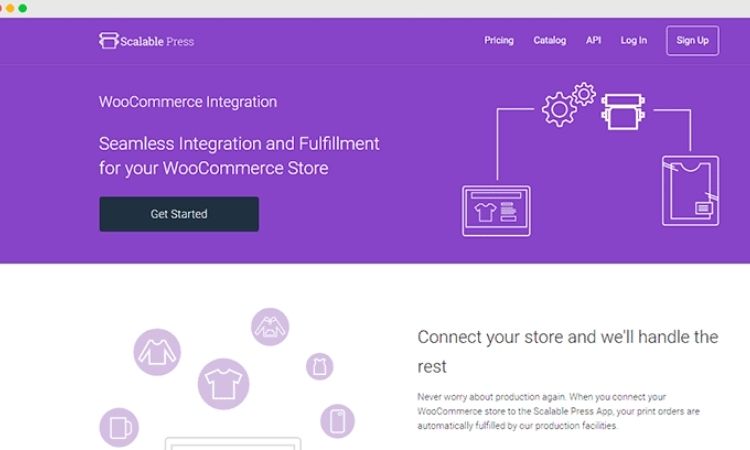 Scalable Press, unlike other print-on-demand services, does not allow you to register directly. You must request an account by contacting the sales staff; hence, the platform is not available to everyone. Furthermore, your application request may be denied.
There is no upfront payment if you are accepted. You simply have to pay for the items and the shipping. You may use their pricing calculator to figure out how much a product will cost based on the print type and quantity. Fortunately, you may receive lower prices for large orders of Print on Demand WooCommerce plugins.
You may sell hundreds of goods using Scalable Press. Shirts, hoodies, caps, backpacks, phone cases, beanies, and other items are available. Nonetheless, delivery is reasonably quick because all orders are guaranteed a 72-hour manufacturing turnaround time.
If you already use Scalable Press, you may synchronize items into your online store after downloading their WooCommerce plugin. New users will be required to choose and post items.
3.4. CustomCat
CustomCat is a print-on-demand service provider headquartered in the United States that was founded in 1999. You may sell Print on Demand WooCommerce plugins with its integrated plugins.
It is extremely simple to connect CustomCat to WooCommerce. After installing the plugin, you can use the API to connect your online store and then configure product permalinks and payment methods.
Fortunately, CustomCat products are of high quality since they are manufactured using cutting-edge technology. They specialize in embroidery, DTG printing, and dye sublimation. This firm actively fulfills print on demand product requests, with over 10,000 goods printed every day. In reality, CustomCat offers up to 500 distinct items.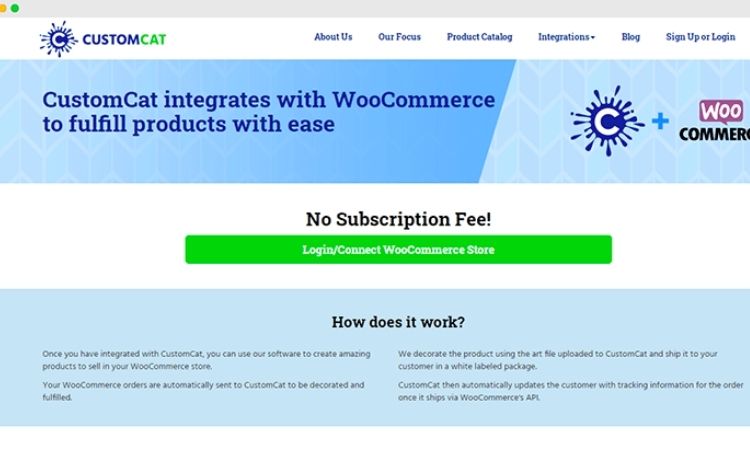 T-shirts, hoodies, caps, aprons, phone covers, and other items are available on CustomCat. These items are obtained from major companies such as Adidas, Bella + Canvas, Gildan, Next Level, and others.
The printing technique determines the base pricing of a product on CustomCat. Prices are never constant; they vary on a regular basis, but you can always receive the most recent price from the CustomCat pricing sheet.
Product orders from your WooCommerce store are immediately sent to CustomCat for fulfillment. Manual orders may also be created by just adding an order from the plugin dashboard.
Orders are filled quite quickly on the platform. Domestic delivery inside the United States, for example, is completed within 2 – 3 business days. CustomCat, on the other hand, can manage the international shipments.
Furthermore, because CustomCat is a free platform, you do not have to pay to use it, but you do have to pay for delivery; nevertheless, CustomCat's shipping prices are flat.
3.5. Printrove  
Printrove, founded in India, is a major print on demand firm. To utilize Printrove with WooCommerce to sell print on demand products, just install their plugin, add items, map the SKUs, and you'll be able to start receiving orders right away.
Unlike other top print on demand WooCommerce plugins, Printrove's WooCommerce plugin requires you to upgrade to their business plan before using it.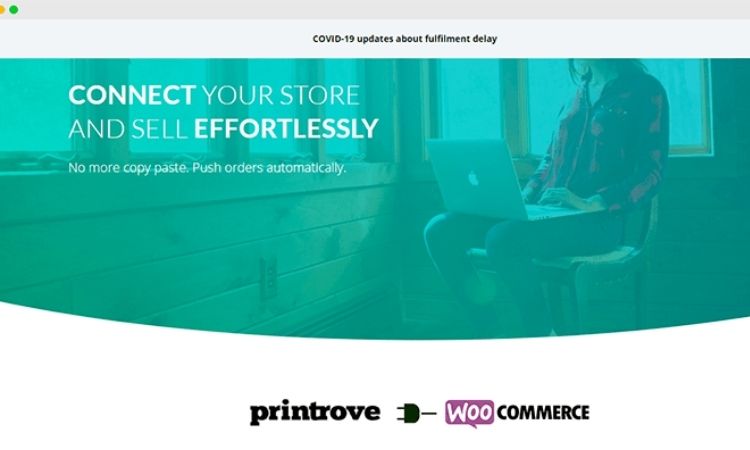 Printrove, on the other hand, imprints bespoke designs on clothes, phone covers, coasters, notebooks, mugs, posters, and other items. Product samples can be ordered for quality assurance, but they must be paid for.
Printrove receives customer orders automatically before printing, packaging, and shipping the items to their destination with your logo. Pack-ins, neck labels, thank you cards, and other branding choices are available.
Through the Printrove Merchant Panel, you can submit and test your designs on Printrove goods. A design library is also included to help you organize your creations.
There are particular design requirements to follow in order to upload high-quality designs. Only JPEG and PNG files, for example, are supported since they must have a minimum resolution of 3000 DPI.
Printrove delivers items for delivery within 48 hours after receiving orders. The shipping period varies on the customer's location, however, it usually takes 3 to 5 working days.
3.6. Print Aura 
Print Aura provides high-quality prints owing to their Kornit printers. Products are printed in full CMYK color gamut and are straight to garment (DTG printing).
To utilize PrintAura's WooCommerce plugin to sell print on demand products, you must first establish an account with them. After that, choose which goods to offer, make mockup pictures for them, and publish them in your store.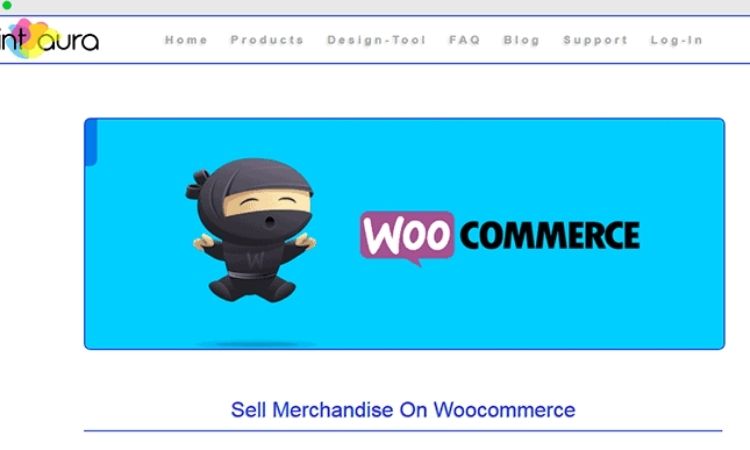 Print Aura has over 100 distinct items; the platform is known for having a wide range of products. Finding the correct product is simple since you can browse through the product catalog using criteria like categories, pricing, colors, and so on.
When consumers pay for orders, you are automatically invoiced. Print Aura has no minimum order requirements and can handle huge daily printing runs of up to 500 pieces per day.
Order fulfillment for Print Aura is fully automated. Products are printed and sent within 3 to 5 days of being ordered. The delivery price is relatively low, starting at $5.50. If you select rush processing, it will take 2 – 3 business days but will incur a higher shipping cost.
Print Aura ships worldwide, however local shipping in the United States is faster. Because the platform is white-label, the items are supplied with your brand. Packing slips, collar labels, and return labels may all be customized with your branding/logo.
When you sell Print Aura's print on demand items, you get a quality guarantee. Products that have flaws or mistakes will be replaced at no additional cost to you.
3.7. Spreadshirt 
This is a print-on-demand marketplace that mostly focuses on clothes. To utilize the Spreadshirt plugin to sell Print on Demand WooCommerce plugins, first install it from your WordPress dashboard and then connect to the Spreadshirt API.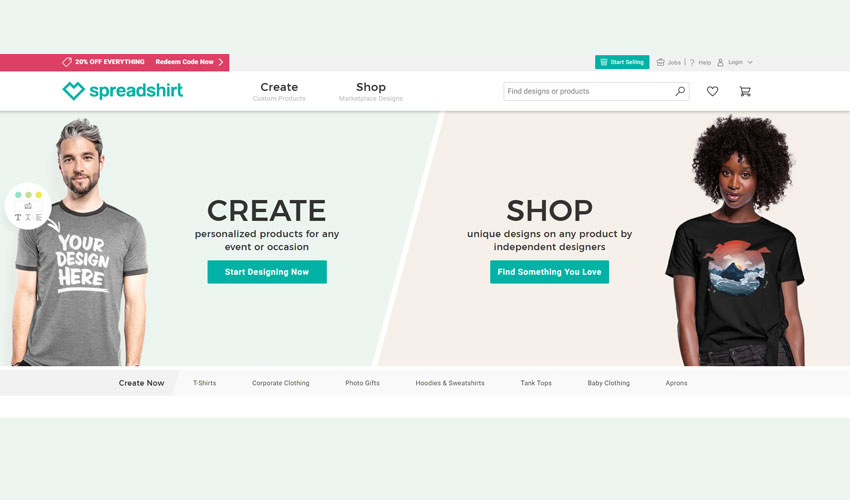 Spreadshirt offers digital print, direct to garment printing, thermal sublimation, laser transfer, flock printing, and flox printing services. T-shirts, hoodies, sweatshirts, picture gifts, aprons, and other items are available on Spreadshirt. You may upload your designs, test them on goods, and sell them through your WooCommerce store of print on demand products.
You just need to worry about publishing goods to your store with this WooCommerce plugin. When customers click on checkout, they are routed to the Spreadshirt checkout site, and Spreadshirt handles payment and order processing.
Spreadshirt ships globally, although its primary markets are the United States, Australia, and Canada. International and domestic shipping charges differ, but they are computed depending on the order amount.
The firm works with a variety of delivery companies. Standard delivery takes between 7 and 15 days to complete, while Premium shipping takes between 6 and 9 days. Domestic delivery takes only one day after printing, but overseas delivery takes 1 – 3 business days with Express shipping.
3.8. Shirtee Cloud 
For importing their items into WooCommerce stores, Shirtee Cloud provides a free plugin to sell Print on Demand WooCommerce plugins. Product storage (warehousing), packing, and transportation are all handled by the platform.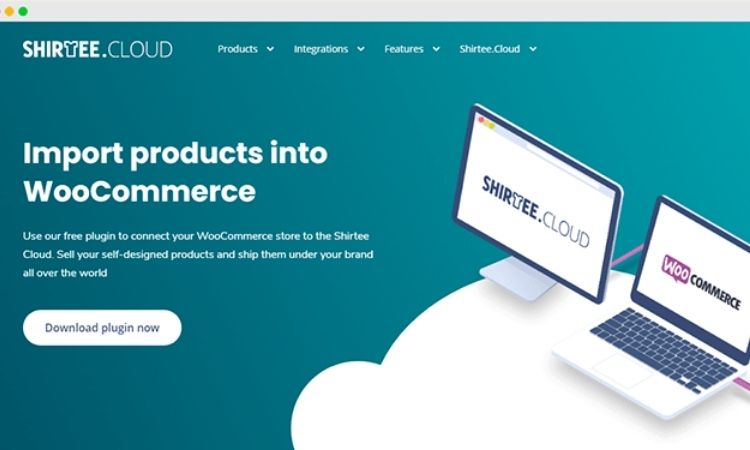 You may deliver t-shirts, sweatshirts, hats, mugs, caps, bags, and other items to your WooCommerce store with the Shirtee Cloud plugin. In total, there are approximately 50 different product kinds.
You may develop goods to sell with their product generator, import them from the cloud, and begin selling. There's no upfront cost. The Shirtee Cloud platform is fully automated. Orders are transmitted quickly after payment, and shipping and tax charges are computed in real time.
Shirtee Cloud, thankfully, is a white-label print-on-demand shipping platform. You may use leaflets and product labels to represent your brand on your items.
All of their goods are organic and come from Stanley/Stella. Furthermore, manufacturing is quick. Regardless of order amount, orders are produced and available for shipment within 2 to 5 working days. The shipment time is determined on the customer's location. The shortest delivery time available on Shirtee Cloud is 2 – 3 days, while the longest is 8 – 12 days.
3.9. Cloudprinter
You may submit print jobs to Cloudprinter, and they will be produced and sent to you. You may do the same for anyone in any place with their WooCommerce plugin to sell print on demand products.
Cloudprinter, in essence, manages a print network of over 150 print suppliers. As a result, you are more likely to discover an excellent print supplier near your clients' location.
Cloudprinter has over 500 product templates to choose from. As a result, instead of using the normal WooCommerce product templates, you may utilize their product template.
To use the Cloudprinter WooCommerce plugin, you must first create an account. You may post items, specify shipping rates, and you're ready to sell with only a few clicks.
You may also create bespoke shipping routes by picking print suppliers based on your needs. If the status of a product order changes, you can receive real-time status notifications through email or Webbooks.
3.10. Key2Print
Another notable plugin to sell Print on Demand WooCommerce plugins on our list is Key2Print. To use this plugin, you must first register on the website of SaxoPrint (Key2Print's printing partner) and get a user ID.
However, you can only use Key2Print if your company is incorporated and has a VAT number. Your contribution will be assessed when you fill up and submit the registration form with your user ID.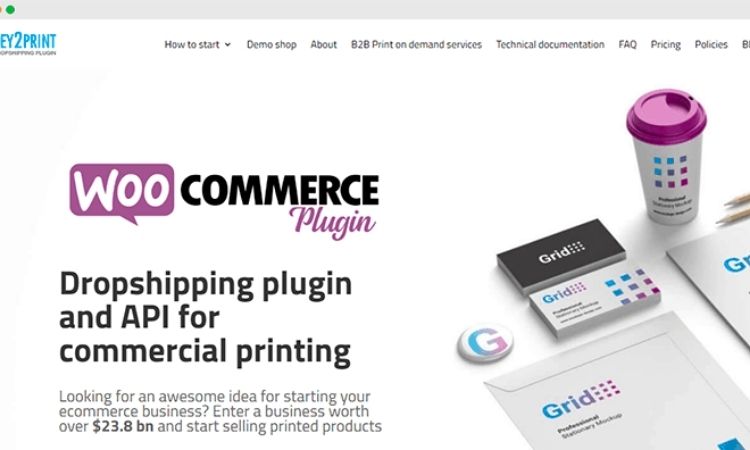 If you are approved, you may download the plugin, install it on your WooCommerce store, tweak the settings, and begin selling. You may try the Key2Print plugin in demo mode before installing it on your WooCommerce store to study the features and learn how they function.
Key2Print has around 30 distinct product categories and a product count of up to 500 million. Business cards, posters, desk calendars, and fliers are among the most popular items.
SaxoPrint, Key2Print's printing partner, performs all printing requirements. The firms have a fantastic printing facility and can handle up to 4,000 orders each day. They've been around for nearly 20 years, so they're well-versed.
Final thoughts
These are the best-integrated plugins to sell Print on Demand WooCommerce plugins. I hope that your print on demand business can make use of the advantages of these plugins to become the best seller.