An About Us page for print on demand business is one of the first supporting pages you'll likely develop while creating a website to start selling print on demand products.
When a visitor wants to learn more about you or your company, they will go to the About page. Unfortunately, About Us pages are frequently regarded as a chore rather than a chance to develop trust, tell your narrative, and share what makes you.
This article will give you the guideline to write an About Us page for print on demand business as well as 5 successful templates that you should consider. 
1. What is an About Us page? 
The About Us page is widely used by all sorts of businesses to provide consumers with additional information about who is connected with a certain firm and what it does.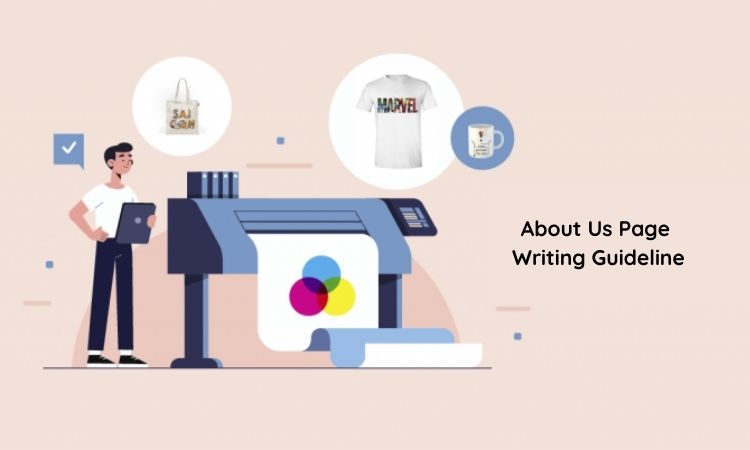 The history of a company is frequently presented, as are the biographies of the individuals in charge, which are generally expressed through short essays accompanied by photos.
2. Why should print on demand businesses need an About Us page?  
2.1 Answer the essential questions: Who, why, what, when, and how
The main aim of an About Us page for print on demand websites is to answer questions about your company, which is why the title is self-explanatory. Visitors are going to this page to acquire trust in your company, that you offer the items or services they require, and that you have a competent team behind you.
Avoid using generic messages and instead concentrate on how your company might assist a potential customer. This should be conveyed clearly and contain at least one call to action (CTA). 
The CTA might be as basic as a link to your website's product or services page, or as complex as an actual contact form embedded into the page. Whatever CTA you choose to add, make sure it flows organically with the page's content and the visitor's experience as they engage with it. Rather than just adding a contact form at the bottom of the "About Us" section, attempt to lead into the conversion.
2.2 Share your unique identity
The About Us page for print on demand website is the ideal location to convey your company's distinct identity. While your other sites focus on your products and services, this page focuses on what makes your company unique. Avoid business jargon and strive to avoid using it. Take command of this part by describing what you do in a genuine voice. The more pleasant and genuine this page appears, the more effective it will be in interacting with visitors.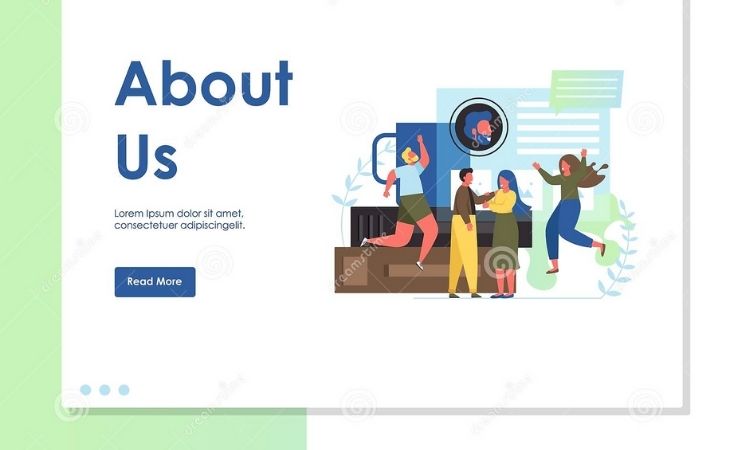 If you're having trouble establishing this distinct tone, consider interviewing your coworkers and bosses. Pay attention to how people characterize your company and your staff, and then strive to express these personal instances on the "About Us" page for your print on demand website. This should aid in the development of your company's own personality.
2.3 Tell your story
Every company has a narrative to tell, but it is through excellent storytelling that potential consumers get acquainted with your company. The story of your organization is critical in drawing attention and creating trust. Your story should include how the company was established, who the major actors are, the ideas and ideals that guided the company, and information about your staff. Use detailed and emotional copy to tell this narrative. Include imaginative visuals or perhaps video to truly enhance this tale. Soon, you'll have an About Us page for print on demand websites that will strengthen a visitor's relationship to your company.
3. How to write an About Us page professionally for print on demand business?
The greatest About Us page for print on demand websites should achieve their objectives by presenting a brand's narrative. Every tale, and every About Us page, requires a protagonist.
In some circumstances, you or your founding team may be the ones to do so. In others, you may treat your company as if it were a unique character with its own tale.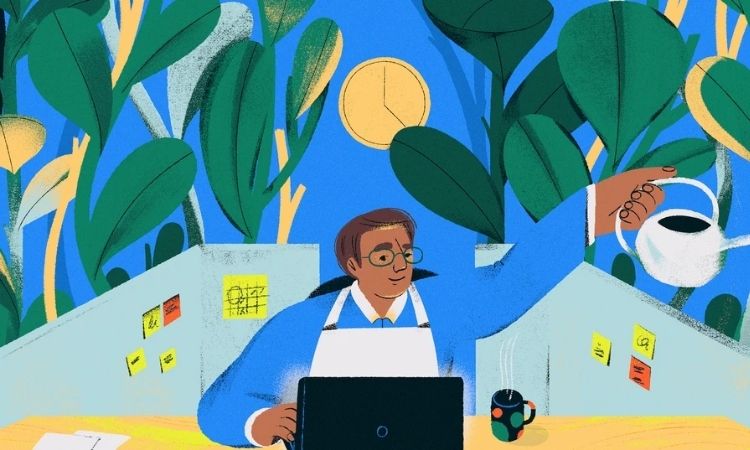 In any case, tales are all about portraying change—beginning in one place and ending in another—which your About Us page for print on demand business should convey as visitors read through it.
Using the following method, you can create a story for your About Us page for print on demand business:
Set the status quo or "the way things were" for you, your target client, or your industry.
Describe the issue that prompted you (the main character) to take action.
Explain how you set out to solve a problem (i.e., establish your firm) and the challenges you encountered along the way.
Share specifics about how your company is pursuing its mission and the milestones it has reached.
Create a vision for your company's future or describe its mission and aims.
4. Incorporated components with an About Us page for print on demand websites  
4.1 Your business model
For some businesses, their business strategy is their unique value proposition, and it may be a selling feature worth mentioning on their About Us page for print on demand business.
As an example, consider the following:
How do you eliminate the middlemen and pass on the savings to clients?

Where do you get your product's materials? (e.g., a specific country or by providing jobs to a certain community).

A breakdown of the percentage of your revenue that is donated to charity.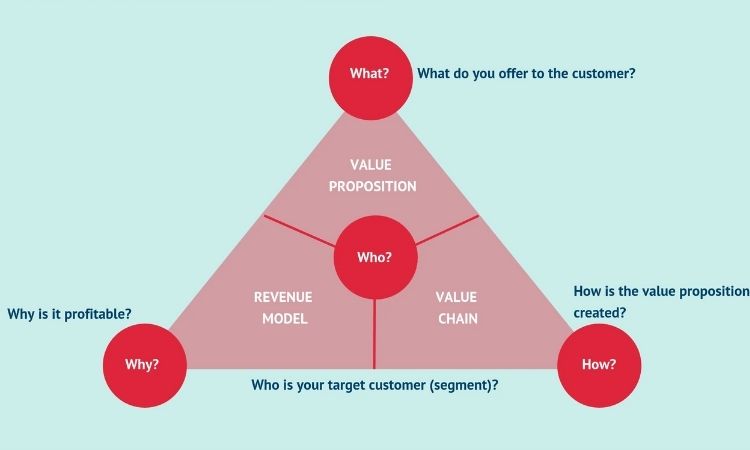 If you believe that openness would help your brand, the About Us page for your print on demand business is an excellent place to explain your supply chain, how your firm operates, and how it relates to the goal that motivates you.
This is frequently achieved through the use of an image or infographic that illustrates your business model in an easy-to-digest manner, such as this one used by Taaluma Totes, which describes how they obtain materials for their goods and how contributions assist support the country of origin.
4.2 Press mentions, testimonials, awards
Reviews, press mentions, and user-generated material may all be placed on your About Us page for print on demand websites to show how you're influencing your consumers or industry.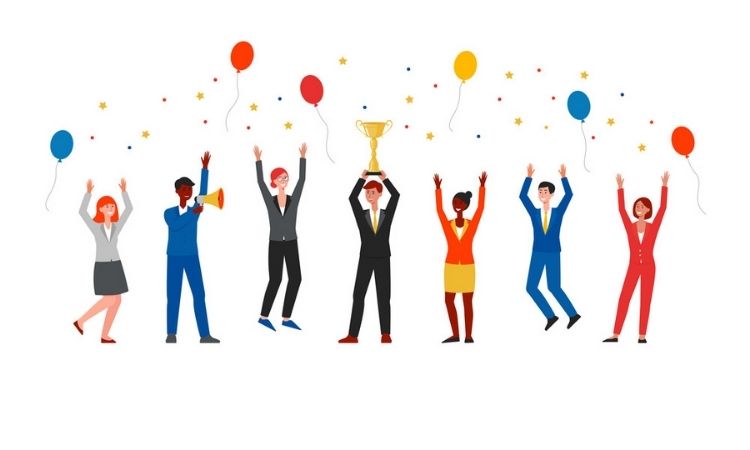 There are several methods to include social proof into your About Us page for print on demand business, ranging from linking Instagram galleries of client content to displaying the logos of media that have covered you to emphasizing a quotation from a customer review.
Press mentions, prizes, and other victories are frequent examples of milestones that may be leveraged to assist explain your story's midsection.
4.3. Concrete numbers
Numbers lend credibility, particularly when showing an issue you're attempting to address or the progress you've made as a business (e.g., amount of goods sold or years in operation).
Consider the statistics you may use on your About Us page for print on demand business to highlight your firm's goal or to measure your effect as a company.
Tying eye-catching numbers into your narrative may help you express your message more effectively, whether you're discussing the industry problem that crops up early in your tale or highlighting the milestones at the story's conclusion.
4.4. An introduction to your team
Putting a face to your brand humanizes it, communicates your corporate culture, and shines a light on the individuals that fuel your organization.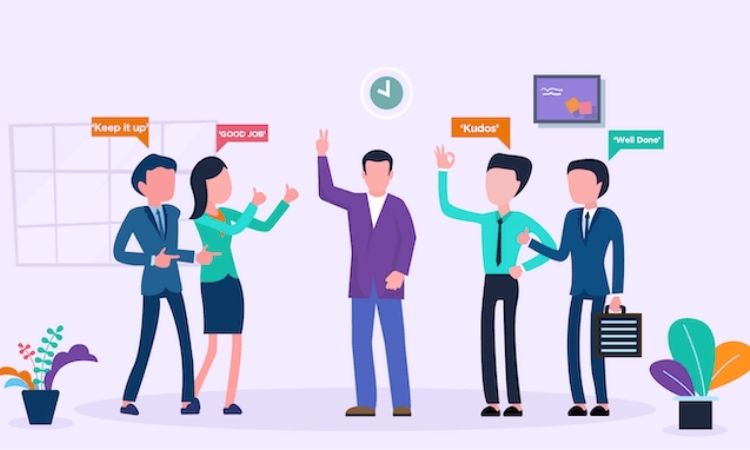 Even if you simply feature the founders, your About Us page for print on demand business may be an opportunity to develop your personal brand and convey how your narrative and experience make you and your firm a strong match to serve your market.
4.5 A video or gallery of photos
If possible, vary the media on your About Us page for print on demand business to offer diversity and break up the content in your page design.
At the absolute least, you may include high-quality behind-the-scenes photographs that draw back the curtain and give visitors an inside look at your company. Alternatively, if you've invested in content marketing assets such as films or case studies, your About Us page is an excellent place to put them.
4.6 Social media links and calls to action
On About Us page for print on demand websites, you may use it to direct visitors to additional web sites or online presences, such as a blog post or social profile.
Include any relevant CTA links in your content, and consider how you might extend the visitor's journey by urging them to:
Keep up with your social media profiles.

Subscribe to your email list

Examine your merchandise

Apply for a position at your firm.

Read your blog.
5. Top 5 professional templates of an About Us page for print on demand website 
5.1 Yellow Leaf Hammocks
Why the "About Us" Page is Awesome: It tells a narrative.
Share your wonderful tale about how your product or service was created to impact people's lives. It also looks more fantastic on the "About Us" page. Good tales humanize your brand by giving your product background and purpose. Furthermore, good stories are sticky, which means that people are more likely to connect with them and share them with others.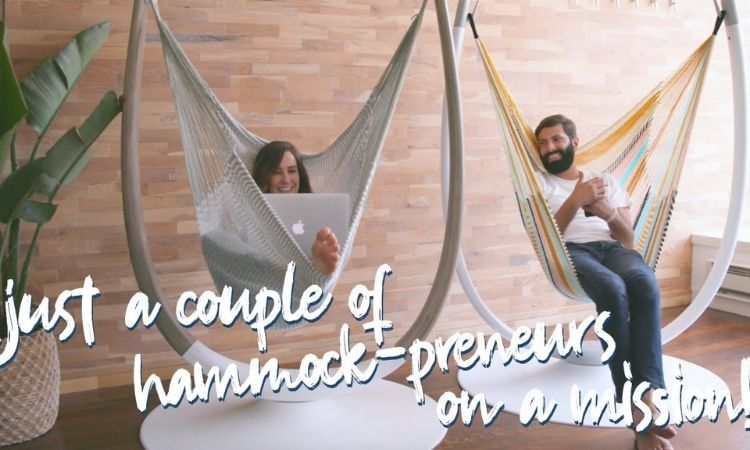 Yellow Leaf Hammocks educates customers about their products by highlighting how the hammocks benefit artisan weavers and their families. Instead of large amounts of text, the firm divides the tale into parts that blend words with readily consumable images to build a picture. They are unequivocal about why they are distinct: The page states, "Not a Charity."  "This is the basis for a brighter future, built on a hand up, not a handout."
Every business has a story to tell, so dust up those storytelling talents you picked up in that odd English class you attended years ago and put them to use on your "About Us" page. An "About Us" page with a narrative works harder for your business than a generic one since it uses detailed and passionate content and stunning images.
5.2 Eight Hour Day
Why the "About Us" Page Is Awesome: Because it's Human.
People often believe that "About Us" pages must be formal in order to earn credibility and confidence. However, most people prefer to trust actual humans over a description that sounds like it originated from an automaton. Attempting to appear too professional on your "About Us" page leads to rigid, "safe" text and design – the ideal approach to ensure your firm blends in with the crowd.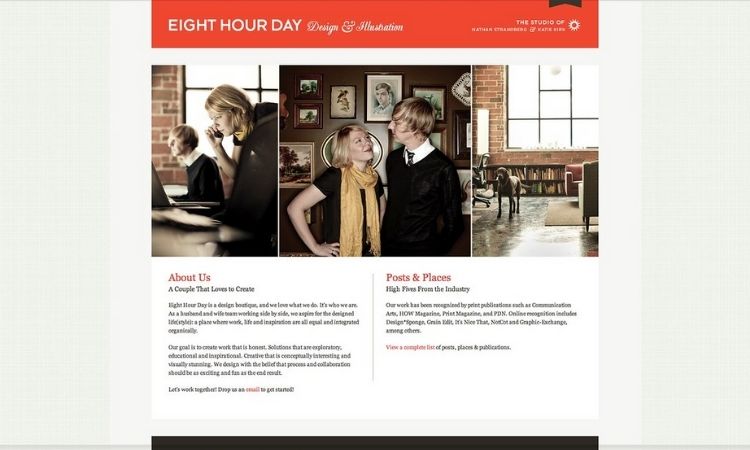 Instead, Eight Hour Day humanizes the business by highlighting the individuals behind it. Introducing the founders by name and including photographs of them on the "About Us" page emphasizes the fact that Nathan and Katie are real people. "two individuals with a passion for creativity — creativity makes us happy."
When creating your "About Us" page, avoid using industry jargon and instead use a genuine voice – yours – to explain your product or service. Sure, it should be professional and error-free, but it should always sound pleasant and genuine.
5.3 Apptopia
Why the "About Us" Page is Awesome: It avoids the business jargon.
We are aware that there is no industry jargon. Believe again if you think it makes you sound extremely clever on your "About Us" page. People desire and appreciate direct communication about what your company does. After all, how can consumers know they need your product or service if they can't figure out what you do?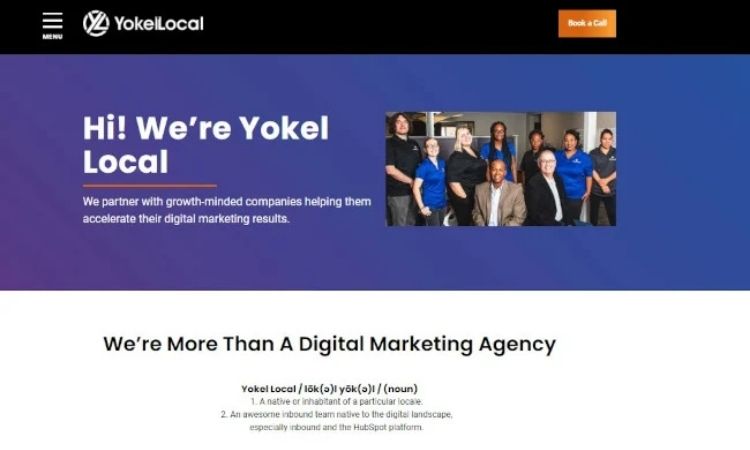 So, avoid the industry jargon; Apptopia does so on its "About Us" page. The startup's basic yet polished language efficiently communicates the company's product while also making it understandable to the average Joe.
The moral of the tale is to avoid using jargon on your "About Us" page as much as possible. Use short, snappy phrases to communicate complicated goods and concepts in a sympathetic, rather than patronizing, manner.
5.4 Moz
Why the "About Us" Page is Awesome: It's modest.
Instead of following the standard "About Us" script and adding a few lines about the company's goal and beginnings, try something new; there are lots of methods to make your brand more attractive to someone who is unfamiliar with you.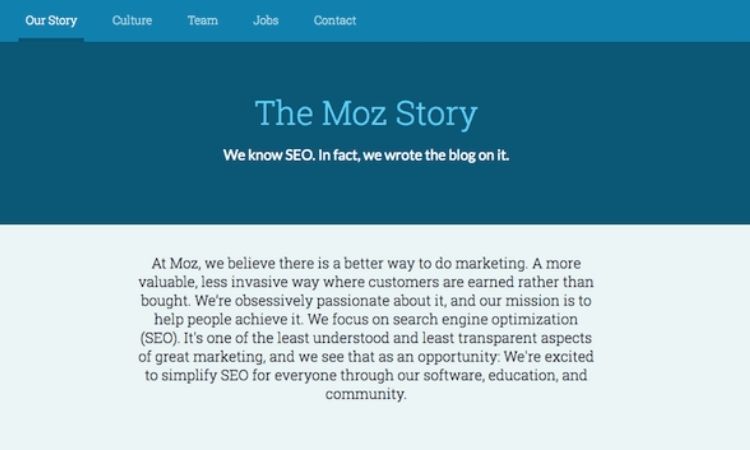 Take, for example, Moz. Since its inception in 2004, a lot has transpired, therefore the company opted to celebrate those milestones with a colorful and simple design that combines clear headings, brief blurbs, and little visuals to break up the text.
We particularly appreciate the humble allusions to how Moz obtained money, how it changed its brand posture – and, most significantly, how it returned to its original approach. This demonstrates the importance of honesty and humility in the eyes of your consumers. Don't be hesitant to talk about your ups and downs; your consumers will have greater faith in what you say as a result.
5.5 Yokel Local
Why the "About Us" Page Rocks: It's all about personality.
Yokel Local accomplishes a couple of things well on their About Us page: they identify who they work with, describe their narrative and goal, and highlight the team behind the brand. This final point is critical because Yokel Local understands that their "vibe" attracts prospective customers. After all, when you hire an agency, you're also employing its employees. And people have distinct personalities.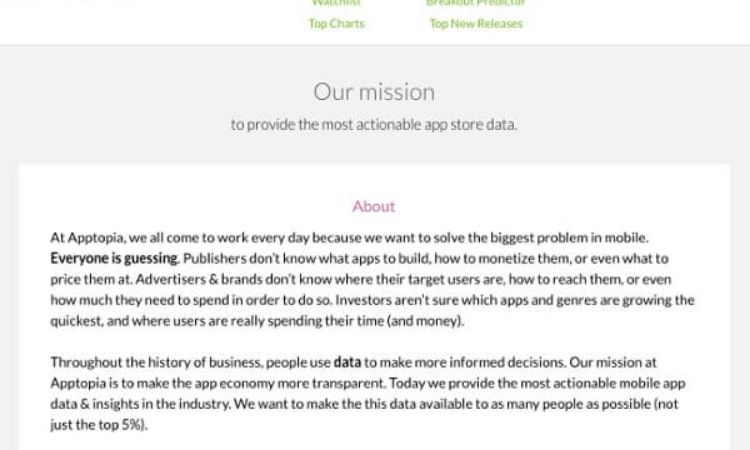 Because "Yokel Local" is a quirky name that makes people pause, they make fun of it by offering an explanation, which then leads into images of the team at work (and at play), the agency's narrative, purpose and values, and the people who make the magic happen. This enchantment can be found throughout the company's about page, where staff make funny faces, wear ugly Christmas sweaters, and work/play hard.
6. Final thought 
An About Us page for print on demand business is very crucial to build a strong brand. This article has cited the ways and examples of a successful About Us page for print on demand websites. Get up and write out your own About Us page right now!