Data is the best friend of every marketer which lets them know what is working well for the company's campaigns, identify potential problems, and determine the aspect to focus the effort on. Marketers can access dozens of both free and paid marketing analytics tools to know the metrics to monitor. All of these tools support the ability to process data and extract insights accurately. However, it is not easy to pick a tool out of a hundred, let's take a look at the top 10 marketing analytics tools to know which ones are worth your consideration.
There are the top 10 marketing analytics tools in this article. Each of them is full of advanced functions that allow eCommerce sellers to track and measure marketing data, understand user behavior to improve the performance of the business.
1. Benefit Of Using Marketing Analytics Tools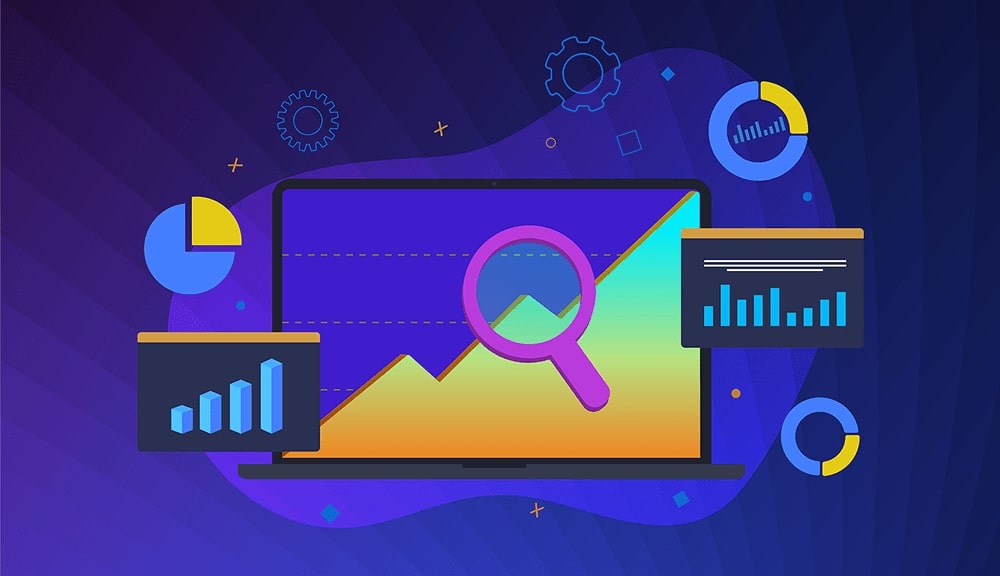 Decreasing Fraud And Risk: Fraud and vulnerability identification allow sellers to prevent any type of risk from misusing the physical, mental, and financial resources. Statistical methods are doing well at predicting the susceptibility of theft, which gives rise to alerts, guarantees prompt responses, as well as automatic notifications and/or mitigations. You can get a cohesive view into the trickery through product lines, sales, or businesses by accessing all data in the entire business system of the full alignment and Marketing Analytics.
Delivery The Right Products: Goods are considered every organization's existence and breath and the biggest investment that companies have to make. The product management team is responsible for evaluating the current market trends to make changes to current strategies or create new plans that fit the demand of customers. A good and effective data collection from people who express thoughts and viewpoints when paired with Marketing Analytics can help businesses remain competitive.
Personalization: A company can react and permit the customers to feel valued. This is possible only because of advanced analytics, big data provides the opportunity to interact with customers, based on their personalities and understanding of their attitudes. Brands have to be responsive to have capable of dealing with the volatility that customers create by engaging with available digital technologies and also consider real-time locations for delivering personalization in multi-channel service environments.
Optimizing The Customer Experience: When purchases are poorly managed, some issues can be expensive, which also may include the possibility that customer experience will be affected and brand loyalty harmed. The use of automation in business operation optimization ensures the reliability and efficiency of customer requirements, the company can also obtain operational experience at the same time. The new and sophisticated methods can boost field operations efficiency and improve productivity and maximize workers by meeting the needs of both the business and consumers.
2. Top Best 10 Marketing Analytics Tools For Ecommerce Sellers
2.1 Piwik – Marketing Analytics Tools

Piwik can be considered as one of the most powerful marketing analytics tools for generating key insights into site usage and marketing performance through data analysis, tracking visitors' activity on your websites or blog without requiring any installation or personally identifiable information.
Piwik also has a huge list of features like real-time reports to help you understand what content people are viewing right now, while the goals & conversions are to give more meaningful information behind user behavior. A/B testing can provide invaluable insight into how changes impact engagement, advanced segments based on device viewport size and location all the way down to individual keywords used in search engines, etc. This platform allows you to create custom reports with graphs and filters to help you make better decisions on what changes need to be made.
2.2 Mixpanel – Marketing Analytics Tools

Mixpanel is an analytics platform for mobile app developers. It gives sellers information about your sales, product performance, and the customer journey from beginning to end of their purchase process. You can get reports daily, weekly, or monthly depending on what works best for your company goals. Mixpanel uses different types of funnels so each campaign has its own funnel data in order to see where users drop off while making a purchase.
Mixpanel is one of the best marketing analytics tools, that gives marketers insight into how many people complete actions like adding items to a shopping cart but don't convert with enough time. This marketing solution has tools that help you understand how your users are interacting with your website or application and gain insight into what actions they take most frequently, among many features!
2.3 Hotjar – Marketing Analytics Tools

Hotjar is a great tool for analyzing user behavior on your website. More specifically, this solution allows eCommerce sellers to understand how people are using their website, as its system records their mouse movements, clicks, taps, and scrolling behavior. Hotjar gives you heatmaps of where people click the most on your site so that you can see what's working best for engagement.
You also get feedback from visitors such as heatmaps showing which parts of a page they spend time hovering over or clicking on without actually converting. HotJar will give you videos of real-life user sessions (you can watch them in slow motion) and help identify problems with drops in form completions and shopping carts etc. The great thing about Hotjat is it also has user polls, surveys, and form analysis tools built right in! This way if something isn't working just change it up quickly without having to do anything new! Keep notes while testing things. This is great information if someone has abandoned their cart but left something in there!
2.4 Google Search Console – Marketing Analytics Tools

Google's a free tool that is doing well at monitoring and maintaining your site's presence in Google search results. It is a great way for eCommerce sellers to keep track of their organic SEO efforts and also helps store owners identify what they can do better on their website or blog. Google Search Console's main function is to help Google understand the content of your site and how that relates to your specific business. This marketing analytics tool monitors the performance of your digital marketing campaign by tracking keywords, backlinks, CTR (Click Through Rate), position trends & more! A big benefit of using this service over others is that it offers simple instructions so anyone familiar with the Google Analytics dashboard will have no problem navigating through GSC dashboards.
2.5 Google Analytics – Marketing Analytics Tools

Google Analytics is on the list of the most popular marketing analytics tools and is free for most websites. This solution basically provides all the basic metrics you need to track your website traffic and make informed decisions about your marketing campaigns. There is a lot more advanced stuff too including heat maps of where people are clicking on your page! There is also other useful information like demographics data – what age groups visit my site? Where do they live? Do men or women spend more time online? What else can I tell about them from this data?
There are even suggestions given by the platform based on data trends that show common changes in behavior over time. This way you know exactly how effective your marketing strategies are so far. So who is Google Analytics for? Marketing Analysts, Digital Marketers, and eCommerce Sellers.
2.6 Semrush – Marketing Analytics Tools

Semrush is a great tool for analyzing user behavior on your website and measuring which keywords people are searching and clicking to find your site, as well as how many visitors you're getting from different positions in the search engine results pages (SERPs). SemRush helps marketers with SEO, SEM, and social media marketing. It's great for competitive analysis. This solution can be used to analyze keywords in organic search results. You can also see the success of PPC campaigns by searching ad groups, ads, and landing pages using their keyword planner feature.
The best thing about this tool? The fact you get all these awesome features for just $99/month! No need to purchase more expensive packages like some other tools we'll mention below it really is worth checking out.
2.7 Klipfolio – Marketing Analytics Tools

Klipfolio is a business intelligence tool that allows users to create reports, analyze data, and more. This platform connects your web services data sources into one place so you can build custom Klips with real-time reporting tools for all of your metrics and allows you to manage your online marketing (SEO) strategies. The drag & drop interface puts the user in control. You can create online reports conveniently without coding expertise or experience. It also supports analytics, cost per click (CPC), conversion rate, optimization.
This is one of the great marketing analytic tools for eCommerce sellers since Klipfolio provides the ability to monitor and measure your business's performance across multiple platforms (i.e web, mobile) in one place giving you an all-inclusive view of how your sales are doing. Klipfolio allows users to connect different data sources like Google Adwords, Facebook Ads, etc.
Klipfoilio has both FREE & PAID plans starting as low as $24/month.
2.8 Cyfe – Marketing Analytics Tools

Cyfe is a business intelligence suite that allows you to integrate and visualize data in multiple dashboards. This platform can help streamline all of your marketing efforts. In Cyfe you can manage all of your data from one location. You don't have to go back and forth between different apps for information. For example, just one click will take you directly into Google Analytics without having to leave Cyfe, allowing you to get access to reports quickly and efficiently. There are many features when it comes to Cyfe but the main thing is being able to create dashboards with charts on them so I can see everything at once.
The best part is how easy it makes everything when dealing with numbers or sales figures instead of just looking at spread all day long not knowing. Cyfe offers over 50+ integrations with popular tools like Google Analytics, Facebook Ads, Adwords, and more! Cyfe comes at an affordable price starting at $19 per month for up to five users (Free Trial included). You'll love how easy Cyfes interface makes it for tracking KPIs such as lead generation, monthly revenue performance, etc.
2.9 Heap Analytics – Marketing Analytics Tools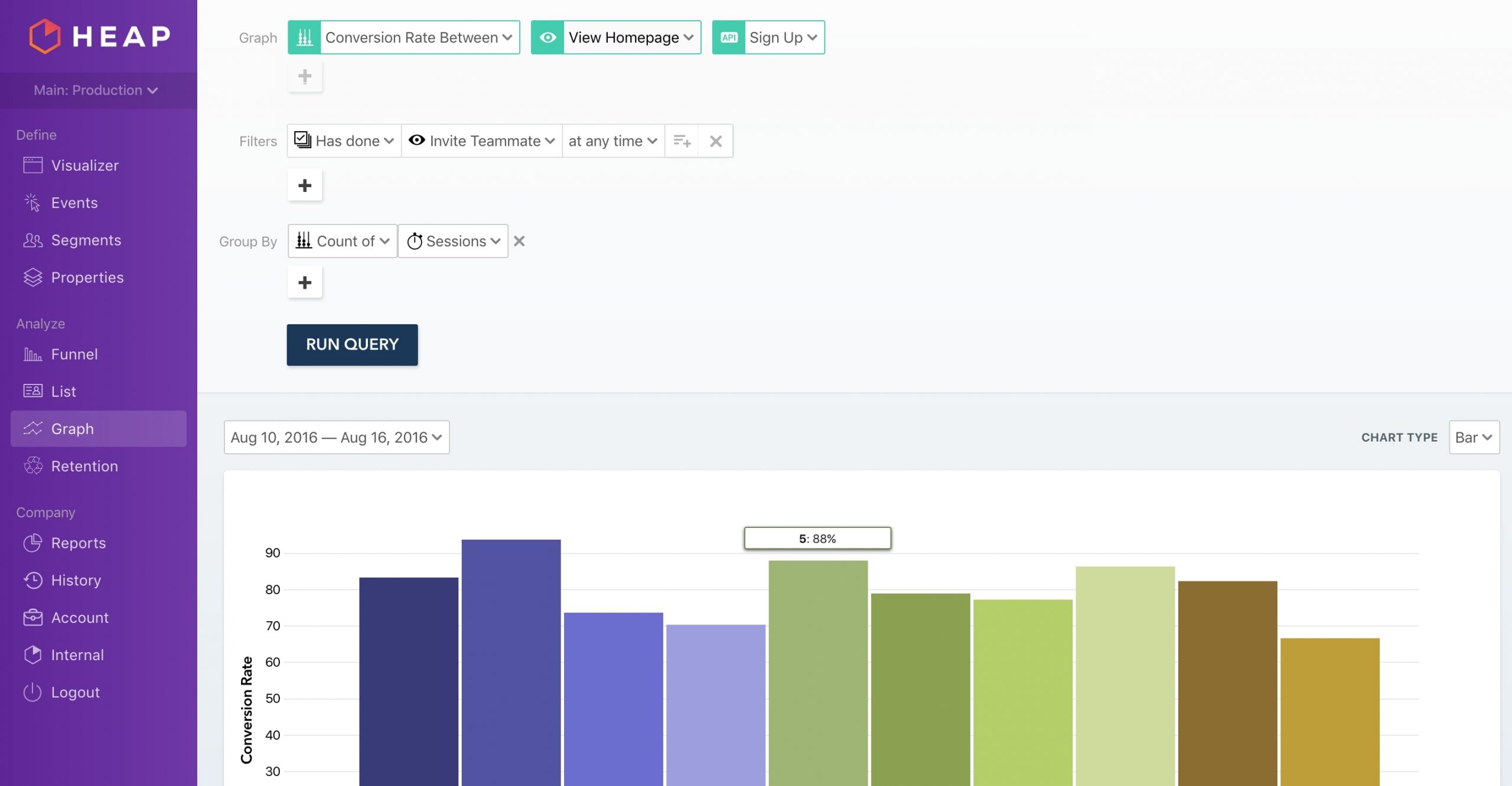 What is Heap Analytics? This is powerful yet easy-to-use analytics software for web applications. Heap records every interaction users have with your app-clicks, submits, transactions, and more. Its visual interface makes it simple to understand why these actions happened so you can improve the conversion rates of key customer touchpoints. And Heap integrates seamlessly into apps built on Rails or NodeJS out of the box – making implementation a breeze!
For example, Heap automatically captures all email addresses entered into an online form during sign-up using Javascript code that you place directly in your HTML template files. The ability to capture every action a user takes along with the parameters that drive that action, then allows you to do things like creating funnels or cohorts based on those actions. This solution also can select data from any device – whether desktop, tablet or mobile phone. And since this all happens without requiring users to change their session ID or attach some sort of custom tracking code it opens up new opportunities never before available for eCommerce marketers.
2.10 Creazyegg – Marketing Analytics Tools

Crazyegg is an analytics software that gives you visual data on how users interact with your website. It is the only tool that allows marketers to see where visitors are clicking, scrolling, and zooming, all in real-time. Crazyegg offers heatmaps of every web page visitor activity including clicks, taps & scrolls!
This tool works by heat mapping your page and showing you where users click. Crazyegg shows you how people engage with your website, which areas get the most attention from visitors, what obstacles hinder their progress through a process or make them leave without buying anything. The ability to analyze data lets you optimize pages for better conversions! If there are any high-traffic or low trafficked areas on which visitors aren't clicking often enough, then it might be time to revamp them into something more user-friendly – just don't remove links completely because this will hurt your SEO rankings.
3. Conclusion
Marketing Analytics Tools give eCommerce Sellers the ability to make informed decisions about their marketing campaigns and increase your chances for success by giving you insight into what works and what doesn't work well, cutting costs in the process! Marketing analytics can be difficult to master but it's worth it at the end of the day. This has helped businesses like yours truly understand what tactics are working (and which aren't) so that they spend money where necessary without wasting resources on things that don't perform any better than before.