eBay is one of the greatest online marketplaces to make money. This step-by-step guide will help you to find out how to sell Print On Demand on eBay.
Print On Demand allows you to create diverse products like stickers, backpacks, blankets, and mugs. eBay is extremely popular for online merchants to make money with thousands of buyers all around the world. However, getting started creating stores or selling products on eBay is not so easy for some people as newbies. So if you want to start selling on eBay, it's better to do so as soon as you can. In this guide, I'm going to show you step-by-step instructions on how to sell Print On Demand on eBay.
1. Why Sell Print on Demand Products On eBay?
First, let's figure out the reason why you should sell Print On Demand products on eBay?
eBay's core business is a shopping website that people and businesses can buy and sell a large variety of products and services worldwide. eBay is also considered as one of the biggest US online platforms based on market cap.
eBay is quite close to other online marketplaces such as Amazon or Etsy. eBay reaches a million audiences like Amazon. This site is also easy to set up and manage product listings like Etsy with very high traffic volume.
Take a deeper look!
By using eBay, users can add product listings for free for at least a limited time. Let's take a look at this example below: A research about "Mother's Day mugs" and you can see an impressive number.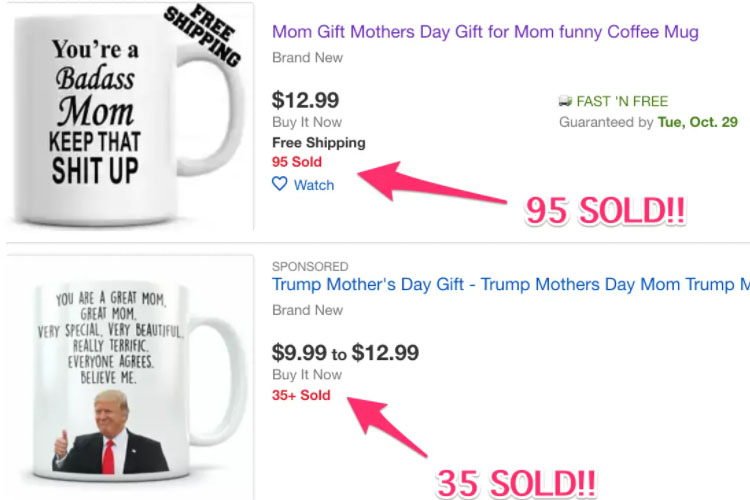 It seems like there are many users on eBay who shop for Print On Demand products. Although these kinds of things are not as popular as other stuff, they still make some impressive selling profits.
No matter how pro you are, I would love to say that eBay will be the best choice. This site is absolutely for sellers who want to launch a Print on Demand online store and have sales quicker with less effort and diverse promotion opportunities.
2. How To Sell Print on Demand on eBay?
Selling products on eBay is easy if you know what to do. Anyway, you can take a look at these steps underneath to find out how to sell print on demand on eBay.
2.1 Step 1: Create eBay Account
If you don't already have an eBay account, that will be your first step to do. eBay accounts are free so you don't need to pay anything more than a few times to get started.
You will also need to connect your account with one of the payment processors that eBay supports "PayPal" after creating an eBay account. This step is so easy, let's jump to the 2nd step.
2.2 Step 2: Move To The eBay Seller Hub
When you finish setting up as a seller, you can log in and go head to the seller's hub page. From here, you'll be able to notice so much useful information about your listings, marketing,… I recommend you to use it because it's also free and the UI is simpler to use than the Seller Dashboard.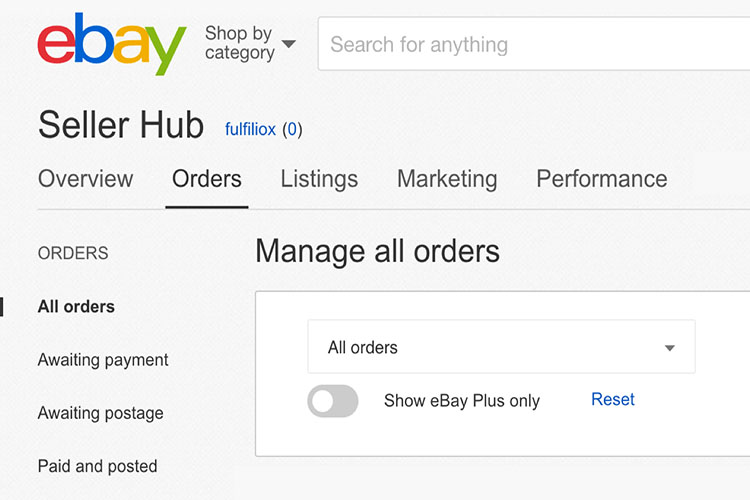 2.3 Step 3: Subscribe To The eBay Store
You get paid various fees per listing on eBay but new eBay accounts will get the first 50 listings for free.
Being an eBay subscriber, there will be a monthly fee involved, but you will get several benefits, one of them is cheaper listing fees. Another advantage is that you can brand your store, which will simultaneously lift your business's image and give you a central place to direct potential customers.
2.4 Step 4: Switch To The Business Account
As a business, you definitely want to sell large quantities of Print On Demand items. To do that you have to register as a business account. You can switch from a personal account to a business account. Make sure that you want to be an eBay business before upgrading, because of an irreversible process.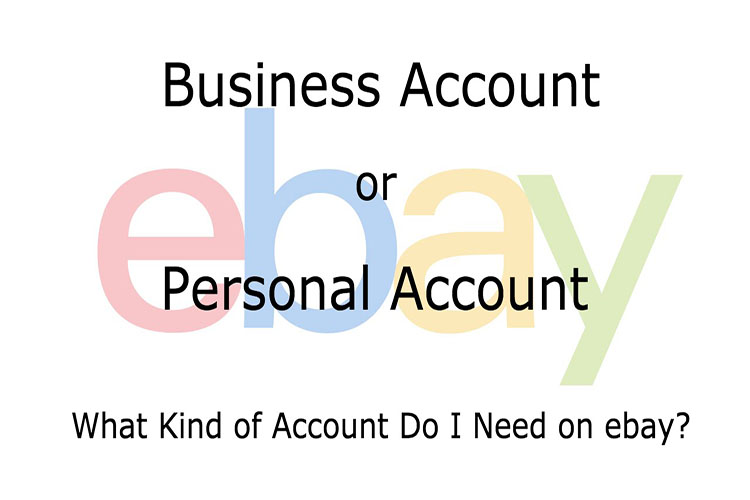 As a new eBay account, you can just add a few listings to your account. That's why you have to submit some documentation to eBay about how you plan to run your business on it. They will consider your account and increase the limits within a few days.
The last thing is that you need to care about your ratings. List only a few products that you are sure will have a chance to sell well, to start with. Remember that you need to put extra effort in during these first few weeks or months to gain customer's trust. A bad review doesn't ruin your eBay journey from the start but it can prevent you from potential customers later.
2.5 Step 5: Start Listing Product
Now you are ready to add some items to your eBay store. To print-on-demand products, you can list them by creating the items on the POD website. Then save the product mockup images there, and list them on eBay. For long-term development, you should use the integration system provided by Gearbubble or Printful.
3. eBay Strategy For Newbie
Although it is considerably less work involved in the setting process than rolling the business, you still need to complete the setting stage first before moving to the next one. There are over 150M users on eBay, and around 25 million of those are sellers. The competition is unavoidable, so you need to especially focus on 2 things.
3.1 List What You Sell
You need to create your listings and let customers know exactly what they will get, and then show them why they should have it. To improve the experience, make sure all the items have high-quality images. This helps customers have a clear look at the product.
3.2 SEO Content
A business should observe good SEO practices on listing pages. Use main keywords in Product Title and Description, this step is totally important that helps customers much easier find your listing organically on eBay.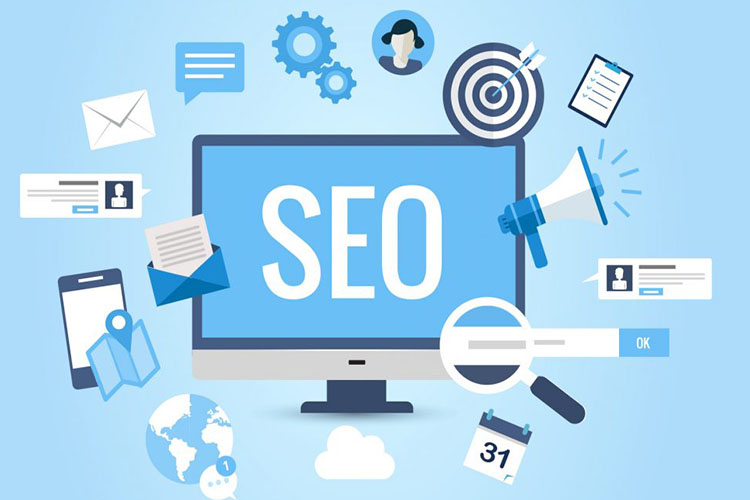 You can usually find keywords from other businesses' products. By searching through an organic search result, you will know what the most common keyword is showing in the top-selling products then adding it to your product title.
Or you can use a free tool called WatchCount to look at the top-selling products from any keyword. That's how to sell Print On Demand on eBay you need to care.
4. Top Print On Demand Products To Sell In 2022
You already opened an online store on eBay but have no idea what are the best Print On Demand products to sell. Finding the top Print On Demand products is not easy for newbies.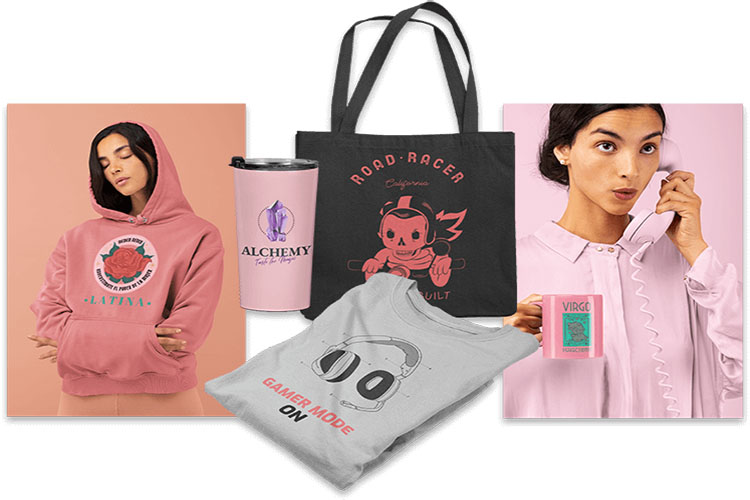 Based on search trends, we've got a look at what's trending with the best print on demand products to sell in 2022. You should consider the below recommendations and add them to your store.
T-shirts
Hoodies
Tank Top
Posters
Tote bag
Sneakers
Backpacks
Wall decor and arts
Mugs
Luggage tags
5. Final Thought
Ending this guideline but starting your future. After gaining an insight into how to sell Print On Demand on eBay, the first thing you need to do is open an eBay account and get started on your business journey right now. eBay is a great marketplace, you can definitely take profit from Print On Demand on eBay as long as you try your best.