We cannot deny that the explosion of the Internet has interestingly changed our lives. The most typical example is the eCommerce platform, which transforms people's shopping habits in the most convenient way. However, the online market is unquestionably competitive because of its variety and sellers have to create something more prominent to attract potential customers. 
Therefore, trending print-on-demand products appears, which brings many benefits to both buyers and sellers. If you are looking for information about this trend, the following article about the best print on demand products will definitely be for you.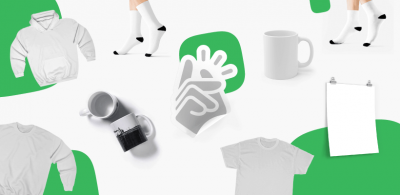 1. What Are Print On Demand Products?
Print on demand is the whole writing of POD – a business method on the e-commerce platform which allows people to make their own designs and sell them. Print on demand ideas is always the first factor to start a successful business. The more prominent and eye-catching the invention, the more loved by the customers. 
There are two most common ways for you to participate in the POD. One is that you will do business with roles that include designing, printing, then manufacturing, and shipping. That means you perform all the production stages based on customers' demands. 
Or another way, you will sell goods in the form of dropshipping. You just need to design and build a sales channel on the e-commerce platform. Then, when the customers order, your cooperator will produce and deliver to them. The latter is a new type of business that offers one significant benefit: eliminating inventory and delivery processes. 
2. Best Print On Demand Products 
2.1 T-shirts 
T-shirts are one of the top print on demand ideas, so it should be the first item you think of when you intend to start an online shop, right? It is undoubtedly about the popularity of tees due to their fashionability and convenience. Everyone needs some t-shirt in their wardrobe because they can be used in all seasons and all situations. Despite the simple structure, there are many styles for your T-shirt brand like basis, unisex, vintage, and so on. Moreover, couple t-shirts with cute 3D images and romantic captions are also a good choice.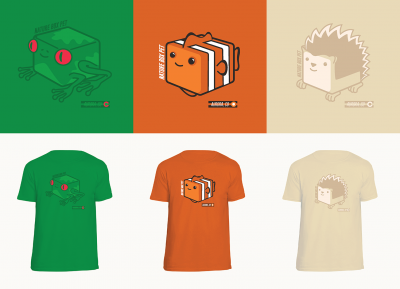 Print on demand Clothes 
2.2 Hoodies
Hoodies are the same as tees; they are convenient and easy to mix and match with all clothes. The hoodies with colors and images expressing one's personality always arouse everyone's impression, incredibly energetic young people. Stay up-to-date regularly with the latest trends, create lots of print on demand ideas and apply them to your hoodie products, which will attract people surfing online shops. You also can consider designing a couple hoodies. That will definitely be an excellent choice for couples in winter. 
2.3 Tank top
The demand for tank tops increased due to their versatility. It is a must-have summer item for both men and women, from adults to the young, every summer. Despite being simple, they will become special after being mixed and matched, which helps the wearer look sexier and more comfortable in any case. 
Tank top is a perfect item for you to target people who love to go to the gym or exercise. Moreover, they are also effortless to design and manufacture, which are often monochromatic and require a moderately thin and absorbent fabric.
2.4 Posters
Posters are by far not simply hung in special offices or schools. Nowadays, they are people's interest, especially those who love to decorate rooms or love art. Therefore, you should design posters that are simple but fashionable for your customers' options. For example, it can be a famous inspirational quote, a colorful picture, then comes with a lovely frame. 
Designing posters like this will not make it difficult for designers, right? Another excellent idea is that you can sell pre-painted posters but not yet colored; the buyer will make their own work of art and hang them in his space. 
2.5 Tote bag 
Tote bags are also becoming more and more well-known because they are inexpensive and versatile. We can easily see the toes used by students, officers, or homemakers. Hence, tote bags that are simple but contain outstanding or meaningful images will sell well in every moment. 
This product is straightforward to design. It can be rectangular or square, add a picture or color, adjust the size a little, and be perfect. Furthermore, a tote bag is one of the best print on demand products to sell in clothing stores as a gift. They will naturally advertise your brand.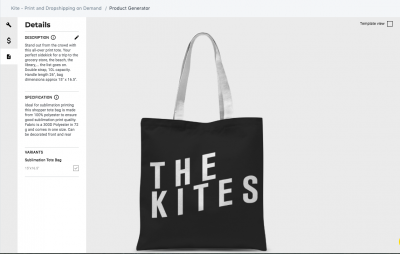 Print on demand tote bags
2.6 Sneakers
According to the survey, sneakers have been popular around the world since 1990. And now, they have become an indispensable item in everyone's daily outfit. Surveys also show that people own at least one pair of sneakers for themselves. Therefore, sneaker shops always make a lot of profit from the shoes they sell. 
However, sneakers are challenging to design and manufacture, so most shops are following the dropshipping model. Another way of selling shoes is customizing them, that is, redesigning them based on existing shoes. The young are currently interested in these because of their uniqueness. 
2.7 Backpacks
Backpacks are also good print on demand product ideas if you want to target customers like students, travelers, or working people. They are easy to design but try to think of as many textures as possible for different groups of buyers. 
The most important criteria for backpacks is high utility and fashion. When designing backpacks for your brand, you need to make sure their structure is as simple and easy to use. Though, make sure the design of the backpacks must look fancy. Otherwise, you can make the backpacks more complicated for those who prefer fashion to use them.
2.8 Wall decor and arts
Because of the pandemic, people have spent more time at home than ever. That is the reason why the room decor trend is becoming popular. Among several home decorations, wall decor and arts seem to be most favorable. Yet, the designs for wall decoration in stores are gradually out of trend because of design limitations, while young people tend to choose particular styles for their rooms. 
Therefore, shopping on e-commerce platforms is their first choice because of its various models and ease of selection. If you also love this field, start designing images with strange and unique colors to attract potential customers. Some ideas are colorful, minimalist, vintage style, etc. 
2.9 Mugs 
Print-on-demand cups are no longer strange to us, are they? They often appear at tourist destinations or are given as special gifts. However, unfortunately, images like chibi couples on double cups or sayings like "have a nice day" gradually lose interest. 
If you're wondering about selling custom printed mugs, let's design something more interesting. You can print famous artworks, print them according to customers' photos or turn them into different styles that will attract a lot of interest.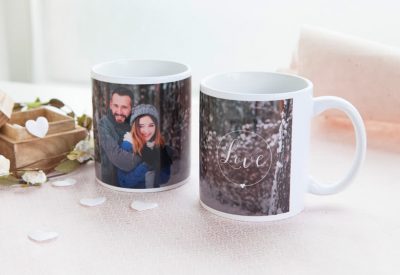 Print on demand mugs 
2.10 Luggage tags
Unconventional and unique luggage tags will continually earn a lot of profit because they are necessary items, which are indispensable in trips to avoid confusion between pieces of luggage. In addition, travelers are also looking for luggage tags that fit into their suitcases. 
Although they are also available in stores, those products look too simple and traditional. That is the reason why this is your chance to implement this print on demand idea. You will likely make a great fortune if you build an effective sales channel.
2.11 Bracelets
The bracelets have different styles that change with each stage. But that doesn't mean they become less popular as bracelets are always the item that makes every outfit more eye-catching. The benefit of producing a bracelet is that the cost of the materials is minimal, and then you can make a big profit. 
One noticeable thing is, although bracelets are small items, they require a lot of ideas for many details. So, you need to be up to date with your unique designs. And what do you think about printing customer's ideas, which includes their name or meaningful captions? 
2.12 Phone cases 
Phone cases are also one of the best print on demand products when they get trendy nowadays. Each young person even owns one to many instances with different features that match their daily outfits. Starting with a simple plastic case, you can start to design anything on them, make them unique and attractive. 
These cases are easy to design and low cost, but they will protect and make the phone cooler than ever. You should follow the trends regularly and try to innovate the style of your online case shop, and customers will not be able to take their eyes off them.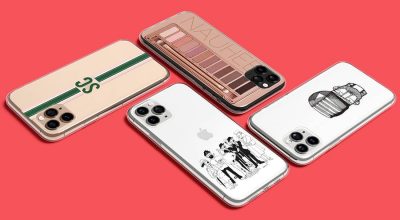 Print on demand phone cases 
2.13 Passport covers 
Similar to luggage tags, passport covers are also beneficial for commuters and travelers on their trips. Yet, you need to ensure the distinctiveness of your print on demand ideas because the old-fashioned passport covers in traditional stores have no longer be interested. Design stylish passport covers so that travelers can confidently take pictures and post them on social media. They will be delighted to own that one and display them to everyone. 
2.14 Socks 
You must have also seen socks being sold more and more on e-commerce channels. Because in fact, socks are always necessary items in fashionable and dynamic outfits, which can be used for all seasons based on their thickness. Thin socks are suitable for warm weather, while thicker ones are ideally suited for winter. 
Basis socks will go well with monochrome or minimalist clothes. If you want to target potential young customers, the details on the socks must be unique and trendy. For example, images of Marvel superheroes, cartoon characters, motifs in famous works of art will always be attractive. 
2.15 Caps
Another item for everyday outfits is a cap. They will never be out of fashion because of having so many uses. Going to the beach, doing exercise, playing baseball, or simply making an outfit more stylish all needs one. 
Caps also come in a variety of styles and colors. Most of them will be designed with a cute image, a memorable logo, or a catchy slogan. If you choose it as the main product for your online shop, remember to make sure the size and color are suitable for different people and different outfits.
2.16 Picture Puzzles
Picture Puzzles went viral after a long time disappearing. People have started to enjoy playing puzzles again because they want to increase their connection with friends and family. That is a problematic amusement but not less interesting in free time. After conquering the puzzles, people can enjoy their fruit by displaying it on the table or in the living room. 
To start this product business, try printing the images demanded by the customers, such as family photos, commemorative photos, and so on. Such picture puzzles will become extremely meaningful gifts. However, you need a little skill to create them. 
2.17 Notebooks
Although technology has advanced, and people do not need to write by hand as much anymore. Yet, notebooks never stop being hot because of their role in specific tasks such as: in meetings, taking notes in seminars or lectures, bullet journal, diary, learning vocabulary, and so on. 
Nowadays, users are more demanding about the design of notebooks. They need details that add a touch of inspiration to their lives or contain beautiful images. The unique style notebooks help owners be more confident in their work and keep positive energy when using them. 
Print on demand notebooks 
2.18 Paper calendar
Paper calendars are also considered as one of the best print on demand products that you should sell. Besides being used to look for updates, they are also used as a planner. They have such an important role that will never be replaced. 
In addition, the calendar is also used as a meaningful gift at the beginning of the new year. Because organizations and companies often order in large quantities, reaching out to them is a good idea. You should prepare new designs for each year and send the most meaningful messages to those who own the calendar on behalf of your customers. 
3. Wrapping Up 
Above is an article about "Best print on demand products" that you may need to refer to to start an online print-on-demand shop. Hopefully, with the above information, you can have great ideas for your products. Wish you always have unique designs and a successful business.