Have you ever thought about selling print on demand products on eBay? It's actually easier than you might think, especially if you use one of the print on demand eBay integration tools on the market! 
In this blog, we'll show you how to use these tools. So that you can begin selling right away without worrying about creating your own website or handling inventory. You'll also learn some tricks to boost your sales even further with print on demand eBay integrations! 
1. Ebay overview  
Ebay is a website for buying and selling merchandise. It's owned by eBay, Inc., an American multinational corporation headquartered in San Jose, California. Founded by Pierre Omidyar in 1995, it is a multi-billion dollar business with operations localized in over thirty countries.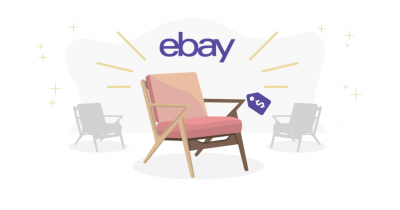 Since then, eBay has grown into an auction site where people sell new and used items of all kinds, including big-ticket items like cars, art work, real estate, and even small business ventures. On average, there are over fifty million items available for sale on eBay at any given time, eighty five percent of which are new, handmade or used goods.
More information about eBay can be found here. 
2. Top 5 print on demand ebay integration tools
Here are the best print on demand eBay integration for your preference. Each one has its own pros and cons, so it's important that you choose the one that suits your business' needs. 
2.1 Podorder – best print on demand eBay integration 
If you are looking for the best print on demand eBay integration tools, look no further than Podorder. It connects directly to your ebay account and automatically creates listings for any items you add to Podorder's print queue. 
With Podorder, sellers can automate their inventory management and listing processes. Podorder offers automatic listings for when products are sold, as well as simple inventory syncing to handle product replenishment. The system even calculates shipping costs based on rates from carriers like UPS or FedEx.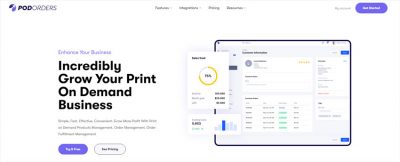 Podorder integrates with many different providers so you don't have to manually create each listing individually – which is especially helpful if you are selling multiple items at once. Most importantly, it makes starting out with print on demand simple because they create all of your listings for you! This means no more jumping back and forth between platforms.
2.2 Merchize 
In the list of print on demand eBay integration, Merchize is a great tool that you can use to create and sell your own products on eBay. The benefit of Merchize is that it's pretty simple and straightforward, and you can easily create your own designs. It's also an affordable option. Its prices start at $29 per month for 100 items, with no minimum item quantity.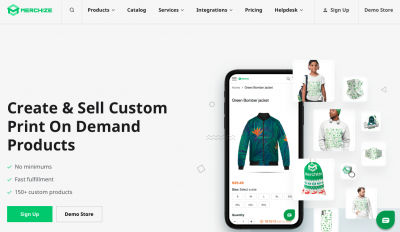 You don't have to worry about quality either. All of Merchize's printing services are certified by DigiCert and shipped from Printful's facility in Arizona. The one downside of Merchize is that because it's an all-in-one platform (merchandise creation + sales management + distribution), there are no customization options at all – but that's not necessarily a bad thing!
2.3 Printful
Printful is definitely one of the best print on demand eBay integration tools. It can import your existing listings into its database, saving you time, or create new listings for you based off of products in your inventory. In addition to selling print on demand items, Printful offers free shipping labels, free international shipping and competitive pricing.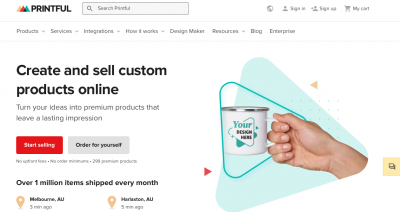 Its best features are its real-time inventory management features. If a customer orders a product that's out of stock, you can mark it as sold directly from your dashboard. And if a customer places an order for a color that's out of stock, Printful will automatically change it to one that is available in stock – no extra work required!
2.4 Printify
Another print on demand eBay integration tool in our list is Printify. Since its launch in 2014, more than 1 million products have been sold using Printify. Setting up your first listing takes only minutes – the site walks you through each step of creating a listing from setting price points and selecting payment methods to uploading product images. You can even choose how many items are available for purchase.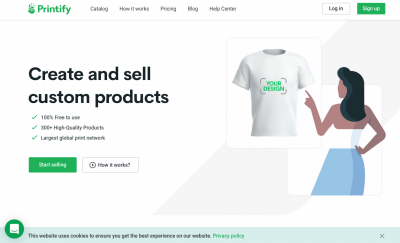 When it comes time to ship out your item, print out shipping labels directly from within Printify – all you need is a PayPal account to accept payments! In addition to printing off shipping labels, Printify gives you full control over inventory and pricing – no additional software is needed.
2.5 Shirtee Cloud 
Shirtee is an automated print on demand eBay integration tool. It helps sellers add their inventory to eBay automatically (and if they're using multiple printers, it does it all in one place). Shirtee has even been featured by both Shopify and eBay as a must have app for eCommerce sellers.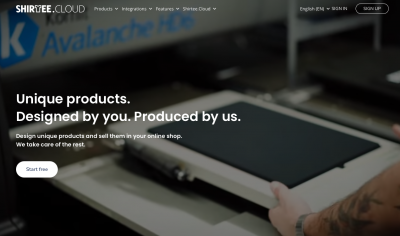 If you sell print on demand products that you've uploaded via a third party or a dropshipper, Shirtee can help automate your product listings so that they stay up to date. This is especially important when you have an ever-changing lineup of designs – as most print on demand sellers do. This makes Shirtee Cloud become the helpful print on demand eBay integration platform. 
3. Tips for selling print on demand products on eBay 
After knowing the best print on demand eBay integration tools, let's find out some tips to sell on eBay. 
3.1 Offer free shipping
As with traditional retail, customers often find it hard to justify paying for shipping when they're buying online. Offer free shipping (or at least affordable shipping) to all your customers, even those who buy only one product.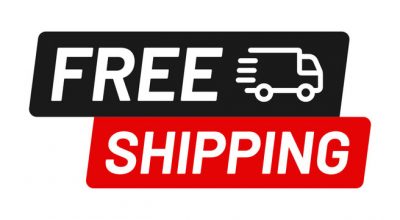 This might mean you'll make less money per sale, but since you don't have fixed costs like storage or manufacturing costs, you should be able to make up for any losses in volume. If your customers are happy about not having to pay for shipping, they'll probably come back and buy more products.
3.2 Price your item by reviewing similar listings 
After you've finished listing your product, make sure to review similar listings and price accordingly. See what prices others are listing their products for, and then experiment with listing at a slightly higher or lower price. The last thing you want is to price yourself out of a sale.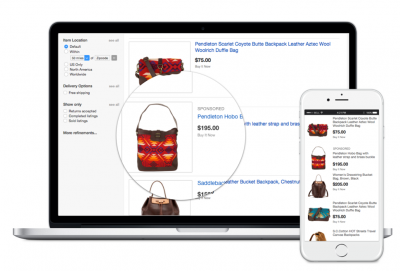 Also, be careful not to underprice items as well. Sellers often lower their prices as time goes by and there's no need for you to follow suit unless you're able to sell immediately. If there are no comparable listings out there, price your product a little lower than what you think people might pay for it. 
3.3 Use eBay's templates 
Sellers who use templates in their listings get 25 percent more views than those who don't. Templates provide consistency, which makes it easier for buyers to find what they want. If you use templates, be sure to include any key details that might not appear anywhere else in your listing.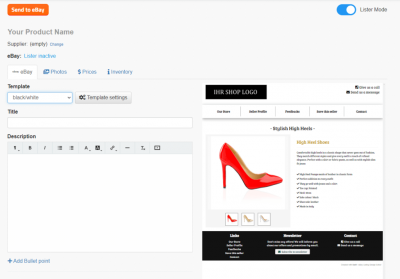 To create a template of your own, follow these steps: First, create your standard item description (select Create new item when you list an item). This description will act as a template for future listings. Next, choose Customize template from the option menu at the top of your description page.
3.4 Wait for free listing offers 
Sometimes, new sellers can get a listing fee waived or receive another discount if they sell a certain number of items in their first 30 days. If you're launching new products on your print-on-demand platform and selling them at a discounted price, that may be all it takes to meet your goal and get free listings.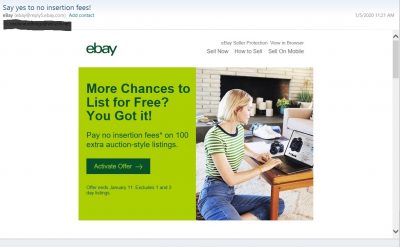 Other times, you might be able to achieve your discount just by offering cheaper product pricing than others in your niche. Keep an eye out for opportunities to waive fees and save money while listing on eBay. You never know what type of deal might come up, so make sure you take advantage when it does!
3.5 Optimize item descriptions for SEO 
Item descriptions that rank well in search engines are no-brainers for sellers looking to get found by customers. The key is to optimize your listings for SEO. While there's no magic formula (it depends entirely on what people search for), there are some best practices you can follow.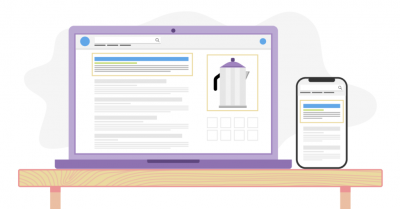 For example, include product specifications and keywords in your listing title, but avoid unnecessary fluff like model numbers. Take care with spelling and grammar, too. If Google thinks your content's hard to read, it will ignore it – or worse, ding you for using bad keywords. It takes time and practice to get it right, but optimizing for SEO is a must. 
3.6 Take quality photos to attract buyers 
For a print on demand product, a product photo should show a high level of detail and clarity. The photo should not be underexposed, overexposed or blurry. You can learn more about taking professional photos with your camera or smartphone online. 
When taking photos of items to sell, make sure you use a wide angle lens to get as much space as possible. It is also important to show all four sides of an item so that potential buyers have an idea of what they are buying. However, never use a close up shot that obscures how big or small something is going to be once it has been printed.
3.7 Request feedbacks from customers 
Getting feedback is important for any sellers, but it is even more important when you sell print on demand products. Customers will be more likely to buy products from you if they can see that others have purchased your products and are satisfied with their purchase. If you aren't getting positive reviews, look into improving your product.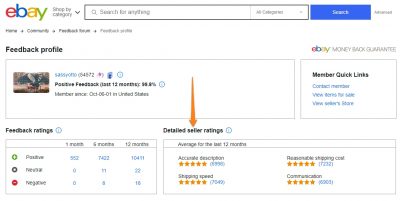 Once you reach a certain number of feedback, eBay will upgrade your account to PowerSeller status which will increase your exposure, visibility and credibility on eBay. When customers see that you're a PowerSeller, they know that your company is one they can trust. 
3.8 Share your listings on social media
Instead of simply listing your items and crossing your fingers, actively promote yourself and your products. There are tons of social media platforms that you can use to connect with potential customers, from blogs to Pinterest. The more eyes that see what you're selling, the more likely it is that they'll click through.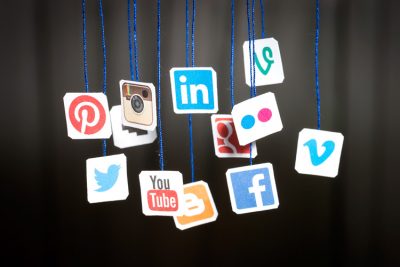 In fact, according to a recent study, approximately 87% of consumers share products found online with their friends and family via social media platforms. What's more? More than half have gone as far as purchasing a product after seeing it shared by a friend or family member on a social network.
3.9 Use eBay ads 
Putting together a simple listing and buying an ad for it through eBay is one of your best bets for getting started selling print-on-demand products on eBay. With just $0.55 per click, you can be sure that anyone searching eBay will see your product.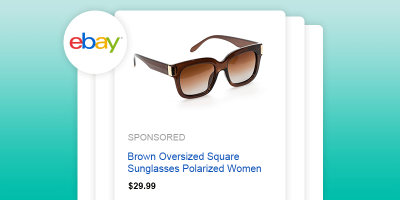 The best part about advertising with eBay is that you only pay when people click on your ad and visit your listing, so if there's not much interest in what you're selling, no money changes hands. It doesn't get much cheaper than that! 
More information regarding eBay ads can be found here. 
3.10 Promote PayPal for payments 
While there are certainly other payment processors out there, it's hard to argue with PayPal. While you don't have to use PayPal for every sale, knowing that your customers can pay using it gives you a major advantage when selling your print-on-demand products on eBay.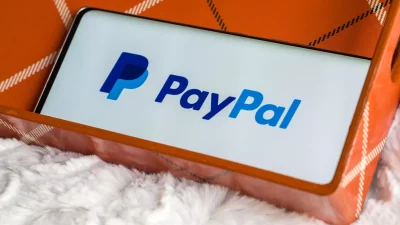 For example, let's say you're trying to sell a custom t-shirt. If you allow PayPal as an option for purchasing, not only will more people see your listing (due to its exposure through PayPal) but they will also feel more comfortable buying from you if they know that payment is safe and secure – and fast. 
4. Wrapping Up
Print on demand eBay integration tools are really useful because they make it easier to integrate your new business with your existing eBay store. However, there are numerous different solutions out there, which makes things tricky if you want to find the right one.
Hopefully, this article has provided you all about print on demand eBay integration tools and how they can be beneficial to you. If you have any questions, do not hesitate to leave a comment below. Wish you and your business all the best!