Having a data-driven mindset and taking a holistic approach are the keys to successful marketing. Therefore, it is of utmost importance for digital marketers to make full use of online marketing analytics tools to evaluate the result and efficiency of their campaigns. Here are 10 best marketing analytics tools you should take into consideration when choosing one for your marketing strategy.
1. Why do marketers need marketing analytics tool
1.1 Definition
Marketing analytics tools will help to track a variety of key metrics including website traffic, page views, clickthrough rates, etc… in order for marketers to manage and measure their performance, find out which efforts are working and which parts need to improve. Overall, by taking advantage of these tools, marketers will see the whole picture of their campaigns, develop a deeper vision into the impact of their work, make more informed decisions and optimize marketing budgets to achieve their goals.
By utilizing proper digital marketing tools which can gather data from all channels in your marketing mix and report them on together, advertisers are capable of generating reports easily without relying on data scientists, track campaign success and perform competitive analysis, which will make a great contribution to more effective resource management and better performance next time.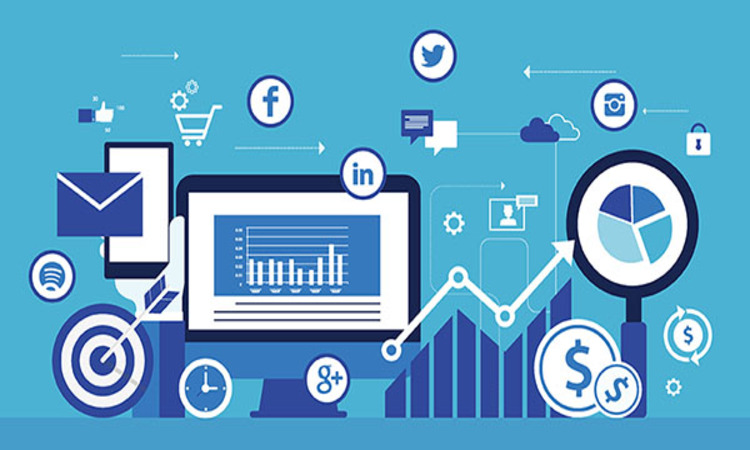 1.2 Types
There are currently a lot of marketing analytics tools available at hand, therefore, marketers need to have a thorough understanding about the scope of data and marketing channels that these tools will deal with. Advertisers usually use these main 5 types of marketing analytics tools:
Web analytics
Social media marketing analytics
Lead generation and attribution
SEO analytics
Email marketing analytics
Each marketing analytics tool has its own pros and cons as well as the types of data that it can analyze. Therefore, marketers have to get a deeper insight into the features of some popular marketing analytics tools in order to make informed choices and choose the most suitable one to aggregate and analyze the data after each campaign.
Here are 10+ best marketing analytics tools that advertisers should take into consideration.
2. 10 Best marketing analytics tool
2.1 Google analytics – The popular marketing analytics tool 2021
Google Analytics is a basic and free marketing analytics tool provided by Google which can track traffic, collect data of users' behaviors on your website, and sort the data into easy-to-read interactive reports.
Google analytics has a large number of users, is installed on the majority of websites, and is utilized to answer some questions about the traffic on your site: how many visitors, how they arrive at your site, how they come to know your website, and the amount of time they spend on …in order to help website owners come up with new tactics and strategies to drive more and more traffic and promote interactions.
Digital marketing has become more complicated and it requires more information and more complicated tools to analyze to make the best decisions, so Google analytics of course has its limitations. However, this marketing analytics tool still dominates the current market.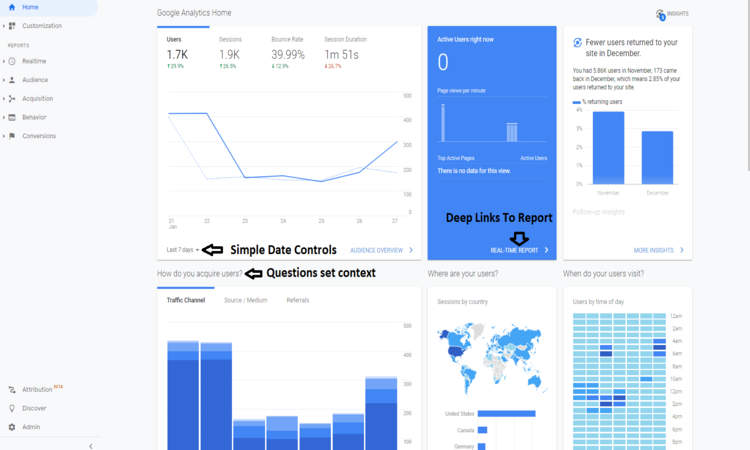 Let's dig deeper into the pros of this site to see when you can make the most out of Google analytics and when you need to consider an alternative to make sure you can have access to all types of information needed to optimize your site.
Tracking traffic and basic goal attribution
When you invest many resources into inbound marketing, and adverts, it is of critical importance to measure and evaluate your performance. And Google Analytics will track the source of your visiting customers, collect data from the landing page and measure whether or not it meets the goal such as a number of subscribing or purchasing.
Optimizing top funnel and website behavior
Utilizing this marketing analytics tool helps you to get the number of people visiting your website, and how they navigate through it. You will be given information about their behaviors such as staying around the blog, drop off later on, or go all the way to the desired goal. This will help you create more customized content for your customers and maintain the relationship with them.
Website performance dashboard
Google Analytics is a wonderful marketing analytics tool that gives you the whole picture of your website's performance, shows users' location and the number of active users. It also informs you whether your site is loading smoothly for every user, monitors your traffic and detects any bugs needed to be dealt with.
2.2 Mix Panel – Marketing Analytics tool in eCommerce
Another popular marketing analytics tool that should be mentioned is Mix Panel. Mix Panel is used to track events on your websites, mobile app or product, give you an overview of what users are doing on your website, how they are navigating through it.
Funnels, A/B testing of different variations of your mobile app and tracking their results, tracking individual users are the main features of this marketing analytics tool.
Mix Panel requires you to add the events that you need to analyze and focus on and for each of these events, you will see the trends, count, how many users use them and in what order.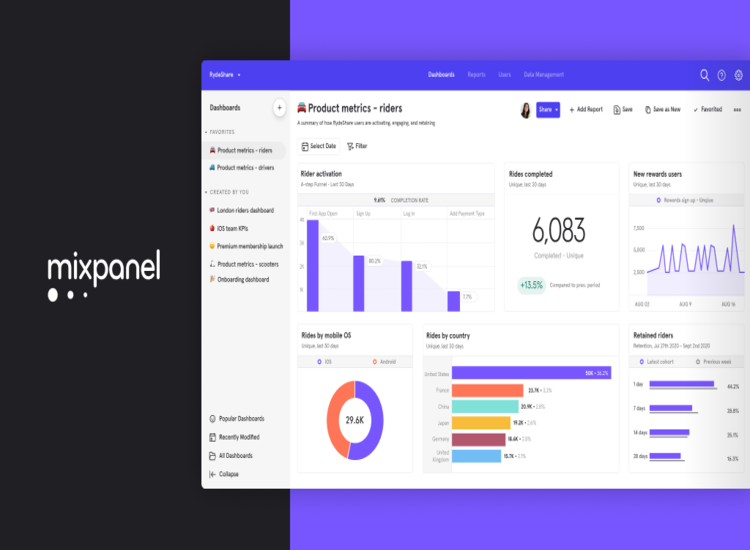 Here are some benefits that you can get from using this marketing analytics tool:
Mix Panel will aggregate the data and provide reliable analytics and present them in a comprehensive and easy-to-understand report, which makes it much easier for every user to measure the actions and performance of their event.
Event tracking
This marketing analytics tool is one of the most preferable tools as it redefined what tracking is all about. As opposed to other tools which measure and assess clicks or page views, Mix Panel estimates the magnitude of the app/website through the events and is mostly used to keep track of and evaluate events, update new trends in the market and diversify sales flow.
Targeted data collection
Instead of collecting as much data as possible regardless of its usefulness, Mix Panel is a marketing analytics tool collecting more targeted and correct data and insights that can be utilized to evaluate the true performance of each event and then create more customer-oriented products and improve the quality of your services based on how customers are interacting and behaving on your site.
2.3 Cyfe
The next marketing analytics tool that is worth mentioning is Cyfe. Cyfe is an all-in-one dashboard software that integrates, monitors and analyzes data coming from all sources: websites, apps or other marketing tools and makes it possible to deal with in one place.
This marketing analytics tool should be best utilized to track data from all your social media marketing platforms, marketing channels, clicks, etc.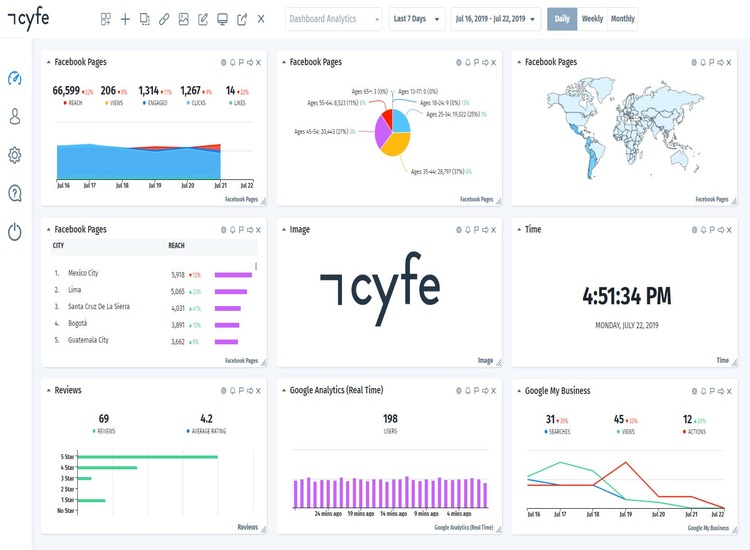 Here are 3 mains features that make Cyfe an attractive tool to users:
Monitoring function
Cyfe is capable of tracking and recording all of your social media profiles, SEO, email marketing, and SEM, etc to provide a holistic overview of the performance of your marketing strategy, therefore, give a comprehensive insight on these aspects of the business and assist you in managing all your channels much more effectively.
Pre-built widgets
Cyfe's long list of pre-built widgets make it possible to aggregate data from a variety of services like Google Analytics and SalesForce. Furthermore, you can also take advantage of custom widgets and the Cyfe's Push API to monitor and secure display from organization databases.
Reporting functions
Last but not least, another amazing benefit you can reap from this unique marketing analytics tool is its reporting function. With its comprehensive dashboards that collect, integrate, summarise and compare data, you can easily appraise the performance of your marketing campaigns as well as the situation of the company. Cyfe also organizes, categorizes all the data systematically and stores it in a database, which makes it easily managed and accessed as well as measured.
2.4 SEMrush
This is a special marketing analytics tool that provides engagement information that marketers can utilize to better position their brand on the search engine rankings and the minds of their target market as well as gain a deeper understanding about what your competitors are doing and performing online.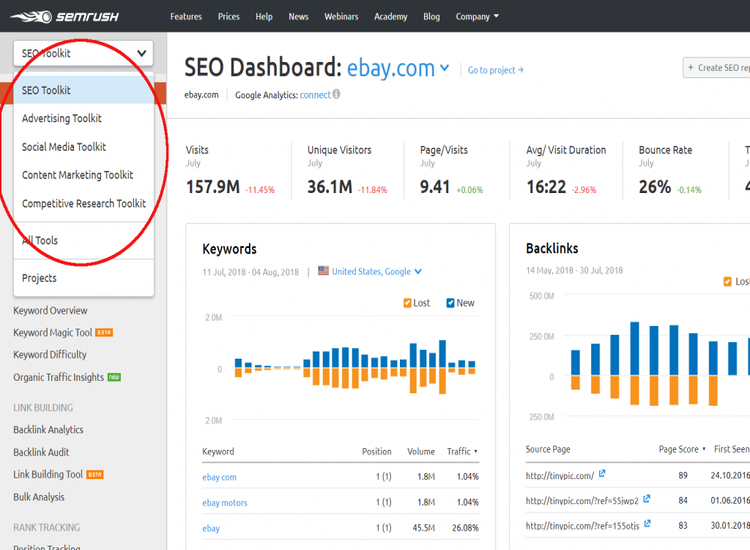 These are the main advantages of SEMrush that makes it appealing to use.
Competitive advantage
SEMrush users can make full use of its features to gain data about their competitors such are keywords used to boost their search engine ranking, when competitors rise up, how their website ranking changes. This will make a great contribution for marketers to come up with and fine tune their strategy and tactics to increase their competitive advantage in the market.
Strategic advertising
It is critical for marketers to know how their marketing campaign compares to their rivals. And this marketing analytics tool will give an overview of how effective their advertising approach is compared to their competitors, the popularity of their competitors with consumers, and discover their budget and return rate.
This plays a crucial role in determining your strategy and localizing your messages to increase the efficiency of your campaign.
Tactical content marketing
In addition to that, SEMrush will inform you which topics are on trend on social media, allowing advertisers to spin and connect it to their services. Marketers also can exactly position themselves in the market, know how popular they are, and come up with new promotion tactics to increase their reach.
2.5 BuzzSumo
BuzzSumo is one of the most popular marketing analytics tools which has a powerful social media search engine. BuzzSumo will give its users an insight into trending and viral content on social platforms and allow its users to analyze data to see which types of content performs well in specific markets.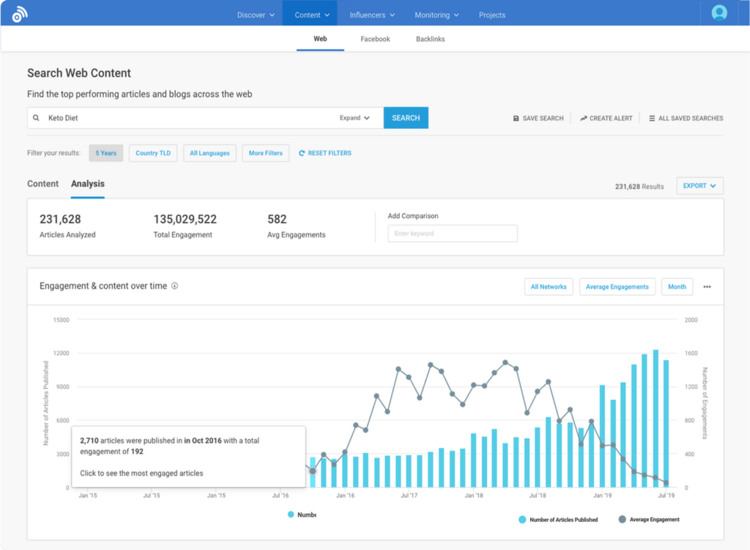 Let's dive deeper into some unique selling points of this site that can help you in running your marketing campaign.
Powerful search
This marketing analytics tool will keep you up to date with viral content on the Internet and social media which is provided in a visually engaging form in a short amount of time. Therefore, you can always actively know what your customers are expecting from you and what your competitors are doing to gain customers' attention.
Competitor alerts
BuzzSumo is a powerful marketing analytics tool that assists you in tracking your competitors. Utilizing this tool will provide you some crucial information about what channels and platforms your competitors use to reach your target audience, and which content base their posts come from. All of these data plays a crucial role in mapping out your strategy to increase your competitive advantages/
Better content
Not every marketer can create content that directly and correctly targets their focus audience and can successfully attract them and drive sales. And using this marketing analytics tool will provide you more insight into which types of content will be suitable in a niche market and likely to build a positive relationship with your targeted customers.
2.6 Klipfolio
Klipfolio is another marketing analytics tool that allows its users to create an interactive dashboard containing data from all social media sites, web-based services, on-premise data warehouses. Dealing with hundreds of data sources can be made easier and marketers can make important data more transparent, visible and accessible.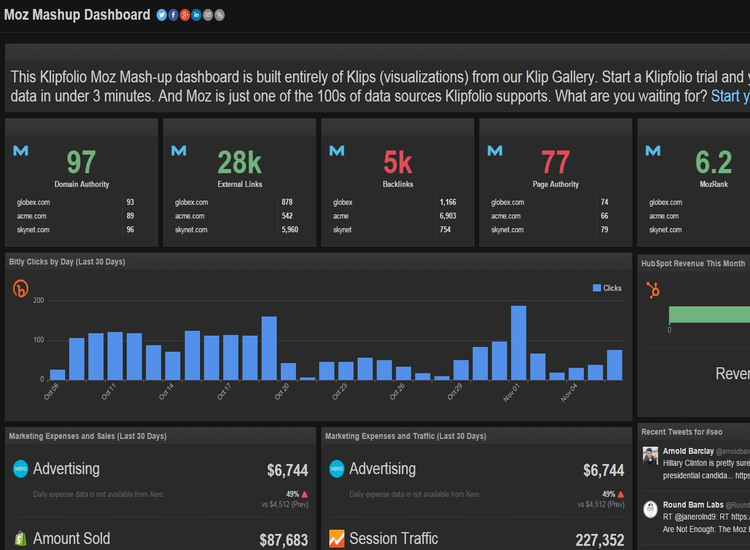 Here are some key special features of Klipfolio you should keep in mind in case you consider using this app.
Built-in templates
There is no need to worry about getting lost among many sources of data. Its variety of built-in templates will support you in converting tons of data into a presentation that is easy for clients, partners and colleagues to understand.
Ability to integrate
You also do not need to manually aggregate and analyze data as this marketing analytics tool will automatically do this, making knowledge extraction and insight discovery easy by making use of its smooth integration with a number of data sources.
2.7 Heap Analytics
The next marketing analytics tool you should take into consideration when choosing one for your marketing campaign is Heap Analytics, one of the newest marketing analytics tools that have some similarities to Mix Panel.
Becoming an user of Heap Analytics, you can track and have a record of all activities taken by your website visitors, as well as select the event you need to focus on, preview it on your dashboard and analyze it. Besides, this tool also helps you to segment your users based on their behaviors and create funnels.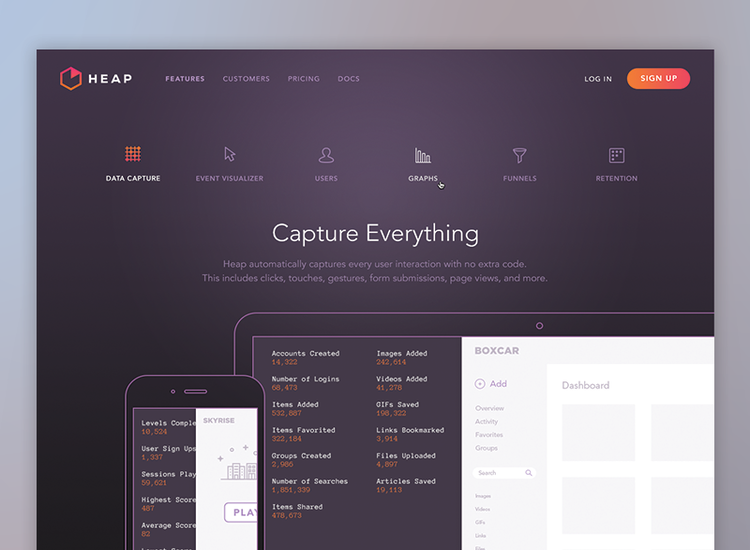 So what are some main features that make this a marketing analytics tool that is worth trying?
Capture all customer data
Every form of your customer data including subscription, clicks, tap, page view will be restored by Heap Analytics, creating a huge volume of reliable data. The special feature of this is that it is not necessary for you to be capable of coding to get these tons of insights, making it a much less complicated process compared to some other tools.
Customization feature
Another noteworthy point is the customization which allows mobile and web sessions to be integrated easily and smoothly with one user. You can modify Heap, devise some specific number of properties along with generate more customized events and collect data from these events in order to amass valuable insights and evaluate your performance.
Real – time insight
In addition to that, this marketing analytics tool provides you 100% real-time, updated and trustworthy reports so as for digital marketers to analyze them quickly and precisely.
Therefore, users can be assured of the quality of the insight they get and make more accurate decisions.
2.8 Optimizely
Optimizely is a marketing analytics tool that makes it possible for you to test different variations and elements on your website to decide which features are most likely to help you reach your goal. And you can easily change the interface of your website based on your customers' preferences without changing the code. Optimizely can be integrated with other marketing analytics tools such as Google Analytics, Clicktable and Bizble.
For new users, Optimizely will provide a testing kit to help you get yourself familiar with the new design of your page. Users can test the product, analyze and see whether it suits your company.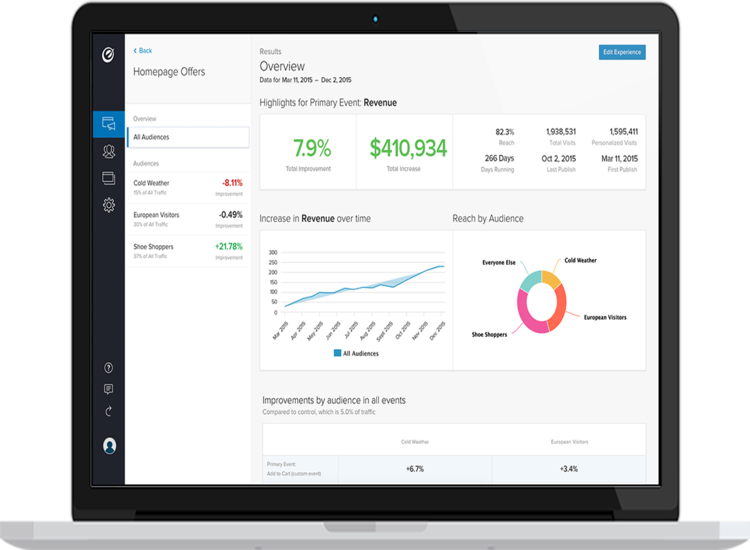 2.9 Google search console
Another marketing analytics tool you can consider using is Google search console which allows you to aggregate and analyze your organic search traffic from Google. This tool gives you an understanding of which search terms drives users to your website from Google search and how many impressions each term has, its CTR,etc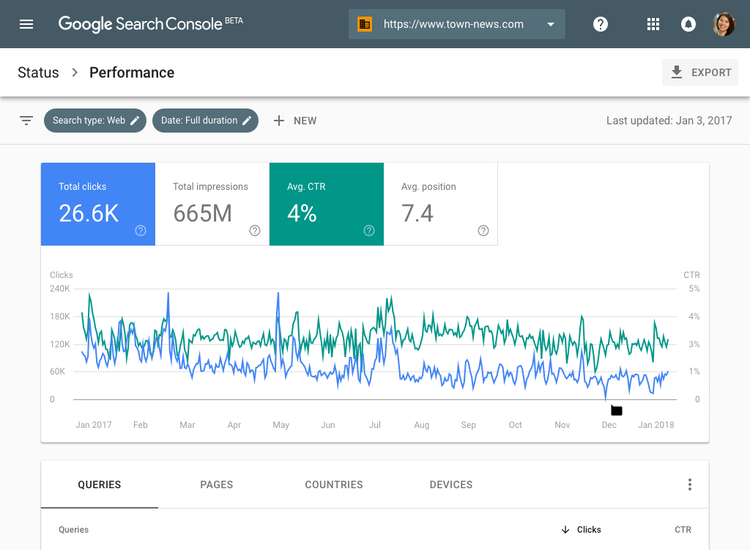 Here is some pros when becoming an user of Google search console:
A huge amount of data
This is the most amazing feature of this marketing analytics tool, which gives you a deeper insight into total clicks, impression, the average CTR and position of your blog in Google, the markets that attract most clicks, and how customers get to the website.
Easy detection of issues
In addition to that is the capacity to find and detect issues of your website. From loading times, security to errors with structured data, you will be informed timely and fix it to optimize your customer experience.
2.10 Hotjar
The last marketing analytics tool on this list is Hotjar, a site which collects and analyzes feedback, customer behaviors on your website.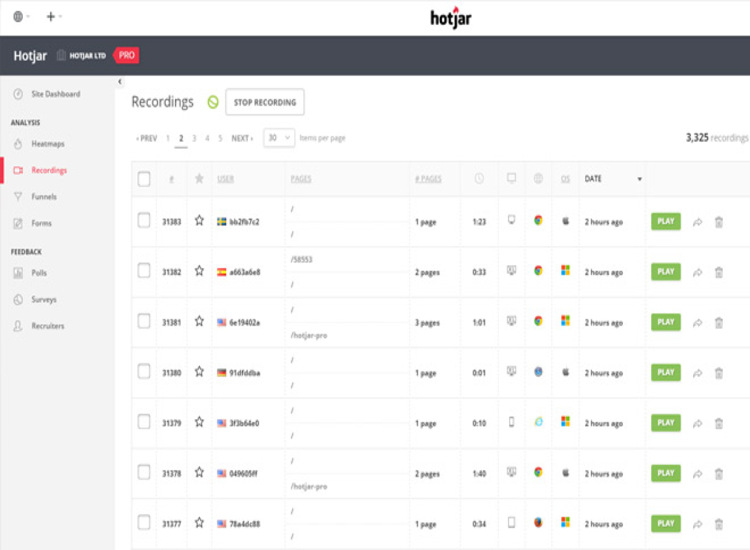 Let's look at how Hotjar can support you in driving more traffic to your site:
Gather feedback and analyze users' behaviors
This marketing analytics tool will help you to create surveys for visitors to give direct feedback and thoughts on your websites. This is really crucial in understanding your customers more and improving your products.
The record of your users' behaviors on your website, how they interact and what they are interested in will help you a lot in detecting some issues and gradually fixing it to optimize users' experience.
Cater for specific needs
The unique feature of this marketing analytics tool is that it provides you with custom plans for different users: individuals, businesses and agencies. There is no perfect-for-all plan that is ineffective for your business, you only have to pay for the features you need. Personal users can use a free plan with unlimited users, businesses need to pay according to their daily pageviews. And if you choose an agency plan, you have to sign in an account suitable for numerous types of clients.
3. Final thoughts
In conclusion, each marketing analytics tool has its own pros and cons and also deals with different scope of data and should be utilised for different purposes. Marketers need to grasp a thorough understanding about these marketing analytics tools in order to choose the most suitable ones for your marketing campaigns.