Multi-channel strategies businesses can only work effectively if coherent management is applied. Take a look at the Top Multi-channel Management Tools in 2022.
Nowadays, multi-channel is a requirement for businesses to succeed in eCommerce. Retailers or businesses not only need to sell on multiple channels to expand the market but also have to go through all the challenges associated with the multi-channel sales model. Many issues need to be strictly managed, often including tracking, product, and shipping management, inventory, and more. Follow the Top 5 Multi-channel Management Tools below and get ready to boost your store.
1. Why Use Multi-channel Management Tools For eCommerce?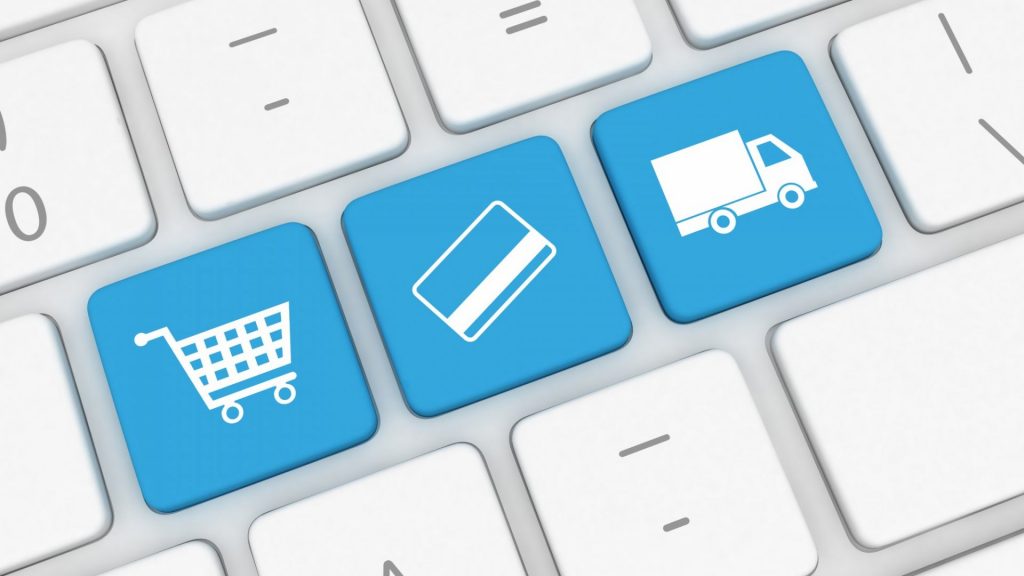 Reaching customers is an extremely important factor for business growth. eCommerce marketplaces attract millions of potential buyers, this is a "delicious bait" that a business cannot ignore. However, securing your presence in these markets – like Amazon, for example, requires you to spend a lot of time monitoring and managing.
When it comes to selling on multi-channel, these tasks can hardly be done manually, but need to be done more easily through the use of multi-channel management tools. 
There are 2 core reasons for using multi-channel management tools:
Centralized management

Save time and effort
2. Top 5 Multi-channel Management Tools For Ecommerce Business
2.1 Podorder.io – Best Multi-channel Management Tools For Print on Demand
You can take maximum advantage of management Print On Demand on multiple sale channels by using Podorder.io. No more worrying about taking care of inventory or ordering problems every day by yourself, Podorder will help you out of those daily messy tasks effectively.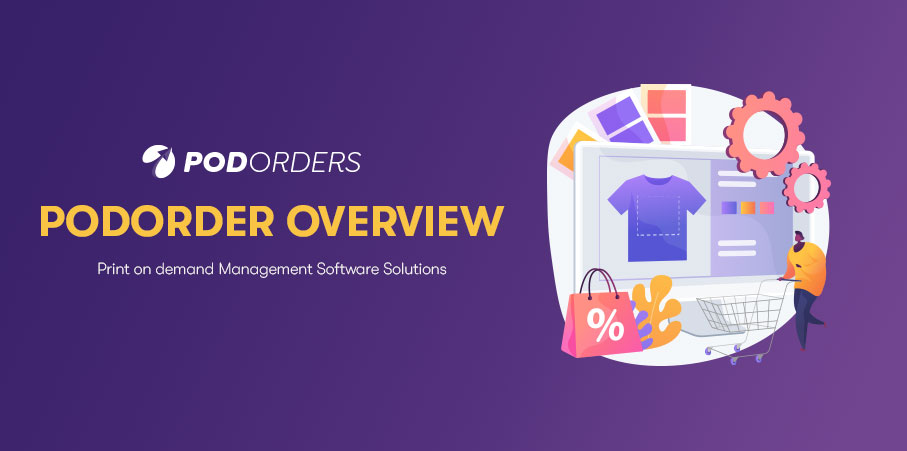 Two main Print on Demand eCommerce platforms that Podorder supports:
Marketplace: eBay, Etsy, Amazon

Webshop: WooCommerce, Shopify, Merchize Store, Printiful Store, Printify Store.
This Multichannel Ecommerce Software Management for Print on demand supports 4 types of services including: 
Product management: Manage all print-on-demand products on the system and then push the products to each store, accordingly.

Order management: The system automatically synchronizes and gets information into the system, then pairs directly with the manufacturer for production. An extremely efficient order management tool. Every order is processed and closely monitored. Avoid forgetting or missing orders.

Manage fulfillment orders and get order tracking code: Orders will be processed directly on the system. When the order is successfully fulfilled (manufactured and delivered to the shipping unit), the system will automatically get the order tracking code and send it to the customer. 
That way, customers can easily track their orders and the seller is also easy to track on the system for timely handling.
Customer support: The tool allows users to manage all product announcements from different sales channels. Then the notifications and messages will be received and answered. Besides, the tool also supports handling customer-related issues and returning goods.
2.2 Sellbrite – Best Multi-channel Management Tools For Listing
Sellbrite is well-known as the easiest solution for brands and merchants to list and sell their products on the world's largest multi-channel eCommerce sites.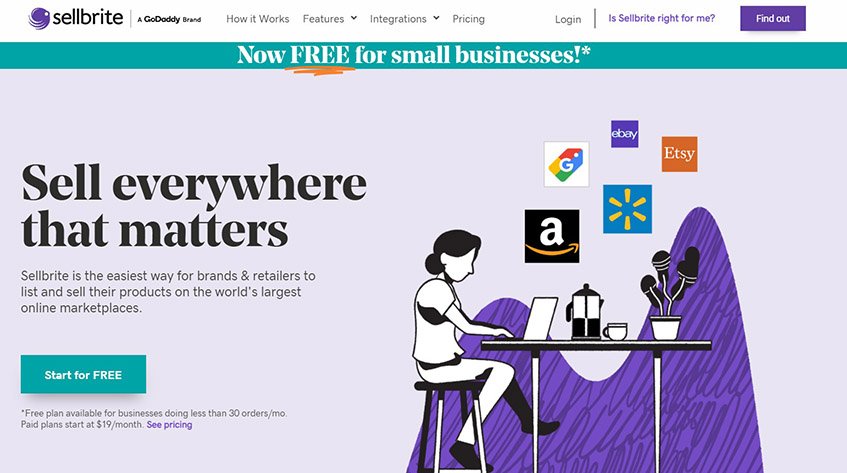 Selling on several platforms is absolutely great for increasing sales and approaching ideal customers. But that also means a thousand tasks like listing products might become more complicated. 
So let's get to know what Sellbrite can support users.
Multi-channel listing: Sellbrite allows users to list their inventory on marketplaces to approach more buyers no matter where buyers shop. By using a simple template, advanced listing technology will shorten the needed time to list even 1000 products faster.

Inventory Sync: Sellbrite helps retailers check inventory management just in a single interface. Adjustment inventory is automatically on when products are ordered. This function also updates the channels to keep all products in your store in sync. With inventory sync, overselling items that are no longer in stock is never a problem.

Order fulfillment: When it comes to selling on omnichannel, it is no surprise if there are hundreds of orders coming from various channels. So will merchants open each site to check the order? That's insane! Sellbrite gives centralized order management in one interface. You can do dozens of tasks like print postage, ship orders, all on one screen.
2.3 SixBit – Best Multi-channel Management Tools For Inventory
SixBit Software is an inventory management solution. There are many things you can do with SixBit.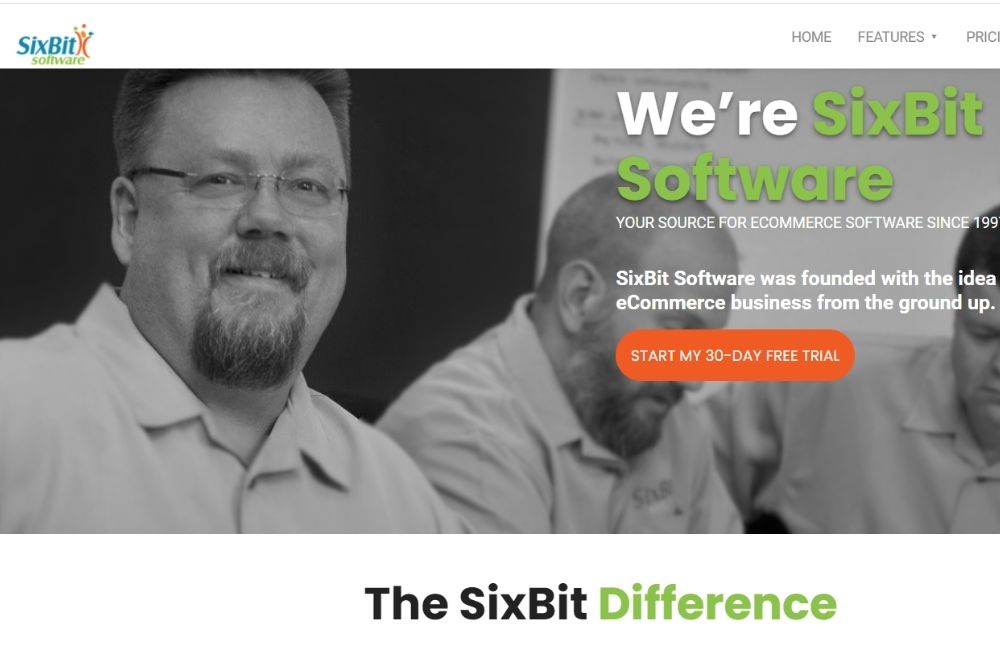 Listing management: This feature has the ability to customize data entry, researching the price of your items currently on multi-channel, editing and changing items in bulk easily… all from a platform.

Inventory management: It's important to track inventory correctly for business. All problems related to inventory on multiple sale channels will be centralized in Sixbit. Merchants can use views to quickly identify what needs to reorder or replenish in marketplaces. It also allows users to synchronize inventory counts from the SixBit API, Excel, CSV, or XML.

Order management: When it comes to having new orders on multi-channel, SixBit supports users to view and deal with all orders in the SixBit screen with some simple steps. The shipping process is automated and integrated with Endicia, Express 1, UPS Worldship, and ShipRush. Shipping notes and tracking info will be fully updated.

Customization: This feature allows users to view custom fields in the grids, or included in description wrappers, descriptions,… accordingly. Besides, there are others that can be customized such as, data entry, reports, workflow.
2.4 Ecomdash – Best Multi-channel Inventory Management Tool For Business
One of the purposes of creating Ecomdash is to help businesses save time, improve profits and optimize inventory control.
What else does Ecomdash have?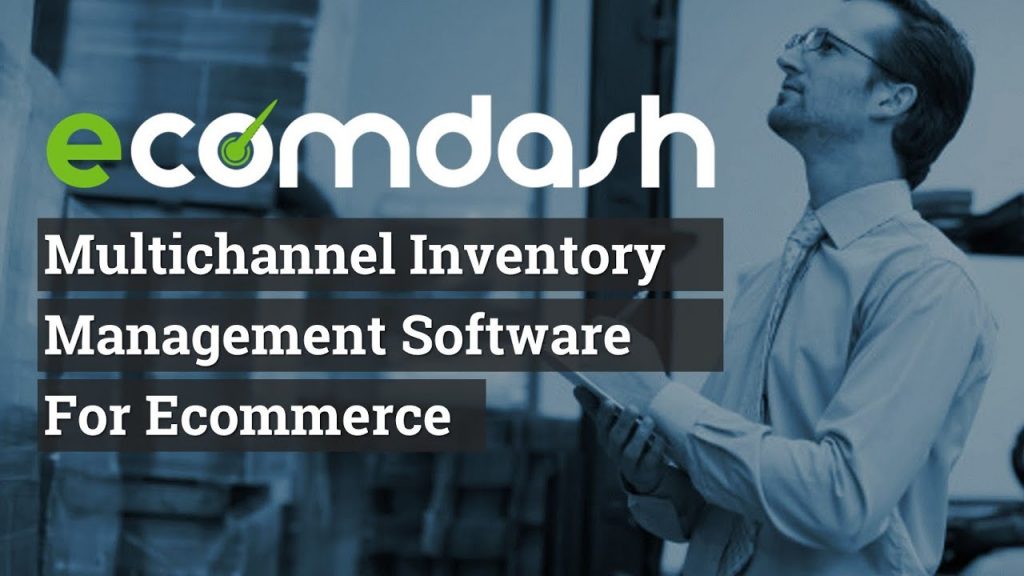 Multi-channel Listing: There are thousands of products that need to be listed on multi-channel before really launching. Ecomdash acts like a multi-channel listing software that allows users to quickly set up their inventory, control quantities…

Multichannel Inventory Sync: Your product quantities will be real-time inventory updated accurately 24/7 in Ecomdash. This platform also allows merchants to view manufactured items, serialized inventory, variations, and bundled items smoothly. Product levels across multiple warehouses will be managed to eliminate oversold conditions!

Order management: Ecomdash helps businesses fulfill orders through multiple warehouses quickly. Retailers can use Ecomdash to deal with everything from printing shipping labels to routing new orders, all in one easy-to-use dashboard.
2.5 Orderhive – Best Multi-channel Inventory Management Tool For Retailers
Orderhive was developed with the vision that business owners could simplify and automate business management including inventory, orders, and account management.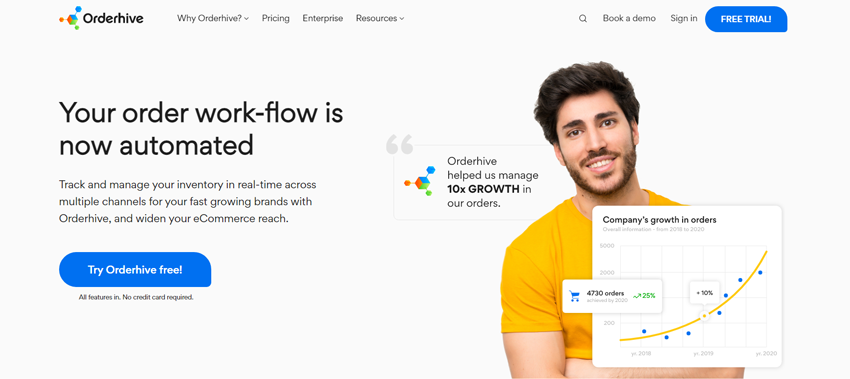 Inventory Control: The software displays and tracks inventory in real-time. It also supports accurate inventory audit reports (low stock, out of stock, inventory…). Alert capabilities of incoming or outgoing inventory help businesses reduce any risk of oversold or undersold.

Order management: Orderhive's order management automation centralizes all orders from your channels into one dashboard. This reduces the needed time and cost involved during order processing. It also effectively limits the risk of missing orders. Orderhive's real-time order tracking also allows businesses to get order and shipment updates immediately.

Product Listing management: Orderhive helps manage products correctly and improves customers' experience.

Warehouse management system: Workflow automation helps deliver the right orders to the right buyers at the right time. Real-time inventory visibility and simplified paperless inventory help businesses save both time and effort of warehouse staff.

Analytics & Reporting: Accurate analytics and reports help businesses make better decisions. This feature plays a crucial role in improving your business.
Other multi-channel management tools that you can consider:
Zentail

Expandly

eDesk

SellerActive

Sellware
3. Final Thought
The recommendations of multi-channel management tools above are all the best software currently. Depending on the size of the business and the capital you should consider carefully to find the software that really suits your business needs.