Have you ever thought that an ideal product description can lead you to higher conversions, customer loyalty, and boost product values? If you are struggling with how to write product descriptions perfectly on your eCommerce store, then this article is for you!
Write a product description that retains customers and gain trust? Why not? Check out our top 10+ guidelines to win your audience's heart right away!
Premium Guideline To Write Product Descriptions That Blow Customers' Mind
1. Think 5W + 1H
Have you ever heard about "5W+1H", which represents What-Who-Where-When-Why and How? That's the tactic that helps you step-by-step figure out the answers to every problem as well as identify your general object. Before you start to write product descriptions, brainstorm with 5W + 1H and find out the most suitable content to approach the right audience. You can begin with some common questions, like:
What: What is your product description about?
Who: Who is your target audience?
Where: Where can people use your products?
When: When can customers use your products?
Why: Why should people buy/choose your products?
How: How do customers use your products effectively to achieve the best outcome?
Take a custom tote bag on Amazon as an example to illustrate the 5W+1H brainstorming:
What: A custom tote bag made of cotton and canvas.
Who: For both males and females mainly from 15-45 years old according to its stylish and elegance.
Where and When: Suitable for any occasion – to go to the school, workplace, cafe, shopping, etc.
Why: Eco-friendly, high-quality canvas, big size but easy to hold, attractive designs, etc.
How: Can carry over shoulders or by hands. Also, customers can use it as an accessory for the outfit, etc. Plus, they can give this tote bag as a gift.
Depending on your product, you can combine some W-questions in one sentence or omit some unnecessary information for your content. However, the steps of brainstorming are crucially important to write a perfect product description that targets the appropriate audience. In the next section, we will discuss more details about how to highlight your product benefits and features.
2. Emphasize the benefits and features
After having a general idea about your product, you may be able to organize your thoughts once again and select the best information to put in the product description. However, if you are writing for your ideal customers, we suggest that combining both benefits and features of your product can spark more curiosity towards your audience.
To put it simply, rather than only capturing the appearance or visible functions of your product, you can add some benefits linked to each feature in your sales message. For example, when promoting a custom blanket on an eCommerce website, while describing the thickness and materials of the blanket, you can give customers some suggestions to help them utilize this product in versatile ways – that is also a way of introducing product benefits mixed with features.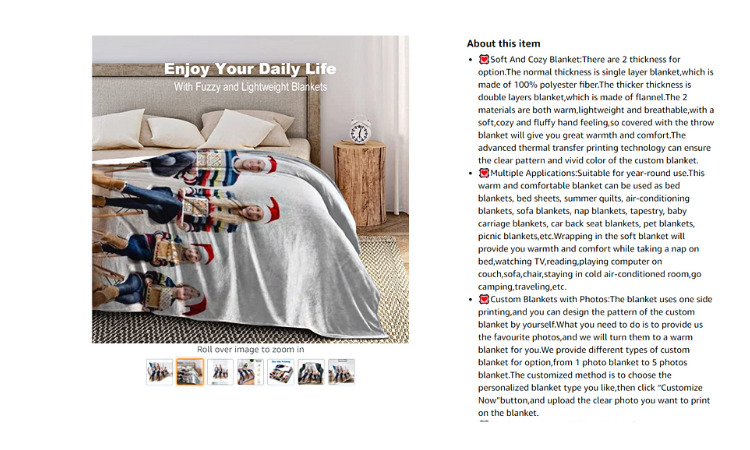 Think about customers' demands when writing your product description and ask yourself how to illustrate the product features connected with the solutions you provide for them. Knowing how to write product descriptions convincingly can help customers find the information they need and boost sales seamlessly.
3. Trigger customers' emotions
Before we talk about emotional triggers, take a look at how Apple promotes one of the hottest iPhones on its website.
Featuring the camera function of the iPhone 13, Apple seems to already identify their customers' characteristics, which are in love to take photos with iPhone and in need of a professional camera bringing "cinematic mode". When illustrating the feature of the iPhone 13's camera, Apple also considers their customers' experience with the previous iPhones by showing some upgrades with aesthetic vocabs, such as: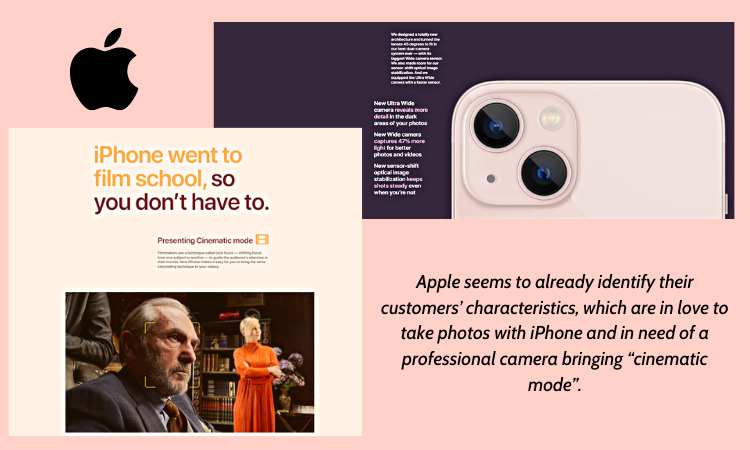 As far as we're concerned, Apple users have some bad experiences with taking photos in the dark, lack of camera light, or instability when moving their camera. Apple has successfully boosted trust by evoking the problems that their customers witnessed, then improving it to make customers feel that they are important to this brand.
Plus, the vocabulary that Apple uses to write product descriptions (e.g.: iPhone 13) is always stunning, creative, and persuasive, making every website visitors want to put their products in the shopping cart immediately.
Now, let's come back to the topic of how to trigger customers' emotions in the product description. When discussing how Apple demonstrates their iPhones (and other items), we can conclude that the best and simplest way to write emotionally is to list attractive information related to customers' experiences. Also, sensory words (feel, smell, sound, taste, etc) and power words also play a pivotal role in catching visitors' attention at their first glance effectively.
4. Educate customers with your brand's story 
Writing a product description means you only focus on the product, however, have you ever thought that you can also tell your audience about the story behind what they are going to purchase? To effectively educate customers with your brand story, find a way to connect your business's objective with customers' problems.
For example, Warby Parker – an eyewear company first promoted their products in a period when hardly anyone can afford glasses. Improving the brand's recognition with that behind-story, Warby Parker shows its sympathy with its target audience by showcasing the founder's story, the purpose of the company as well as the promise to create affordable and high-quality eyewear for everyone.
Inspired by Warby Parker, perhaps your business can start with telling you about a similar experience or situation that your customers are bearing with, the inspiration that encouraged you to launch this type of product, the failure and success you've been through. It is not always easy to integrate a brand story into a product description, but you can cultivate a sympathetic mindset in your target audience's mind, reduce the distance between business and customers and raise a higher chance to gain more loyalty.
5. Make it short and straightforward
As we are living in the short-span information era, rarely do any customers read your entire description of a product. Therefore, learning how to write a captivating opening for each section, eye-catching but understandable, and utilizing bullet points will generate the best outcome.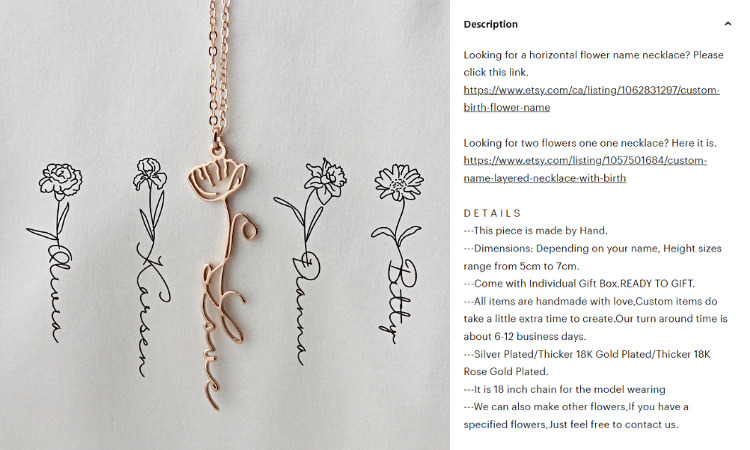 Take a look at this Custom Name Necklace on Etsy and see how it targets the right audience with a crystal-clear product description. By straightforwardly mentioning the type of necklace (custom flower), the carefulness and effort that are put in the product, and the personalization it offers for customers, this shop has generated over 4000 positive reviews generally and multiple 5-star reviews in the past 7 days. You can learn various effective ways to write product descriptions, such as:
"Looking for a horizontal flower name necklace? Please click this link."
"All items are handmade with love."
"We can also make other flowers. If you have a specified flower, just feel free to contact us."
"Please follow these tips to keep it longer." […]
6. Practice SEO basics
Don't forget you still need to put your product on the top results of search engines, and SEO-friendly basics are truly beneficial to write product descriptions effectively. You can start by including long-tail keywords in both title and the description. For instance, if you are selling print-on-demand products, your long-tail keywords can be "custom personalized embroidered beanie", "custom logo face mask", "custom slogan graphic men T-shirts", to name a few. As customers always type as detailed as possible the product they demand, you can anticipate what type of keywords that your audience can use when looking for your products.
What's more, avoid creating similar content (duplicate content) for every product on your website, since it will lower the SEO rank. Knowing how to write product descriptions with unique content will maintain a consistent appearance on search engines. Plus, don't misunderstand that rearranging or changing only a few words in your content is acceptable when it comes to duplicate content. As each product has different features, benefits, and target audience, consider creating a brand-new and high-quality product description to achieve best practices for SEO.
7. Make use of high-quality images & videos 
Images or videos can tell 80% of the quality of a product rather than a description or review. Therefore, take care of the media well if you want to convey value to your customers.
Furthermore, you can even highlight some key features of your products in the product images or videos. One of the clear illustrations for this is when launching print-on-demand stickers, you can illustrate the color code, the font, examples of where to put your stickers on, illustrations of how to use the stickers, and so many other ways to write product descriptions right on your images.
Another example is a custom sweatshirt on Amazon that makes use of the images to guide customers on how to create their personalized sweatshirt or mention the hoodie size, 100% guarantee, and the printing service (what they offer).
After all, a high-quality image to give customers a general idea about how your product looks will win trust more easily. As customers cannot touch or directly experience the items they want, perhaps promoting products through a video and uploading it as a review can also make your products feel more authentic.
8. Convince your audience with social-proof
There are various ways you can increase conversions by adding social proof to write product descriptions. First things first, collaborating with influencers can help you reach a wide range of similar target audiences. Letting favorite or well-known celebrities, influencers, or KOLs review a specific product from your shop can boost trust and encourage customers to make a purchase more quickly. Take a look at how Chanel promotes their latest serum with the presence of a Korean celebrity. Not to mention that their product description (the subtitle) is eye-catching and reveals the brand's identity, making customers feel that this product is going to be worth a try.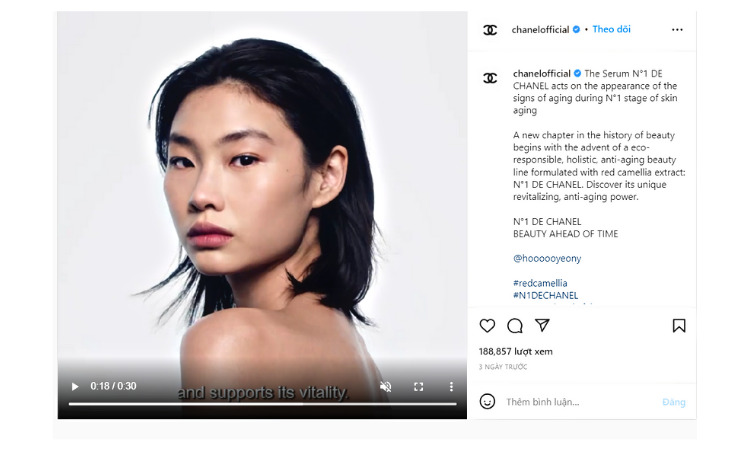 Additionally, if your product has any confirmation from experts, don't hesitate to showcase it directly on the images attached to your product page, or generalize what the experts say about your business.
Last but not least, customers tend to look at the product rates and shop rates to decide whether to click on the product link or not. Therefore, utilizing user-generated content and previous reviews in your product description is also a smart way to increase a positive brand's recognition in your customers' minds.
9. Reflect your brand's tone of voice
Allowing your business to launch the product description as a trial to reflect your brand's tone of voice every specific period of time. If you decide to add a little sense of humor in your description, take Palace Skateboard as a reference with short, hilarious but customer-centric content: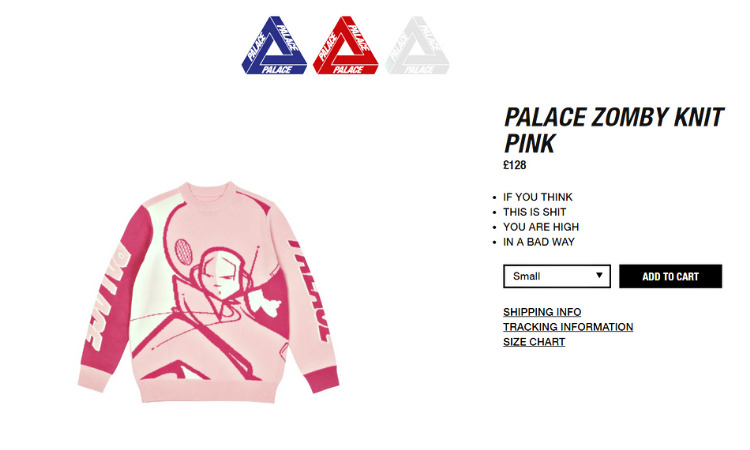 What if you decide to bring a more serious tone of voice to show your professionalism to your audience, you may want to visit some well-known brands such as Louis Vuitton with high-advanced vocabs are used and skillfully sharing the story behind their products, or DIOR and its elegant way of storytelling in the description.
All in all, your brand's tone of voice will also have to reflect your business objective and the core value you want to bring to customers. Take some time to re-read all of your product descriptions once again to analyze whether they match with what your business aims to achieve or with the right target audience or not.
10. Get technical to win trust when needed
All things considered, training your business with content writing skills and becoming more professional in writing product descriptions will definitely boost trust and profits. Before convincing your audience, get technical to convince yourself that your content is high-quality, customer-focused, and attractive. Improving your writing habits is also a good suggestion if you want to learn more about content writing skills. Also, editing skill is a plus to eliminate grammatical errors or be flexible in choosing words to describe.
What's more, design thinking skills are practical when it comes to product images and videos. As we mentioned above, an excellent image can tell a lot about your product, reassure your customers as well as boost trust for business. In addition, SEO skills and research skills are super necessary for you to adjust the content that meets the general requirements and understand your target audience much better.
Wrapping up!
After following this article, have you identified your own methods to write product descriptions that blow customers' minds and generate more conversions?
No matter what strategies you are going to apply, remember that authenticity and anti-duplicate content are the top two crucial reminders if you want to deliver a meaningful and convincing message to your audience!