Holiday email marketing campaigns are an essential part of your business's online presence. And for many companies, it represents their largest single investment in marketing each year. 
If you're going to put together a successful campaign, you need to make sure that you're targeting the right customers, sending the right messages, and reaching them in the best way possible. In this article, we'll show you everything you need to know about holiday email marketing campaigns from start to finish.
1. The importance of holiday email marketing campaigns 
Before diving into some tips and strategies, let's find out the advantages of holiday email marketing campaigns. 
1.1 Drive traffic
Email marketing campaigns can be a great way to drive traffic to your site, social media pages, or business landing page. You can set a goal of a certain number of clicks or conversions, then use that as a baseline to help you determine how successful your campaign is – and where you can improve next year. 
1.2 Announce promotion and increase sales 
Holiday email marketing campaigns are a great way to announce sales, exclusive offers, new products, or any other type of information that can help you boost your sales. The power of email marketing campaigns is clear: they can help you convert online traffic into paying customers.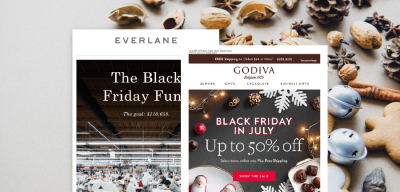 1.3 Stay in contact with audiences 
One of email's biggest advantages is its ability to connect with your audience again and again. Unlike other marketing channels that involve one-and-done campaigns, email marketing offers long-term value. 
Your readers can keep up with you over time as they receive weekly or monthly updates on your latest projects, progress reports, contests, announcements, etc. Plus email is a great tool for re-engaging inactive subscribers by sending them customized messages to spark their interest.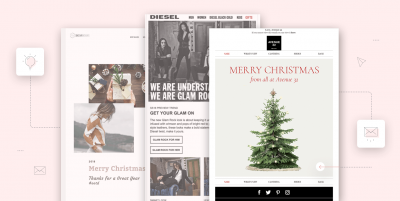 1.4 Allows for targeted messages
Another important benefit of holiday email marketing campaigns is their ability to deliver very targeted messages to specific groups. Unlike social media, where you can market to a large swath of people but must post for everyone, email marketing allows you to craft highly focused messages to appeal to exactly who your business needs at any given time. 
For example, if you're working on a new product launch, why not send an email only to those customers who have previously purchased products in that category? 
2. Best ideas for holiday email marketing campaigns 
There are several brilliant ideas for holiday email marketing campaigns, we've compiled the best ones for you. 
2.1 Create an early-bird Black Friday sale
Attract holiday shoppers with an early-bird Black Friday sale. This can be as simple as offering a discount to customers who buy early (like an extra 10% off if they order by November 1st). This strategy worked well for REI, which saw its best Black Friday ever last year. 

If you're concerned about increased competition, consider reaching out to brands that may not advertise heavily around major holidays. The more word-of-mouth your sale gets, the better. And, don't underestimate your repeat customers: offering a reward of sorts is a great way to show them you value their business.
2.2 Share a thank you letter with a referral code
While you're building relationships with new customers, don't forget about your old ones. Sending them a thank you letter – thanking them for their loyalty – is a good place to start.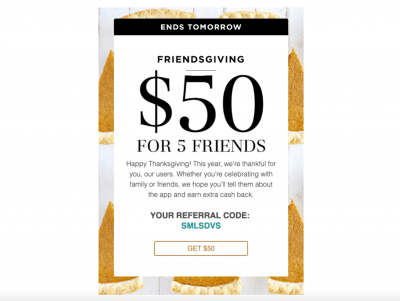 This letter could also include a referral code, which if they share with friends will earn them some kind of discount. Think: new customers make purchases and refer five friends; everyone earns $10 off their next purchase!
2.3 Set up a sale countdown to urge purchase 
A countdown-style email is a great way to prompt people to buy something, especially if you're running a sale. You can set up a page that shows how many days are left in your sale, discounting certain products each day.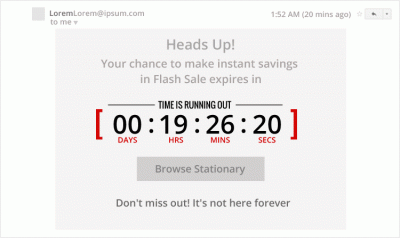 If you have an e-commerce site, you can also make use of discounts codes or deal vouchers that last a limited amount of time. Just be sure not to be too intrusive with your calls to action. The key here is not just getting traffic but converting it into sales without being pushy.
2.4 Inform about the holiday shipping deadline
It might be a good idea to inform customers of the shipping deadline in your holiday email marketing campaigns. That way, customers know exactly when they need to get their orders placed in order to get gifts before Christmas or New Year's.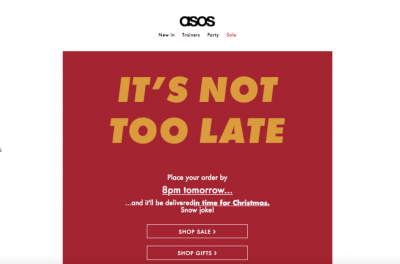 It makes you look professional while providing customers with important information about something they might not have thought about yet. In other words, it can help you avoid seeing many emails from angry customers who ordered gifts too late and can't receive them in time for their holiday celebrations.
2.5 Send a sale announcement
It's easy to keep your existing customers up-to-date on holiday sales, especially if you're already running a daily deal or flash sale. Send an email announcing that you're offering additional sale items just in time for Christmas. 
The important thing here is to offer something new, even if it's just an item that's not normally on sale. Giving your customers something they can't get anywhere else can help push them over from casual browser to buyer.
3. Top tips to boost your holiday email marketing campaigns
In order to boost your holiday email marketing campaigns, you need to have the right tips and strategies. Continue reading to sort it out. 
3.1 Start Planning On-Time and Send Teaser Emails 
Many brands make a terrible mistake in waiting until a month or more before their holiday sale to begin their email marketing campaigns. Don't be that brand! Instead, try to start planning at least 2-3 months before you plan on launching your sales. Starting early will ensure you have plenty of time to create a ton of content and build anticipation in your subscriber base.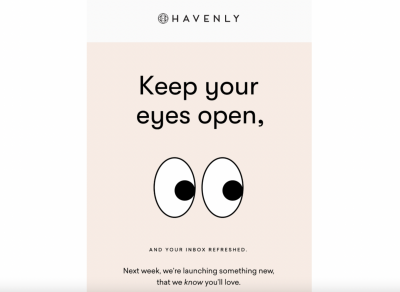 Also, it's important to send teaser emails weeks before your campaign is launched so people can get excited about it. This might sound like common sense, but many companies wait until they're about to launch their sale and then blast out an email with all of their information.
3.2 Consider Past Years' Wins and Losses 
It's also worth taking a look at previous holiday marketing efforts. This will help you better strategize your campaign so that you can be more successful. What worked last year? What didn't? You can use that information to your advantage next time around. For example, maybe you always offered special discounts to customers who shopped between certain dates. If so, plan on doing that again.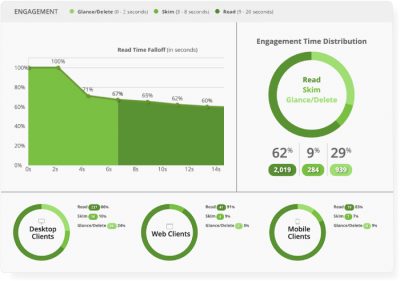 And don't forget to put out social media updates letting customers know what they can expect. That will make it easier for shoppers who want to take advantage of offers without having to search through your website each day for new ones.
3.3 Send targeted campaigns using segmentation
With such a short amount of time to reach your audience, sending broadcast emails is often not as effective as reaching out to people who actually want to hear from you. For best results, segment your email list into groups that share similar interests or behaviors.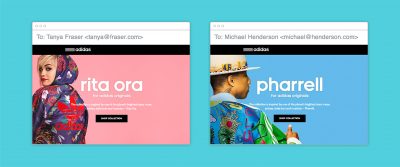 Perhaps there are people who have purchased items from your store in specific categories before, so targeting them specifically may be beneficial. Whatever you decide to do, segmentation will only help improve open rates and conversions – two things you'll need plenty of if you want any chance at increasing revenue over last year.
3.4 Leverage marketing automation
Most email marketing services (like MailChimp) now support marketing automation capabilities. If you already use a service, take advantage of these features to boost your holiday email marketing campaigns.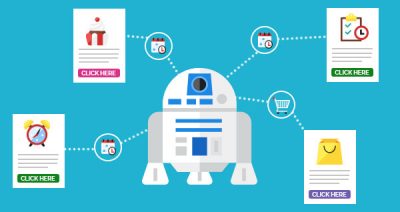 If you're not yet using an email marketing service, don't worry: it's really not that hard to get started with a basic campaign. Just pick a reputable provider (like MailChimp or Constant Contact), create an account, import some contacts, and start sending out messages. If you plan on using any links in your emails (and you should!) use Bitly links to track click-through rates.
3.5 Don't forget to personalize 
The holiday season is a time to celebrate, but also a time when people are busy. You should add some personalization to your emails. Use each recipient's name in subject lines, sign off on emails with your own name, and write emails that show you appreciate their loyalty to your business. People are more inclined to read personalized messages over generic ones.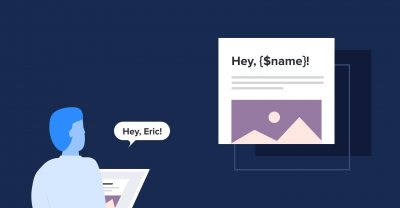 For example: Hello Sarah! This year we're excited to celebrate Christmas with you! Be sure to come by on December 23rd from 4pm – 9pm. Instead of: Be sure to come by on December 23rd from 4pm – 9pm. 
3.6 Emphasize discounts, sales, and promotions
During holiday email marketing campaigns, emphasize sales and promotions. With so many retailers competing with each other to attract holiday customers, they're all offering discounts. Make sure you have a promotion going on, then direct customers towards it in your email.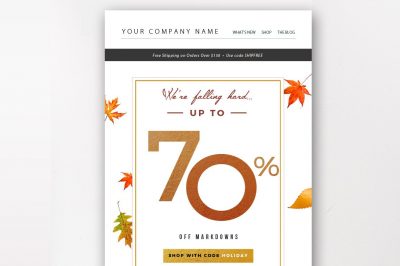 Include an image of a coupon or promotion in your email design if possible, but also consider using a landing page just for that promotion. That way you can include an Add To Cart button linking directly to that product, which makes it easier for people who are interested in buying it right away. 
3.7 Focus on designing seasonal-themed emails 
Most people get dozens of emails per day, but it's not unusual to find that these messages pile up in their inboxes. To make your emails stand out, avoid using template-like layouts with stock photos. A great way to engage with your customers is by designing email themes based on specific holidays.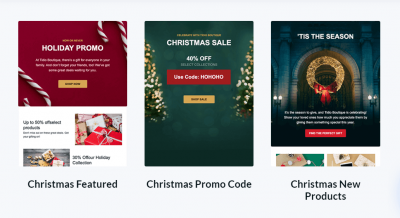 These may include: Thanksgiving, Black Friday, Cyber Monday, Christmas, Hanukkah or New Year's. By creating seasonal-theme emails, you will be able to add more value and show that you care about each customer during these special occasions. It's also a great way to add in seasonal discounts when promoting products during these seasons.
You can find attractive email theme ideas here. 
3.8 Use emotion to connect
Holidays are an emotional time, so it's important to tap into that emotion when creating holiday emails. Whether you sell gifts or travel packages, let your customers know how much you care during such a special time of year. One way to do that is by sharing what really makes your company special.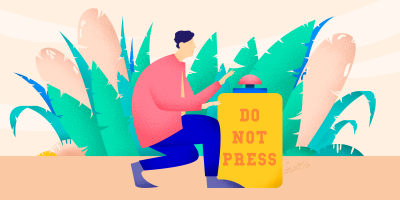 Is it customer service? The quality of your products? Tell your customers what makes you unique and why they should choose you over other options. That feeling of connection can help fuel their excitement for a holiday shopping spree!
3.9 Craft compelling copywriting & call to action 
To make your emails stand out from their competition, you need to do three things. First, craft compelling copywriting with a clear call to action (CTA). Not only will it compel recipients to read your message in full, but they'll be more likely to take action on what you ask them to do. Second, use an effective subject line and preview text (if applicable).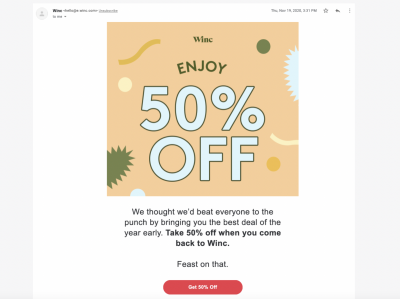 Without both of these in place before sending, you're missing out on opportunities for better open rates. And third, optimize your images to get higher click-through rates (CTR). Not only will using images boost your engagement numbers, but they help ensure that readers are able to see exactly what they're signing up for.
3.10 Use mobile-friendly design 
Holiday email marketing campaigns can be especially effective if they are mobile-friendly. According to eMarketer, nearly two-thirds of all digital media time will be spent on mobile devices so it is important to take advantage of their increasing prevalence.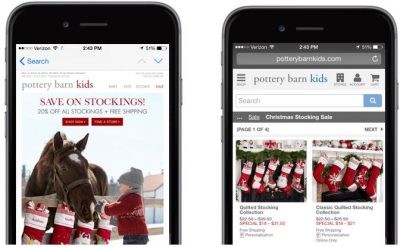 If you haven't already created a holiday email marketing campaign with mobile in mind, now is as good a time as any to do so. Start by asking yourself what type of content your users might prefer to see on their phone (vs. desktop). More links? Images? Video? Keep these elements in mind when creating your holiday email marketing campaign.
4. Wrapping Up 
Holiday email marketing campaigns have become an important part of modern digital marketing. And as you're probably already aware, the holiday season is one of the best times to launch a campaign because it gives you a unique opportunity to reach a large number of customers and generate more revenue.
Hopefully, after reading this article, you've learned the best ideas for holiday email marketing campaigns that you can use to boost your chances of success.