Etsy is a fantastic location for independent artists and craftsmen to set up their own stores. Although it is free to join Etsy and open a shop, there are a variety of Etsy seller fees that merchants must pay. Some Etsy seller fees are contingent on a seller's usage of specific marketplace services, while others are inevitable.
1. The Importance of Understanding Etsy Seller Fees
You'll be able to develop a business plan and budget for your Etsy shop if you know what sort of Etsy seller fees you can anticipate to pay and how much they'll cost.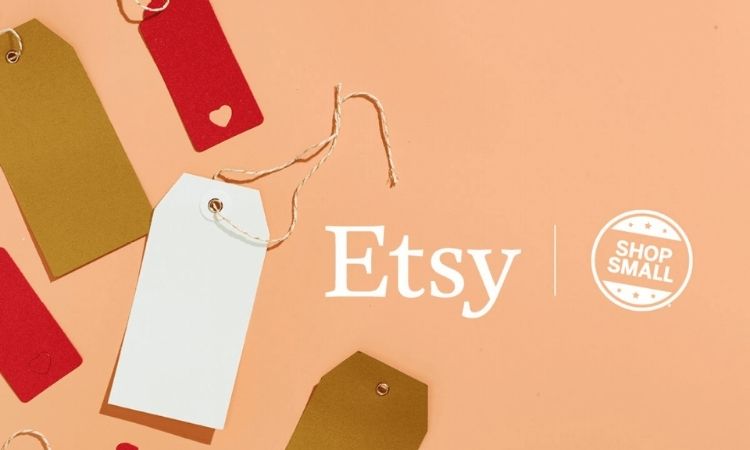 Paying your fees on time can also help your shop maintain a positive reputation. If you keep your account in good standing long enough, you'll be able to join Etsy Plus, which provides you access to more tools and perks and will help you build your Etsy shop into a success.
Sellers who don't pay their fees on time risk having their selling rights revoked or their accounts banned, so it's critical to understand what Etsy seller fees you're responsible for and keep track of them.
2.Top 9 Types Of Etsy Seller Fees Every Business Should Be Aware Of
Etsy merchants must manage a number of extra Etsy seller fees in addition to the monthly subscription mentioned above. Etsy has a convoluted charge structure, and it's worth reading through their legal terms and regulations to understand all of the finer points of how taxes may or may not apply to fees in your area. Take a look at the table below for a more digestible breakdown of Etsy's various fees.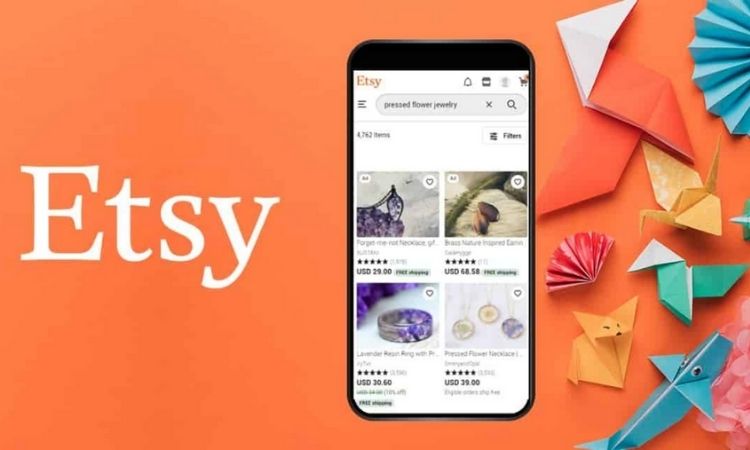 2.1. Fees for listing on Etsy
Each item you offer for sale on Etsy is subject to a $0.20 listing fee.
This charge is applicable to each and every product you sell. Let's assume you have ten identical ceramic bowls that you're selling one at a time. You may put all of these identical bowls on the same product page, but you'll have to spend $0.20 to renew the listing after each one sells. You'll pay a total of $2.00 in listing costs if you sell all of these bowls.
If you sold a set of 10 bowls as a single product, however, you would only have to pay one $0.20 listing charge. After four months, your listing will expire, and you will have to pay the listing cost again to renew it. Listings can be configured to automatically renew.
2.2. Transaction Fees on Etsy
Etsy charges a transaction fee (not to be confused with their payment processing fee) to offset the costs of utilizing their platform. Etsy charges a transaction fee of 5% of the total price of your goods, including the cost of customization and gift wrapping.
Etsy does not impose transaction fees on sales tax on the list of Etsy seller fees in the United States and Canada (unless you include the cost of sales tax in your listing price). These transaction fees may, however, include the cost of some relevant taxes for sellers outside of the United States and Canada.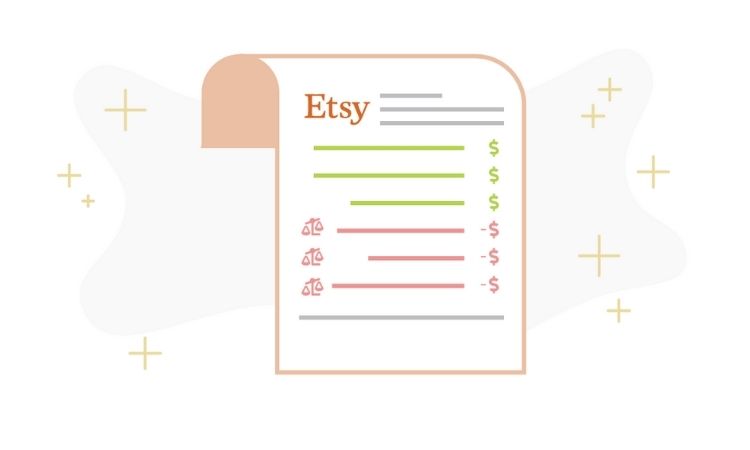 2.3. Transaction Fees on Etsy for Shipping
Etsy takes a fee on the amount you charge for shipping in addition to charging a fee on each transaction. Etsy's shipping transaction charge is 5% of the total shipping cost your buyers pay.
2.4. Fees for Payment Processing
All retailers must pay payment processing fees in order to accept online payments. Payment processors (such as PayPal and Square) charge about 2.9 percent + $0.30 per transaction on average.
Etsy Payments is Etsy's in-house payment processor, which merchants in one of the 36 approved jurisdictions must use to receive payments (including the US, UK, Australia, and Canada). If Etsy Payments isn't available in your location, you can take online payments using PayPal.
Etsy Payments imposes a transaction fee of 3% + $0.25. You may take payments by credit card, debit card, Etsy Gift Card, Etsy Credit, PayPal, some bank transfer services, Apple Pay, and Google Pay using this feature. You may also let your customers use their PayPal accounts to pay. These payments will be subject to Etsy Payments rates rather than PayPal rates.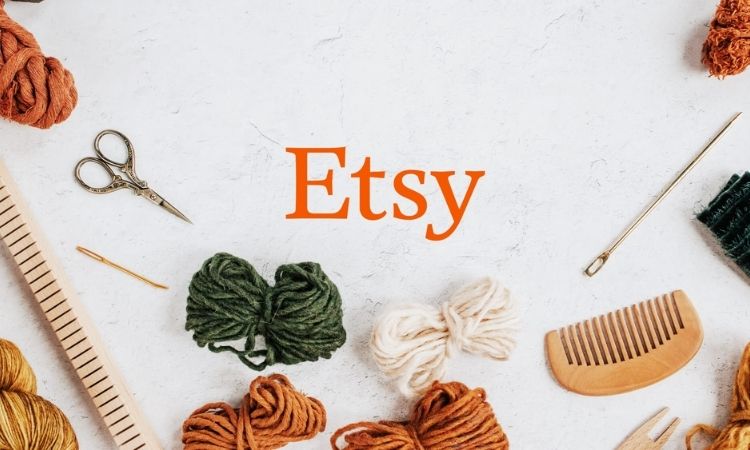 2.5. Fees for Selling in Person
Etsy has teamed up with Square to provide merchants the option of selling in person. You'll need a Square card reader to collect payments in person. You'll pay the standard listing fees plus Square's payment processing costs (2.6 percent + $0.10) when you take payments in person for products you've listed on your Etsy site. You will not be charged the Etsy transaction fee of 5%.
2.6. Pattern Fees on Etsy
Etsy provides an alternative worth considering if you want to create a more personalized website to sell your items. Pattern is website-building software that allows you to create your own store while keeping your Etsy seller account connected. Patterns can be rented for $15 per month.
Pattern is available for a 30-day free trial; after that, the monthly Pattern cost, including tax where applicable, will appear on your Etsy Payment account.
A listing fee is not charged for products that appear solely on Pattern and not on Etsy. You do not need to pay an additional listing fee if you already have a product listed on Etsy and wish to list it on Pattern (you have already paid one to Etsy). Pattern listings are also non-expiring.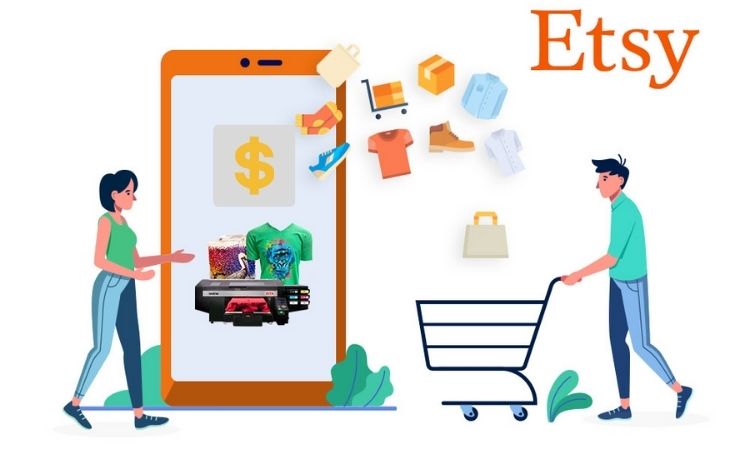 2.7. Currency Conversion Fees on Etsy
Sellers should post their prices in the same currency as their payment account currency, according to Etsy. Sellers will be able to avoid paying foreign currency fees as a result of this. Customers may choose whatever currency they want to see listings in, thus displaying your items in one currency should have no effect on your sales. You will be charged a 2.5 percent currency conversion fee if you do not do this and list your items in a different currency than your payment account. Receiving payments using PayPal allows you to avoid Etsy's currency translation costs.
2.8. Ad Seller Fees on Etsy
Etsy has been rolling out marketing tools for its consumers over the last two years. These include on-site and off-site advertisements, each of which have their own costs. 
Sellers on Etsy may use Etsy Ads to promote their items inside the marketplace. The cost of each click will vary based on demand for these advertising, which are accessible on a pay-per-click basis. You may establish a daily budget for how much you're prepared to pay for on-site advertisements, and Etsy will only show your ads until you hit that limit.
2.9. Etsy Seller Fees for Offsite Ads
Offsite Ads on Etsy are the most recent advancement in Etsy's advertising. Offsite Ads are presently enabled for all users, with the exception of merchants who have generated less than $10,000 in sales in the previous year. Fees are only charged if a sale is made as a result of one of these adverts.
Etsy will promote your items on big sites like Google, Facebook, Instagram, Pinterest, and Bing with the new Offsite Ads program. You are charged an advertising fee on the total of an order when someone clicks on an ad that features one of your goods and then purchases from your Etsy shop within 30 days.
Depending on your yearly sales, this charge is either 12 percent or 15%. Offsite Ads is an optional service for individuals who have made less than $10,000 in sales in the previous year, and the cost is 15%. Offsite Ads, on the other hand, are required for those who earned over $10,000 in sales in the previous year, and are required for the life of your business, even if you subsequently fall below the $10,000 level. On purchases made through the advertising, Etsy charges these merchants a fee of 12%.
3. How to Pay Etsy Seller Fees
As long as adequate funds are available, Etsy fees are usually taken automatically from a seller's payment account. If funds are not available, the seller must pay any outstanding fees within 15 days of receiving their monthly bill in full.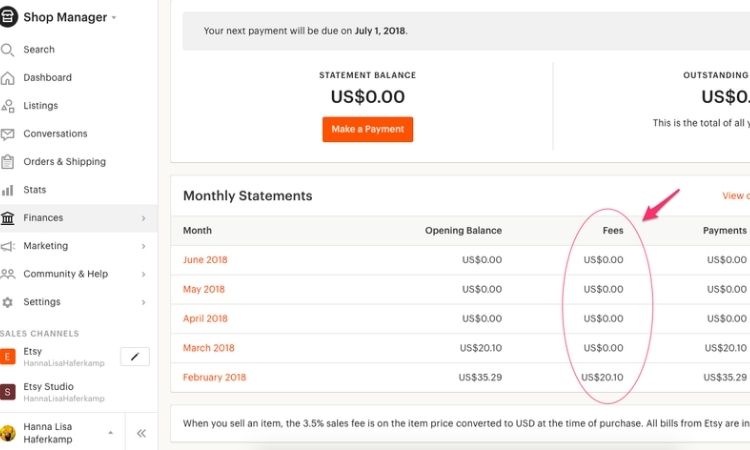 If you have an unpaid amount, Etsy may charge your card on file or take other steps, such as reversing any credits on your account or using a collections firm, to pursue restitution. The net sale amount will be added to your outstanding balance if you make a sale when you have an outstanding balance.
4. Is Etsy Worth For Your Business?
So, are the fees of Etsy worth it for your business? This is determined by a number of things, including your profit margins and the value you get from the marketplace.
You'll need to keep a tight watch on your profit margins if you want to make the most of Etsy. Etsy seller fees may quickly eat into your profits if you're not careful, forcing you to lose money on a transaction. Here's a rundown of Etsy's prices:
So, are the fees of Etsy worth it for your business? This is determined by a number of things, including your profit margins and the value you get from the marketplace.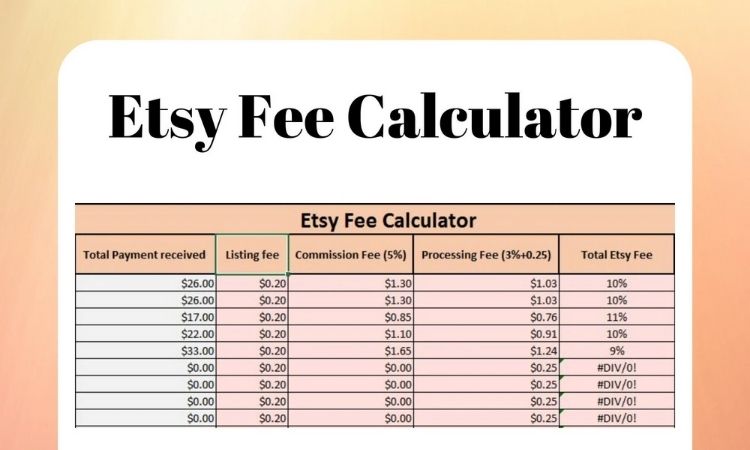 You'll need to keep a tight watch on your profit margins if you want to make the most of Etsy. Etsy seller fees may quickly eat into your profits if you're not careful, forcing you to lose money on a transaction. Here's a rundown of Etsy's prices:
$5.00 for shipping

$0.50 for a 5% transaction charge.

$0.25 for a 5% transaction charge on shipping.

$0.70 (3% + $0.25 payment processing fee)

Fee for listing: $0.20

$6.65 in total costs (including delivery).
We end up with a $3.35 profit margin after subtracting the cost of manufacturing the goods and fees. In this case, you'd probably need to boost your prices to improve your profit margins and pay for Etsy's seller fees.
Another factor to consider is the platform's value to your business. What benefit does Etsy bring to your company? Is it the simplicity with which new consumers may find you? The ability to sell products online without having to keep a website up to date? Whether you can put a dollar sign in front of it or not, this value is a main major factor in your decision to use Etsy despite the fees.
5. How Can I Make Up For Etsy Seller Fees?
As I previously stated, you must pay close attention to your bottom line in order to succeed on Etsy. Here are a few strategies for staying on top of Etsy Seller Fees:
Increase Product Pricing: Increasing product pricing is the most obvious approach to safeguard your revenues. Sellers frequently worry that raising their prices would make them less competitive. While this is true in certain cases, I've also heard Etsy users say that their sales increased when they upped their pricing. This might be due to the fact that customers frequently associate more-priced products with greater quality.
This might be due to the fact that customers frequently associate more-priced products with greater quality. Perhaps changing your pricing will surprise you by improving your brand's image.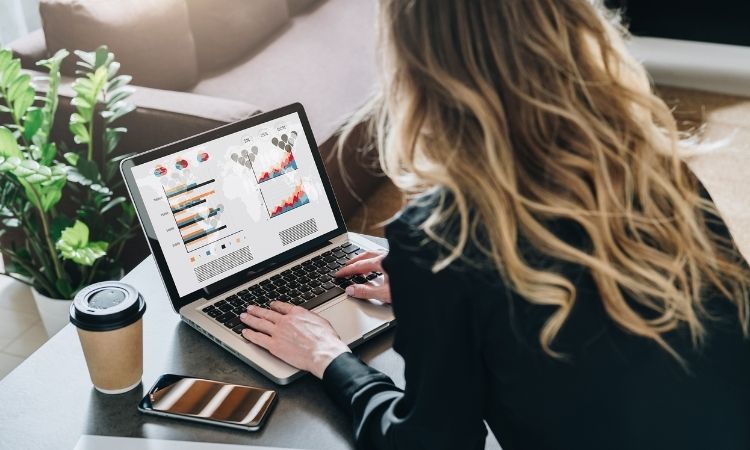 Cost-cutting: This is the logical next step. Reconsider how you handle both production and delivery. Is there any way to produce your items more rapidly or at a lower cost without sacrificing quality? Are you evaluating alternatives from different shipping companies to make the most cost-effective selections possible when it comes to shipping? If there's a place where you can save money, take advantage of it. There was a significant difference.
Weigh the Benefits and Drawbacks of Ads: If you have the option of using Offsite Ads, I would think about it carefully. If you opt in, you'll probably gain a lot of sales that you wouldn't have gotten otherwise, but you'll need to allow room in your profit margins for the rare 12% or 15% charge.
Keep Stale Listings to a Minimum: Because your listings renew every four months (at a $0.20 cost each time), make sure the goods you feature on your shop move within that time frame. Don't maintain stale listings on your website. They may wind up costing you more in the long run than the product is worth.
Obtain Community Assistance: The Etsy community is made up of a diverse group of vendors. Inquire on the Etsy community forum about how others have dealt with Etsy seller fees

, as well as specific advice for your own store.
6. Final thought 
It's critical to comprehend your Etsy costs in order to manage your business efficiently and maintain good standing with Etsy. Even so, figuring out what your Etsy costs will be might be difficult. These fees are determined by a variety of variables, including the item's price, your location, and the Etsy choices and subscriptions you use.
However, here's a tip: Use an Etsy Seller Fees calculator to estimate your costs — and earnings — for a particular item's sale. To receive a preliminary estimate, simply enter the selling price, delivery fee, and other data.