Marketers have continued to use "spray and pray" email marketing tactics over the years. The main concept is to build a strong email list, send out the same message to a large number of people, and hope and pray that someone will notice them and their efforts will be recognized. 
Unfortunately, this email marketing strategy is ineffective. Spam may harm your company's brand and jeopardize connections with potential clients. Focus on your audience, their requirements, and their behavior rather than sending bulk "one-size-fits-all" emails. Use email automation triggers to do this!
Finding something that performs with each of your automated marketing isn't as tough as you would imagine. Let's talk about what a triggered email is and how it functions with email automation before diving into many different email automation triggers samples.
I. Email automation triggers
1. What is an email trigger?
As an email marketer, you're well aware that there are many sorts of emails that are worthwhile to send. Many emails are one-time messages, such as newsletters, but others are part of a series.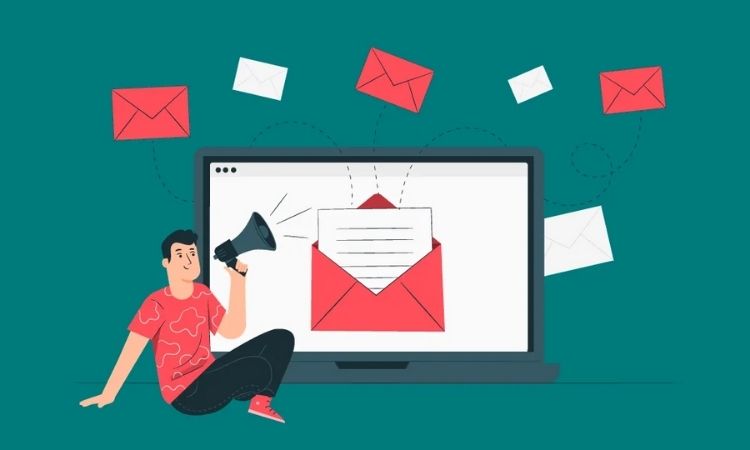 Email automation triggers are  events that would start your automation process immediately as soon as it occurs. The first step in building an automated process is to choose a trigger. When a customer or subscriber completes a certain activity, these series are frequently delivered automatically.
Each trigger in a process only fires once by default for each subscription. As a result, if a subscriber fills out that form once and then fills it out again later, the process will not be activated again. A "Repeat workflow for subscriber who…" option in the toolbar may be used if you want the automation to be activated more than once.
You don't have to worry about spamming subscribers because they can't be triggered just once in a 24-hour period. Furthermore, subscribers can only be activated a second time after completing the procedure.
2. Why use email automation triggers?
Automations are started when a consumer takes a certain action, such as joining a mailing list, making a purchase, or filling out a quote form. If you buy clipboards on an office supply website, you might get an email in a week asking you to rate the goods, or if it's your birthday, you might get a special discount. Inaction, such as opening an email but not clicking anything or adding an item to your cart but not completing the transaction, might be a trigger.
Not only can automation save you time when it comes to creating and sending email marketing campaigns, but it also saves you money! It also aids in increasing engagement, nurturing prospects, and providing a customized client experience.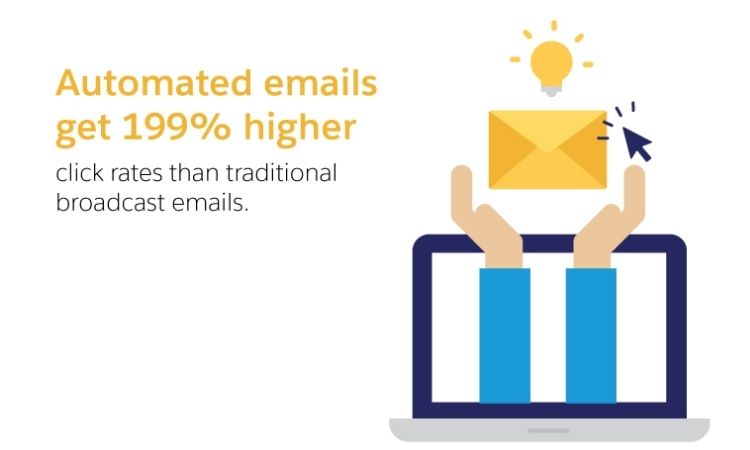 When you connect with a consumer depending on their activity (using automated triggers), it creates a more natural interaction, which builds trust and leads to sales. In fact, when compared to conventional emails, triggered emails can earn 24x more money each send.
Typical automatic transactional emails, such as account notifications and billing bills, are presumably known to you. However, there are a plethora of other ways to send excellent email content, such as online courses, freebies for new subscribers, product recommendations, and customer follow-ups, to name a few. All of these things can be automated with the use of a trigger – email automation triggers.
II. Top best email automation triggers in 2022
Because triggered emails and automated email campaigns work best collaboratively, you should spend some time looking at some email automation triggers examples below:
1. Welcome emails
The welcome email is a classic autoresponder that is sent immediately after a sign-up, the end of a free trial, or a purchase. Those communications, which say things like "thanks for joining up" or "here's your login details," are an important indicator of a user's standing.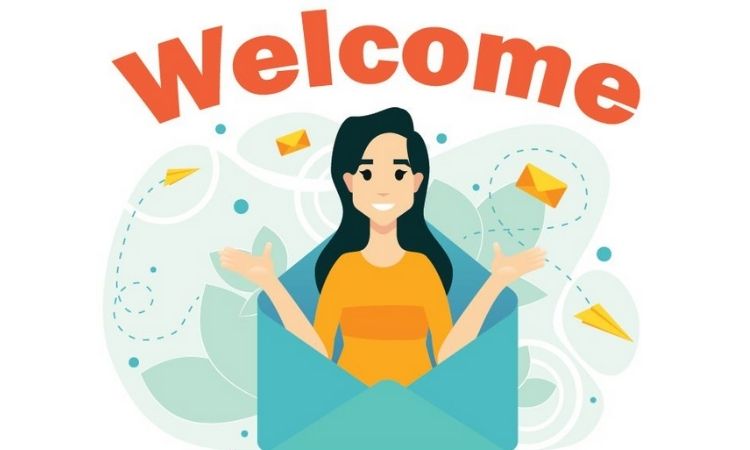 This type of email automation triggers allow you to connect with new subscribers, provide more information about your company (such as a user guide for a product or service, info about your user rewards program, and so on), ask them to implement themselves, and send them reliable sources based on interests.
If you're new to marketing automation, one email should suffice to greet your subscribers. When you gain experience, you can make changes to your automation.
Create and send out more customized welcome emails to make the user feel at ease with your company and to establish brand trust. Your welcome emails – one of email automation triggers should be visually appealing and have a favorable impression on your recipients. If you add more value to your message, your client will be pleasantly surprised by your thoughtfulness.
You're not only saving time and money while increasing sales, but you're also giving your subscribers a great experience. You can set a benchmark for the user experience by using welcome sequence automation.
This implies that every time a new visitor subscribes to your website, you'll know exactly what they'll get and when they'll get it. This establishes a clear benchmark and aids in the identification of problems while optimizing your marketing efforts.
If you see that your open rates are low, you can try altering the send time, subject line, or automation's From name. If your email's engagement rate is low, you can improve the email's content and CTAs.
Manually delivering welcome emails creates a significant problem when it comes to determining where to optimize because each email is delivered at a different point of time your subscriber signs up and may even have different wording.
2. Nurturing Emails
Throughout the purchase process, customers seek different types of content at different times. The fundamental goal of these emails is to assist customers obtain what they want depending on what they've done – deliver the appropriate message to the right people at the right time.
The benefit of nurturing emails is that they allow you to develop a two-way communication channel. Customers can provide constructive feedback and ask questions, allowing you to gain a deeper understanding of your customers' needs.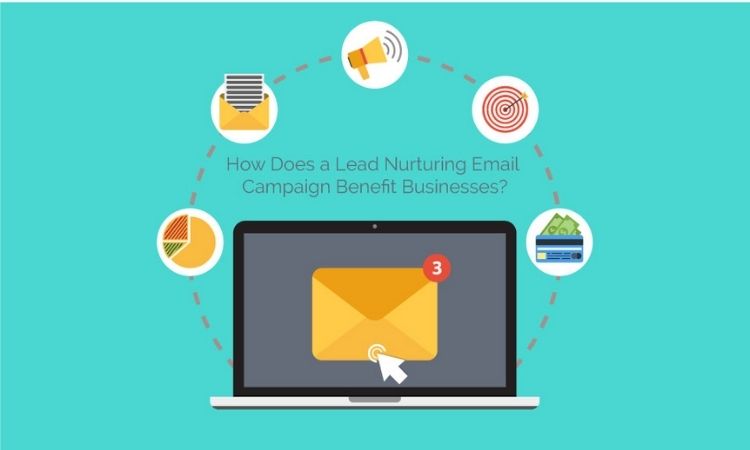 After you've sent your emails out into the wild, you'll be able to see what works and what doesn't. To get the most out of your emails, constantly testing and learning about subject lines, frequency, and copy.
Assume you have a software-as-a-service (SaaS) product. You can send a series of automatic nurturing messages to your users to educate them about your features or to promote new releases. SE Ranking, for example, is sending out a series of triggered emails to help consumers better grasp how their major features might aid in the completion of SEO duties. It assists their customers in learning more about the qualities and how to apply them to their business.
Your email automation triggers platform can assist you in swiftly getting these types of emails up and running.
The most common prebuilt email automation triggers strategies, for example, are onboarding / welcomed and nurturing emails. Templated email sequences make up prebuilt marketing workflows. As a result, they come pre-installed with the tool, and you won't have to start from the beginning.
If you have a special nurturing flow in mind, make sure your automation can activate based on website behavior and link clicks so that the campaign is built on interaction. Additionally, your marketing flows are completely configurable.
3. Special occasion emails
Customers are the lifeblood of any company. You must reward their loyalty to keep them, and special occasions are great for sending customized automated emails prompted by a specific condition.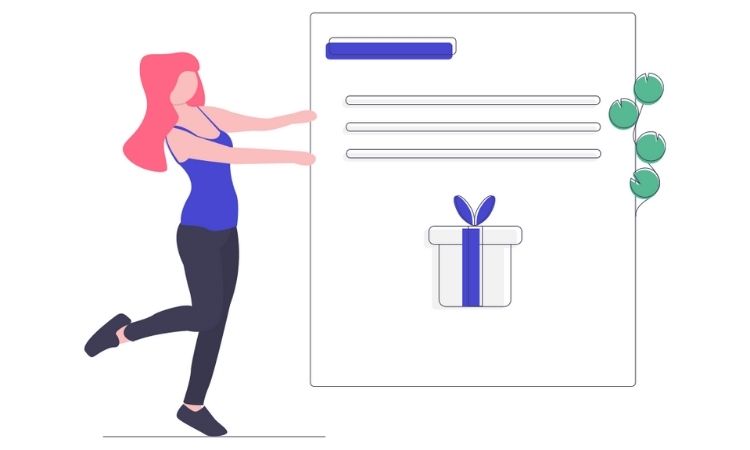 Birthdays, holidays, and anniversaries in customers' lives, as well as dates marked by your firm or for clients' purpose, follow-up meetings, and notices, are two types of important events.
Birthdays, anniversaries, and other significant dates can be easy to remember in some situations. However, you may need to devise a method of gathering this information on occasion. You can make unique requests, conduct surveys, or employ a dedicated form strategy. If you ask for this type of information, you should entice subscribers by offering a substantial advantage or an incentive.
While many marketing teams will opt to send these communications to everyone on their mailing list automatically, some companies will provide consumers with a preference center. Subscribers may choose which segmented lists they wish to be a part of using this preference center.
If they opt in to get information about forthcoming events, email automation triggers are established for later. When an event notice becomes available, it is automatically delivered to people on the list.
4. Shopping cart abandonment emails
Customers having added items to their carts but have not checked out receive abandoned cart emails. It's a really effective strategy for retaining customers. According to a recent Klaviyo research, firms who use cart recovery emails recover 3–14 percent of lost purchases, with an average revenue per receiver of $5.81.
This statistic isn't particularly impressive on its own. When you increase that by thousands of abandoned carts over the course of a year, it's apparent that abandoned cart emails may help you generate more money.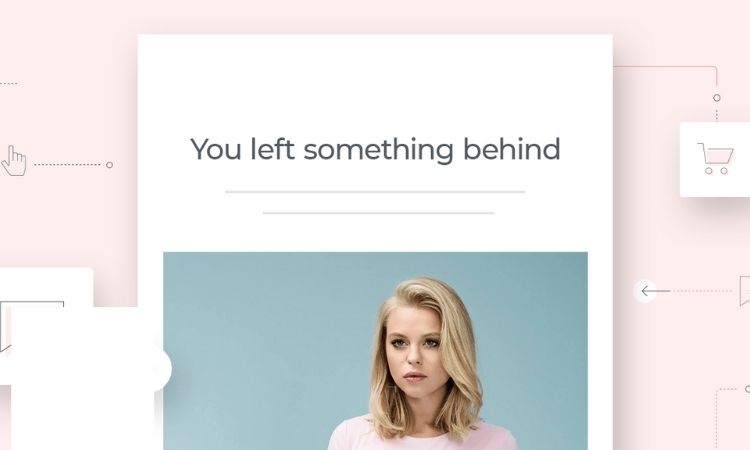 These email automation triggers remind customers of what they left behind while encouraging them to come back and finish the transaction. To encourage users to return to the checkout page, you may personalize abandoned cart emails with discount codes, product photos, CTA buttons, and so more.
When a store visitor gives their email address but departs before completing their purchase, this triggers an automated cycle. These emails are known as cart abandonment emails, and they're great for retaining customers. When subscribers abandon their shopping carts, this process – email automation triggers will be started.
5. Send friendly reminders
Reminding your clients with kind reminders is an effective strategy to retrain them. If a customer's payment card or product subscriptions is about to expire, for example, you can notify them that they need to update it.
For many businesses, repeat business is a vital driver of growth. According to studies, acquiring new clients is five times more expensive than keeping existing customers.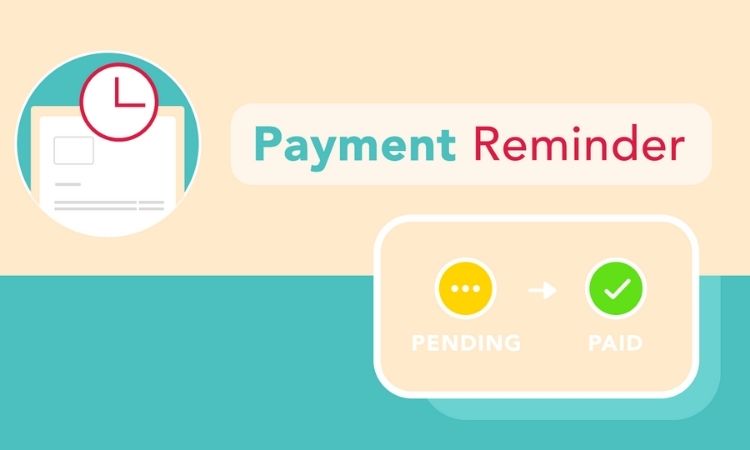 Sending regular reminder emails to your existing clients is one of the finest strategies to gain repeat business. This is especially effective for businesses that provide a service that consumers use on a regular basis, such as mechanics who provide frequent tune-ups or dentists who perform routine check-ups and cleanings.
This type of automated reminder email – email automation triggers – is simple to set up as long as you keep track of your client's most recent visit timings. Set up the email to be sent 3 months later ( or whenever your recurring schedule is) to notify them that they are due for their next visit, using a custom date element to record their last visit.
This type of email automation triggers aids in the growth of your business by encouraging existing clients to return for another visit, as well as increasing revenue from your existing customers.
6. Transactional emails
Transactional emails are available in a variety of formats. The most typical transactional email, on the other hand, is one that is prompted by a purchase. A digital receipt is delivered to the customer's email address on file or the one they provided at checkout when they make a transaction from your e-commerce store.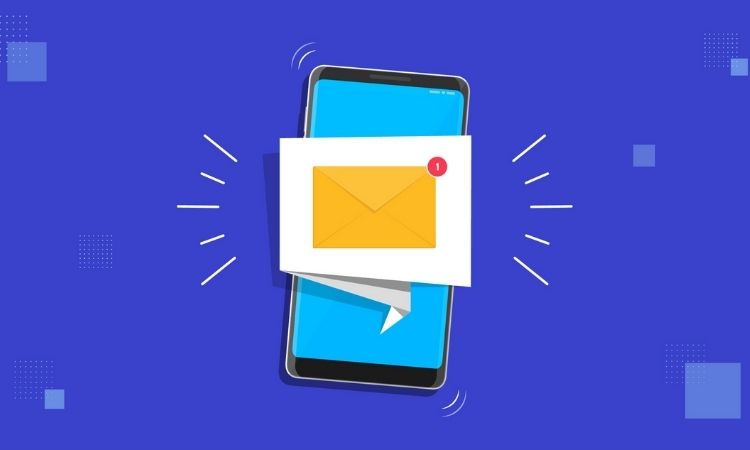 While the most frequent email is sent promptly by a purchase, these emails can be triggered for a variety of reasons.
By definition, a transactional email is sent to confirm the completion of a transaction. This type of email automation trigger isn't just triggered by a transaction. It includes all of the necessary information to encourage up-sells and cross-sells. It could be information on an order's status, service request updates, delivery confirmation, and so on.
You can add extra value to your email to demonstrate that you care and cherish it. This can be in the form of a purchase or one of the following options:
Confirmation of registration

Notification of password reset

Request for feedback

Offer customers additional things that they might be interested in

Share links to community forums that are beneficial 

Provide answers to frequently asked questions

Provide how-to guides and tips for using products or services

Invite them to connect with you on social media
Once these kinds of transactions have been completed, the consumer should receive an automatic email acknowledging the occurrence to confirm what happened and when. Even better, those who use automated transactional emails in their marketing plan get 8 times the number of opens and clicks as other types of emails, as well as 6 times the amount of income.
7. Product review emails
This form of "ask" email is straightforward and emphasizes the importance of client feedback. Personality should be introduced into the email.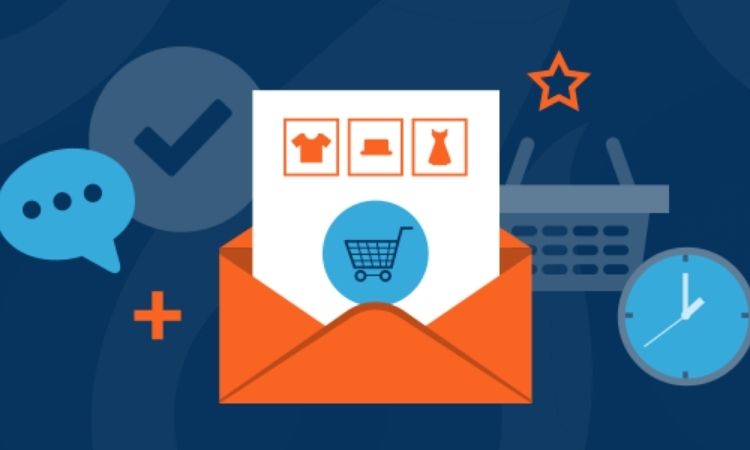 Reviews are beneficial to your company in two ways. First, you'll receive more feedback about your product or service, which might help you increase sales. Even negative feedback is beneficial because it allows you to improve your items.
Second, consumers are more inclined to order from you again if they return to review your offering. In exchange for a review, you can even offer a coupon or a discount.
Users at TripAdvisor are encouraged to open and read their email automation triggers in order to contribute to the community by using personalized reports.
III. Wrapping up
Email automation triggers account for a small portion of total email volume. Even with little volume, well-planned programs have a significant impact on email marketing sales.
Email automation triggers can be sent on autopilot, resulting in increased revenue over time. Emails that are well-designed can help you break new ground, improve revenue, and better service your customers.
They're especially useful for e-commerce businesses. You can try out different triggered email tests to see what works best for your company.