Running your own business on eBay can be very rewarding but the online auction site also presents unique challenges to your day-to-day operations. So, what is the best way to get ahead of the competition and get the most out of your business? Using eBay seller apps! However, choosing the right ones for your eCommerce store isn't easy.  
Here are the top 15 most useful eBay seller apps in 2022 based on popularity and practicality. Check it out and see if any of these apps can help you boost your sales today!
1. Information about eBay 
eBay is a multi-billion dollar online auction and shopping website with operations localized in over 30 countries. It is headquartered in San Jose, California. eBay was founded by Pierre Omidyar in 1995 and became a notable success story of the dot-com bubble. Undoubtedly, it helped redefine e-commerce. 
What started as an auction site for individuals looking to sell off their belongings has expanded into a virtual marketplace where you can purchase just about anything. From brand-name electronics to collectibles and clothing items, eBay has something for everyone.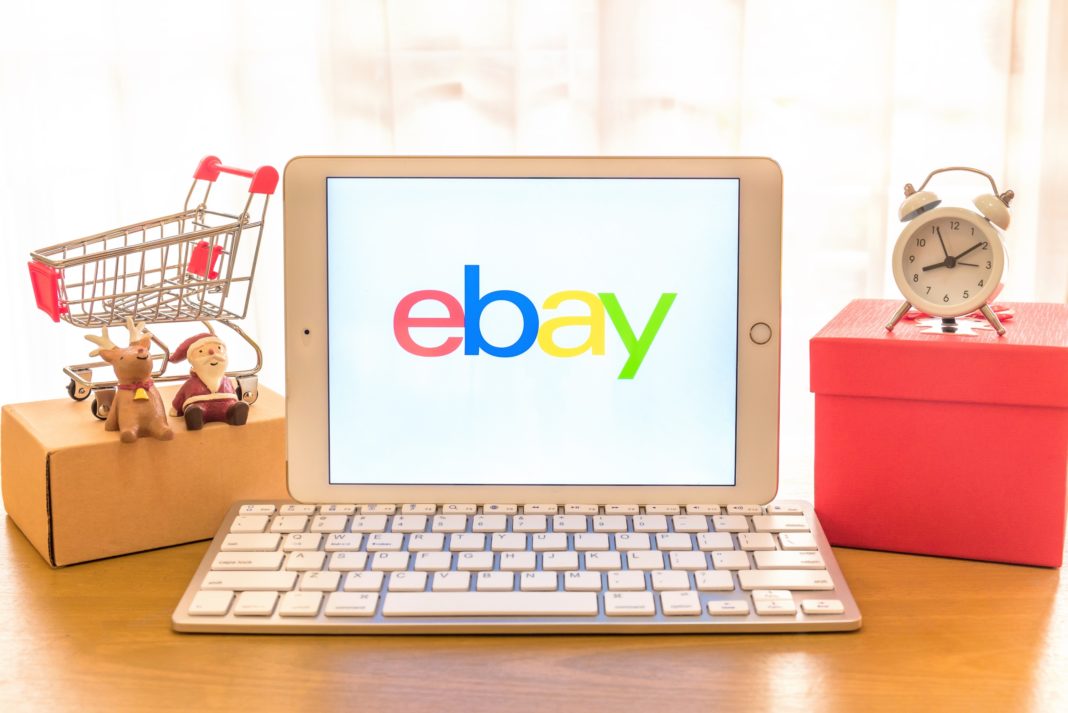 As of 2021, eBay currently has over 187 million active users on a global scale, with 1.7 billion listings. Although eBay has primarily facilitated transactions between individual consumers, it has recently moved into other businesses, including online retailing, wholesale trading, payment services, etc.
2. Benefits of using eBay seller apps 
Few sellers, whether they are experienced or new to eBay, would argue that it isn't one of today's most easy-selling marketplaces. As more sellers choose to incorporate eCommerce into their business strategy, integrating eBay seller apps brings a lot of advantages. They can help you to improve your eBay business. 
One benefit of using eBay seller apps is that you can improve your selling efficiency by automating repetitive tasks. For example, instead of manually listing items, you can quickly set up an automated listing service with an app like Selz to upload large numbers of products with a single click. These services also let you add multiple photos and edit your listings for increased efficiency.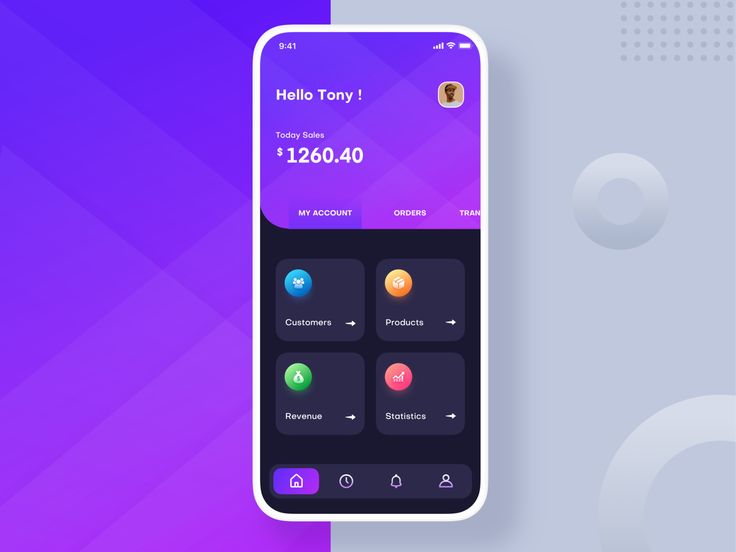 Many eBay seller apps allow users to integrate product feeds from third-party e-commerce platforms into their own eBay store. It's a convenient way for sellers who sell on other sites as well as eBay to manage their business from one place without having to juggle between several different websites.
By streamlining your management of eBay transactions through specialized software, you'll be able to operate more efficiently and reap long-term rewards in terms of time saved and revenue generated. They can help you develop a strong brand presence and increase sales.  
No matter what type of seller you are, to stay ahead of the competition and to be successful, you must take advantage of eBay seller apps. Definitely, eBay seller apps will make your life as an eBay seller easier. 
3. Top 15 eBay seller apps 
Let's discover the best eBay seller apps that you can use to power up your business. 
3.1 Podorder – multichannel selling tool
Podorder is a multichannel selling tool that integrates with dozens of marketplaces, from Amazon to Etsy. It offers a range of useful features to make it easier for you to manage your business, automatically manage products on multichannel at a single dashboard and synced print on demand orders and fulfillment for each marketplace. Also, Podorder supports both backend support and report for sellers as well.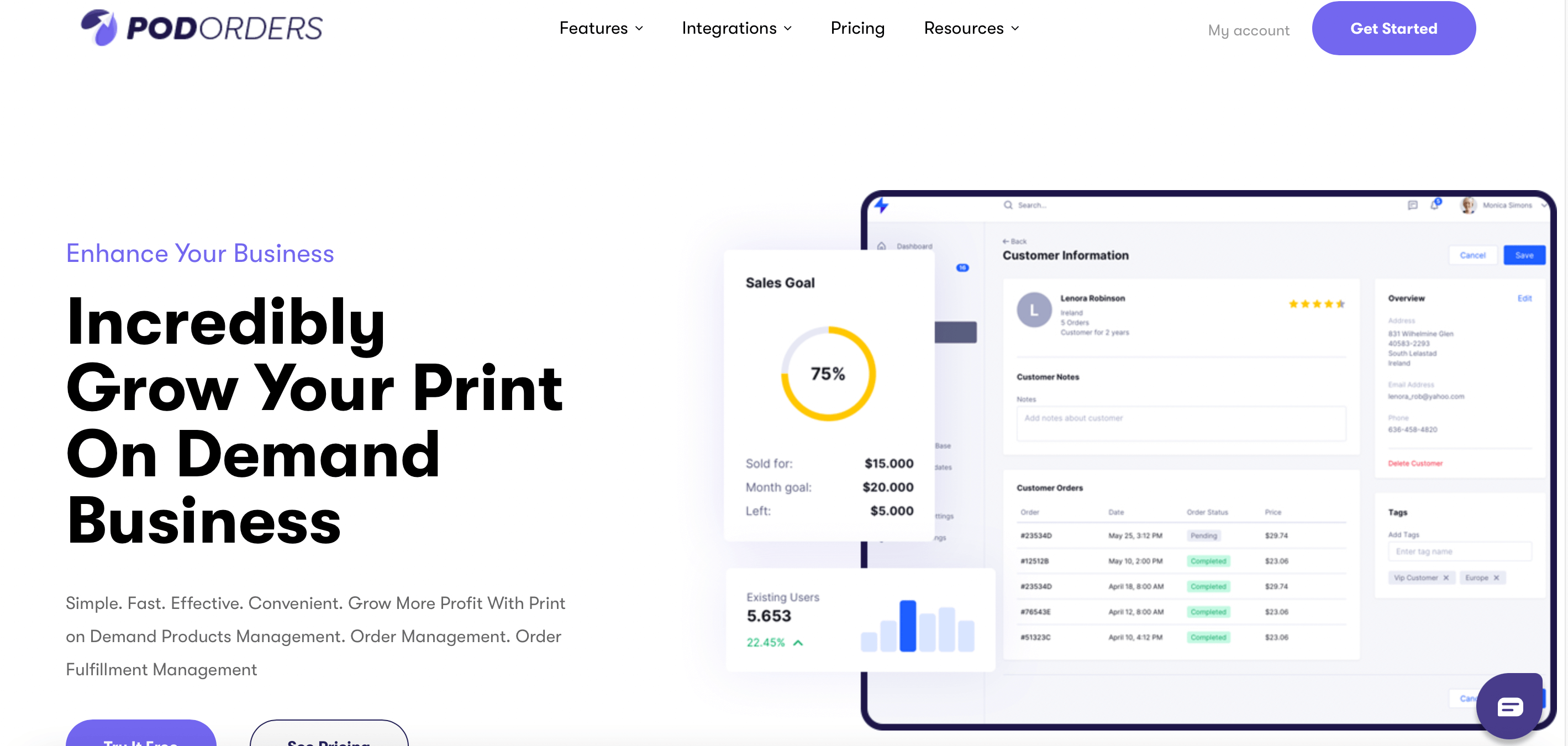 The Podorder app also allows sellers to track their business easily, as well as set marketing budgets by platform or product. If you're an eBay seller interested in automation tools that will help you take control of your business – especially if you're juggling multiple sales channels – be sure to check out Podorder. Podorder definitely can be considered as the best eBay seller apps. 
3.2 Interparcel Shipping Manager
We all know that shipping is one of the major expenses for any company. Finding an appropriate shipping rate can be quite tricky, that's why Interparcel Shipping Manager comes in handy. This app provides you with various options to choose from, including size and weight, which makes it perfect for sellers who sell small goods like electronics or shoes. 
It helps make your business run more smoothly and allows you to maximize your profit margin. Even better? You can also send automatic notifications to customers when their packages are ready for pickup at their local USPS location. 
3.3 Auctiva 
Auctiva – one of the worth-noticing eBay seller apps – provides you a fast and easy way to list your items on eBay. The app lets you create professional listing templates from scratch or select from their pre-made template. You can then upload and edit photos before adding your description and pricing details – and even optimize those details for search engines.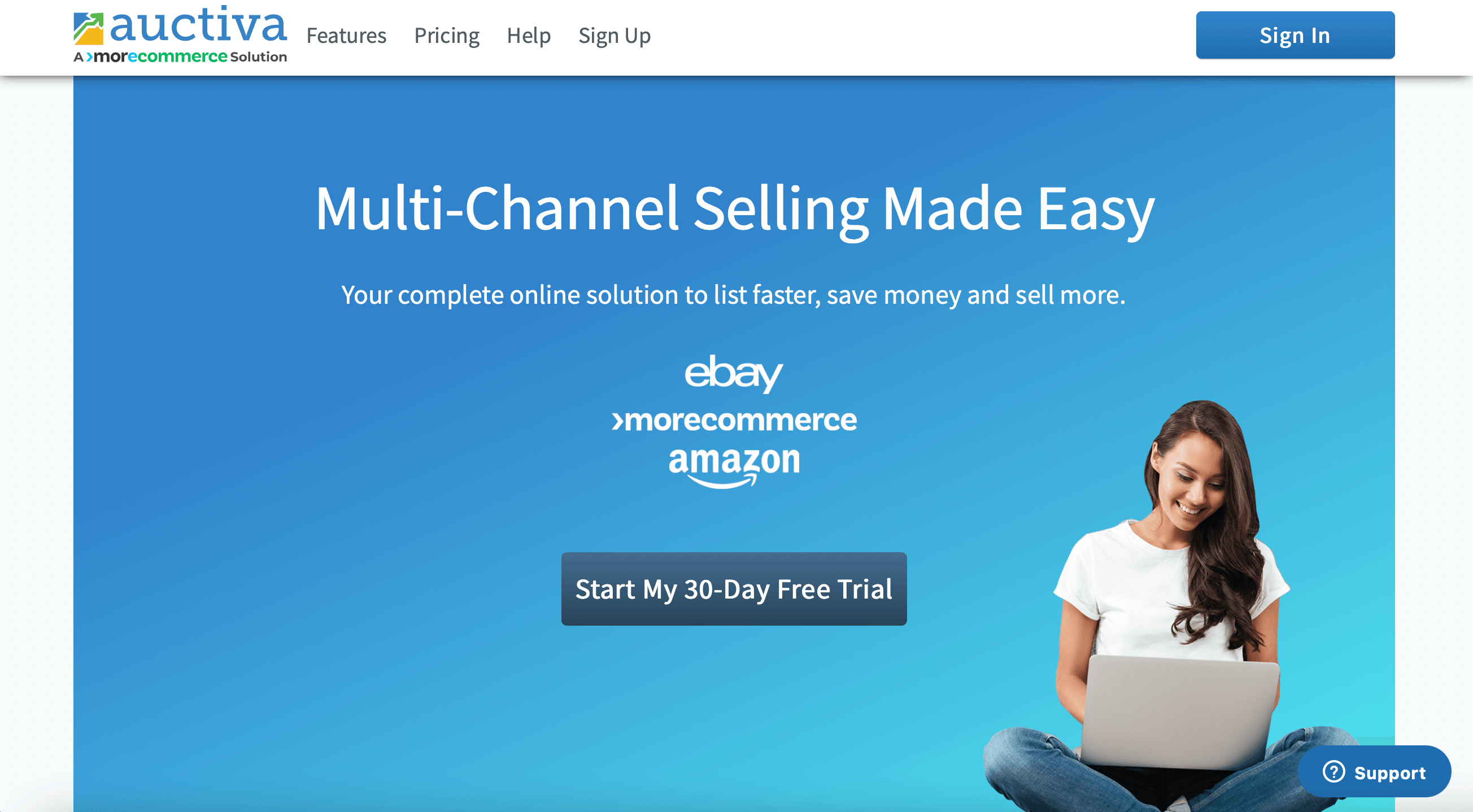 Once all that's done, you can save your listings as drafts and return to them whenever you want. There's also an option to sync your work across multiple devices (iPad, desktop computer, phone), which comes in handy if you like to post at different times.
3.4 Terapeak 
Next to knowing how to be a better seller, knowing how to use price history and market data is one of the best weapons in your arsenal. Terapeak gives you everything you need and so much more: 
You can identify and locate similar items sold on eBay

Compare multiple listings against each other

Figure out who's bidding on an item you're trying to sell

Get advanced trending information about price changes over time.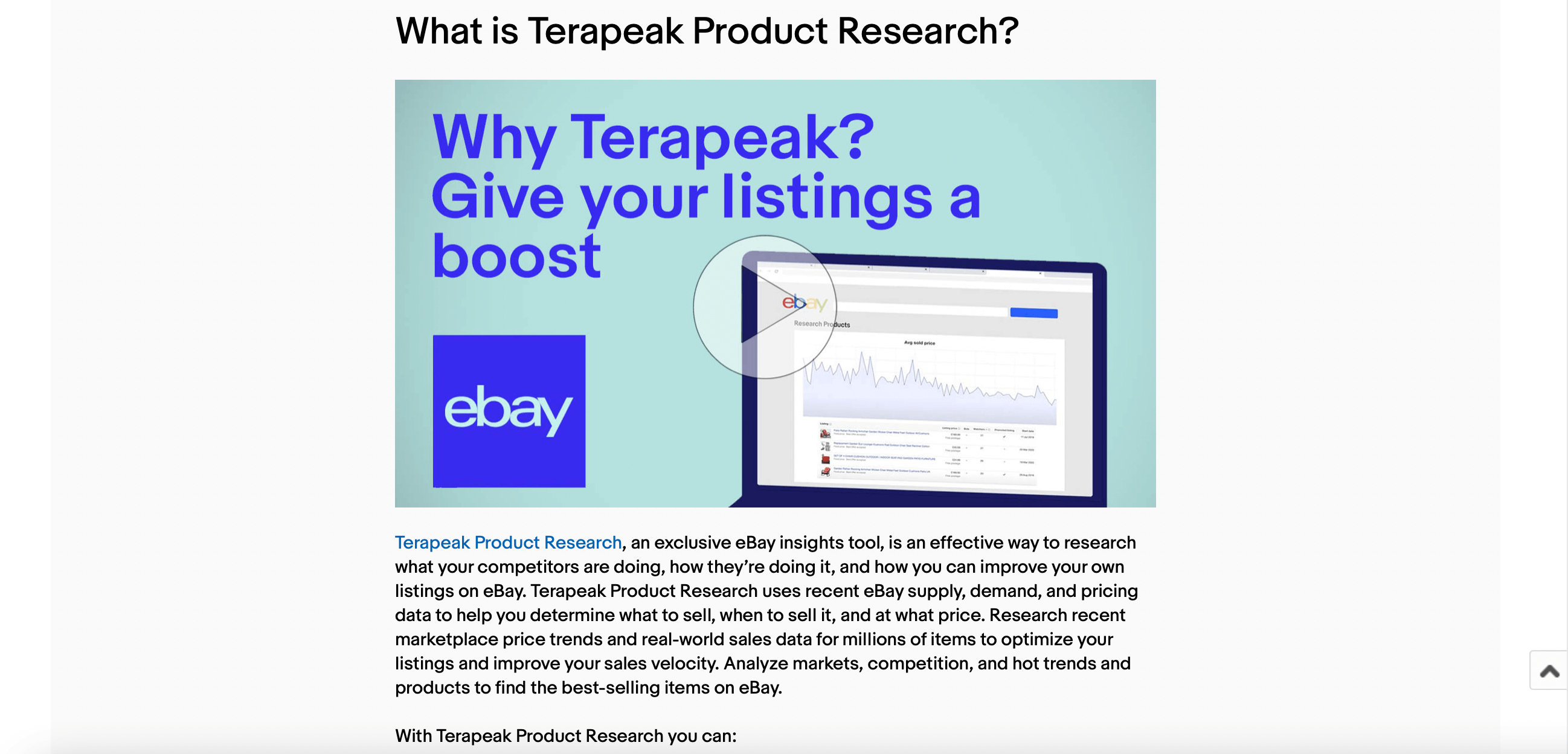 A must-have tool for serious sellers. If you aren't using it already, you should be. And if you are already using it, we recommend upgrading. There are plenty of new bells and whistles in store for even frequent users.
3.5 Inkfrog – eBay Seller Apps
Inkfrog is one of the most downloaded and useful eBay seller apps. It can easily replace Excel or an accounting program to help you track your sales, expenses, and profits. All of these are updated in real-time, so you have a clear picture of how well your business is doing. It also helps you keep track of inventory and suggest products that may be good for you. 
The free app is offered with a paid option as well. You have two options: $19/month or $179/year for 100 products, 5 pages, and unlimited transactions plus a bunch of other features. 
3.6 Checkaflip
Checkaflip allows you to check current eBay prices, as well as prices from popular price comparison websites like Nextag. This means that you can quickly find out if your product is competitively priced or if it's underpriced. The information is presented in an easy-to-read chart and helps you make more informed selling decisions.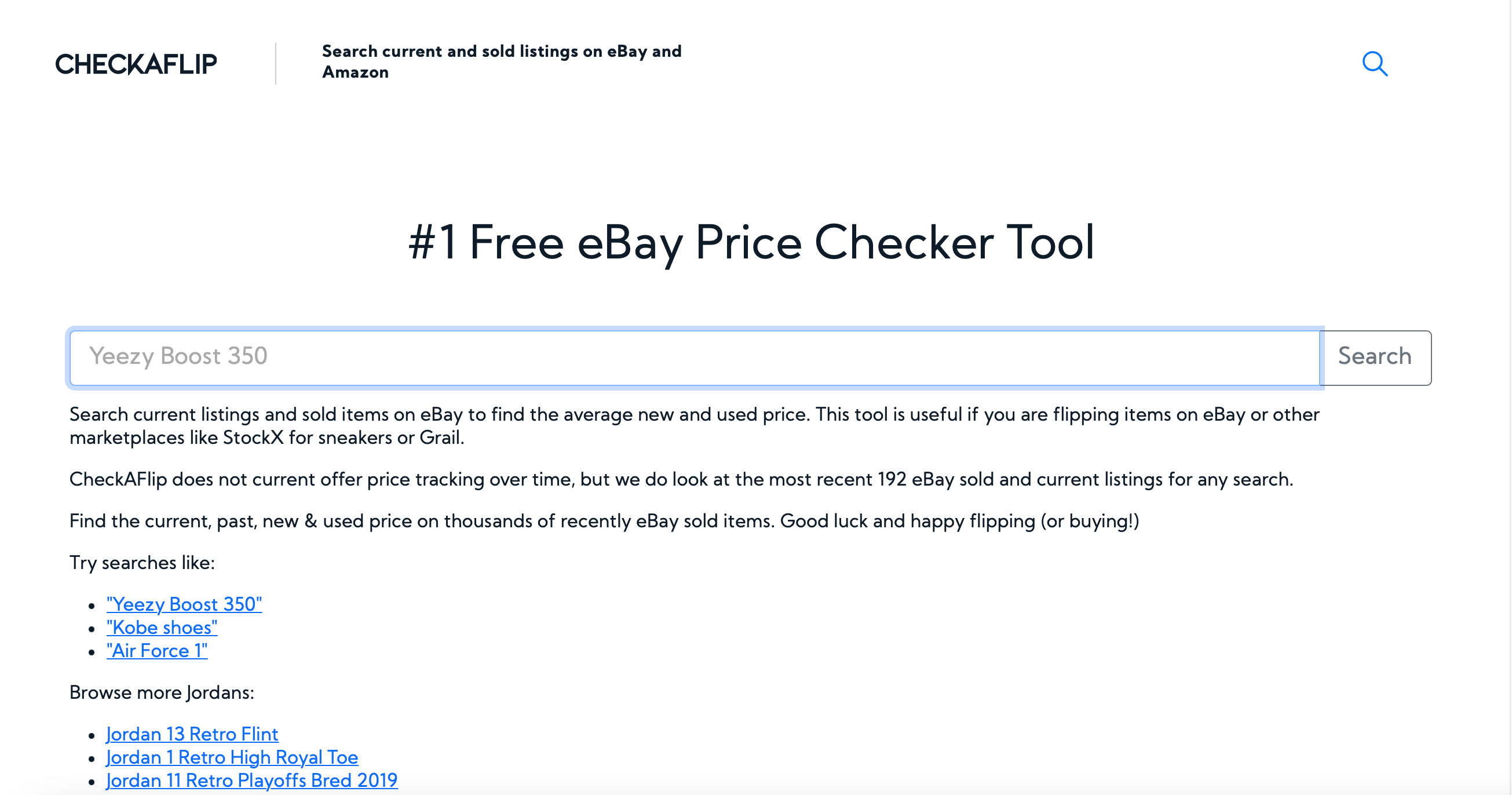 Of course, it also has a price tracker function which you can use to track competitor pricing history and monitor changes over time. Also helpful for people who want to sell items online but don't know what they're worth! Checkaflip undoubtedly can be considered as top eBay seller apps that makes making sales easier.
3.7 Sellics 
Sellics is an app that gives you an in-depth look at all aspects of your eBay business. Sellics' powerful set of applications connects you with your eBay, Amazon and Shopify data. It provides reports on your inventory, sales volume, profit margins and more.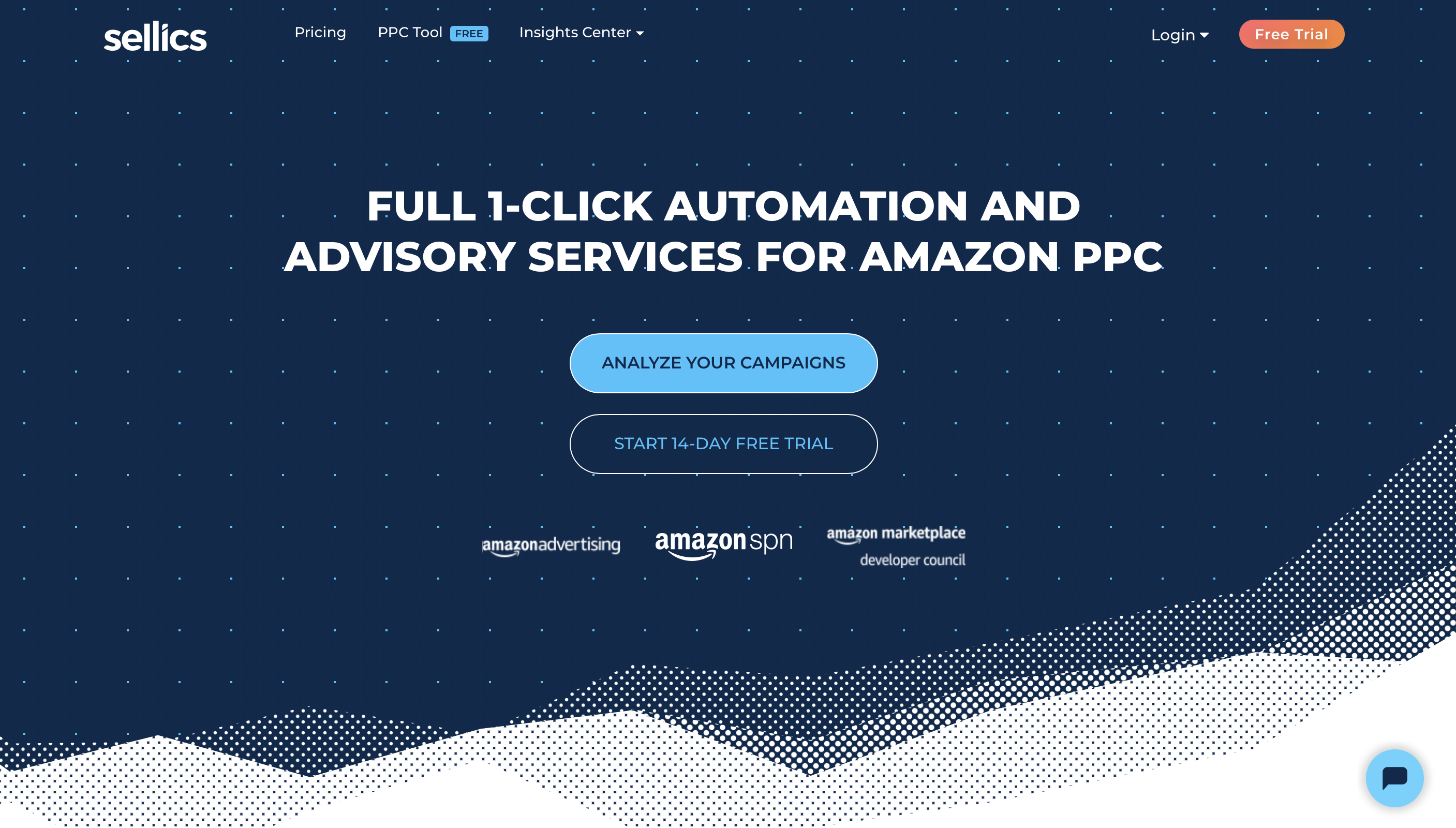 You can use it to quickly scan through sales data or dive into detail using visualizations and filters. Another useful feature is its ability to help you set prices for items based on competition analysis to ensures that you are pricing competitively at all times. Finally, Sellics makes it easy to track keywords that bring customers to your listings by analyzing past search terms used on eBay.
3.8 AfterShip
Buyers are often in a rush when checking out, which is why it's important to make sure you ship your package on time. AfterShip allows you to scan your shipment's barcode and send tracking information via email without ever logging into your account. It keeps all of your shipments organized in one place, even if they are coming from multiple online marketplaces.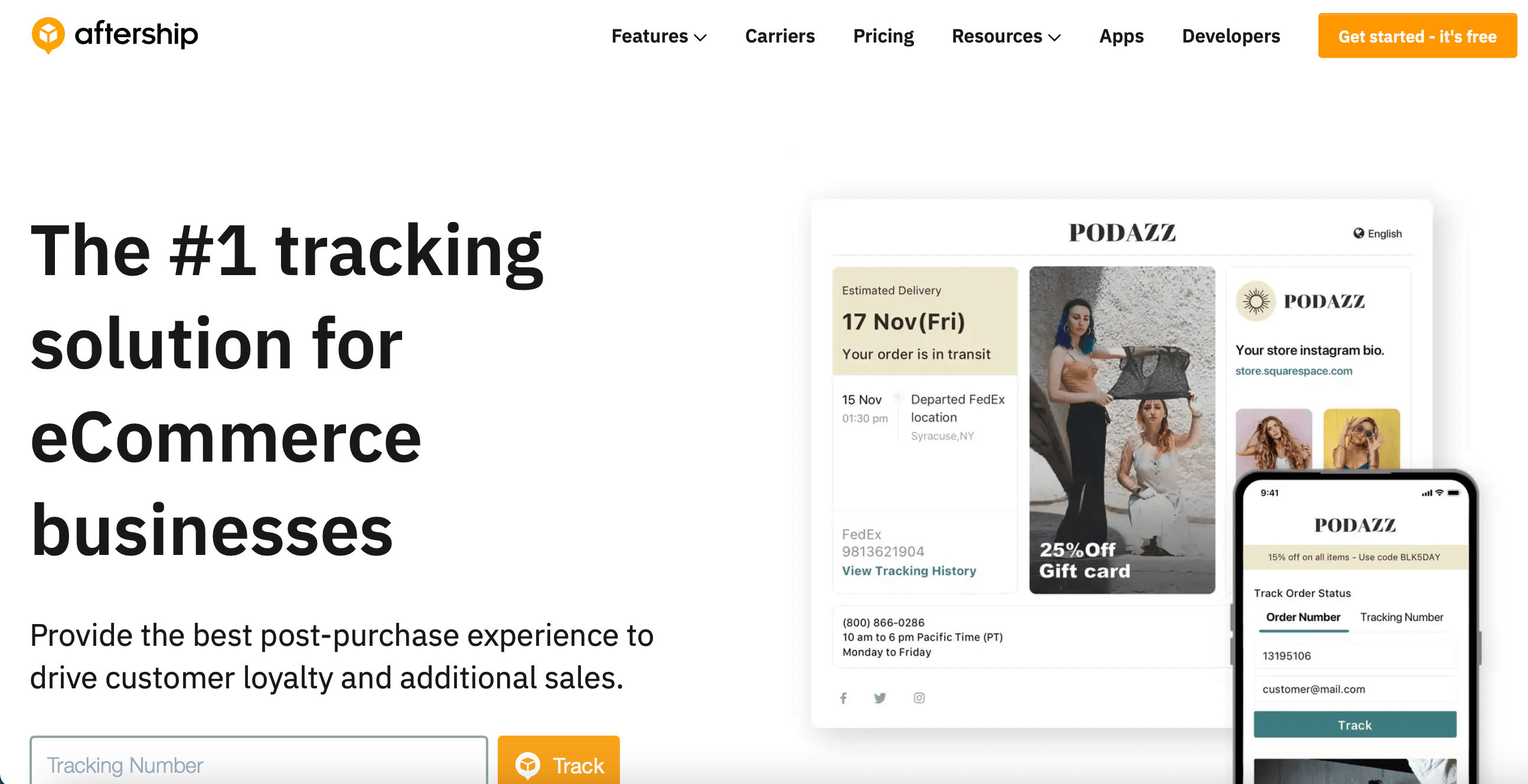 Plus, buyers who want more information on their packages can reach out to you through AfterShip rather than bugging you or leaving bad feedback. Your customers will thank you for being so responsive! 
3.9 Sellbrite
Sellbrite is a software-as-service (SaaS) based management tool for eCommerce sellers. From order management, analytics dashboards, returns processing, automated email templates, and more – there isn't much you can't do with Sellbrite! It offers valuable tools that will help sellers become more efficient when selling on eBay.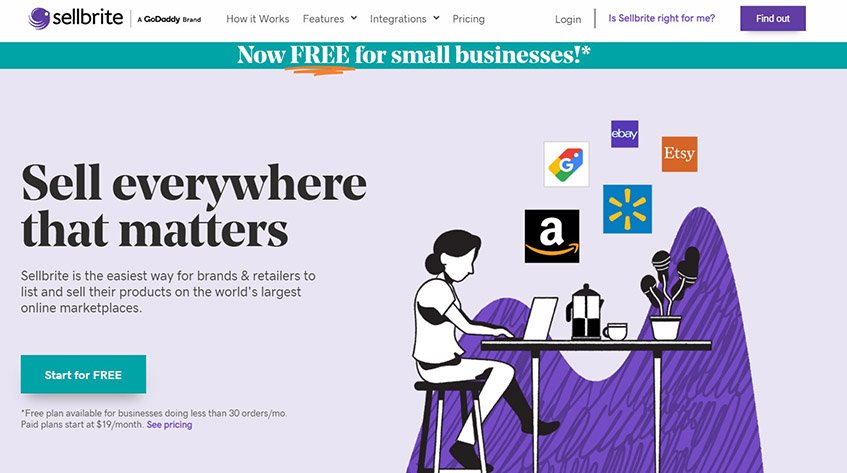 By automating many of your tasks, Sellbrite can save you valuable time. The app's interface is easy to navigate. If you want to use third-party shipping services, Sellbrite has you covered. You can also use Sellbrite to purchase shipping labels, get alerts when new orders are placed, and get notified when specific amounts are due for payment. 
3.10 GoDataFeed
GoDataFeed is among the top eBay seller apps. It is a simple to use tool that keeps your listings fresh in both Google and Bing searches. What it does is crawl through your product catalog daily, pulling in data to make sure that your listings are up-to-date. GoDataFeed provides accurate sales and profit numbers, which allows you to improve your search ranking on key phrases based on your sales history.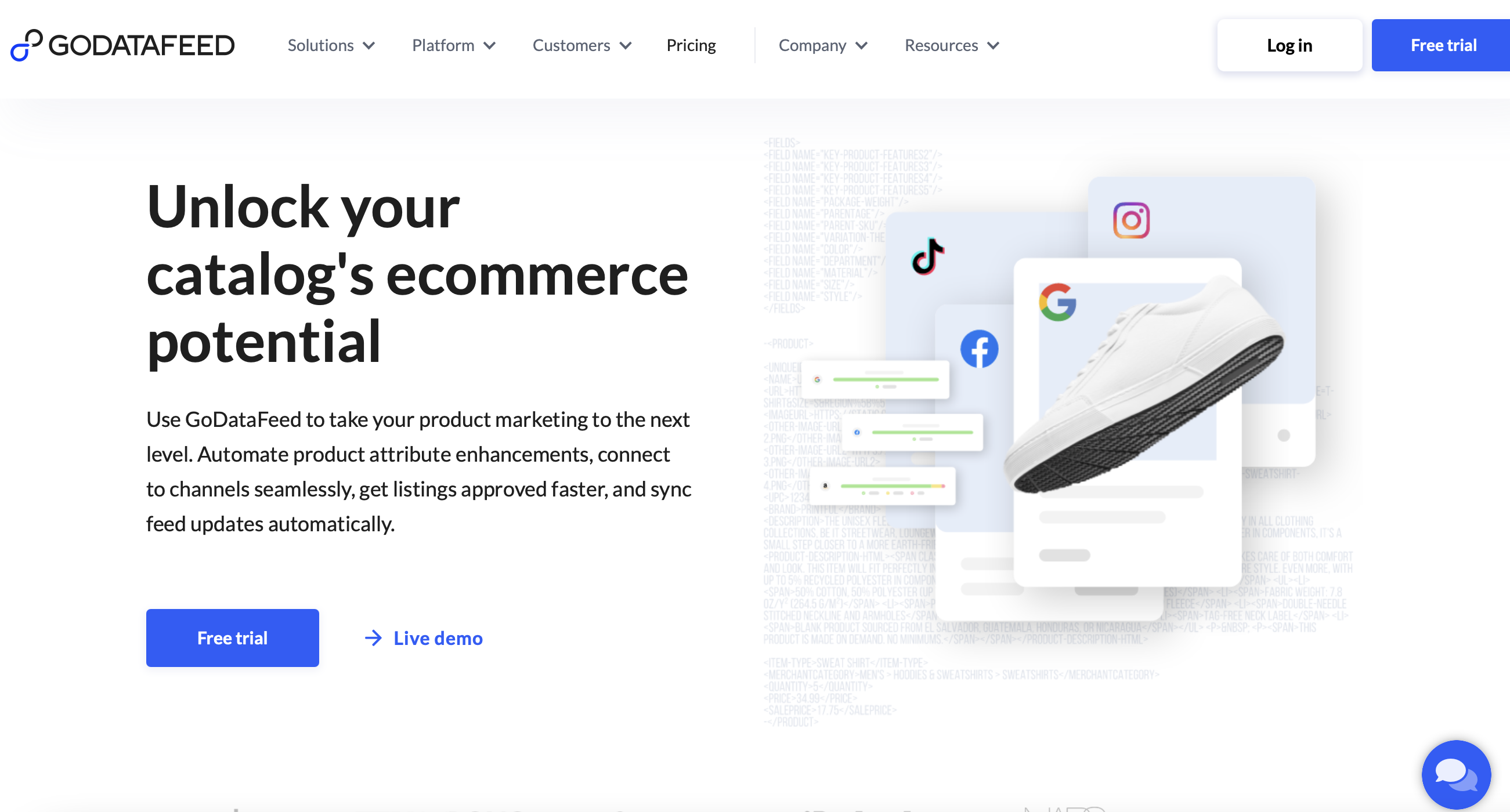 It costs $19 per month, but it's worth every penny for small businesses. GoDataFeed makes sure you can focus on selling instead of making sure all of your products are showing up when people search online.
3.11 Feedback Boost
Feedback Boost is a great solution for smaller businesses looking for tools that will help them maintain ongoing communication with customers and service interactions. With Feedback Boost, getting positive reviews is as easy as emailing your buyers.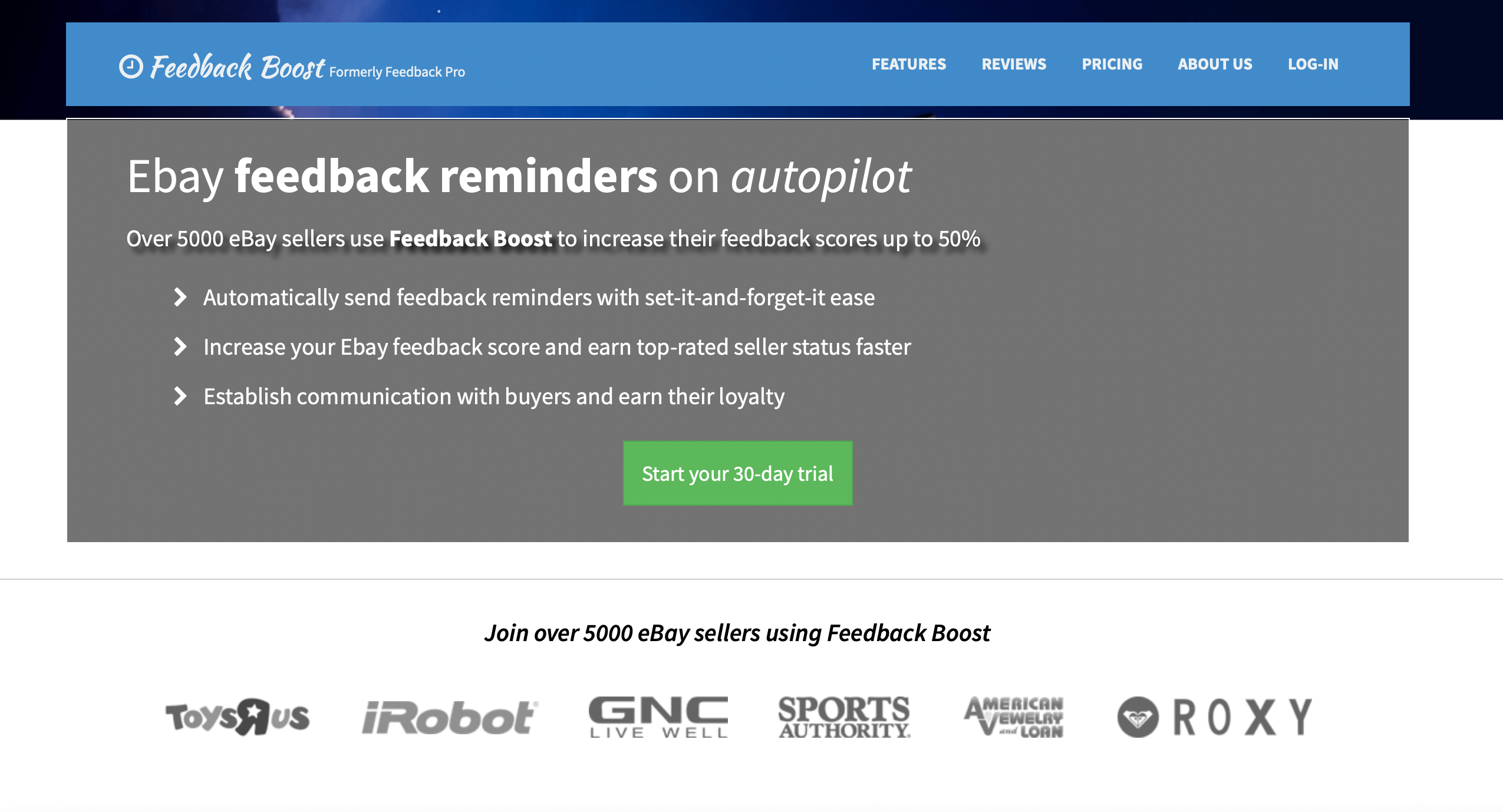 With custom email templates, you can reach out to your customers, let them know you're there for them if they have any questions, and remind them that feedback makes their buying experience better. And if someone leaves negative feedback about your product, you can take steps toward resolving it quickly. You can also link to Feedback Boost directly from your seller dashboard. 
3.12 ChannelAdvisor
ChannelAdvisor is one of our favorites eBay seller apps with significant amounts of inventory. It lets you keep tabs on new bids, check up on your existing orders, manage feedback, get shipment details and even track inventory. What's more, you can create automated email campaigns to build customer loyalty and run reports so you can see how well your business is doing at a glance.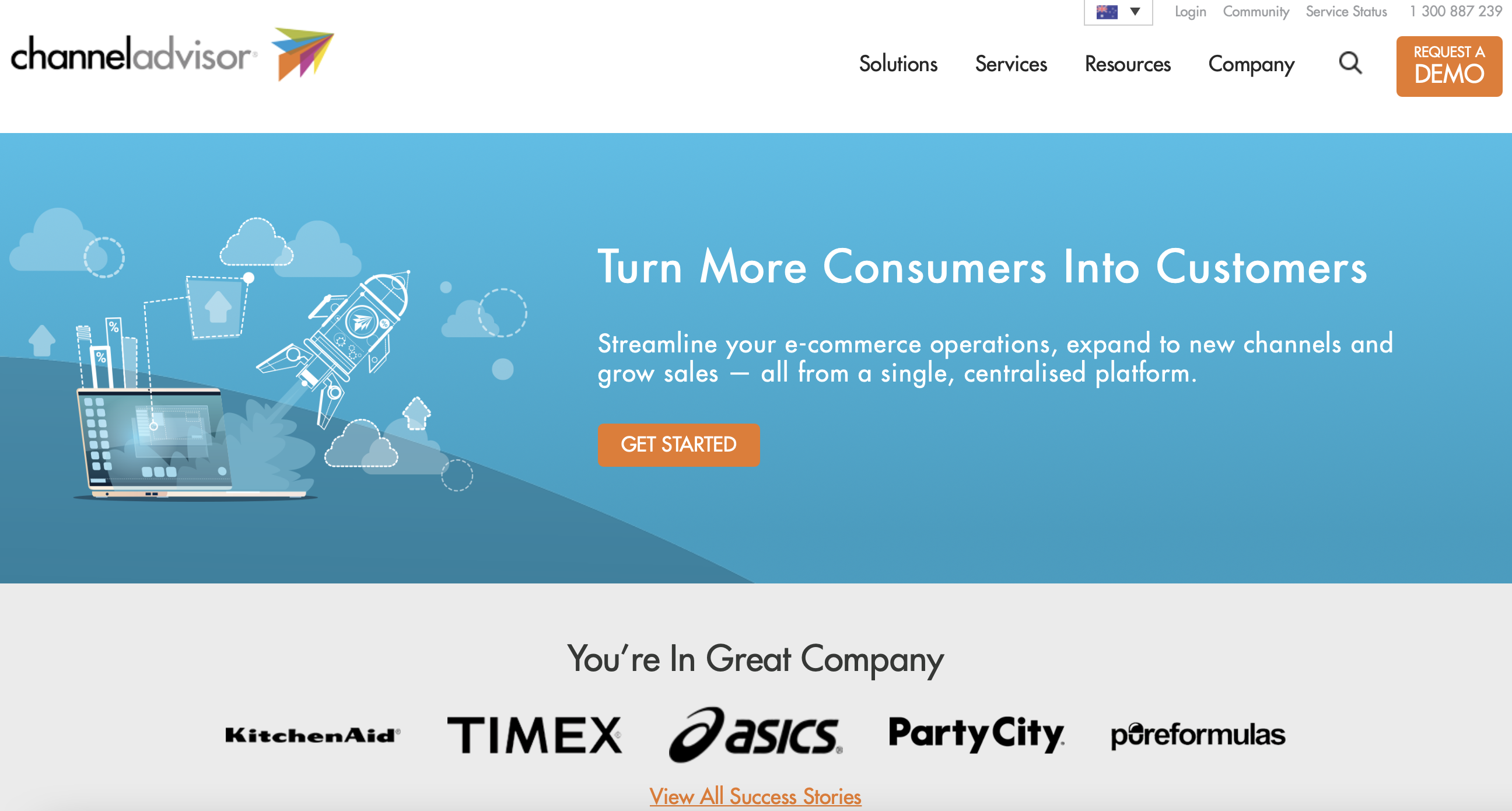 One handy feature allows you to schedule product listing changes so that you don't have to do it manually each time something needs changing. It's free to download but costs $30 per month to access its full features ($20 if you sign up for annual billing).
3.13 Title Builder
Title Builder provides you with helpful titles for listings that help boost your click through rate. A catchy, well-written title is essential if you want people to click on your listing, but coming up with those kinds of titles can be tough. Just pick a category, enter in some keywords, and Title Builder will generate a title for you, to draw in buyers to your listing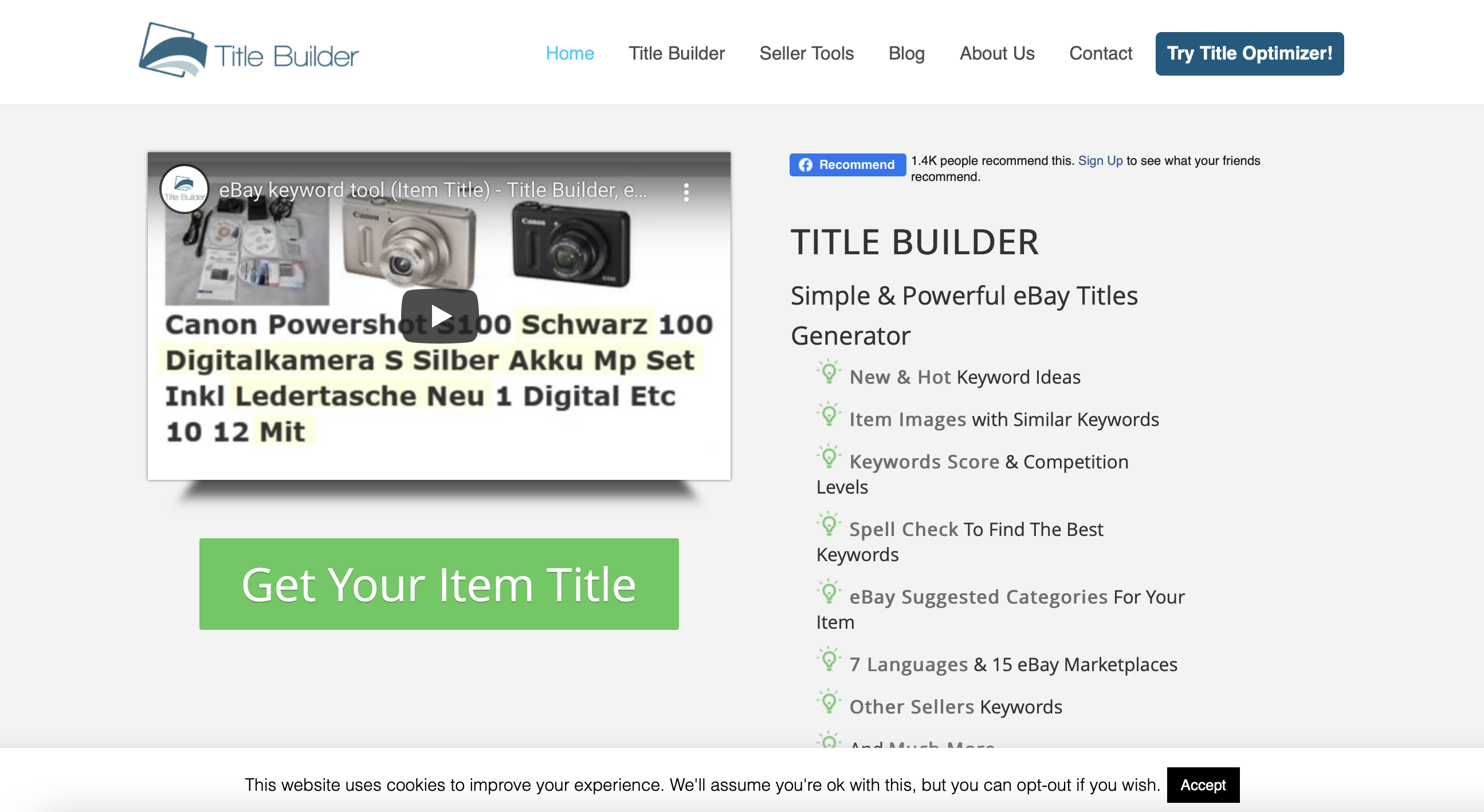 This is an excellent app for sellers who want to make sure they're leveraging their product descriptions to bring in potential buyers. That's why Title Buider becomes one of the greatest eBay seller apps. 
3.14 Solid Commerce
Solid Commerce is a suite of tools that can streamline and simplify your whole business. From order management to invoicing, inventory, and more, Solid Commerce has you covered. With apps for Mac and iOS devices, you can view everything from a tablet or computer on-the-go. 
Whether you're a small company or a one-person seller who needs an extra hand with fulfillment, Solid Commerce can be your saving grace when it comes to selling on eBay. Once there's a sale, you can choose to ship it through Solid Commerce. It also integrates with several shipping carriers so you don't have to re-enter all your information on each one.
3.15 WowLister
The highest rated and eBay sellers app is Wowlister. It allows you to take all of your existing product data (including photos) from Amazon and then seamlessly sync it into your eBay account. This effectively cuts down on any additional work you'd have to do getting started, and lets you get up and running much more quickly.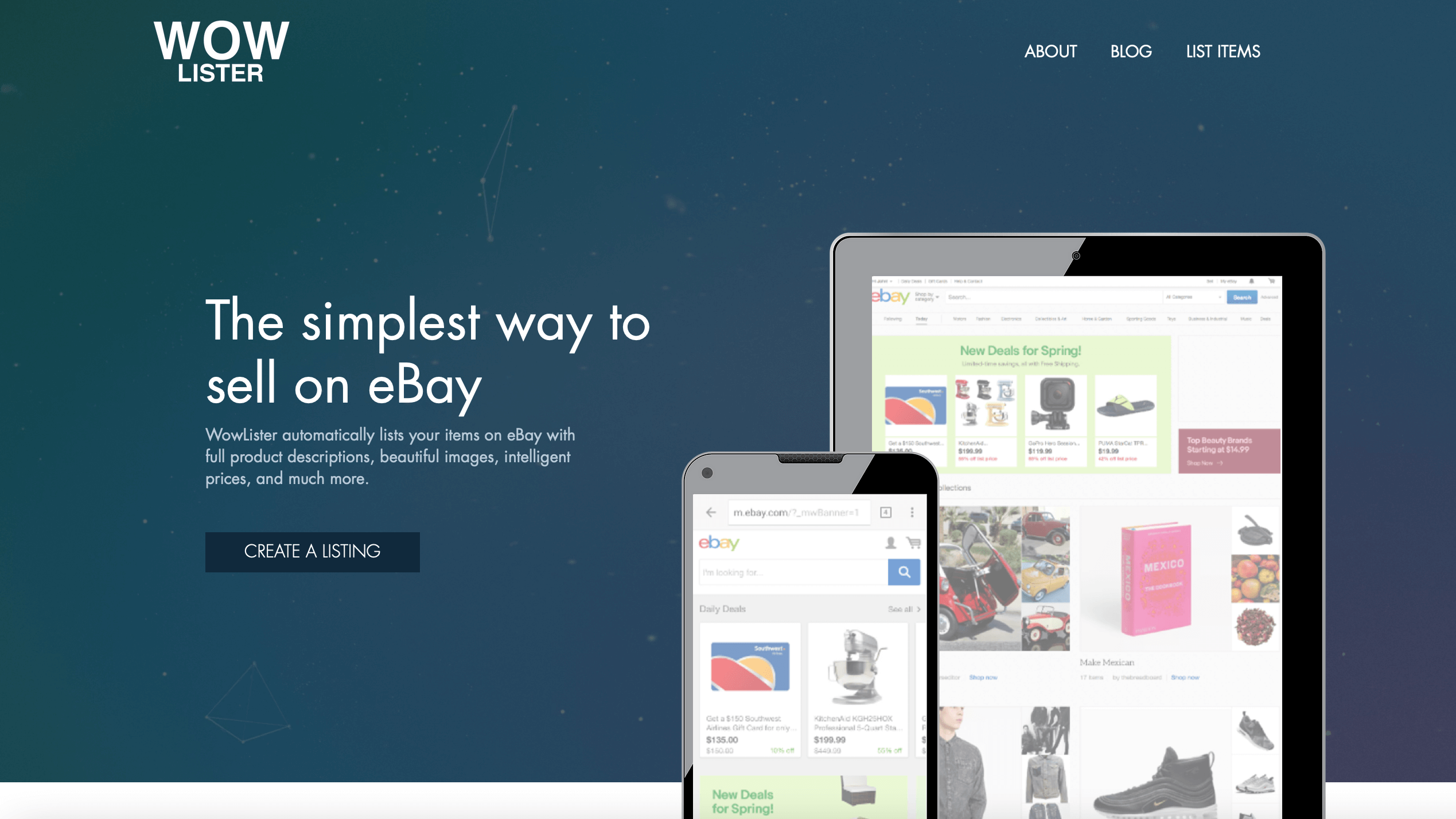 Not only that, WowLister also makes tracking sales much easier. You can track listings by sales channel, view orders directly in their system rather than having to use a third-party marketplace tool like Fulfillment by Amazon, and even customize how orders are emailed based on whether they're coming from.
4. Final thoughts 
Useful apps will make your life as an eBay seller a lot easier by helping you run your business more effectively, eliminating tedious tasks, saving you time and money. You need to make sure you have the right tools to manage your business, which can include apps that can help with things like business management, order fulfillment, inventory management, marketing, and more. With our list of top eBay seller apps in 2022, we hope that you can find the ones and focus on what really matters.