Have you ever come across products like T-shirts, baseball caps, water bottles or shopping bags with a unique logo or a fancy slogan printed on them? These products were the blank ones and they have actually been customized with unique designs. The process of printing the unique designs on the blank products is called Print on Demand.
A lot of people want to start a Print on Demand business. To know what Print on Demand is and how it works is crucial for new entrepreneurs.

1. What is Print on Demand (POD)?
Print on Demand (or POD) is an ecommerce model of designing and selling products. Print on Demand allows you to customize and sell the products on a per-order basis, which means that there is not a minimum amount for ordering. Unlike selling normal products with available fixed designs, POD products depend on the customer's order and interests. It means that there is no printing done beforehand, the products are only printed whenever the customers require.
Print on Demand is an economical choice for those who want to start up a business. POSD can cause very little waste in terms of materials since everything is done after customer's approval. Moreover, you don't need to pay anything until the product is already sold as the production is conducted by a third party. There is no need to worry about shipping either as there is always shipping service available.
2. What are the popular Print on Demand products?
Print on Demand is obviously an amazing way to sell customized products which bear your own designs. You're curious about the products that are POD best sellers, aren't you? Below is the list of some great ideas for you if you just want to choose POD products to kick off your business.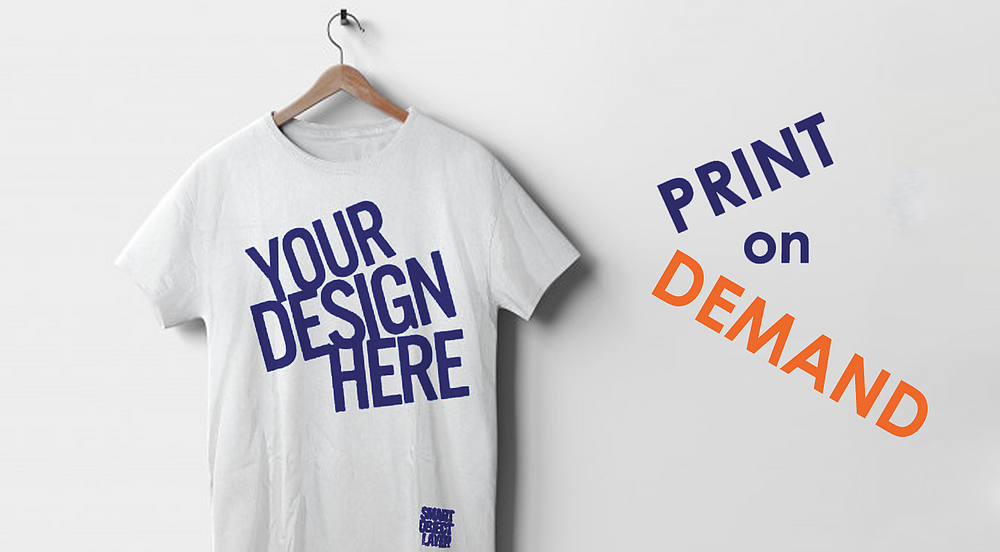 2.1 Clothes
It's pretty much a smart idea to start a POD business with clothes because they never go out of style. Clothes with unique logos or personal slogans can showcase the owner's style and characteristics. Additionally, uniform items are best to showcase brand names or group's spirits. Therefore, there is always a potential market for POD clothes. POD T-shirts, hats, hoodies and jackets are the items that you can try when starting out.
2.2 Accessories
Besides clothes, accessories are the items that can easily showcase brand name or the personal traits of the users. POD accessories are popular since different companies and organizations prefer to popularize their brand name by giving gifts with their logos or contents printed. The popular POD accessories include helmets, raincoats, neckties, reusable shopping bags, wallets, umbrellas, etc.
2.3 Wall arts
Decoration is a need in every household and wall arts is one of the most common choices. Customers can order to print out their favorite pictures in different forms and different sizes. Wall decals and stickers are also on high demand because of their flexibility and aesthetics.
2.4 Household goods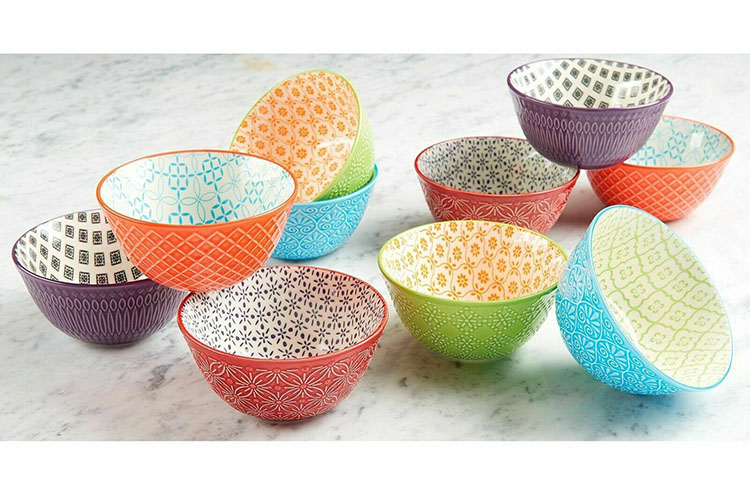 Household goods are a more approachable option as they exist in our daily life. Printed designs on household goods can easily make an impression on the users. That's why many kinds of household goods are customized with POD. These items include water bottles, towels, aprons, mats and rugs, etc.
2.5 Tech accessories
That technological devices are indispensable in our daily life leads to the need for tech accessories. If you have a smartphone, at least you need a cool phone case or a lovely phone stand. Some need impressive cases for their wireless earphones. Others may want some stickers to decorate their laptop. Selling POD tech accessories is a promising business you can consider.
3. How does Print on Demand work?
Print on Demand works following a procedure that is quite similar to drop shipping. First of all, you need to build a store online and prepare items featuring your own designs. Next, you promote them to the customers by means of social media platforms. The customers will consider and select your designs and then place an order. If there is an order, the next step of the procedure will go right to the third party, also known as your supplier. The supplier is actually a POD company who is in charge of packaging and shipping the products to customers.
This graphic may help you imagine the procedure of Print on Demand better.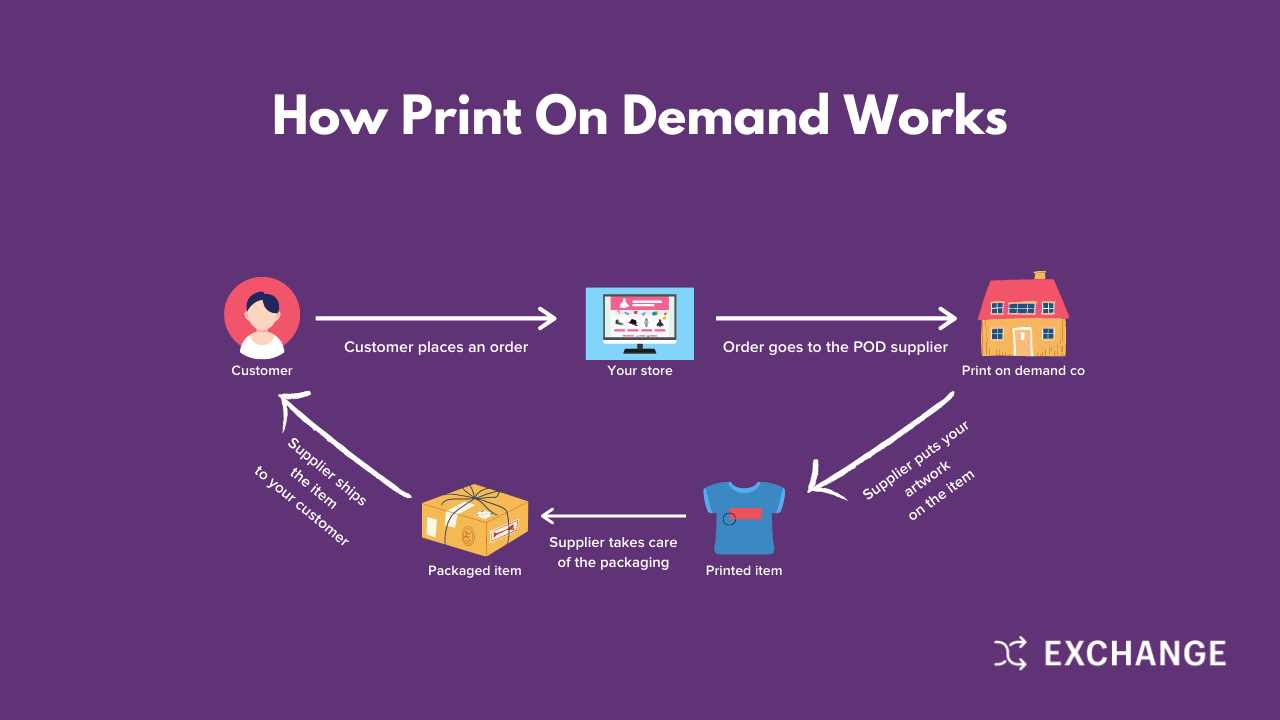 As you can see from the procedure, Print on Demand doesn't require you to store the blank items or deliver them to the supplier or your customers.  The supplier will take the responsibility for those steps. Generally, Print on Demand seems quite similar to drop-shipping. The difference lies in the opportunity which allows you to customize the blank products using your own designs.
4. Why is Print on Demand a popular ecommerce model?
Print on Demand never goes out of style because of several reasons.
First of all, there is a wide range of customer's needs. POD products have become popular day by day. People use POD products not only for their daily needs but also for their relationships, team-building or advertisement. There are numerous successful POD stores selling different types of POD products such as T-shirts, hoodies, handbags, tech accessories, etc. Many of them have been world-wide recognized!
Many new entrepreneurs choose POD as their start-up career because of the conveniences POD offers. With POD, all you have to do includes preparing your designs, promoting your store and receiving orders from customers.
Additionally, POD is popular as online shopping is now a world's trend. POD runs online and there are various POD platforms which are not only reliable but also up-to-date and accessible such as Shopify, Etsy or Printful.
5. What are the Advantages and Disadvantages of POD?
5.1 What are the advantages of POD?
POD allows customization and self-designing

. You are deliberate to create the designs for your products. Make sure that they are your own creation are the look is unique and impressive.

POD can lower the financial risks you may encounter.

By recruiting a third party to handle printing, packaging and shipping, you don't need to pay anything beforehand until the product is already sold.

POD is an automatic online procedure.

  Therefore, this ecommerce model saves a lot of your time and simplify your work. Checking customer's orders, sending requests to the supplier and keeping track of the delivery and receiving feedbacks are all what you need to do. And of course, everything runs online!

POD offers opportunity to promote your brand name.

As you are allowed to customize the products with your own designs, why don't you think of integrating your brand identity into your designs. This can make your brand name more unique and recognized.

POD provides various sources of reference.

You really want to start up a POD business but you aren't really skilled at design? Don't worry. You find and get support from the online sources of materials for designs.
5.2 What are the disadvantages of POD?
POD can lower the profit margins

since the shipping cost and printing cost are normally high. New entrepreneurs need to consider thoroughly to select the third party who offers the most reasonable price for printing and shipping services.

POD gives you limited control over packaging and shipping.

These steps are taken by the third party. You can only keep track of the progress but you can't easily observe the whole process. Therefore, the key is that you had better select a reliable and prestigious third party.

POD is limited in terms of market data.

Some POD platforms may not provide you with the statistics regarding your customers or the best sellers because you are selling on their sites and you don't have the permission to approach the data.

POD offers less various product types compared to drop-shipping.

You totally depend on the supplier. However, the suppliers usually aren't in charge of producing goods, they import instead. That's why it's easy for you to sell the popular POD items rather than the unpopular one. If you want to sell less popular items, it's a bit challenging for you to find a reliable supplier and a good printing service for that kind of item.
6. How to start up a POD business?
There are numerous elements deciding whether your Print on Demand business is successful or not. Starting a POD business is not as challenging as you may think if you know how to do it step by step. Here are the basic steps that you can follow if you want to start up:
6.1 Step 1: Decide your niche, customers and products
It's very important to know what you are selling and whom you are selling products to. To simplify, a niche is the category of products that you are selling. For instance, if you want to sell clothes, "clothes" is your niche. You need to consider what clothes you want to sell specifically. If you think of hoodies, it's a sub-niche. 
Besides, you also need to know more about your products. Ask yourself these questions before finding any suppliers: What materials should be used? What style or form should be chosen? What sizes should be included?
However, you should never forget to select your target customers because their traits and interests strongly affect the way you select your products. You need to consider their ages, their favorite styles, the climate where they live and even when they can use your products. The more detailed you think, the more successful your products will be.
6.2 Step 2: Prepare some awesome designs
Print on Demand encourages entrepreneurs to create their own designs. The unique and impressive products are likely to reach the market more easily. When you create logos or slogans for your products, don't forget to think of how they look on the real products, considering the size, the color contrast and the disposition. Adobe Photoshop. Adobe Illustrator, Canva, etc. are highly recommended for designing. In case you don't have enough ideas for your products, online sources of images such as Pinterest or Freepik can help you.

6.3 Step 3: Promote your store on social platforms
If you have already prepared your designs, it's time to promote your store and collect opinions to improve your designs. You can open a store on popular social media platforms such as Facebook or Instagram to showcase your products and connect with the customers. Don't forget to validate all your images whenever you post them onto your store. If your products are impressive, your store becomes popular, you get more positive feedback on your store, then you will have more potential customers in the future.
6.4 Step 4: Choose a POD service
One of the most important steps to set up an online store is to choose a good supplier or ecommerce platform. The point is that you should consider among the popular and prestigious platforms such as Shopify, Printful, Amazon, eBay, Etsy, etc. because there are numerous POD stores running on these platforms in fact. After providing your personal and business information and setting your payment methods, you're already able to get the very first order and receive payments from your products.
7. Final thoughts
So far, we have provided the answers to the 2 questions about Print on Demand, what it is and how it works. Generally, Print on Demand is suitable for both new and experienced entrepreneurs because of its popularity and its automatic and simple procedure. If you carefully make your plan and know clearly how to start up a POD business, you're pretty close to success.
The following are some useful tips to start an DOP business:
Have amazing designs available;

Find reliable suppliers;

Know how to promote the business;

Need thorough research and consideration.
Hope you find our sharing useful. Don't forget to tell us about your POD business!