Amazon is the giant tycoon of the online business network.
Amazon has extensive global coverage, converging many sellers and buyers with millions of transactions occurring every hour. Products and goods on Amazon are diverse, attracting all audiences, ages, and genders, so for online business people around the world, Amazon is a fertile land.
So why don't you try your hand at online business with Amazon? Here, we will guide you in detail on how to sell on Amazon from zero to do it yourself and achieve business results.
1. What is Amazon?
Amazon.com is a website owned by Amazon.com Inc exclusively for the US market. It is rated as the leading retail website in the world today. Amazon.com is a multi-purpose retail store, a place for people to come and buy anything online.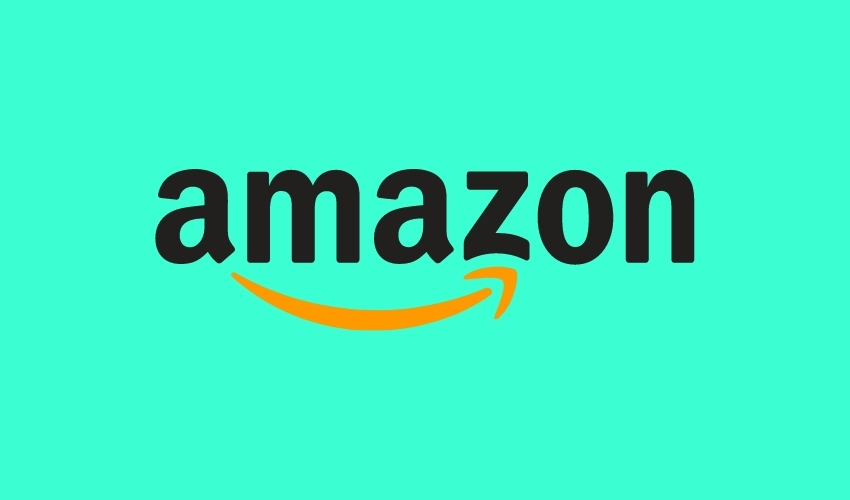 Customers who need to own high-quality goods need to visit Amazon.com. You can freely shop and choose your favorite products in a massive warehouse with a full range of items in all fields.
2. Necessary and sufficient conditions to sell on Amazon from zero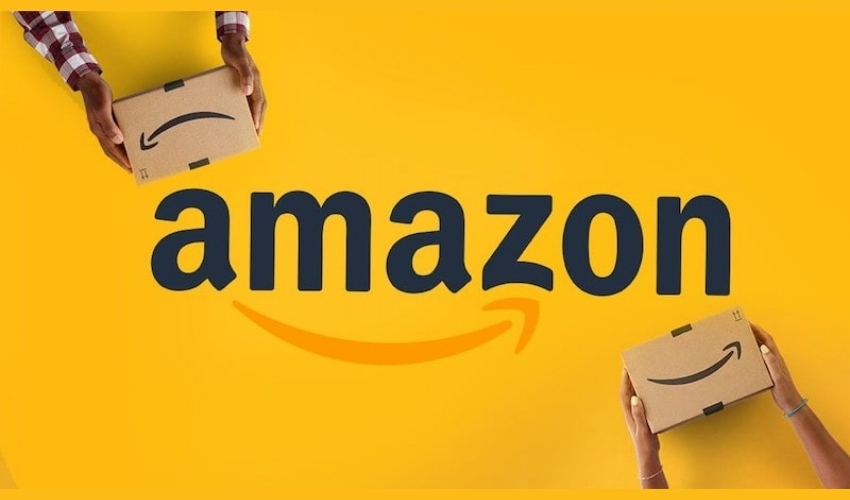 When selling on Amazon, the seller must provide the correct address, product information, delivery time, and the shipping carrier.

Delivery to customers is almost mandatory. You must know the shipping method, import and export fees, related surcharges, and lead time for an order. The recipient only accepts the goods and will not pay for the incidental costs.

Customer care: In addition to being knowledgeable about the product, you must use the international language as basic English to answer customers. And fast response time response within 24h for shoppers.

The seller must understand additional fees, shipping fees, export taxes, import duties, special consumption, etc. And will issue VAT when requested by the buyer.

Sales regulations. You must provide copyrighted images: products posted for sale must have real, detailed images. Specifically for handmade items, you need to provide a clear product image (in new condition) along with a specific description.
3. Why should you sell on Amazon?
3.1. A large number of potential customers
The number of leads you can reach through Amazon.com is more than three times the number of leads on eBay. Statista estimates Amazon.com's customer base at 237 million. In a recent Forbes article, the Trefis Team has estimated the number of active eBay users at 70 million. If these estimates are correct, you'll reach three times as many potential customers if you sell on Amazon.com.
As a seller, you now have up to 237 million reasons to get started on Amazon! Broad your business over the world to reach more potential buyers and gain more profits. 
3.2. Reputation
Amazon.com has a much better reputation than eBay. Many people won't shop on eBay because they think it's cheap and dishonest. Those people also love Amazon.com and shop there often.
Every seller should keep this in mind if they are choosing between two major e-commerce platforms.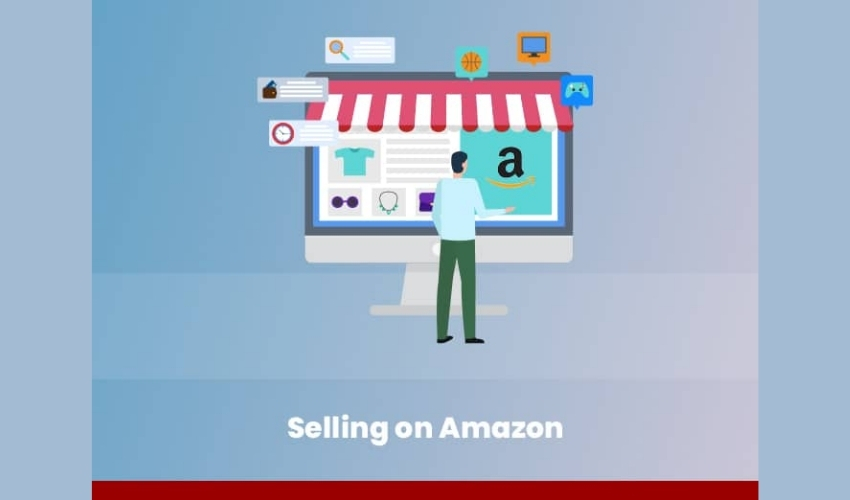 3.3. No listing fee
You won't have to pay anything to list an item on Amazon.com. You won't be charged until you sell something. This means you can list more items and extend listings, which is excellent news for sellers!
However, be aware that Amazon.com will significantly reduce the sale price, usually around 20%. Amazon takes even more significant cuts if you participate in programs like. 
3.4. Easy to integrate with a website
In Amazon's marketing program, there is an API available to help you integrate into the website. By embedding product links, embedding product images, etc., you can easily manipulate them. At the same time, there are many other customizations to help you present Amazon products on the website reasonably.
The parameters of clicks, orders from which source, date, … are fully tracked. This is the best report to help you evaluate how to improve your marketing approach. Sometimes you use remarketing links to get more clicks than photos. It depends on each specific product case. The information you get in the report will be an indication to help you adjust for maximum effectiveness.
4. Types of sales on Amazon
4.1. FBA (Fulfillment by Amazon)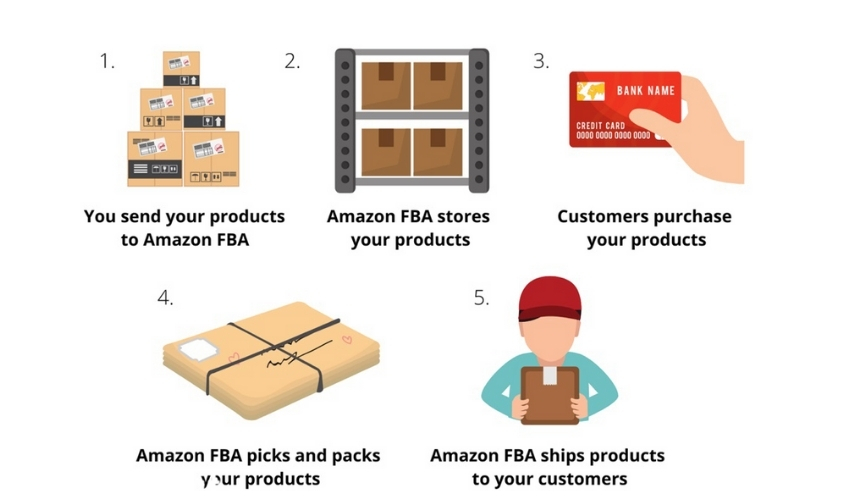 FBA (Fulfillment by Amazon) is a package sales support service for sellers to send goods to Amazon's warehouse. Amazon will handle all packaging, shipping, and customer care issues for you when someone buys your product. You only need to pay the Amazon FBA fee, including storage fee, shipping …
When selling goods in this form, the goods after entering the Amazon warehouse will be managed, stored, and responsible by Amazon. Seller's goods will always be in the best condition in Amazon stock. Sellers do not have to process orders. All stages are handled automatically by Amazon and report the results.
4.2. Amazon Affiliate – Affiliate Marketing with Amazon
Affiliate marketing on Amazon is also considered a business form that brings a stable source of revenue that many people choose today. You will receive a percentage of commission by referring shoppers with your referral link to Amazon.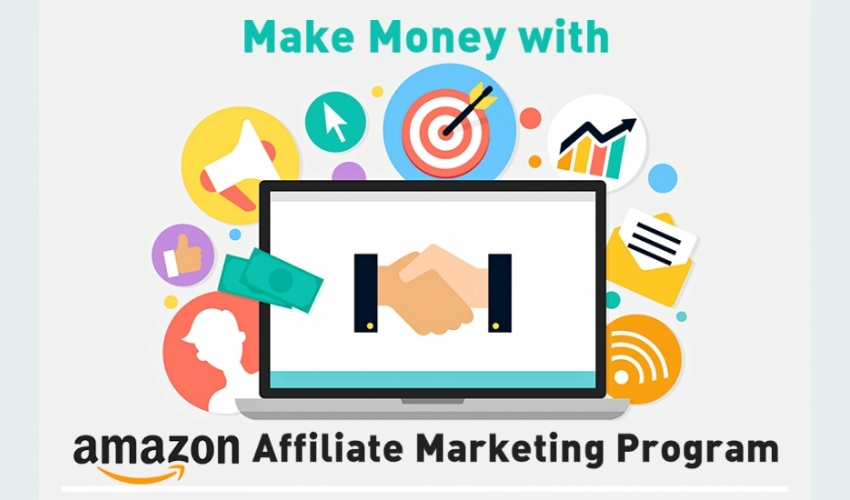 You can create a separate link for each product, and use this link to advertise through your website, chatbot, paid traffic, native ads, email… or any other channel that you determine is effective.
You can make money without creating a product or having an existing service. Your job now is to register an account and select the campaign you think you can promote to reach the maximum potential customer source to bring the highest profit.
4.3. Dropshipping with Amazon
This is a form where traders do not have to keep goods or import goods to enter the warehouse. Goods will be transported directly from the manufacturer and distributed to the buyer's address without paying intermediaries.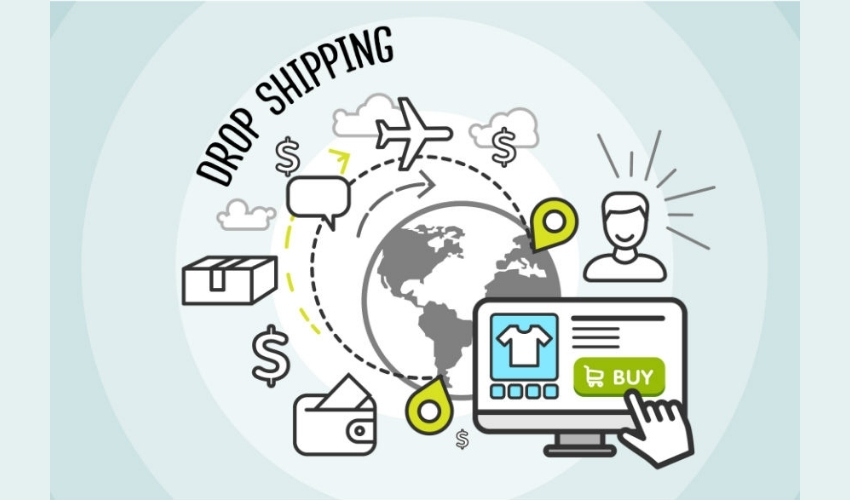 After finding the source, the seller will post the product on Amazon for sale. When a customer makes a purchase, the seller will take that information and transfer it to the supplier (supplier).
Goods will now be shipped directly from the supplier to the customer without having to prepare an available source of goods in the warehouse. The profit gained from this business form is calculated from the price imported from the supplier and the selling price on the website.
4.4. Merch by Amazon
Merch by Amazon is a service that allows individuals to post their product designs for sale on Amazon. When a customer makes a purchase, Amazon will print and ship the item for you. Your profit will be calculated after subtracting Amazon from the producer price and the price on Amazon.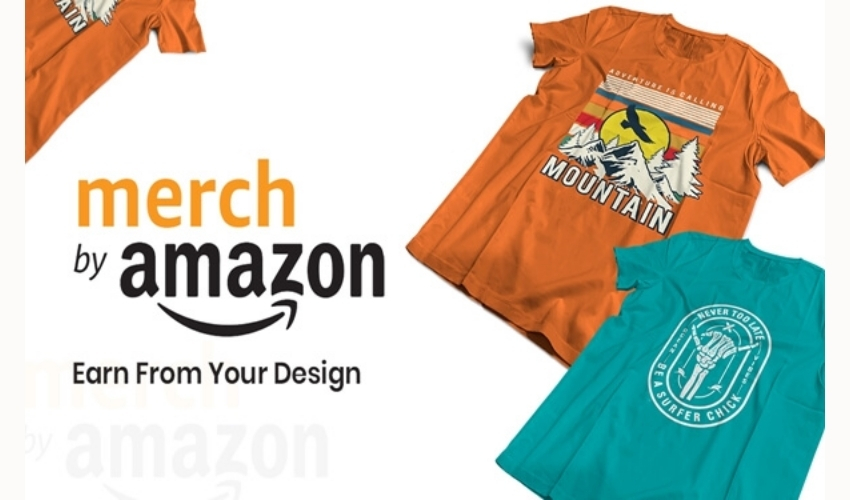 However, participating in sales by Merch by Amazon is not easy. You have to go through a rather strict review period. The competition is very high. It's easy to steal ideas, devalue products…
5. How to register an account to sell on Amazon
To sell on Amazon, you can follow these steps:
Step 1: Go to Services.amazon.com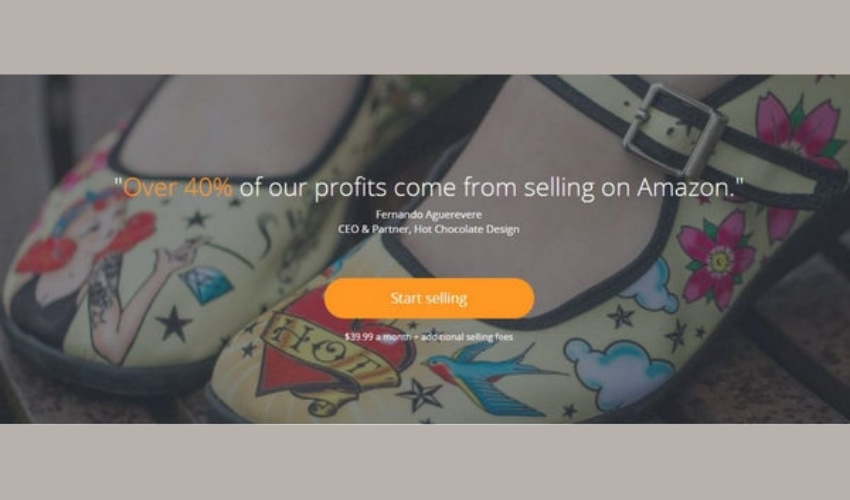 Step 2: Scroll down the page and click on "Selling on Amazon" the Amazon sale link.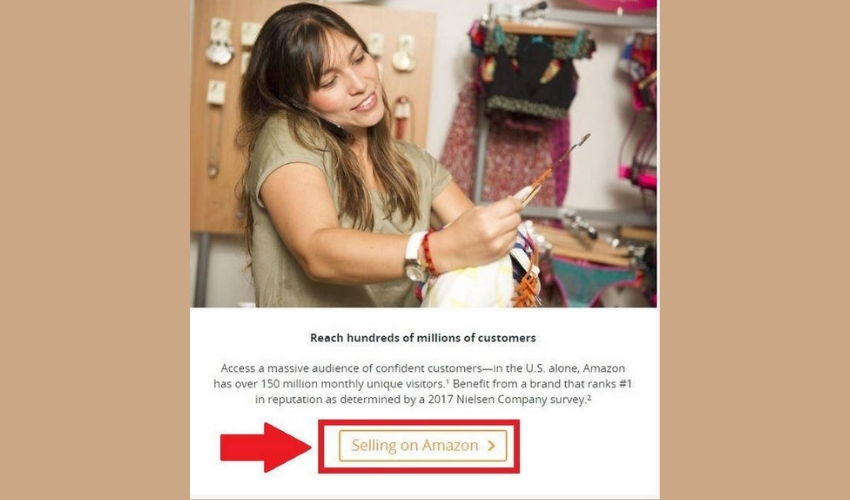 Step 3: Choose between selling as a professional or selling as an individual. As a beginner, we recommend selling as an individual. Amazon charges $0.99 per sale. For a professional seller account plan, Amazon charges $39.99 per month.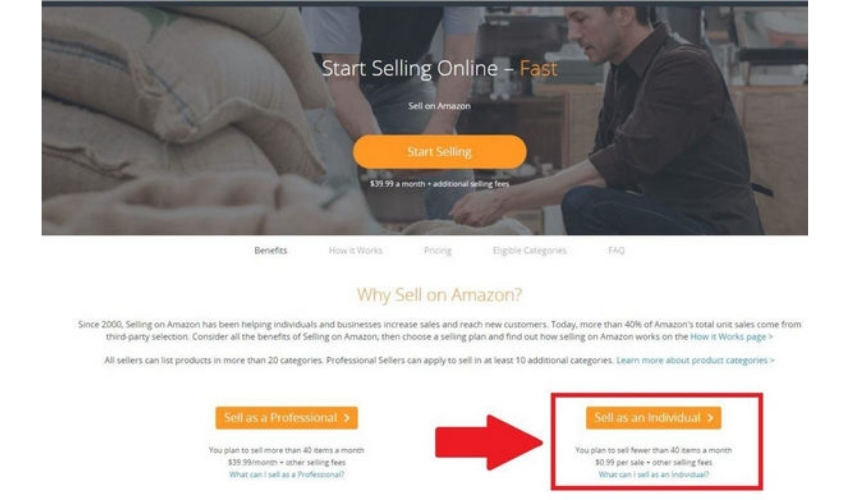 Step 4: Fill in the necessary information, and once completed, you have officially become an Amazon seller.
6. How to receive money from Amazon
Many sellers in Vietnam do not know how to receive money when selling through Amazon. When will the payments be received?
Typically, as soon as you confirm shipping, Amazon will transfer the funds to your payment account. The time Amazon will pay this amount is every two weeks. Currently, Amazon supports sellers with the following methods of receiving money for sales:
6.1. Get money through a Payoneer card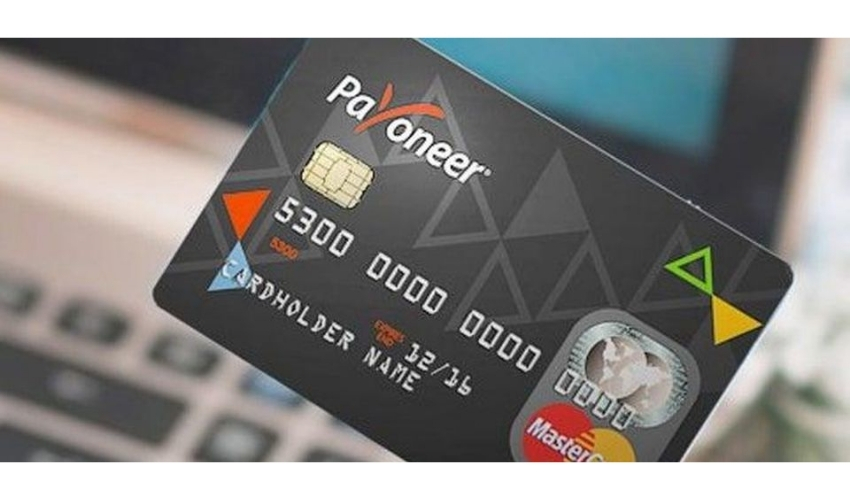 This is the way most Amazon sellers are using to receive money back home. Payoneer is an international payment service that gives you a global withdrawal card. When you submit a withdrawal request, Amazon will send money to this card account. You can withdraw cash via ATM or bank in Vietnam.
6.2. Get money converted to an Amazon Gift Card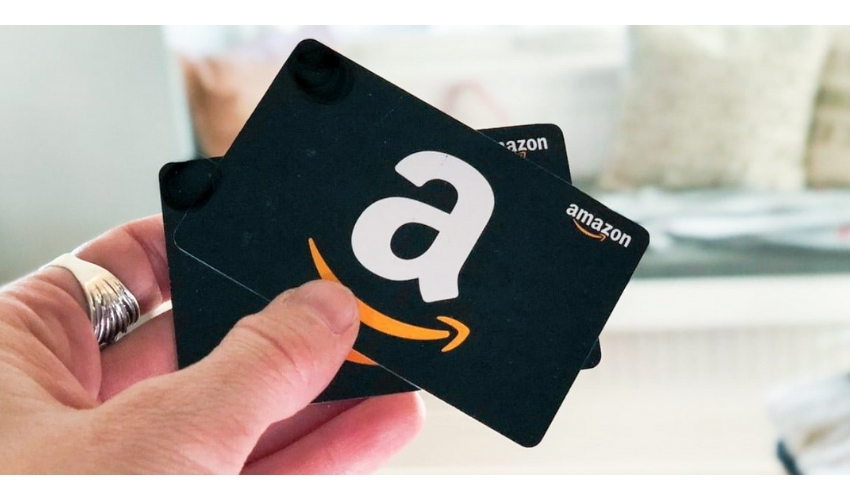 Money in your account will be converted into Gift Vouchers, and you can use it to recharge and make purchases on Amazon. However, this way is not very feasible if you want to withdraw money to Vietnam for reinvestment.
6.3. Receive money through cheque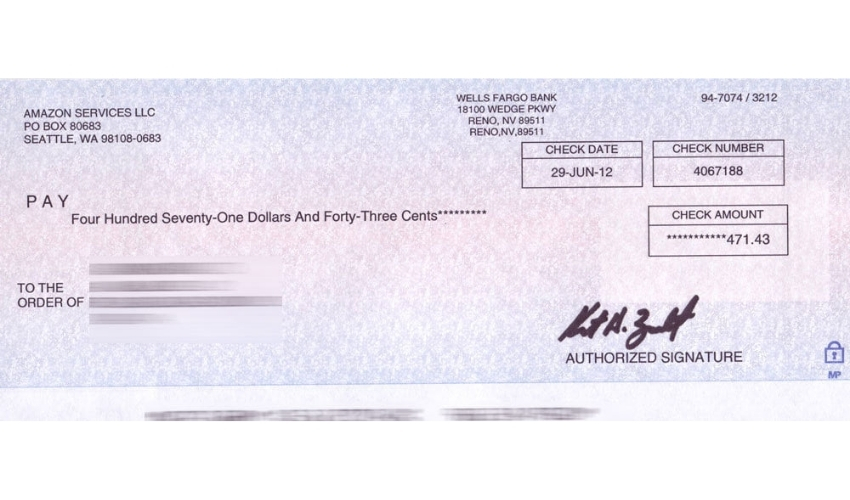 Amazon will mail you a cashier's check upon your request for a withdrawal. This method is also not very feasible, the rate of lost reviews is relatively high, and the money return time is also long. Therefore, you should consider using this way of withdrawing money from Amazon to Vietnam.
7. Optimize SEO listings on Amazon Algorithm A10
7.1. Title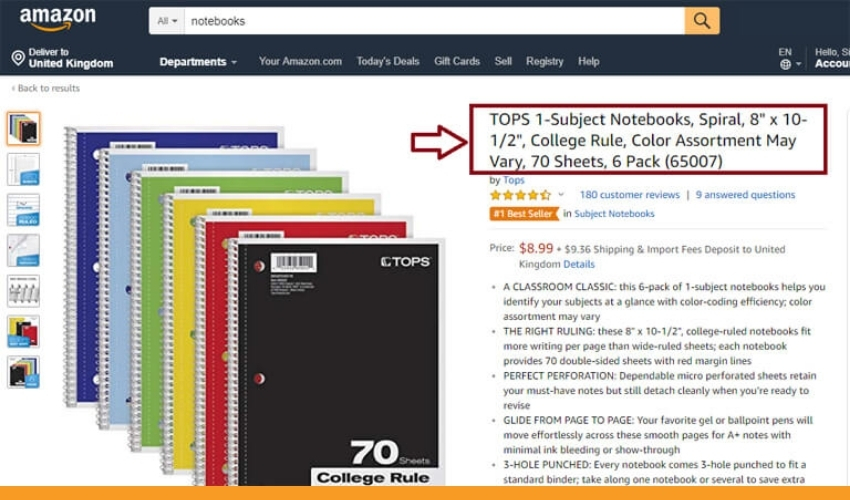 The title should contain keywords related to the product, as well as the buyer's search needs.

Check out the Amazon Style Guide for the length and structure of your titles in related product categories.

Mobile views are limited to about 70 visible characters, so stick to the most crucial information and make sure to put it at the top.
7.2. Description
Short, contain the product keywords you want to SEO and highlight the features and benefits of the product. Of course, you should include illustrations and videos as much as possible. Amazon appreciates it if you have full of such information.
7.3. Bullet points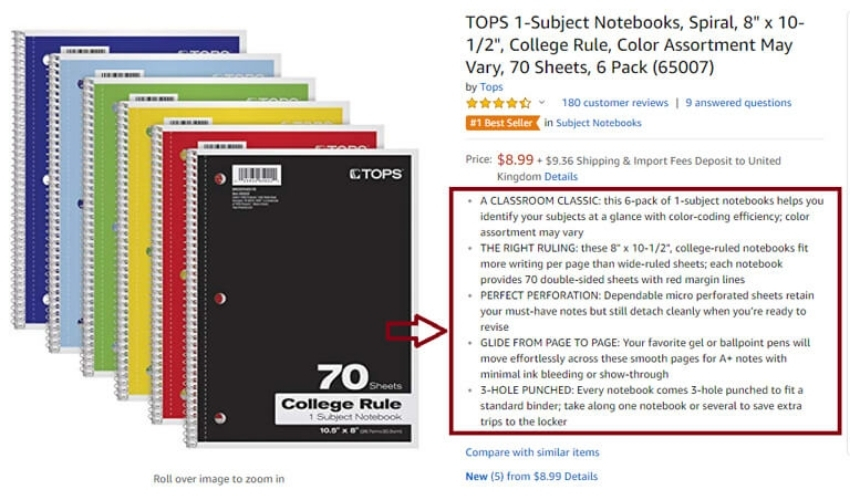 Any secondary keywords not used in the title from the main list you compiled earlier should be used in the bullets. This is also an excellent time to point out products your listing might be compatible with.

Create product descriptions that tell a story: Like bullet points, product descriptions don't directly affect rankings. 

Additionally, a well-written description with a strong and practical call-to-action can certainly significantly impact whether or not a customer will make a direct decision (i.e. Buy Now, Order Today, etc.).

Use back-end search terms: The final search term is excellent to drop some commonly used phrases, typos, and words.
7.4. Images
The image must be realistic and clear. Images should be low in size so as not to affect the loading speed of the website. It would be best if you chose the image extension as JPG instead of PNG.
It is advisable to provide many photo views from all angles of the product to overview the buyer.
7.5. Comments and Feedback
On Amazon purchases, star ratings and reviews greatly influence the buying process.
One of the best tactics to increase reviews is to follow up via email to users who have recently purchased a product simply requesting a review.
Potentially, you could even encourage positive reviews. Avoid spam and aggressive emails by sending no more than 1 to 2 emails. It would help if you gave customers an outlet to share any possible negative feedback directly, rather than leaving negative reviews.
7.6. Using Sponsored ads on Amazon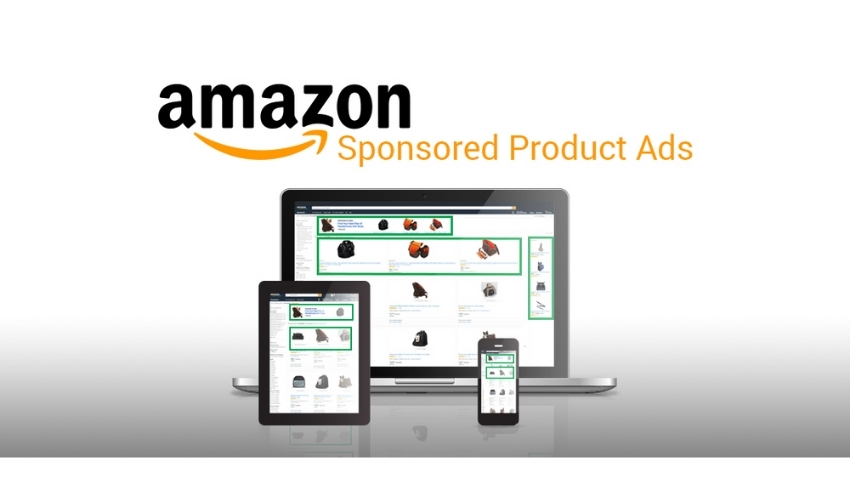 Sponsored ads on Amazon are a pay-per-click brand or product display ads. (Promotion of products on Amazon) Target customers are targeted based on keywords.
Amazon will suggest keywords to bid or possibly target as products similar to yours.
Report detailed information on ad performance, can change keywords and adjust bid prices if needed. You can even stop your ads if you find that the keyword's conversion rate is too low despite a high click or impression rate.
Using Sponsored ads is an effective way to optimize SEO on Amazon.
7.7. Share social & do backlinks
Social interaction is also a ranking factor and helps optimize SEO, so you should integrate Plug-ins for social networks so that readers can easily share your articles.
Integrate share buttons on social networks like
Post articles on pages
A Backlink is like a vote to help increase the credibility of the website for Google. It plays the role of navigating users to visit the website for a particular purpose. From there, it helps to improve the website's position on Google's search keyword rankings effectively.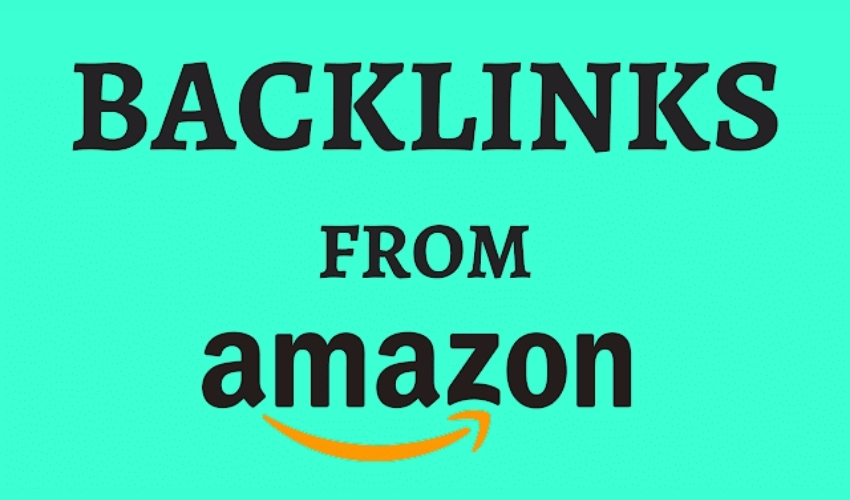 In addition, Backlinks make it easy for crawlers to find and effectively crawl all pages of your website. This is also a factor that positively affects keyword rankings.
One of the other benefits that Backlink brings to your website is to generate a large amount of traffic without going through the search engines.
Read more: Optimize Amazon Listings: 10 Best Tips That You Should Know
8. Effective selling experience on Amazon
8.1 Sign up for an account on Amazon
Sellers have two account options. You do not have to pay monthly maintenance fees on a personal account, but you have to pay Amazon $ 1 for each product sold but many limits. Whereas a business account requires a lot of proof, and you have to pay a monthly maintenance fee of $40, you can sell unlimited products.
In foreign markets, customers are willing to pay more in advance. Amazon will stand to collect the money and transfer the funds to the seller. One piece of advice for you is to register a bank account in the US to receive money from Amazon.
8.2. Provide clear and specific information for individuals and businesses
Suppose a customer viewing your product wants to know information about your business to sign a more significant contract. In that case, you are out of luck if you are not active online regularly on Amazon. So to avoid incidents, personal and business risks, please leave your email address, phone number, website so that everyone can contact you more easily.
8.3. Complete the product you post for sale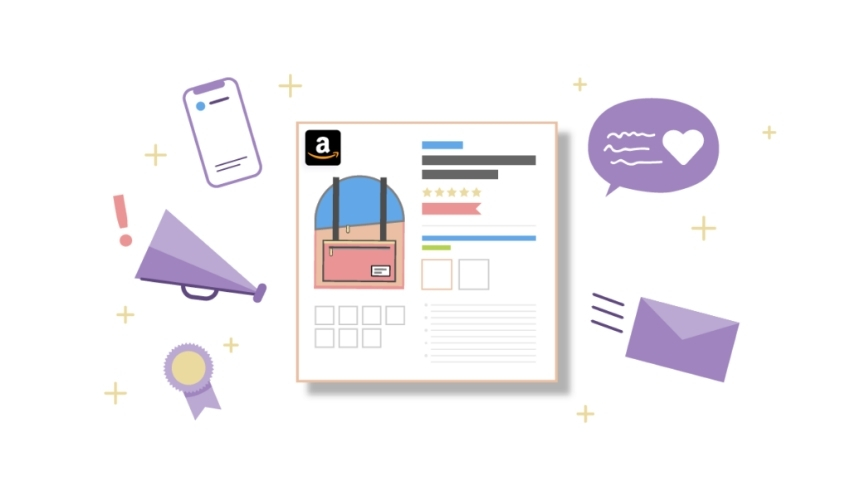 Describe your amazon products concisely but equally attractive in 10 words. Besides, you need to understand and describe the product + image that you will sell on Amazon. Be prepared with the necessary information about the product to answer any questions from the buyer.
8.4. Doing business by Amazon law
On the Amazon website, there are also rules and policies for the above sellers. So if you want to stick with Amazon to develop your products for a long time, you must comply with the regulations.
Should not circumvent the law, need to be honest when selling their products. Because if customers detect negative feedback, this opportunity to sell on this web is no longer viable, affecting sales, even being blocked by Amazon.
9. Wrap-up
Above, we have compiled all the information of what Amazon is and how to sell on Amazon from zero. Good luck on this path. If you have any questions during the application process, you can leave a question right below this article. We will check and help you as much as possible. Thank you!