Print on Demand, or POD, has been one of the most rapidly expanding innovations in eCommerce dropshipping in recent years. It's no wonder that the number of print on demand Shopify apps has exploded as more and more POD companies opt to launch their operations on the Shopify platform.
Print on demand Shopify apps offers a complete Print on Demand solution for your company. Your sole responsibility is to produce appealing designs, incorporate them into high-quality items, and sell them on your Shopify site. The remainder, including printing, storage, and shipment, will be handled by Shopify's POD service. With print-on-demand Shopify apps, you can cut down on initial expenses and eliminate needless effort while increasing sales and controlling profits based on your own calculations.
1. Top 10+ best print on demand Shopify apps
1.1. Onospod Print on Demand Fulfillment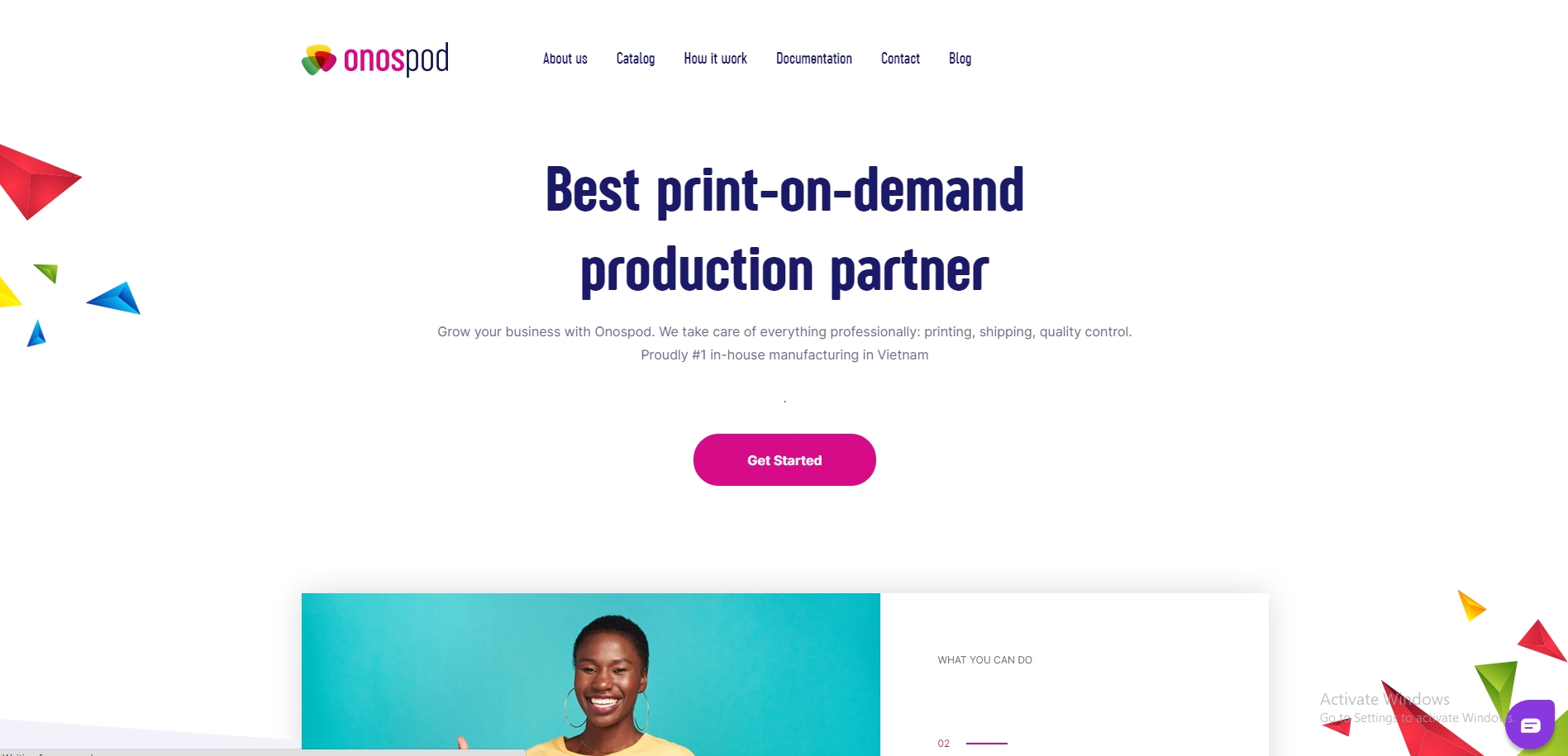 One of the best print on demand Shopify apps is Onospod, which creates a comprehensive online management solution that performs nicely. Onospod uses high-technology print techniques to create 3D products that are shipped to the United States. Onospod recognizes that the demand for printed items is growing, and as a result, they would want to develop our business and explore opportunities for collaboration.
Outstanding features: 
Responsible fulfillment

Free to use

Complete automation 

Reliable fulfillment 
1.2. Printify Fulfillment POD
Printify is another well-known  print on demand Shopify apps to explore. Printify's services are used by over 500,000 merchants to run POD businesses, since it offers an all-in-one Print on Demand solution for both new and seasoned sellers. The Mockup Generator on Printify allows you to design custom printed t-shirts, hoodies, sweatshirts, and more than 250 more goods.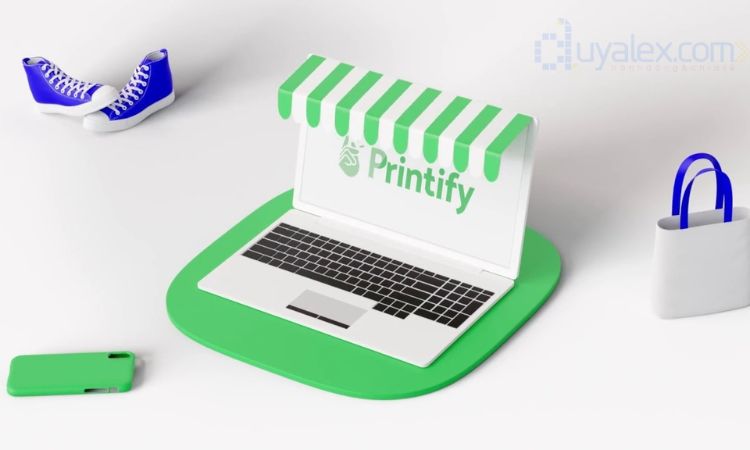 Outstanding features: 
Catalogue of over 250 products.

Best Product Costs on the Market.

Easy-to-use Mockup Generator.

A comprehensive network of Print Providers

Automatic Syncing with your Online Store.
1.3. Printful
On the Shopify App Store, Printful is one of the top-rated print on demand Shopify apps. Printful offers to take care of your Print on Demand company on Shopify from start to finish, with their expert team handling all of the hard lifting such as inventory, equipment, and shipping. Printful now has over 290 high-quality goods ranging from clothes and accessories to homeware to help you get started with your eCommerce adventure. To get started, Printful is completely free; you only pay when you sell a product. It takes 2–7 business days to develop a product and fulfill an order once you receive it.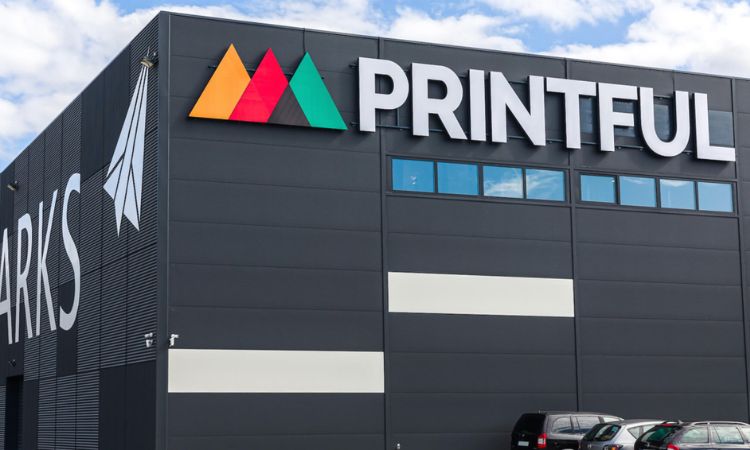 Outstanding features:
No upfront costs

Control over your profit

High-quality products

Product personalization

Discounted samples

Built-in tools
1.4. Customcat Print on demand fulfillment
CustomCat offers a diverse product line (apparel, houseware, and accessories) as well as quick shipment. The majority of the reviews for this Shopify print on demand software are excellent, however some do mention inferior materials for some products. CustomCat might not have the same reputation as Printful or Teelanch, but it is still a decent choice for novices.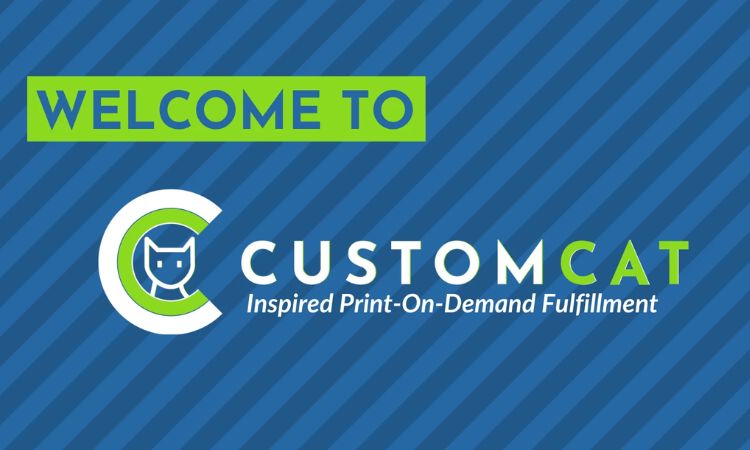 Outstanding features:
350+ product options to sell on Shopify

Some of the lowest commission rates among print on demand Shopify apps

Add names and inscriptions to items using this personalization tool.
1.5. Teelaunch
It's no secret that Teelaunch is the creator of the Shopify Print on Demand software, making it on top print on demand Shopify apps. Since its inception in 2015, teelaunch has established over 170,000 POD production facilities throughout the world, all of which are of the greatest quality and performance. They can transport products all over the globe in as little as 3-6 business days, and at a lower cost than other Shopify POD providers. Customers may also use teelaunch's personalization tool to add their name or a photo to a product.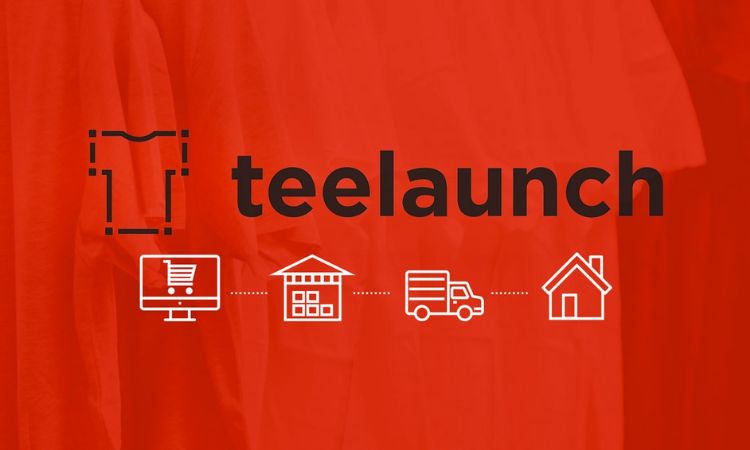 Outstanding features:
Sell your products anywhere

Keep the product prices low

Create personalized products with ease

Connect with the POD community
1.6. Merchize
Merchize is a technical company that wants to revolutionize the eCommerce industry. Merchize now offers a complete print-on-demand solution, allowing users to handle orders across numerous marketplaces and platforms. Orders are delivered and linked back to these marketplaces or platforms automatically.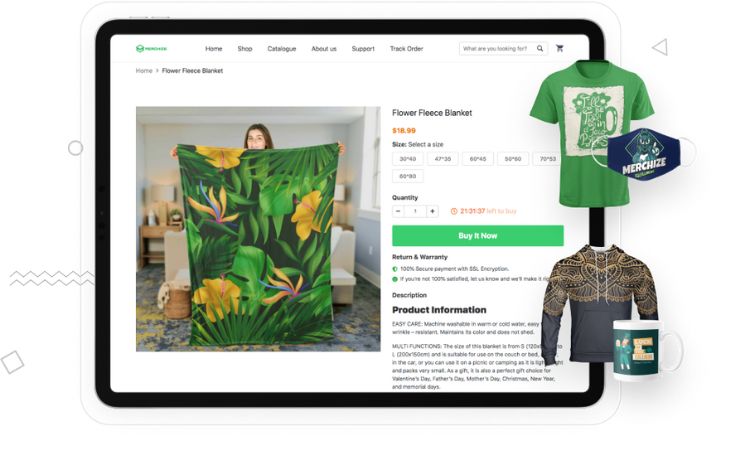 Outstanding features:
Competitive Base Cost

In-house Manufacturing

Multi-Platform Integrations

Transparent Production and Shipping Time
1.7. Fuel
Check out Fuel if you're seeking for low-cost  print on demand Shopify apps. According to online evaluations, this Shopify t-shirt fulfillment business offers extremely low pricing, making it ideal for novices.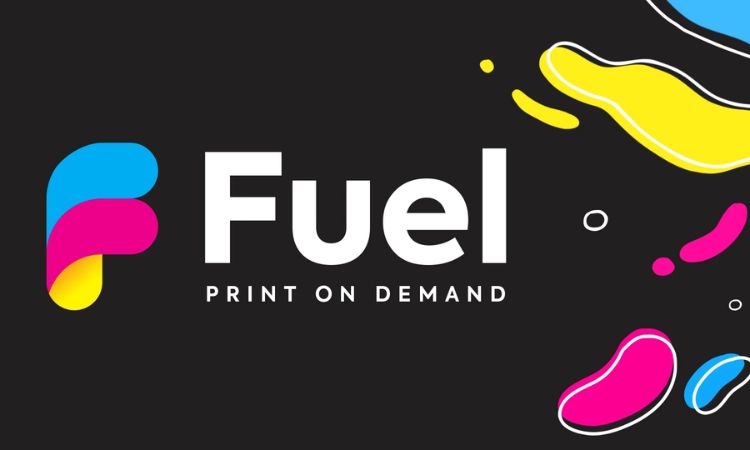 Best features:
Discounts for the first 50 orders for new users (between $1 and $3 per item)

Automatic order processing and shipping

Fast US shipping (2-4 days)
1.8. Jetprint
JetPrint is one of the most popular  print on demand Shopify apps. Although this service is new, it already has a 4.5 Shopify shop rating and a good product selection. But here's something you might not know: Jetprint isn't just a Shopify t-shirt software; it also creates 35+ shoes and 80+ watches. So, if you want to sell these items, think about using print-on-demand software.
Best features:
Support 200+ different products types including wooden quartz watches and leather shoes

Quick turnaround times (from three days for any product)

Useful design templates for faster product design
1.9. AOP+
AOP+ Easy Print on Demand is a user-friendly platform for artists, designers, and photographers who want to build their own POD business and sell their work online. AOP+ now has over 200 traditional, premium, and organic product types, and it takes only 30 seconds to create a product with your design using their app. While other Shopify Print on Demand businesses outsource their printing, AOP+ prints everything in-house and has a 3-5 business day turnaround time. AOP+ is delighted to have the most cheap costs among all print-on-demand services in the UK, EU, and US, thanks to its production locations in London.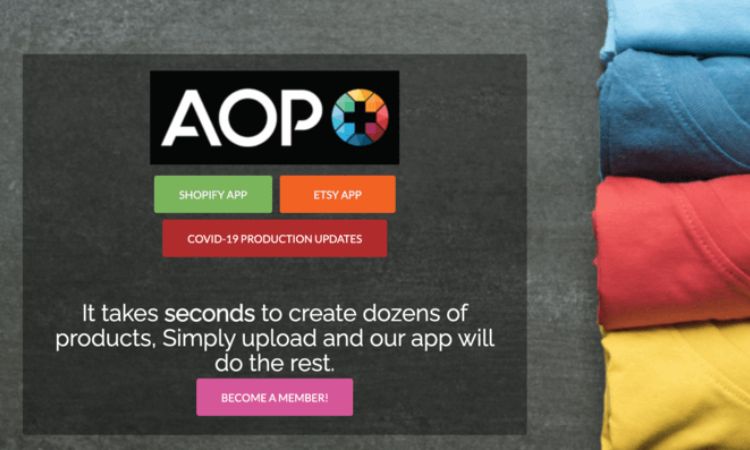 Outstanding features:
Sell unique products

No upfront costs

Easy integration and 

Fully automated systems
1.10. SPOD
For your Shopify store, SPOD is one of the best  print on demand Shopify apps. SPOD has earned a reputation for providing the quickest Print on Demand dropshipping in the United States and Europe, with manufacturing times of 48 hours or less. They will connect your Shopify store to regional product assortments to ensure that your order is completed within 48 hours because they have production facilities in both the United States and Europe.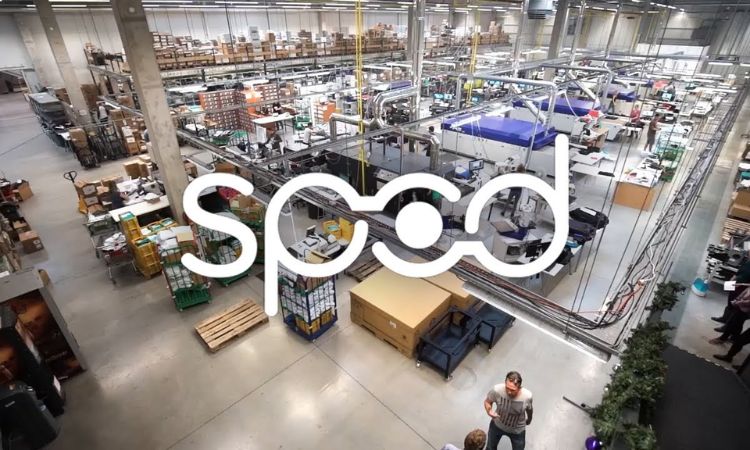 SPOD is more than just a standard Print on Demand service; it also includes an award-winning customizer tool that allows your clients to create their own designs from a selection of over 150 goods. SPOD's order return rate is less than 1%, so you won't have to worry about unhappy consumers at your Shopify store thanks to high-quality items and quick delivery.
Outstanding features:
Shopify's only fully-fledged customization tool

Rapid production in 48-hours or less

Fair prices, quality products

Global reach with a local feel
2. Tips for starting with print on demand
While using print-on-demand Shopify apps may be more convenient than managing your own inventory, there are some special factors to be aware of. Fortunately, there are innovative answers to the majority of the problems you'll confront.
2.1. Request samples whenever possible
When employing print on demand Shopify apps to sell online, quality assurance is critical. You want to make sure your actual product looks and feels exactly like you imagined it would, and the easiest approach to do so is to act as your own customer and see how your products are accepted personally.
Samples are useful for capturing your own product images for your website and social media profiles, in addition to confirming product quality.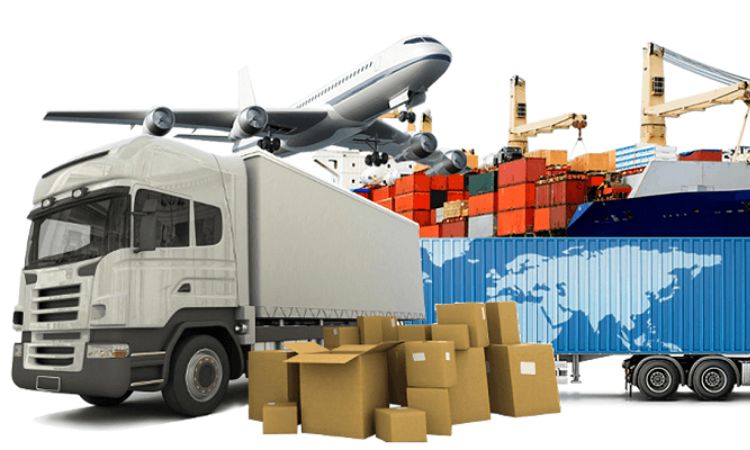 2.2. Choose your shipping method wisely
Even if you don't ship your own items, shipping might be complicated due to delivery schedules and prices, as well as how to set the correct expectations with clients.
When it comes to shipping, you'll want to make sure you account for printing delays. Add 2-4 days for manufacture, or maybe more, depending on the goods, to any delivery timeframes you have. Free delivery can also help you with other marketing efforts:
Even if you can only provide it in some areas, free shipping is still a wonderful sales incentive that gives buyers another reason to buy.

Conditional free shipping (for example, "Get free shipping when you spend $30 or more") encourages consumers to add additional items to their basket in order to exceed the barrier, and it typically helps you get a better total shipping rate by delivering everything together.

Free shipping can be used to excuse longer wait periods. Many customers are willing to wait a little longer for an item if it means they will save money on delivery.
2.3. Make mockups of your items to show them off
While models may assist you in taking engaging product shots, mockups are also a viable option and will be shown prominently on your product pages.
Many print-on-demand businesses may assist you in creating your own mockups, which represent your items on a person or in a flatlay format. Other services, as well as a plethora of free mockup templates, may help you bring your items to life.
These mockups are what will sell your items to clients, thus going the additional mile may truly pay off. Place It's a simple mockup maker that allows you to make picture and video mockups for about $8 a piece. You may also look for templates on MockupWorld or Behance if you know the basics of Photoshop or other photo editing software.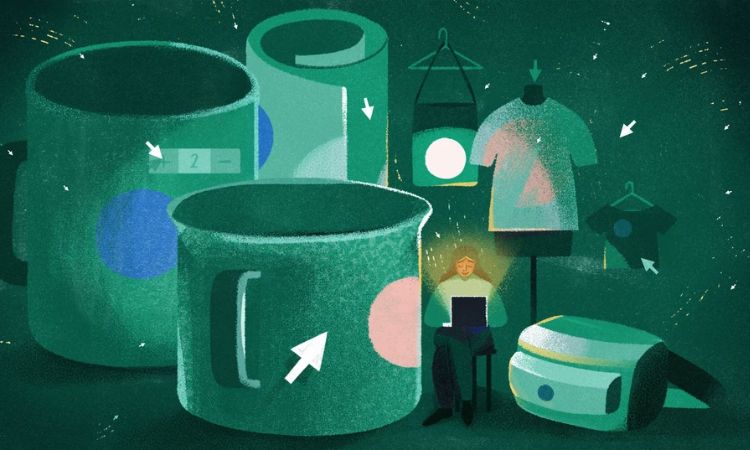 2.4. Establish a specialty and a following
With print-on-demand items, your margins will be a little narrower, so you'll want to be cautious about how you position your brand. Because your targeting will be considerably more accurate, having a precisely defined audience (e.g., dog owners) might actually help you minimize your customer acquisition expenses and enhance your potential revenues.
Having a specialization makes it simpler to build a loyal following that becomes a valuable asset. You may begin using the following marketing strategies right away:
Create and curate content for your Instagram account to reach your intended demographic.

To begin, spend $10 on Facebook advertising to test your items with your target audience.

Collect email addresses from visitors so you may promote to them for free in the future.

Building a long-term business, whether print on demand or not, requires growing an audience.
2.5. Open an internet store of your own
If you're new to print on demand, you'll encounter a variety of markets where you may sell your bespoke designs. When you build a store on RedBubble or Zazzle, for example, you may use POD services. Custom items are also sold on Etsy, eBay, and Amazon.
These marketplaces do have certain advantages: Amazon, for example, has 300 million active consumer accounts globally, placing your stuff in front of more eyes. There are roughly 80 million active shoppers on Etsy. Since its inception in 2005, Zazzle has acquired a solid reputation, having listed hundreds of millions of items.
Marketplaces provide customers with a variety of options and make it simple to locate things. They don't, however, provide you with control over your buying experience. 
You can manage the experience when you construct a branded storefront on top of an eCommerce platform like Shopify: how your store looks and feels, how customers interact with you, and how they find your brand. It also has connectors with major POD providers, allowing you to manage everything from one dashboard. Not to mention the decreased costs of running your own business.
Shoppers who aren't dedicated to Etsy or Amazon may appreciate learning about your company and perusing your website. Your email list, remarketing advertisements, and social media profiles make it easy for you to remain in touch with them and develop a connection that goes beyond the marketplace.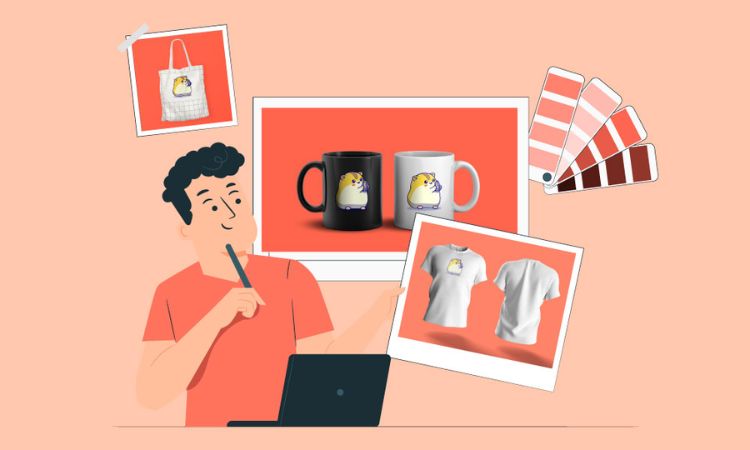 2.6. Design, test, sell and grow
For budding entrepreneurs or anybody who just wants to test a concept before investing in it, print-on-demand services provide an accessible place to start. There are dozens of white-label items available to make your own, as well as a plethora of design options to go with them.
Select combinations will undoubtedly sell better than the rest, but repurposing the same fundamental design for several goods is pretty simple.
You may always transition from print on demand to storing your own inventory if your company concept takes off and you start earning a significant amount of sales, or you can continue to use these services while looking for new methods to expand your audience.
The most significant benefit of the print-on-demand strategy is the flexibility it provides your company, the time it frees you to focus on expansion, and the usage of print on demand Shopify apps.
3. Final thoughts
All of the apps listed above are the best print on demand Shopify apps, as determined by ratings and reviews in the Shopify app store. Because each service has its own set of features and costs, it's up to you to decide which one is ideal for your current experience and ability.