Many sellers on eBay give up when their accounts have been restricted or suspended by eBay because they don't know how to reinstate it. While others may pay some individuals or services to try to contact with eBay support team and reinstate their eBay accounts.
You can do it yourself!
Just follow what we tell you in this article.
1. What's a restricted eBay account?
eBay account restriction means eBay seller account can't list, sell, bid or contact customers because they have violated one of eBay's policies.
Although eBay policies are simple and clear and most members follow them faithfully and easily, there may be situations where eBay has to occasionally restrict or suspend accounts to protect the community.
2. General types of eBay account restriction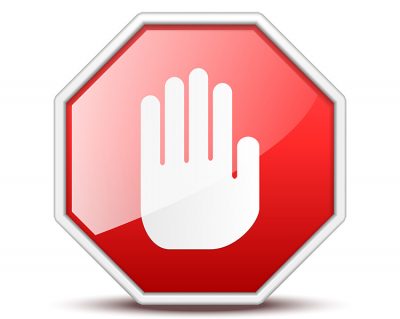 Generally, the restriction has two types: 
The first is MC011 (due to an unusually large increase in sales); 

The second is a Restricted list of goods for eBay to verify;
For MC011, you should not reinstate it. Because even if your account can be reinstated, it will be difficult to live on because you sell too much, too strong, and your products are reflected a lot. If you want to try reinstating this type of restriction to gain your eBay experience, you should still try, but the success rate is not high. 
Things to remember:
Calling eBay is pointless and will not assist you. In most cases they will tell you that you need to respond to emails you received, to get this issue inspected.
For a Restricted list of goods for eBay to verify, it's a normal case case you will often encounter in the present and future when selling on eBay. And you should try to reinstate because this is mainly eBay's challenge to see if you are an active seller or a junk seller.
3. Why is my eBay account restricted or suspended?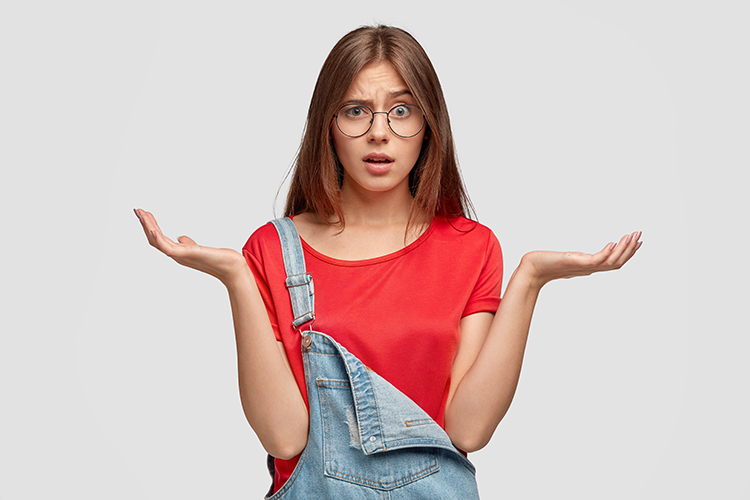 According to eBay document, here are the main reasons of holds, restrictions, or suspensions:
You have eBay fees to pay

You need to reimburse eBay for a refund we made to your buyer

You have violated one of our rules or policies

We couldn't verify your account information

You need to update your payment method
4. How To Reinstate eBay Restricted account?
4.1 Via email:
This way has the advantage of being fast, safe and not having to face the difficult background questions of Ebay support. 
This reinstating method reaches a success rate of 70% that the ebay account that will return to you after passing the basic questions of Ebay. 
If you are a newbie, you should use this method because you only need to finish the available forms, not as complicated as facing ebay's support directly.
The disadvantage of this way is that it takes longer than the chat support method.
How to do this?
Firstly click on this link https://ocsnext.ebay.com/ocs/eua?domain=sellerLimitsFAQ&query=1416&from=200118, then press Send us a message: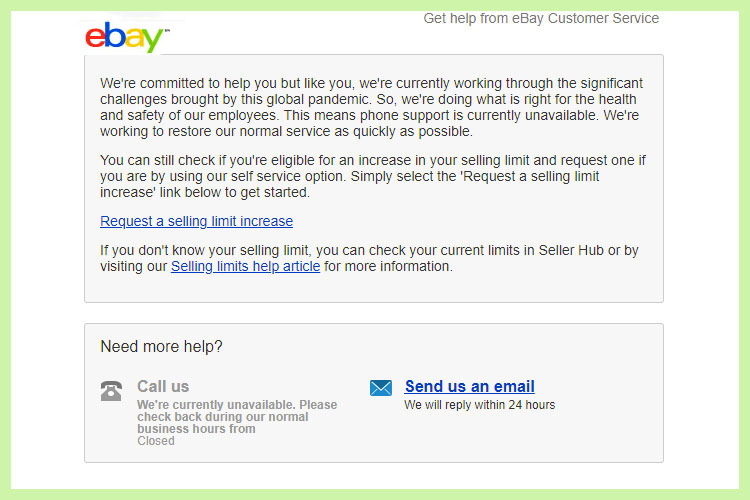 This way is applied for both account restriction and suspension. 
Next step, you fulfill the form and in the box of Please provide a brief description of your issue, you should write for e.g: "Please help me with my temporary restriction. Thank you."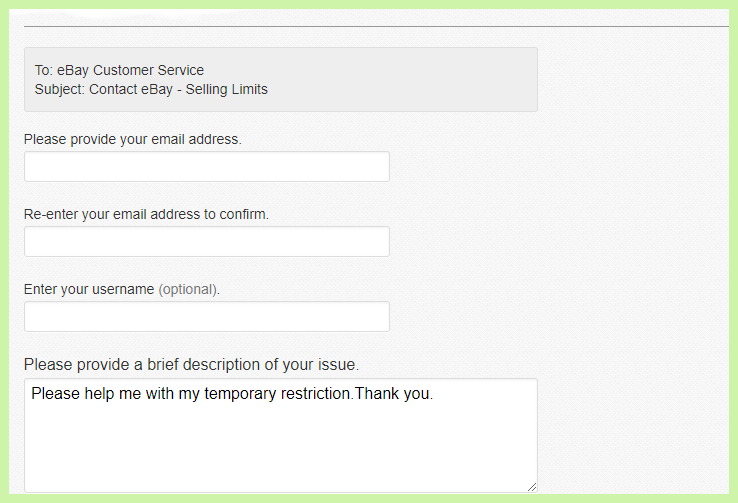 Returns usually have two cases. One is that your account will be reinstated immediately (rarely), and the second case is that eBay will ask some familiar questions for further verification as follows: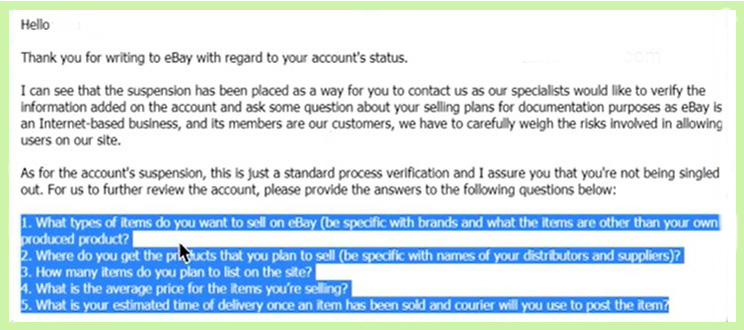 You only need to correctly answer the above 5 questions in accordance with the registered information, the items being sold and the activities in the past. 
These are extremely simple questions, you need to be able to answer yourself, if you can't answer them, it's best to stop playing with eBay :))
4.2 Chat Support
The advantage of this method is that the speed is fast, the success rate is high, but you will have to be familiar with this method a bit, it will be easier. 
This method has a success rate of about 70% depending on the person who is supporting you. If you have experience, you should choose a support person that seems easy to implement (but it is important that you have tried a lot before).
Please visit this link: https://www.ebay.com/help/account/account-holds-restrictions-suspensions/account-holds-restrictions-suspensions?id=4190 and press on Go to messages.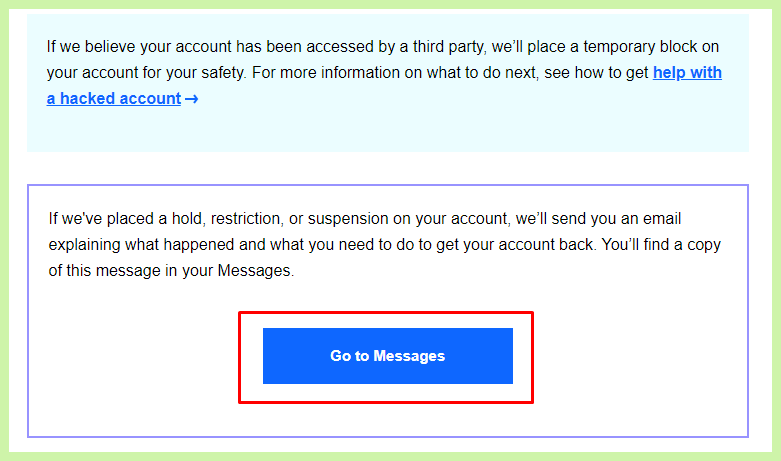 Note that you can replace the .com extension with the .ca extension to choose to chat with support in the US or Canada, this depends on business hours. 
In addition, chatting with support Canada will bring a higher success rate, perhaps because Canadians are less stressful in working and cuter than Americans.
If you feel that any support agent is easy to talk to, just ask enthusiastically and list their name. Next time try to choose to meet and chat with him/her. If you don't see your favorite support agent, just ignore and wait for your idol support to come online, then start chatting. 
5. How To Use Account After Reinstating
After reinstating, you should not list the items right away, but wait for 7 to 10 days. 
It is better to list the draft form and then leave it for a few days to activate it.
6. To Sum Up
Above is an article that shows you how to reinstate the restricted account with a success rate of over 70%. 
Having your eBay account restricted is never good, but it may provide the motivation you need to improve your performance.
You can avoid the stress and drop in sales that comes with account restriction by simply increasing on better service and always remember "customer-focused" , and reading up on eBay's seller policies as well!