Selling limit raises is important to expand your business and avoid being suspended account. This article suggests sellers ways to increase selling limits on eBay effectively.
The selling limit's role is to help sellers grow their business in a manageable way and to ensure they can provide buyers with excellent service. However, sellers always want to sell as many as possible and accelerate the process of business scaling.
1. Types Of eBay Selling Limits
Selling limits on eBay are restrictions designed by eBay on the listings number that some sellers are allowed to post. This aims to protect customers from eBay scammers or being sold counterfeit or stolen goods.
eBay has a sophisticated system for tracking possible scams while still providing an open, welcoming marketplace for sellers and customers. To create a safe, equal environment for buyers and sellers, eBay has designed the following restrictions:
1.1 Account-Based Selling Limits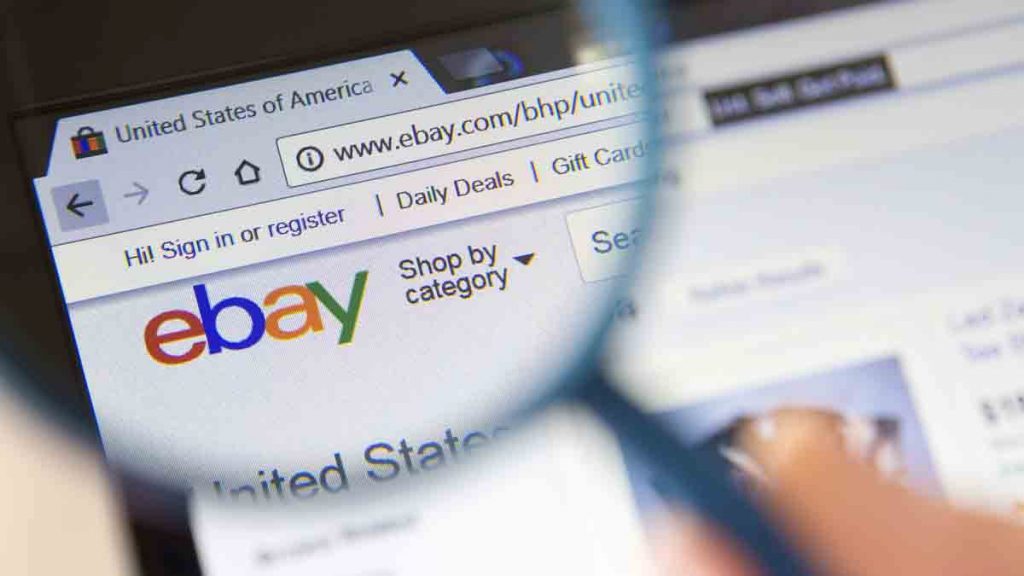 Account-based selling limits allow eBay to check seller accounts and verify their personal information to make sure that is real.
There are certain product categories having their own limits and are not affected by account-based limits:
Property
Business, office, and industrial
Cars, motorcycles, and vehicles
1.2 Category-Based Selling Limits
Even if your business has been selling successfully, eBay still can limit the number of products you sell when you're new to selling in a particular category. This is to give you time to learn about how to sell in that category and any rules that may apply.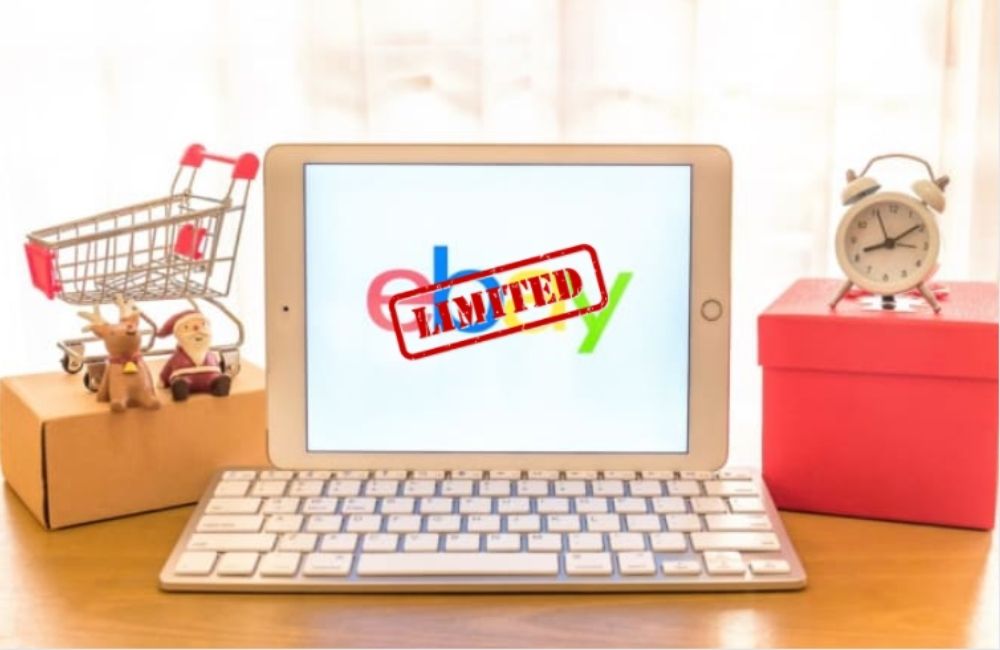 Category-based selling limits may be applied to your account if:
You're within 90 days of a first successful sale
You haven't sold multi-products in this category before
You have not sold in this category for more than a year
You have more than 3% refund cases of eBay Money Back Guarantee
1.3 Item-based Selling Limits
Item-base selling limits make sure merchants sell fairly and help make eBay one of the world's most trusted marketplaces.
The sad truth is that some items are more susceptible to counterfeiting or unauthorized copying than others, such as handbags and watches on eCommerce marketplaces.
That's why if you sell items with a high risk of counterfeiting, you may get additional restrictions. However, eBay is committed to supporting everyone through eBay's Verified Rights Owner (VeRO) program.
2. Check Your Selling Limit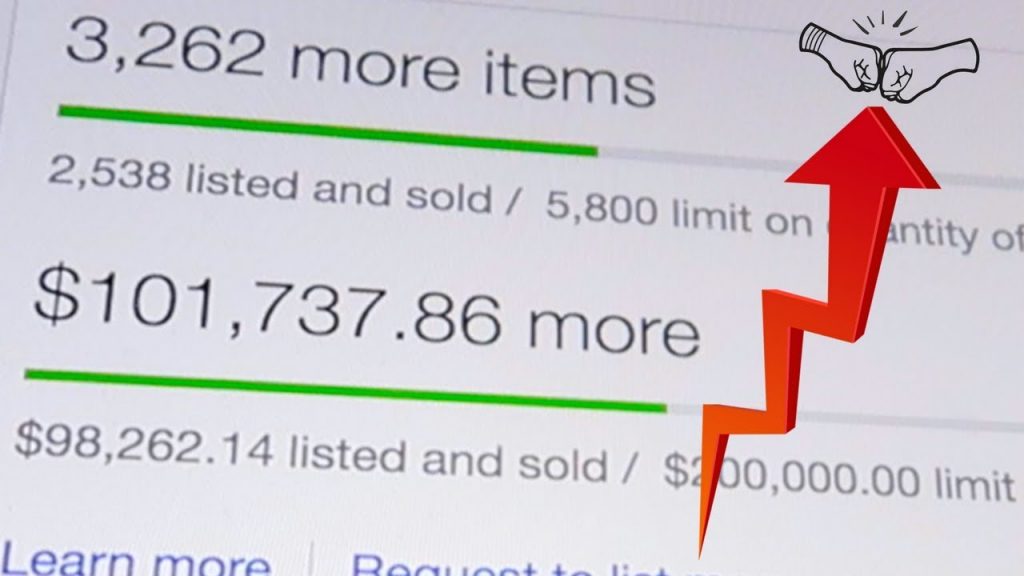 When retailers post a new listing, any selling limits on eBay on your account will be displayed on the screen. Or sellers can see what is your eBay selling limit by:
Go to My eBay
Open Activity tab.
From the Sell section select All Selling.
Click the Monthly limits to view your current limit
Note: If your monthly limit is 0 and you keep uploading products without requesting to increase selling limits on eBay first, your seller account will be locked. So instead of spending time asking for selling limit raises, you will waste your time unlocking your account.
3.How To Increase Selling Limits on eBay?
When a seller's account is about to reach its monthly limit as well as it reached that limit, eBay will proactively prompt the seller.
These notifications will occur with the option to request a review of your account activity. If you've provided a good service long enough, your selling limits may be loosened.
Note: It is against s if a seller creates a new eBay seller account for sales or when their account reaches a sales limit. eBay will detect your trick and suspend all your accounts.
To increase selling limits on eBay quickly you can apply these solutions below:
3.1 Request eBay Selling Limits
Way 1: Request eBay Selling Limits from your account
The first method to increase selling limits on eBay is to click on the 'Request a limit increase' link.
Go to My eBay in the page header
Open Activity tab
From the Sell section select the All Selling
Click the Request a limit increase link in the Monthly limits (then follow the direction)
Note: Remember that you can only use this option once a month. Therefore, take all steps to make sure you qualify for the limit increase before trying.
Way 2: Request to Increase Selling Limits on eBay if your account has been suspended
Open Contact us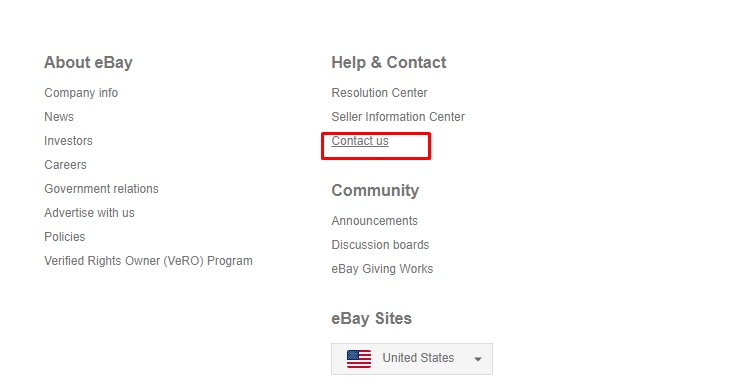 Choose Selling: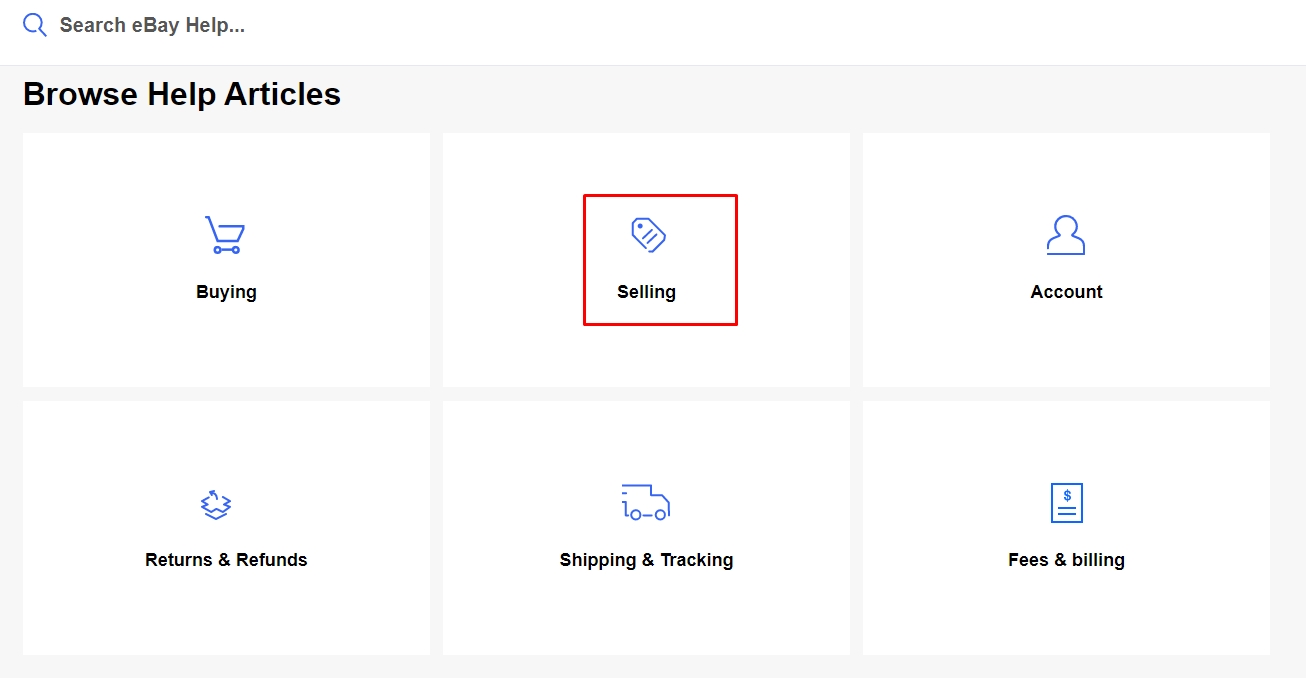 At the "Listing Your Item", choose "Selling Limits"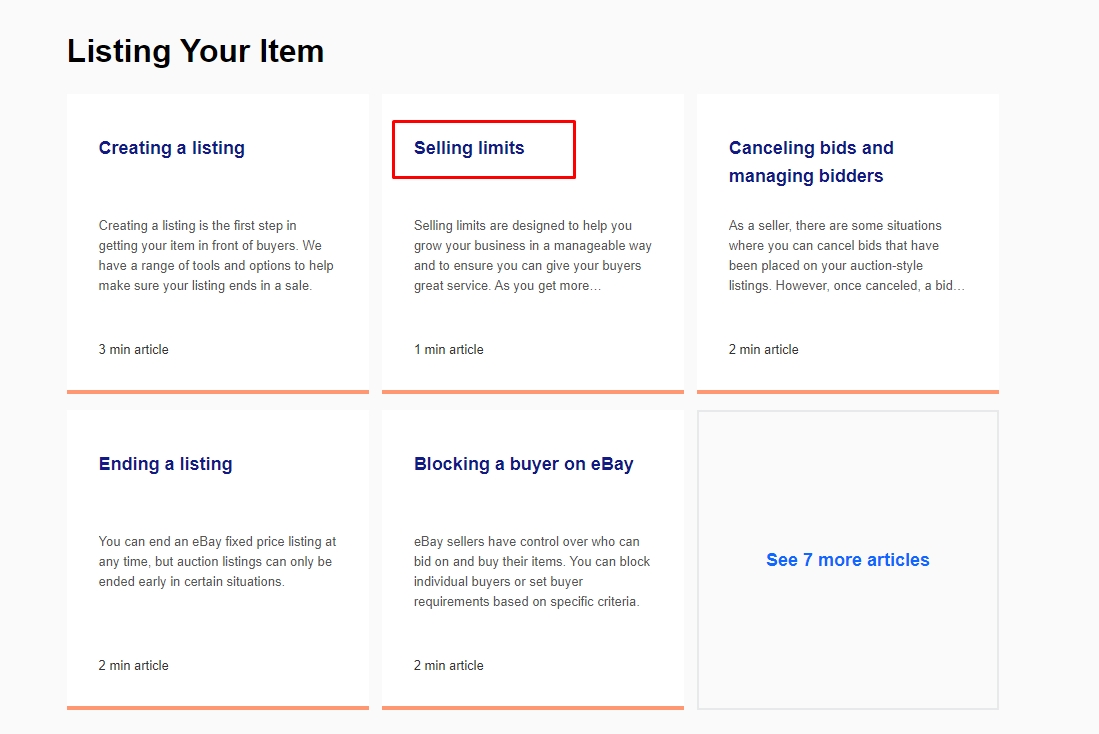 At the "Increase your selling limit", send "request a limit increase". And please wait for eBay approvement.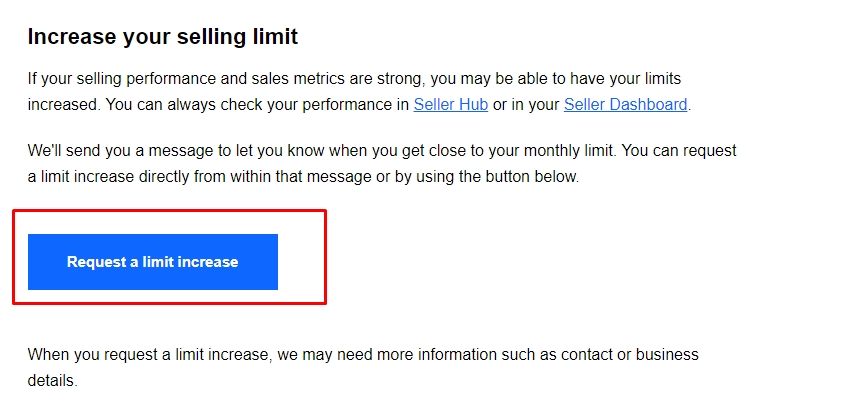 3.2 Automatic Increase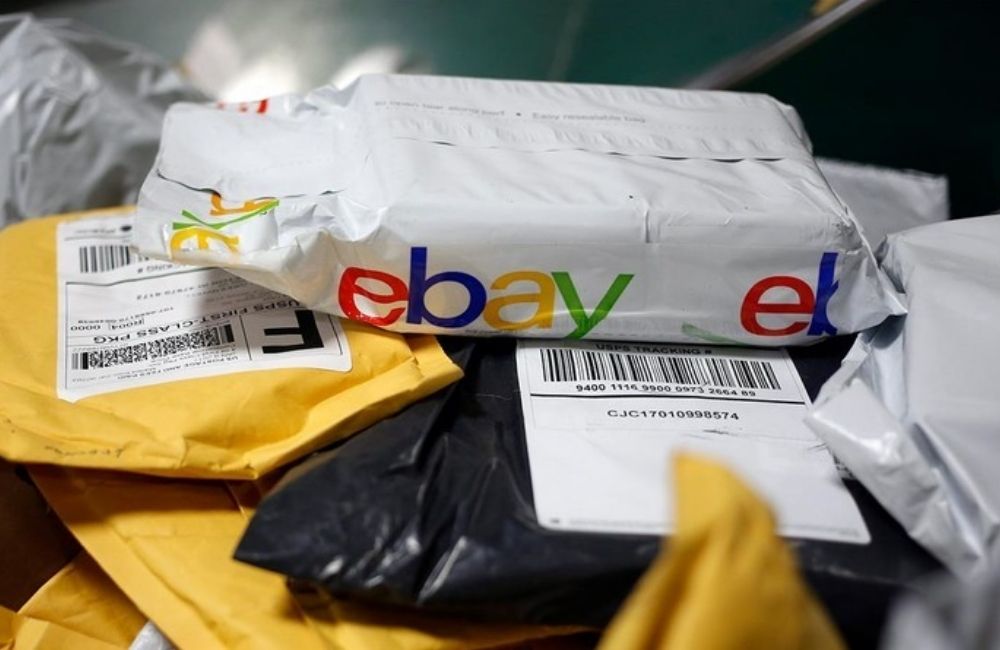 The sale volume and the total value of your products will be the factors that determine whether or not eBay will increase selling limits.
If a seller account meets the criteria for a limit increase, eBay will automatically increase selling limits.
They have special algorithms that scan your stores every month for your seller metrics and performance.
As soon as your account is considered eligible for a limit increase on eBay, they will send an email saying 'Now you can now list even more'. Receiving a limit increase notification is a positive sign that your store is on the right track.
3.3 Support Chat
The third method to increase selling limits on eBay is by contacting eBay via chat. However, keep in mind that eBay logs the conversations, so this method can also be used once a month for good effect.
You can directly chat with eBay's representatives, so be kind and polite all the time. This task requires you to show how serious you are with your business, and how outstanding services you provide your customers. Excellent customer experience is always on top of your business priority.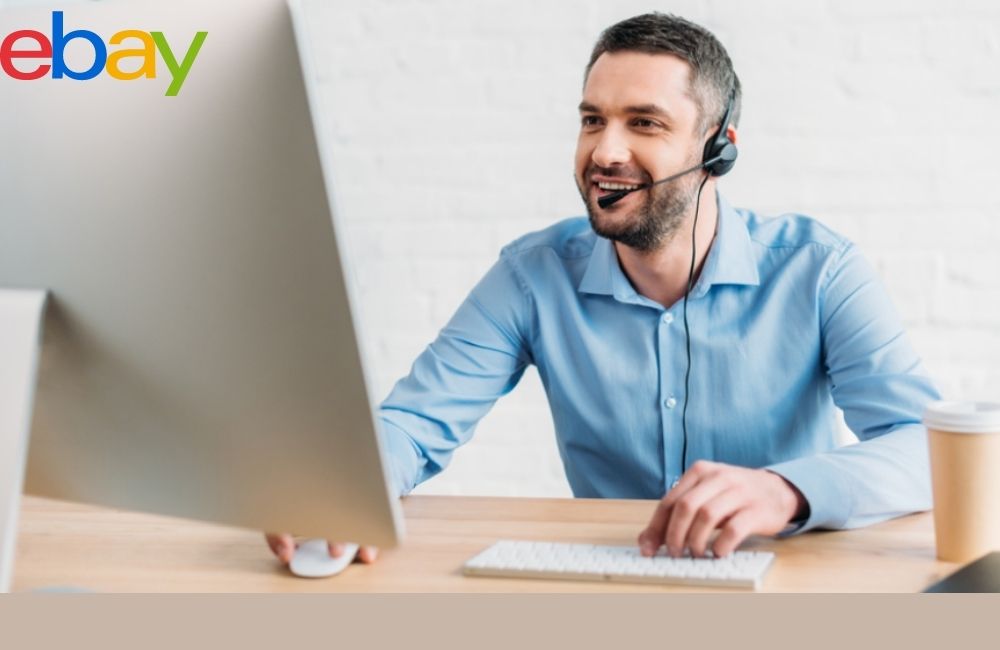 Although you need to show representatives how nice you treat your customers, that needs to be true if you really want to succeed in this business.
You also can try to make a phone call or send an email to eBay to increase limits, these ways are the same as having chat by clicking on 'Help & Contact' on the top bar.
3.4 Link Your New Account To The Old Account
It is easier for eBay to track store activity by collecting all data whenever you open an account.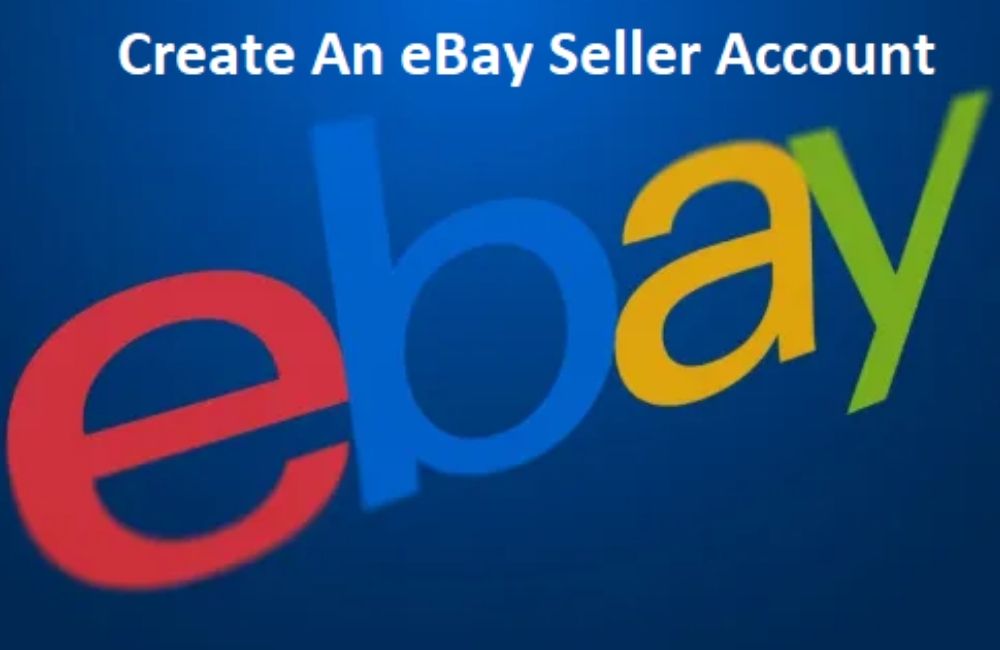 Linking a new account to an old one may lead to increasing selling limits. Why? When you want to increase selling limits on eBay if your old account is well established and has a good reputation, eBay will consider loosing the limit.
4. FAQ – Increase Selling Limits On eBay
4.1 How do I contact eBay to increase selling limits?
To contact eBay via Email, Phone call, Chat by clicking on 'Help & Contact' on the top bar to increase selling limits you can. Or you can 'Request eBay Selling Limits' as our direction in section 3.1.
4.2 How do I increase my eBay category limit?
To increase the category limit, you need:
Confirm personal information (optional)
Have an eBay account active for at least 90 days
Have successfully sold at least a few items in the catalog
You also need to provide excellent customer service and follow eBay's Policies
4.3. How long does it take to increase selling limits on eBay?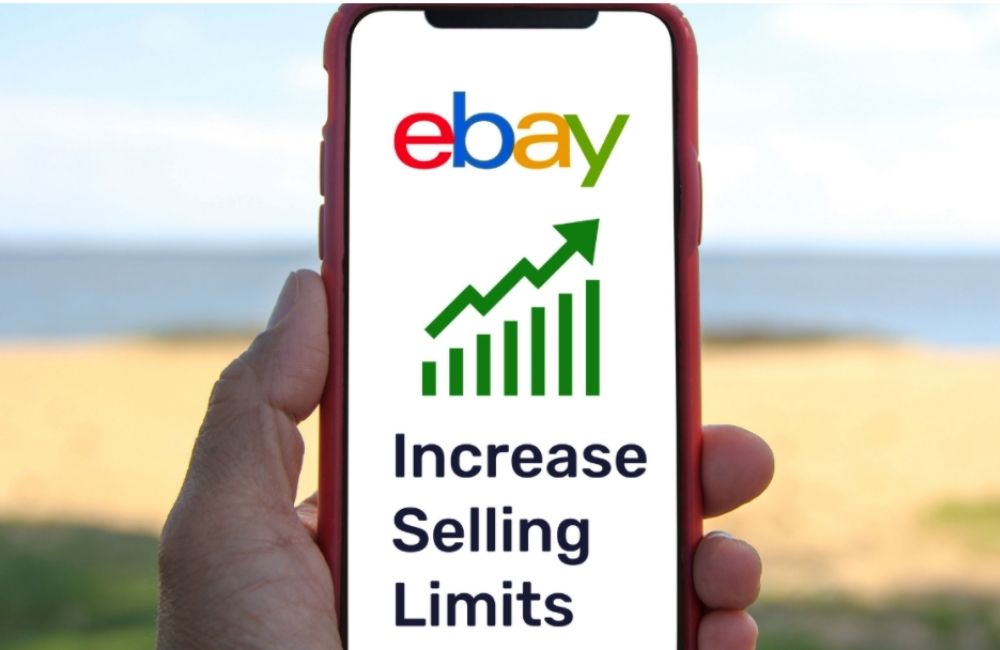 It automatically increases after 90 days for new sellers if they meet eBay criteria.  Sellers' accounts will be reviewed every month and the selling limits will also be increased by eBay automatically if your sales volume and feedback meet the criteria.
4.4 Why can I only list 0 items on eBay?
Your account is not set up for sale or if you are selling, your account has been banned.
There are a lot of variables involved here so your best solution is to call eBay. You can find their contact information through eBay customer service.
Final thoughts:
eBay has done a great job of protecting customers from the bad trick in eCommerce. Customer positive review plays a very crucial role, so the most effective method to increase selling limits on eBay automatically is to provide excellent customer service. You also can follow those solutions above to make this process quick.