Optimize Etsy Listings is an important thing to develop your Etsy store. You are a beginner in the POD industry, and you still do not know how to do SEO effectively on the Etsy platform. The following article will share ways to help you confidently optimize keywords on this e-commerce platform.
We'll discover the internal workings of Etsy's seek engine, the platform's algorithm, the elements that seem when rating listings. Moreover, you can know steps to improve your store's position in search results.
1. Why Need To Optimize Etsy Listings?
Simply because there are so many people shopping on this platform, according to Marketplace Pulse, in the first quarter of 2019, Etsy had 41.03 million active buyers. That's an 18% year-over-year growth. This shows that consumers are increasingly shopping at more websites. More buyers mean more sales opportunities, helping you to increase sales. But to get there, you have to appear at the top of the search.
If you optimize Etsy listings, you can set up your store quickly and easily. Besides, it also helps improve your listing's quality.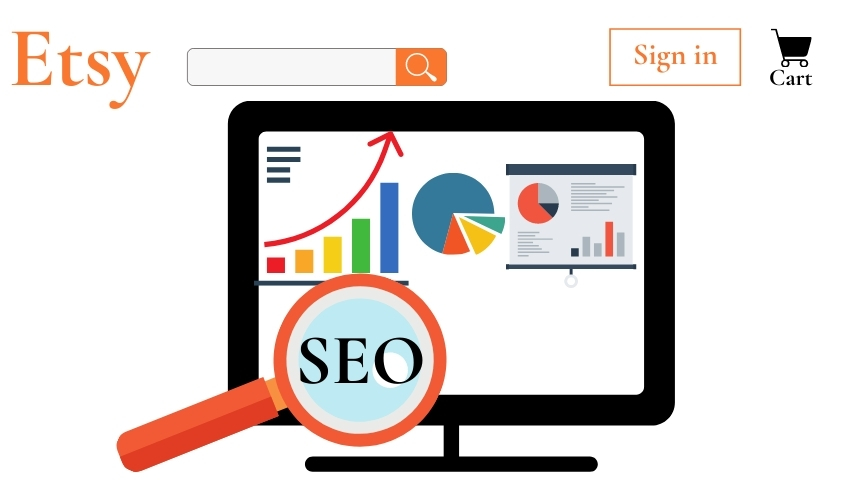 2. How To Optimize Etsy Listings?
If you want to improve the SEO of your Etsy store, you must first understand how Etsy chooses which listings are shown first to buyers.
When Etsy reveals a list that fits a buyer's search, various factors seem to rank the list. These ranking factors on Etsy include:
Relevance level.
List Quality Score.
Recently.
Customer and market experience score.
Shipping cost.
Translations and languages.
Shopper habits.
2.1. Optimize Etsy product
2.1.1. Use high-quality images
This is one of the most important things to optimize Etsy listings. Etsy allows you to add up to 10 images per listing, so seize the opportunity to showcase your products in the best lighting conditions. In addition to taking photos from multiple angles, add images of the product in use, such as customer feedback. If possible, add images to help buyers better understand the product's size, material, etc.
2.1.2. Write a clear and informative description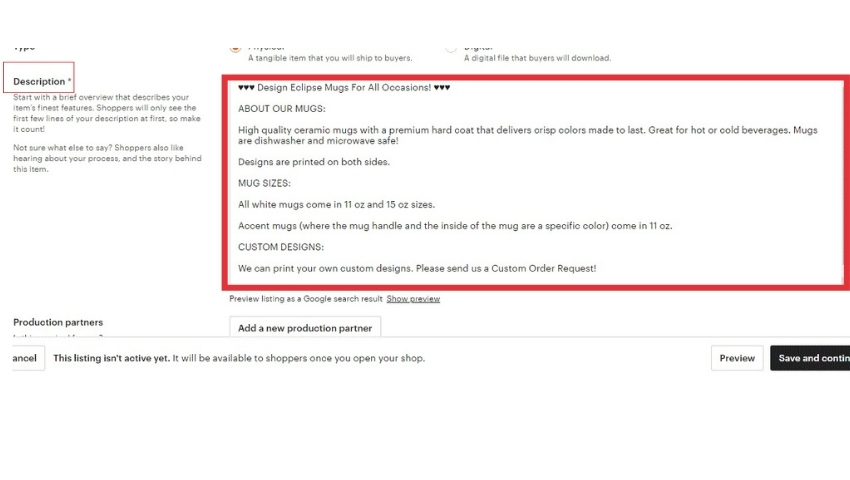 Etsy does not limit the number of words for your product description, so the length of the content will depend on the complexity of the product or the story you want to tell. It would be best if you keep the following basics in mind:
Write the most important details first: When you do, it instantly grabs shoppers' attention, encouraging them to keep reading. This information will vary depending on the product, but usually, this section includes key product features and ordering instructions. Feel free to repeat the exact keywords used in your titles, tags, attributes, and categories.
Brief, skimmable: There's nothing to make people buy online is more afraid than a description with too many words. So you should use short paragraphs (about 4-5 lines). Use bold, italic, and underline to highlight key information, and use headings to break up a text.
Insert links: Etsy allows users to click on links directly if they lead to pages within Etsy. So you might consider including a link in the description to direct people to other items or your store's main page. This way, you can still keep customers within your store instead of letting them return to the search bar or go to another store.
2.1.3. Get a link to your listing
Get a link to your listing is a good choice to optimize Etsy listings. Etsy store SEO goes beyond what you've listed in your store. People referring and linking back to your store also has an impact. People will see that other people are talking about your store, which will attract more customers. This may not be an audience you can reach on your own, and having someone else vouch for your work says a lot about you as a seller.
To get more backlinks for your store, focus on your Etsy store and your other online listings. This means managing social media accounts for your store and, ideally, even a website.
Being active and visible online will help more people learn about your business and give you more opportunities to get people to link back to your store and listings.
2.2. Optimize Etsy SEO with Etsy Keyword
2.2.1. Accurate Keywords Are Key
Accurate Keywords can help you optimize Etsy listings. Many of the sellers at Etsy are extremely creative, and some may think it's best to feature that creativity in their store listings.
For example, if you sell original artwork, you can give it a unique name of your own and use it as the listing title.
However, an Etsy store is similar to any other online store in that your keywords should reflect what buyers are searching for.
A fun, innovative list name that does not describe the object might not get you found.
It would help if you also tried to fill in as much detail as possible. You can use long-tail keywords on Etsy the same way you would on your website to be more specific about exactly what you're offering.
This can help you find prospective buyers. These shoppers realize what they are searching for, so their searches tend to be extra specific.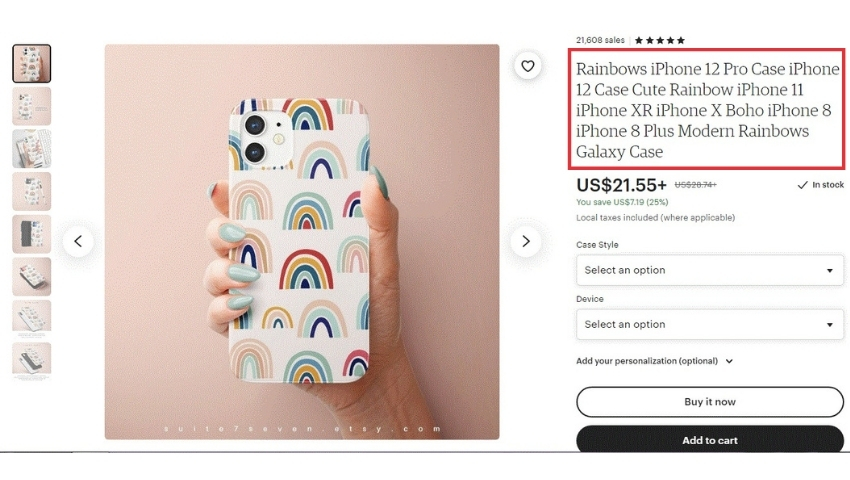 2.2.2. Finding and Optimize keywords for your Etsy listings
This is an important thing when you optimize Etsy listings. Once you have found a keyword that matches some of the products you offer, you may think that the best way is to use that keyword for all of them to make them all seen by buyers.
No matter how great your store is or how many optimizations you have done, Etsy will only show your listing a few times in a single search. This means that if you're using the same keyword for multiple listings, most of them won't appear in buyer search results.
If you're too repetitive, you'll only be competing with yourself apart from every other store out there. Even if you have many similar listings in your store, try to use slightly different keywords for each.
2.2.3. Use SEO tools for keyword planning to optimize Etsy listings
Google Keyword Planner is one of the free tools provided by Google.
Using Google Keyword Planner, you can check the average search volume of keywords. With the information Google Keyword Planner provides. You can determine the appropriate cost for each ad campaign. Or select a good set of keywords for your product.
Ahrefs is one of the great analytics tools in SEO. It is a Big Data (a big repository of data) like Google uses to analyze competitor websites. Keyword research, marketing, finding opportunities to increase website traffic, building links (Backlinks), …
eRank is formerly known for Etsy ratings; it has a set of tools to meet your needs, such as:
Find the long-tail keywords that buyers are searching for in the market
Follow other sellers to see how they are doing
Your product listings and how changes affect your rating
Help you understand Etsy SEO and make the right improvements
Use Etsy's search box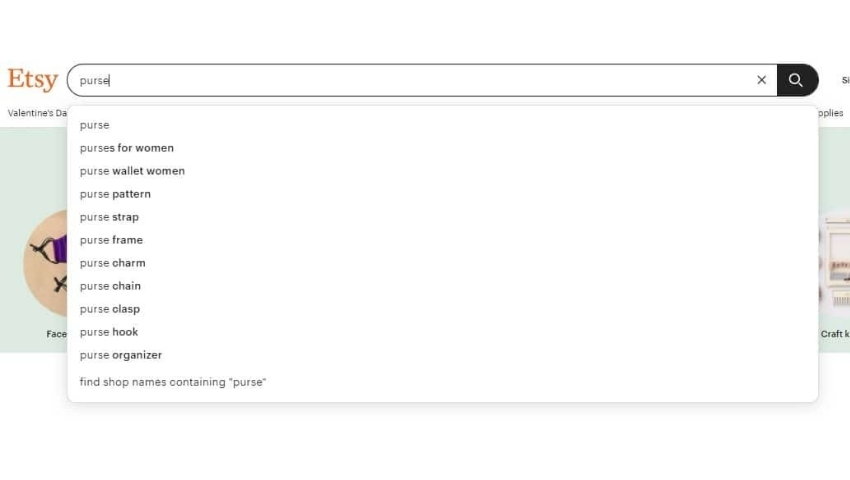 Etsy's search suggestions may be useful together with your research. Etsy will make these recommendations based on recent shopper searches, and they don't necessarily reflect a keyword's popularity.
And if you are looking for more general Etsy sales trends, you can use Etsy Trends. A feature that displays the most searched keywords on Etsy and seasonal trends based on last year's data.
2.2.4. Add relevant attributes
Attributes are additional details that you can use to describe your product and optimize Etsy listings. They are displayed on the left side of the search results page, and customers can use them to narrow down the search results.
Attributes make it easier for buyers to filter search results and help Etsy handle Query matching more efficiently.
You can optimize this section of your listing by including various relevant attributes when updating your listing. You can also use them to expand your listing's compatibility potential. The more relevant attributes you have, the more likely your product will be shown in search results.
2.3. Listing title
2.3.1. Your Etsy shop title
Etsy allows you to use up to 140 characters in product titles. In which the first 30 characters are the most important for Etsy SEO. So use the most expensive keyword in the first word of the title. Avoid unnecessary keywords in the first place like size, colour or brand name.
2.3.2. Put the Category in Your Title
Although Categories have the basic purpose of making it easier for users to find pages and narrowing their search, they still play an important role in SEO. Categories and subcategories act like tags. It will optimise Etsy listings. Etsy will use them to combine listings with search queries.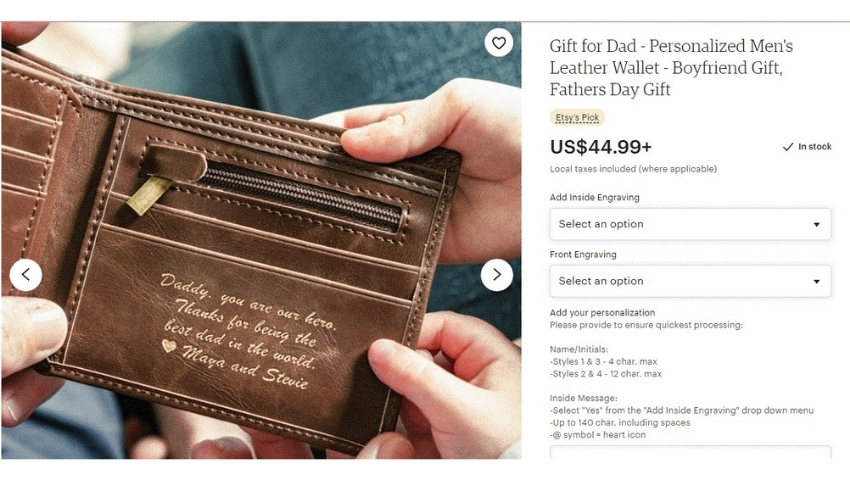 2.3.3. Use Longtail Keywords In Title
Shorter keywords get more traffic but also more competition. If you use more specific keywords, you are more likely to make a sale. Because people who use specific keywords are more likely to purchase those who search in general. In addition, using longtail keywords also helps you to be less competitive.
2.4. Tags
2.4.1. Use Keywords in Product Tags
Don't forget tags if you want to optimize Etsy listings. Etsy tags have two functions: helping shoppers discover similar products self or related, and assisting Etsy in the Query matching process. Besides, it is also a good way to optimize Etsy listings.
Etsy tags allow up to 20 characters and can contain multiple words. Etsy recommends using multi-word tags like "handmade necklace" instead of "handmade".
You should also prioritize longtail keywords instead of general ones because customers will search for specific words when they buy a certain product. Using longtail keywords will help your product appear in front of more customers. For example, for someone who wants to buy a men's wallet, their search term will usually be "men's leather wallet" or "minimalist wallet", but rarely search for the word "wallet".
2.4.2. Add 13 Relevant Tags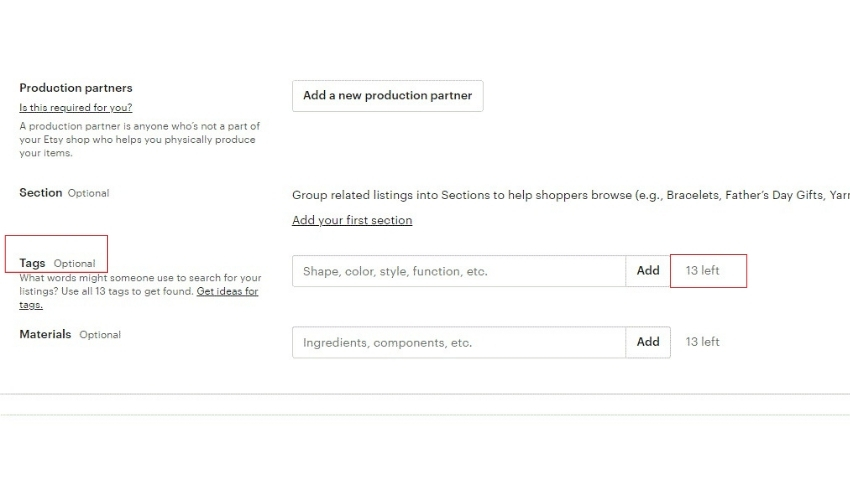 Etsy allows you to add up to 13 tags per listing, so please consider being very careful! Changing the tags to form a series of search terms will work rather than many unrelated words. For example, if you are selling necklaces, in addition to common tags like "diamond necklace", "silver necklace", you can add tags like "custom jewellery" or "women's gift".
2.5. Customer experience
2.5.1. Store Policy
Having a clear store policy will help your customers feel more comfortable. Being transparent about how you operate – especially regarding returns – gives buyers more confidence in purchasing decisions. In addition, it will also help you manage customer expectations.
Etsy provides forms for shipping policies, payment methods, product returns and user privacy. And you can use this form to set up your store's primary lighting.
2.5.2. Product Reviews
In addition to driving purchases, reviews also have a direct impact on scores.
Etsy will prioritize products with positive reviews by giving them a better position in search rankings.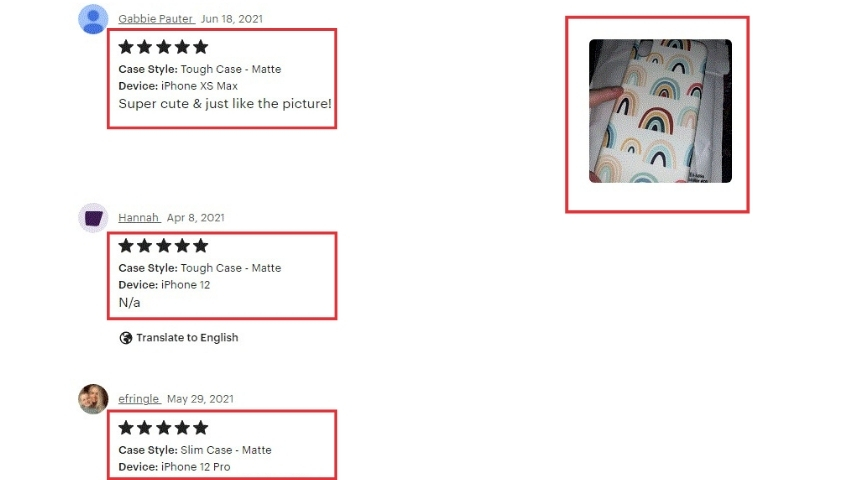 2.5.3. Run Etsy Ads for Your Shop
Etsy works like a search engine. That's why there is only one form of advertising on Etsy, which is search advertising. Specifically, when advertising on Etsy, you will choose keywords that buyers often use, then your products will appear in the first 4 positions on the search results.
To create an ad on Etsy is also very simple; you just need to follow these steps:
Sign in to your Etsy account
At the top right of the toolbar, select Shop Manager
Select Marketing > Advertising. Then select the products you want to advertise, keywords and advertising budget.
2.5.4. Offer Free Shipping
Offer Free Shipping may be a final step when you optimize Etsy listings. Etsy knows that customers are more likely to shop at stores that offer free shipping. Since Etsy wants customers to complete a purchase, it will prioritize listings with lower shipping costs.
Indeed, reducing shipping costs can be difficult, especially if your profits are not high, but there are a few creative tactics you can try below:
Incorporate shipping into the product price: Include a portion of the cost
Estimated shipping into the product price so you can reduce the shipping listed. If you're selling an item that costs $10 and has $5 shipping, you can split the shipping fee in half and add the other half of $2.50 to the product price to $12.50.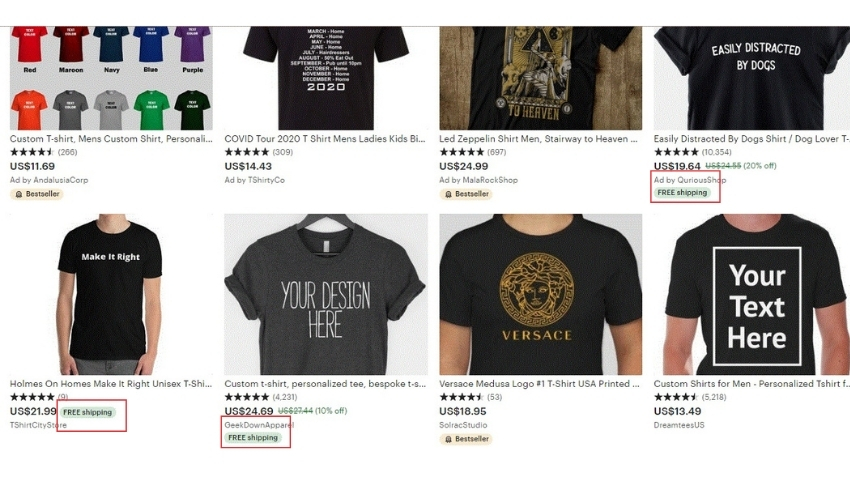 Free shipping: This way, your store will attract not only shoppers but also Etsy's search engine. There will also be a free shipping badge showing up on your search listing. You can either incorporate full shipping into the sale price or free shipping if the customer satisfies your requirements. For example, you can get free shipping on orders over $60.
3. Final thoughts
Successfully adopting an Etsy SEO strategy requires you to combine selling the products people are searching for, implementing search engine optimization tactics, and being seller-friendly. Hoping this article can help you optimize Etsy listings.