Thanksgiving or other holidays kick off a good time for both eCommerce platforms & shoppers. Thanksgiving is the best time for retailers to increase sales. As a Print On Demand seller, you should think seriously about your marketing plan for the Thanksgiving holiday. How can you generate interest in your brand during this holiday? This blog will highlight some great ways to boost Print On Demand product sales on Thanksgiving that will help you maximize end-of-year profits.
1. How To Boost Print On Demand Sales On Thanksgiving?
Most people enjoy shopping online during their holiday from the comfort of their sofa. As a Print On Demand retailer, you have an edge over other e-commerce stores because you don't need to prepare inventory or worry about running out of stock. But competition is of course still fierce.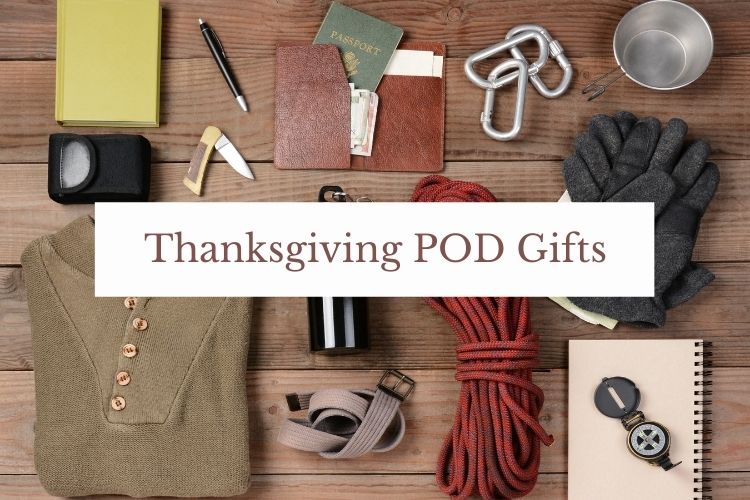 Let's figure out tips to boost Print On Demand product sales on Thanksgiving!
1.1 Optimize Your Store
SEO is one of the most popular digital marketing methods recently because of its effectiveness. SEO is about the measures you follow to make sure your store shows up higher on the Google results page. The main goal is to be number 1, but being on the front page is also a big accomplishment.
When most people talk about optimizing for SEO, they are often referring to a website. Fortunately, you can optimize your Print On Demand store the same way you would with a website.
Let's start focusing on how to boost Print On Demand product sales on Thanksgiving!
Buyers tend to type in very specific keywords on search tools to look for what they need. But how do you know which keywords are relevant to your products?
One of the easiest ways of doing keyword research is to pretend you're the buyer and do multiple searches for what's in your listings. Or you can find the right keyword by looking at the competition and performing keyword research through a service like Google Keyword Planner.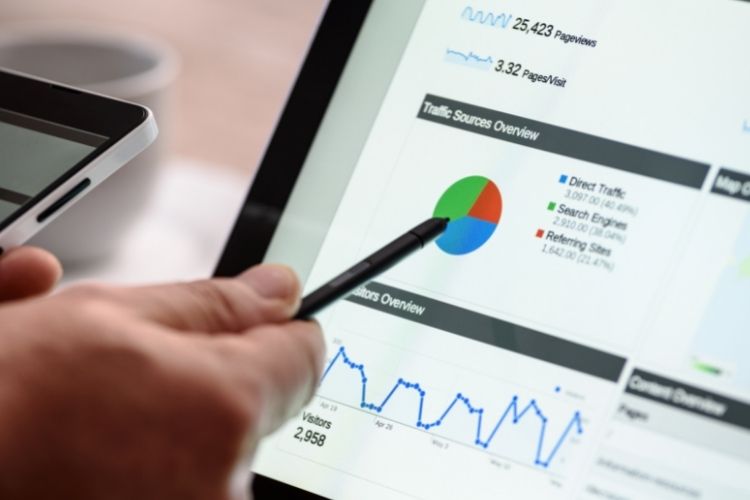 For example, the listing POD products including t-shirts. Then you can try to put the phrase "t-shirt printing" on Google Searching and then let it suggest keywords (check keyword's performance based on their popularity in search engines).
Use Quality Photos To Attract Buyers
As a buyer, you absolutely want to have a clear idea of what you're buying before spending money. If you are selling Print On Demand Products on eBay or other eCommerce platforms, you can add several images per product.
For instance, the maximum number of free images you can have is 12/product on eBay.
On the Thanksgiving holiday, many people are looking for gifts for their families. Using good marketing strategies combined with high-quality images tends to attract more potential customers clicking to view items.
That's a good chance to boost Print On Demand product sales on Thanksgiving!
Provide detailed information
Images are important but they can not say all things. You need to give customers very detailed information about the product's relevant features. Think about all the questions customers might have about the product and give a clear answer right in the description.
1.2 Host Thanksgiving Giveaways
Giveaways are highly viral and bring many benefits to both businesses and consumers.
Help promote your brand effectively.
Approach and promote services and products to potential customers.
This benefit helps businesses can obtain a large amount of customer data which is so important source for any business to plan sales and others.
Customers have the opportunity to experience and try your Print On Demand products. That is a good start for making loyal customers later.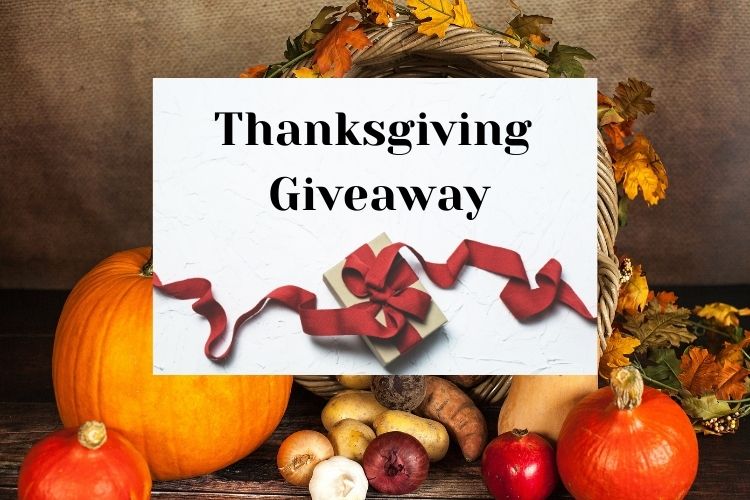 The power of free stuff is huge. Instead of spending so much money, they can join an event, giveaway, or contest to get things free as long as they are lucky enough! It means that players just need to spend a little of their free time, there's nothing to lose.
However, you need to control the costs of the giveaway item.
People love unexpected gifts and giveaways and it is hard to resist them. Although contests and giveaways are effective tips to boost Print On Demand product sales on Thanksgiving, you should organize a few times/year.
1.3 Thanksgiving Hashtag
We going online all day and often see a Facebook or an Instagram post that contains a piece of content with dozen of hashtags.
So why hashtags?
First, I have to say this tip is FREE!
Initially, hashtags are created for content tagging. When you post a status, you can tag it with some relevant #hashtags. The goal is to make it easier for others to search for this keyword see your post and then create the interaction.
Businesses take advantage of its use that helps potential customers easier to find their brand.
There are some hashtags you can use to boost Print On Demand product sales on Thanksgiving.
#thanksgivinggift
#printondemandgift
#printondemand
#printondemandshirt
#thanksgivingsocks
#printondemandhomedecor
#printondemandhats
#printondemandcards …
1.4 Run Ads Campaign
Advertising is one of the quickest ways companies and brands can boost Print On Demand product sales on Thanksgiving.
There is a variety of online advertising:
A display ad can include video advertisements, banners, or text ads,… When potential customers click on ads, they will be redirected to your Print On Demand online store.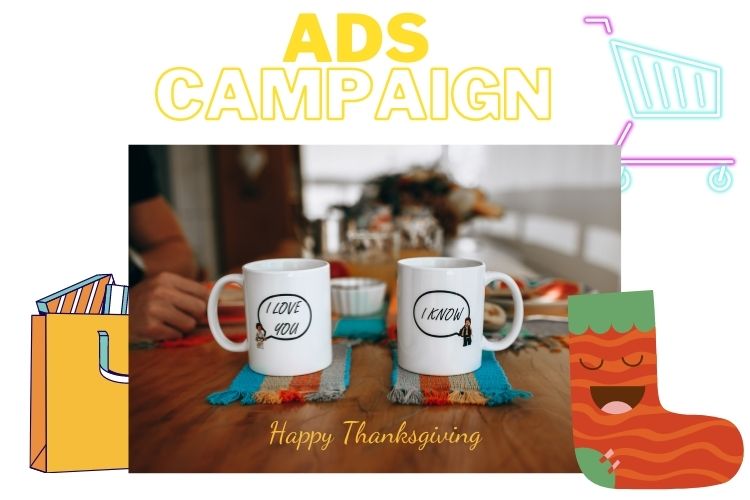 Social media advertising helps businesses to target their ideal consumers. Although this solution takes a little upfront investment, it can do a lot compared to organic campaigns:
Target your ideal customers
Drive more traffic to your store
More advertising platforms you can consider:
Instagram ads
Pinterest ads and Promoted Pins
Google Ads
These platforms also provide you with fast results within a few minutes of the sale.
1.5 Share Social & Influencer
Social media is also a useful site to build and strengthen the relationships between retailers & buyers by creating interaction. A good relationship fosters customer loyalty that leads to boost Print On Demand product sales on Thanksgiving.
How often should you post on social media depending on the type of business you run and your audience? However, if you post too seldom, some of your customers might forget about your store.
On the Thanksgiving holiday, people have more time and increased shopping demand. As a Print On Demand seller, you need to take advantage of this opportunity and post more on social media, at least 2 posts/day.
Influencer marketing is a marketing method in which you find a person with a large number of fans who respect and believe what they use or say. Then, you will pay that person a particular fee to introduce and post your products to their fans for a certain period of time.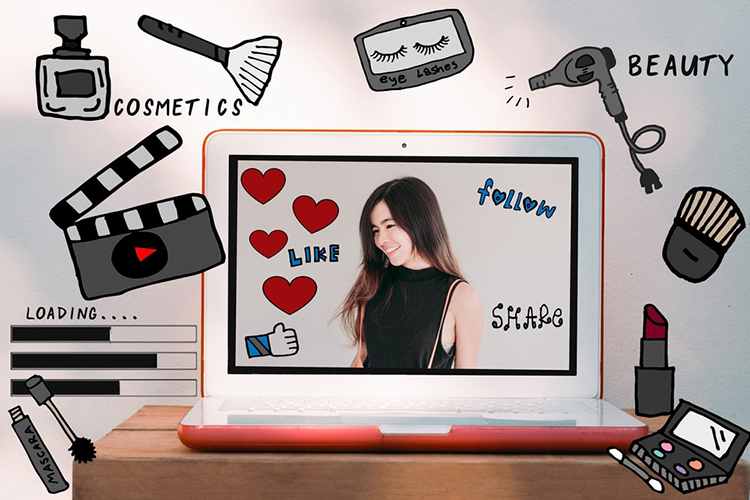 When it comes to reaching large and engaged audiences – influencer marketing does play a crucial role in approaching more idea buyers.
Besides, some people tend to buy what their idol has to show love. That's why this marketing is on-trend and absolutely a must-have strategy to boost Print On Demand product sales on Thanksgiving.
2. Top POD Products On Thanksgiving
Based on search trends, we found the top best Print On Demand product that will sell well on Thanksgiving 2022. You should take a look and then add them to your listing.
Thanksgiving Socks
Thanksgiving Face Mask
Thanksgiving Puzzle
Thanksgiving Pet Products
Thanksgiving Table Runners
Thanksgiving Mugs
Thanksgiving Hoodie
Thanksgiving Beanies
3. Final Though
Thanksgiving is a wonderful holiday. Although some of these tips will get a little technical and investment to boost Print On Demand product sales on Thanksgiving, it's absolutely effective to increase sales volume.