Selling on Amazon can be a great way to make money, but only if you're fully prepared for the process ahead of time. When it comes to making this possible, there are countless apps out there designed to help you. But how do you know which ones are worth your time? In this article, we'll look at some of the best Amazon seller apps that you can use to improve your bottom line in the years ahead.
Let's get started!  
1. Amazon overview 
Amazon is the world's largest online retailer. It started as an online bookstore in 1994 in the US, but now sells a wide variety of goods – everything from fresh produce to baby products to electronic devices. Amazon focuses on low prices, fast shipping and new technology such as drones. Amazon has 310 million active customer accounts and ships items to 185 countries with locations in North America, South America, Asia and Europe.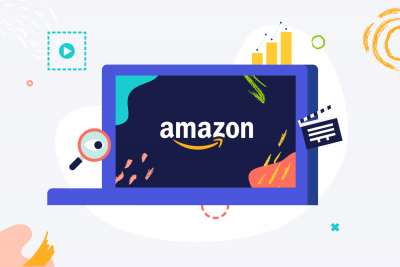 Amazon is known for its convenient delivery services; around 97% of US customers receive their orders within 48 hours. Its cloud-computing service, Amazon Web Services (AWS), provides enterprise clients with access to computing power, database storage, content delivery and other functionality via web services interfaces. According to estimates by market research firm eMarketer, Amazon is worth $314.9 Billion in 2021. 
2. Inventory and multichannel management 
2.1 Podorder – Amazon seller apps 
One of our picks for one of the best Amazon seller apps, Podorder is an all-in-one platform that not only helps manage inventory but also shipping, eCommerce sites, and more. 
Podorder allows sellers to manage their inventory across multiple channels from a single dashboard, helping them avoid making unnecessary purchases by running out of stock on one channel before another.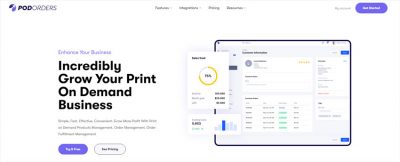 Reporting tools allow users to keep track of shipment data and sales performance, enabling them to pinpoint problems that can affect inventory management or profitability. Automated notifications help sellers ensure they have enough time to order replacement inventory should any issues arise with their current stocks. 
With several active users and integrations with eBay, Amazon, WooCommerce, Etsy, and more, Podorder has proven it is one of the most user-friendly options available today – and its popularity is only growing.
2.2 Brightpearl
Brightpearl is an inventory and order management solution for eCommerce merchants. The app connects directly to Amazon and lets you view all of your inventory data within your Amazon admin panel.
It offers built-in accounting features like profit and loss statements, forecasts, and item tracking, as well as shipping integrations with UPS, DHL, USPS, etc. Additionally, it also includes insights into sales history which can help inform future purchases or supply chain processes.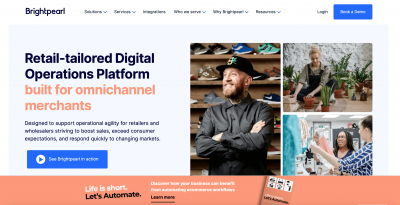 Brightpearl offers a 14-day free trial and pricing begins at $9 per month plus $2 per user after that point. For unlimited users and sellers with multiple storefronts, there's a Pro plan available for $99/month.
2.3 Skubana
Skubana is a comprehensive inventory management system that integrates with Amazon and gives sellers a unified view of all their inventory on all channels. It is one of many top Amazon seller apps that offer management features along with advertising campaigns, direct purchasing, customer service chatbots and more.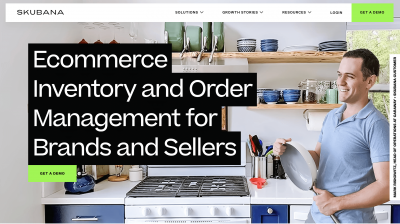 It has local fulfillment solutions for when sellers want to fulfill their orders instead of using Amazon's fulfillment services. Another useful feature of Skubana is that it has analytics that provide insight into sales trends and behavior patterns. With information about which products are trending up or down, Amazon sellers have a much clearer idea of what they should do next.
3. Business analytics 
3.1 Sellertools 
Sellertools is one of our favorite Amazon seller apps and a great business analytics tool for any online retailer. With features like sales performance reporting, inventory analysis, sales projections, and more, it's one of our top recommendations for getting a handle on your company's most important numbers.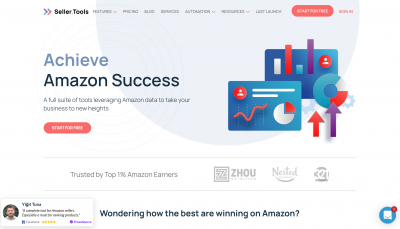 The app also allows users to import data from numerous other platforms. So you don't have to go through any sort of hassle when moving from another service or switching between multiple apps. If you manage inventory on multiple channels or use third-party services for shipping and fulfillment, Sellertools can pull all that data into one central location.
3.2 Sellvizor
Sellvizor is a real-time business analytics tool that helps eCommerce merchants improve their sales, revenues, and profits. It gathers actionable data about your store and how it's running – including revenue, conversion rates, product performance, and more. And presents it to you with visualizations and helpful analytics.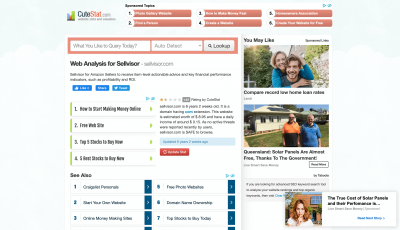 By giving you a more comprehensive picture of your business and its performance, Sellvizor aims to make growth easier for online sellers. The service integrates with Shopify, Amazon FBA, eBay, Shopware as well as Magento. Sellvizor is free to try for 30 days, then costs $69/month or $588/year.
3.3 Helloprofit 
If you want to know where you stand financially, but don't want to deal with complicated spreadsheets and reports, HELLOProfit – one of Amazon seller apps –  is a great choice. It provides a one-stop overview of your financials and uses graphs and charts to make it easy to analyze trends.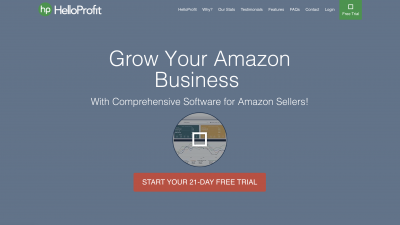 You can also easily pull reports from many of Amazon's key programs – including Seller Central, FBA, InventoryLab, Tophatter, Goodreads Author Central. And use those reports as inputs for any calculations that may be necessary. In addition to exporting data into Excel or Google Sheets files, HELLOProfit makes it simple to share information via email or create PDFs directly from its website.
4. Seller ratings – Amazon seller apps 
4.1 FeedbackFive 
FeedbackFive is an app that allows you to view and analyze seller ratings for your products. The app sends out push notifications when there are issues with specific ratings or when you've received a refund request. This lets you address problems quickly and appropriately to avoid negative reviews. If you're interested in monitoring third-party marketplaces like Amazon, keep an eye on FeedbackFive.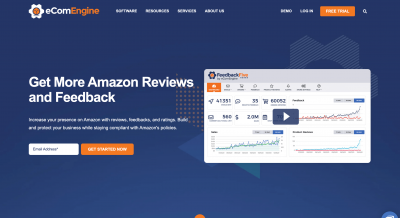 What's even better about FeedbackFive is that it includes 24/7 customer support so your questions are always answered. It is our top pick when it comes to Amazon seller apps – it's a tool we can't live without!
4.2 Feedback Genius 
High ratings are obviously great for business, but only if they're genuine. Feedback Genius allows you to automatically follow up with customers who don't leave feedback after purchase, providing them with an incentive (such as a coupon) to do so.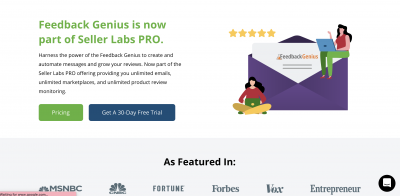 Their software then monitors those customers' subsequent reviews and notifies you of any potentially problematic reviews as soon as they're posted. In other words, you can save time by ensuring that all your happy customers are satisfied enough to leave a review. And then quickly find out about those who aren't through proactive monitoring from Feedback Genius.
4.3 Qualaroo
If you've got a few thousand products on Amazon, chances are pretty good that you're going to get some negative feedback at some point. It's not great for business when you get negative feedback, but fortunately, it's easy to reduce its impact using Qualaroo.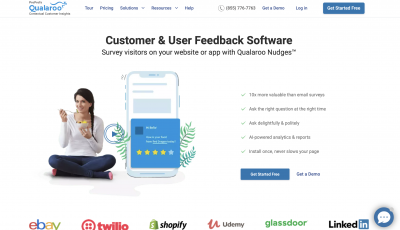 With Qualaroo, you can send users messages via their email addresses, prompting them to leave a review if they were happy with their purchase or experience using your product. If they leave negative feedback, you can ask them to change their rating with vouchers. It may not be entirely ethical, but it does help build up your product listing quickly while getting honest feedback from buyers at same time.
5. Marketing 
5.1 Scope 
While there are many Amazon seller apps – regarding Marketing – that help small businesses, Scope is a great option. This app not only allows you to plan and set up all your marketing campaigns but it also analyzes your performance so you can optimize them over time.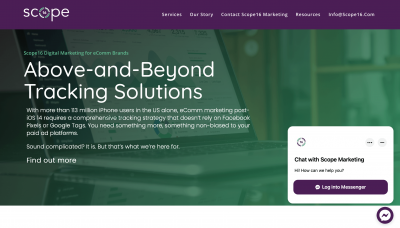 It lets you see your keywords, bids, and other information on a single screen so you can get a sense of what's working and what isn't. This makes it easy to adjust bids and manage everything from one place. Moreover, Scope comes with a free 14-day trial period and has plans starting at $15 per month when billed annually.
5.2 Ahrefs 
Ahrefs is one the best Amazon seller apps because of its incredibly valuable SEO keyword research tool. If you want to do long-tail keyword research for your Amazon product listing, you can find some interesting ideas by plugging your product keywords into Ahrefs' Keyword Explorer tool.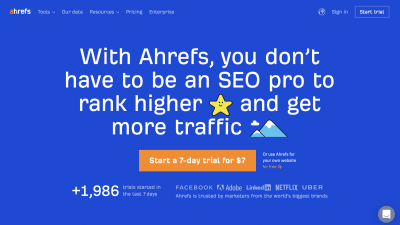 You'll get back a ton of keywords related to your products, which you can add directly to Google or add as notes when you write up your list of product features and benefits. Do note that Ahrefs Keyword Explorer has an insane number of features, so unless you're planning on digging deep into search volume and keyword competitiveness, we recommend that you just use it for its basic feature set. 
5.3 Content26
Content26 is a great, free marketing app that helps sellers build stronger customer relationships and drive more sales. By using Content26, you can quickly send messages to your past customers, which is especially useful if they have abandoned their carts. This way, you can entice them to return to your store by offering them additional products or discounts.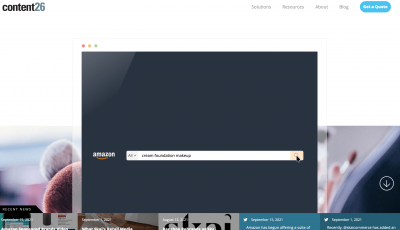 You can also import customer information into Content26 to develop emails based on their favorite items or other demographic factors. The best part? Content26 does all of the writing for you, you just need to plug in your keyword(s). 
6. Pricing & repricing 
6.1 Keepa
Keepa is one of our favorite Amazon seller apps, but it's more than just a pricing app. The real power here comes with its repricing functionality. If you need to make price changes on your products – to keep them competitive on Amazon – you can use Keepa to do so.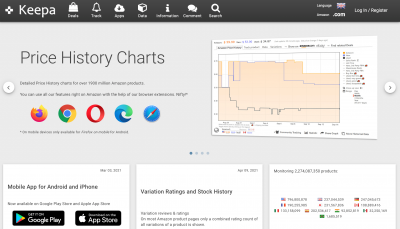 You can set your lowest possible prices and let Keepa take care of everything for you, or you can manually adjust your prices (although we recommend letting it work its magic). When combined with other tools like CamelCamelCamel, which lets you track historical sales data across multiple websites, Keepa is incredibly useful for monitoring your sales and staying ahead of competitors.
6.2 Appeagle
Appeagle is an excellent app for merchants using FBA. It provides full repricing capabilities, which is something you can't do natively on Amazon. It also includes some great features like affiliate tracking and real-time notifications about pricing changes. The Appeagle mobile app allows you to manage your listings while you're on-the-go.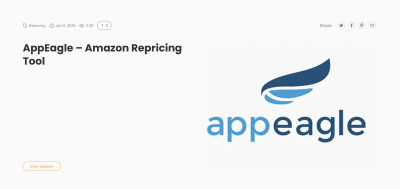 While Appeagle isn't necessary for everyone, it's an excellent tool that can help sellers make more money. So even if you think it's expensive, at least give it a shot by signing up for their free trial. 
6.3 RepricerExpress 
When you sell a lot of products, your pricing can fluctuate a great deal. RepricerExpress is a powerful price-adjustment app that automates these adjustments for you. What's especially useful about RepricerExpress is that it also has options for quantity-based repricing as well as manual repricing. If you use multiple sales channels and want to streamline your pricing across them, consider using RepricerExpress. It's easy to set up and will automatically adjust your prices so that they stay competitive.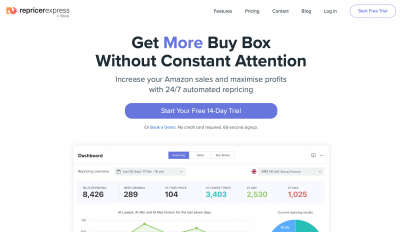 You also get access to historical pricing data that will allow you to monitor trends, set pricing rules and view completed orders. The app is currently free for one Amazon seller account (and works with both eBay and Amazon).
7. Other Amazon seller apps  
7.1 Sellics 
Among Amazon seller apps, Sellics is worth noticing. Sellics helps you automate many aspects of your business. Its mobile applications for iOS and Android allow you to track your inventory, view product rankings, estimate revenues for future planning, analyze competitors' performance, review your seller account activity, manage listings and more.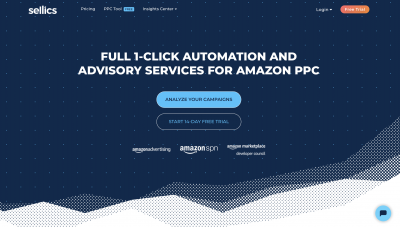 Additionally, its free web app provides rich data analytics within an easy-to-use interface. Whether you're running a multi-million dollar company or just getting started with FBA, Sellics app is designed to empower sellers so they can grow their businesses faster without hiring new staff or investing into third party tools. 
7.2 Viral Launch
Though a bit expensive at $499/month, Viral Launch's software will help you grow your online store by reaching more customers and converting them into buyers. With predictive analysis that looks at what customers are likely to purchase, based on their behavior and engagement, you can target consumers who are more likely to buy from you instead of your competitors. 
The app also provides alerts when pricing errors occur, helping you take advantage of less-expensive products without having to waste time searching manually. In a nutshell: Viral Launch saves both time and money for online sellers. 
7.3 AMZScout 
Aptly named, AMZScout is a Chrome extension that allows you to compare prices for any product across multiple online marketplaces. This can be a huge timesaver if you're an Amazon seller and trying to determine where to list your items.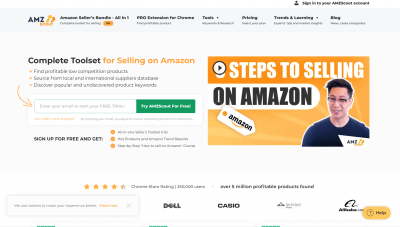 Say, for example, you want to sell a plush chair that retails for $50 at Ikea. You can enter that info into AMZScout and see what it would sell for on Amazon, eBay and Etsy as well as which marketplace would give you more profit after fees. The tool also lets you search by ASIN – Amazon's product identifier – which helps make sure no competitors will undercut your price too far or scrape your listing information.
Other Amazon seller apps can be found here. 
8. Wrapping Up 
As an online merchant, you have access to all kinds of Amazon seller apps that can help you streamline your operations and grow your business faster than ever before. From sales conversion optimization to inventory management, there are plenty of third-party tools that you can leverage to boost your sales on Amazon. However, the number of apps available can seem overwhelming. Hopefully, this guide has shown you the best Amazon seller apps of 2022 based on your particular needs!