This video will guide the detail ways to Sell Tshirt on Shopify store with Podorder – Print on Demand Tool for Management.
Podorder – one of the best Print on demand software tools for management. It comes with a lot powerful features for print on demand business. Main features are:
Order Management
Fulfillment Management
Order Fulfillment
Listing Management
Hub Support Helpdesk
Insight Report
To sell Tshirt Print on Demand on Shopify, you have to prepare the following accounts like:
Podorder Account
Fulfillment Account
Shopify Shop
Get start!
I. Sell Tshirt on Shopify with Podorder All-in-one Print on Demand Tool
1. Prepare account to sell Print on Demand
1.1 Podorder Account
Sign up free account here: https://podorder.io/
1.2 Fulfillment Account
Podorder allows to connect with multiple fulfillment providers such as: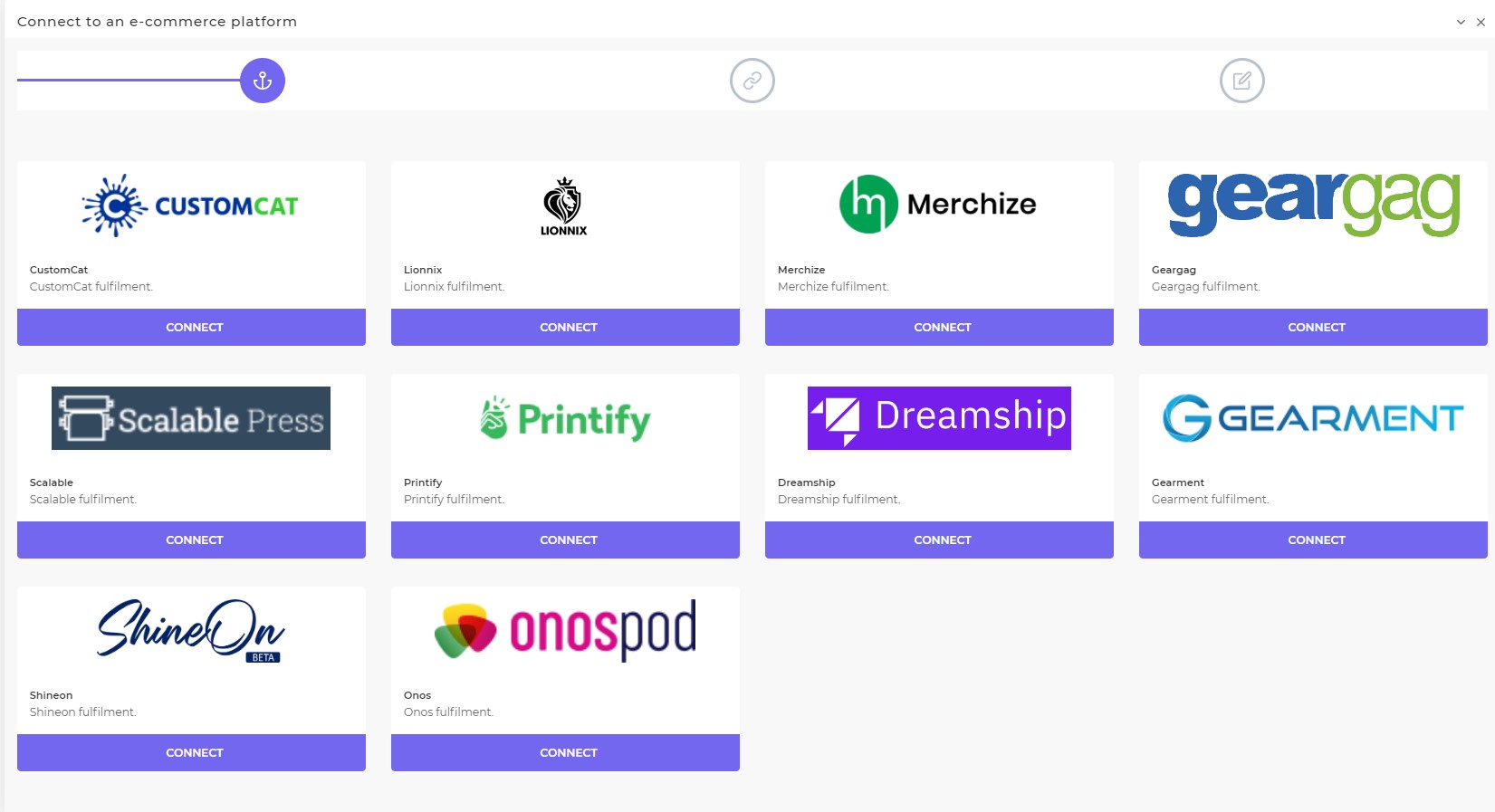 1.3 Shopify Accounts
Create Shopify Account here
Podorder supports to manage all your Print on Demand on multiple Shopify stores. You can connect Podorder with Shopify store easily.
To connect Shopify Store with Podorder, you can read this blog How can connect Shopify store with Podorder Print on Demand Tool
Your website looks like:
2. Sell Print on Demand on Shopify
2.1 Listing Management
Add product type
Internal Product
External Product
2.1.1 Add Product Type
Dashboard > Items > Product Type
Add new product type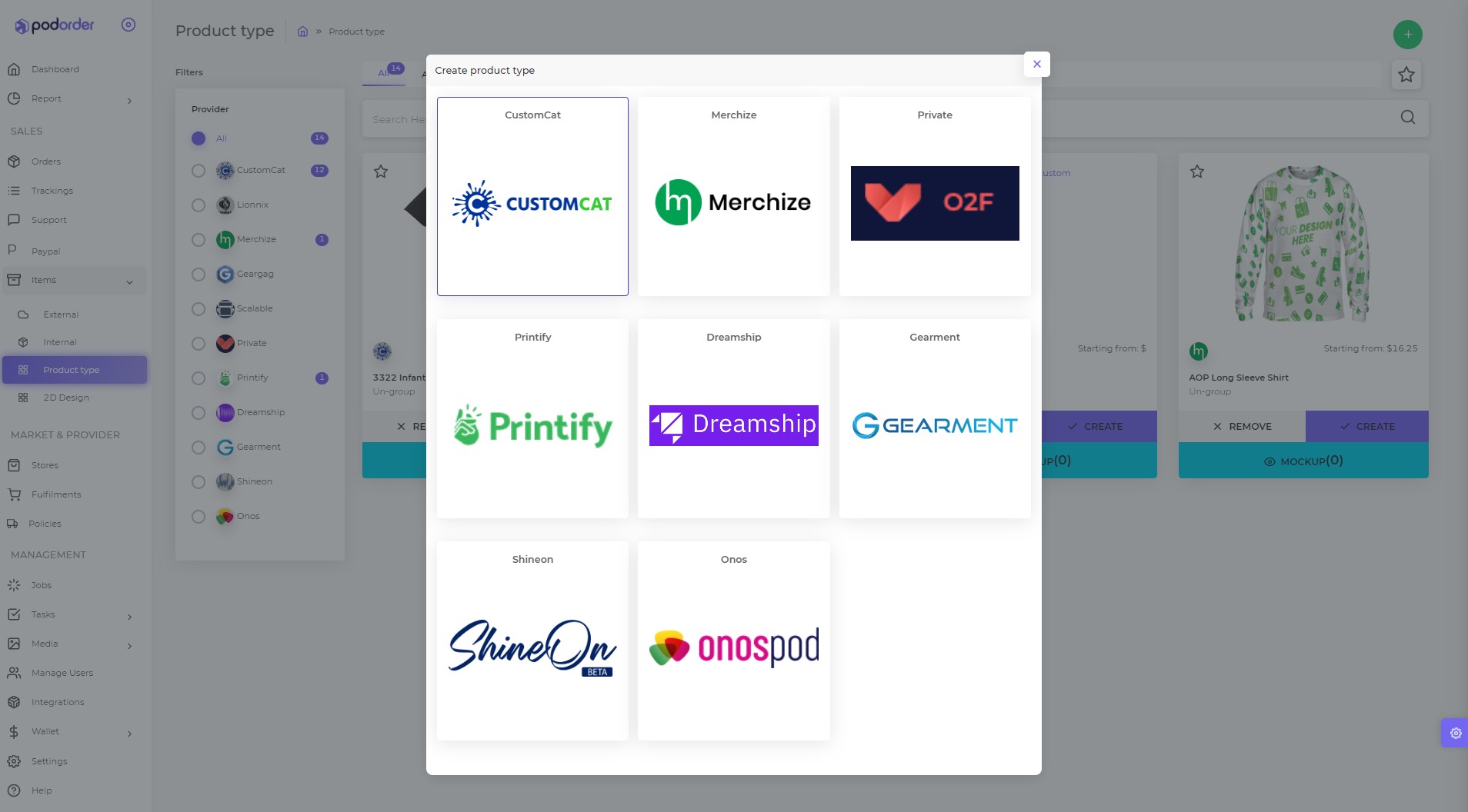 Create product type with available product type or create a custom product type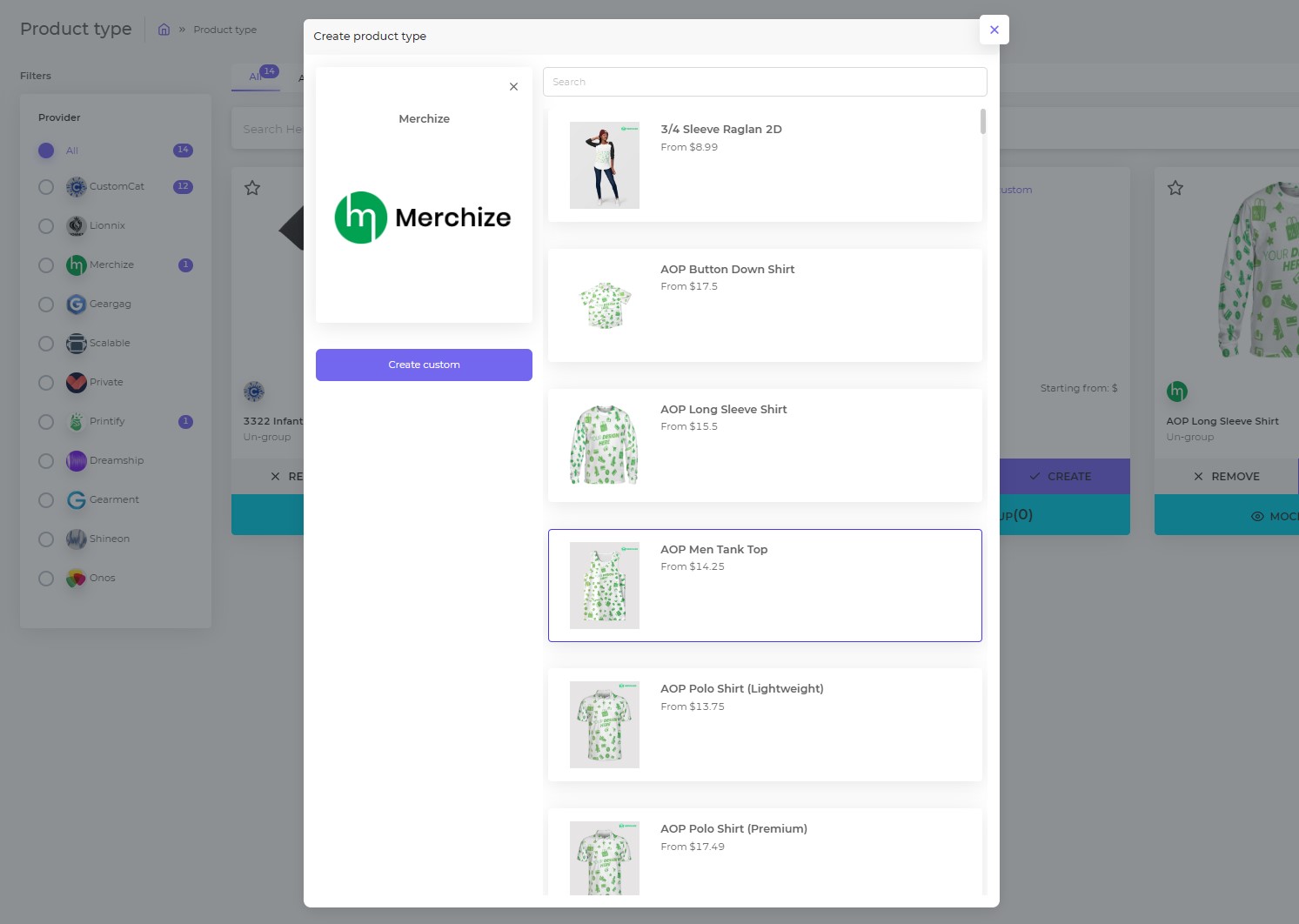 Then save product type into Podorder system.
2.1.2 Create Internal Product
Items > Internal

Fill product information: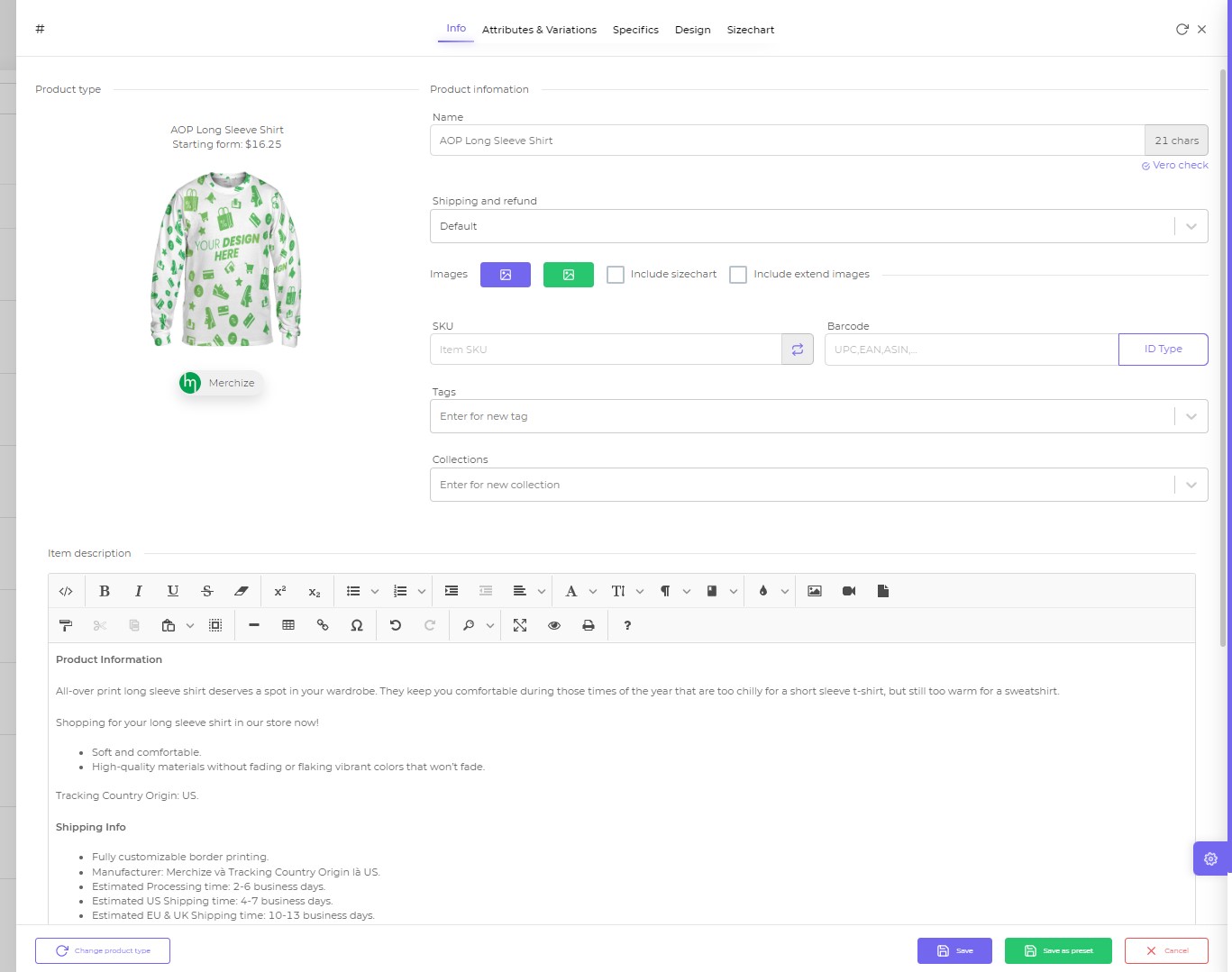 Then Save information "Internal product"
2.1.3 Manage Internal Products

Make new order:
Edit Internal Product
Delete Product
Upload product to CSV
Select items and choose the above options.


Export product in minute
Upload according to store plan
Create new internal product
Delete selected product
2.1.4 Manage External Products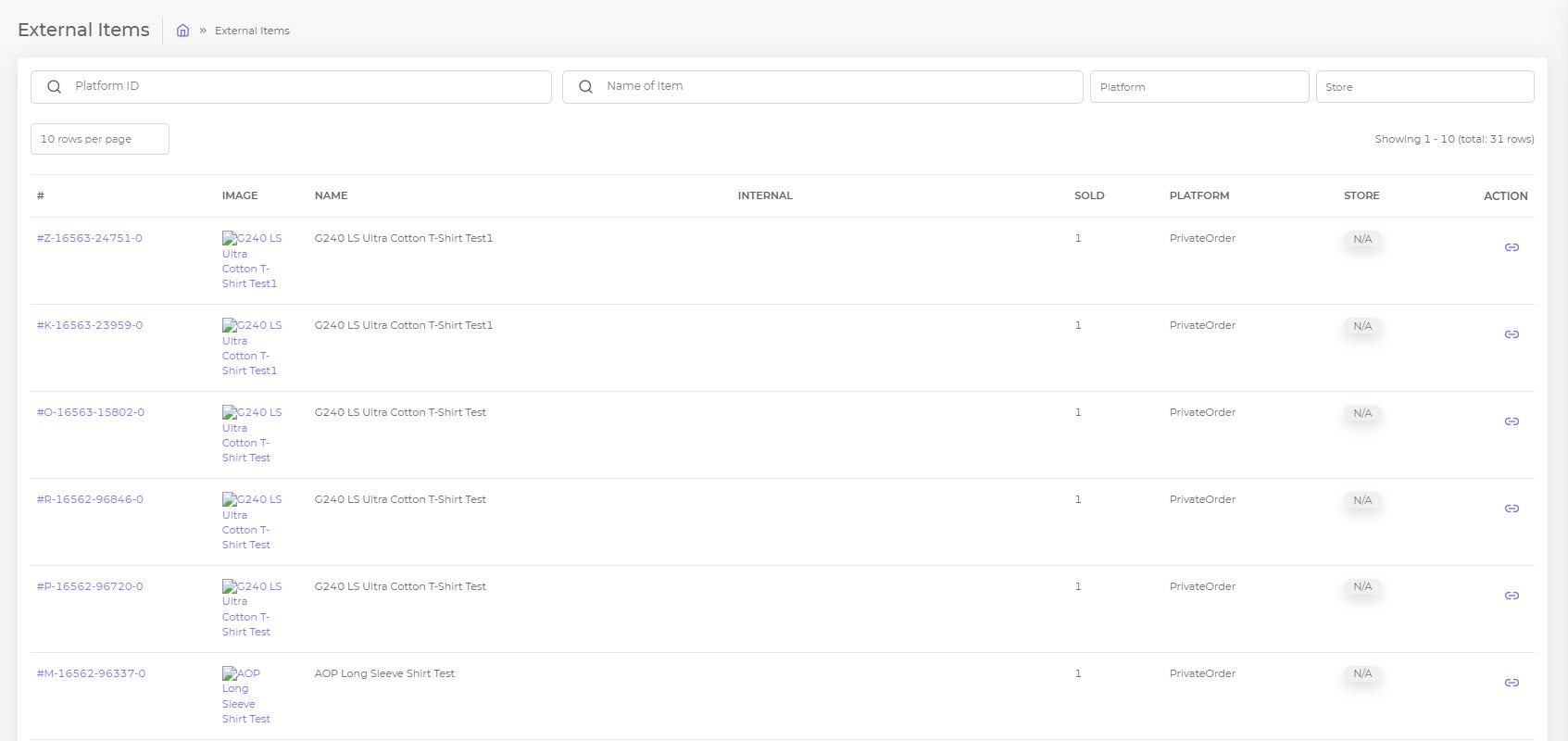 Link to internal product
Product Image
Sold quantity in store
Fulfillment provider
Store connection
Action
3. Order Management
On Podorder hub, all your orders can be synced automatically into this system.

Order fulfillment timeline:
Pending
Processing
In Production
Fulfill
Complete
Refund
Cancel
Trash
3.1 Edit Order Print on Demand
It's possible to edit Print on demand order:
Edit note
Ask buyer a question
Preview
Delete
Other function of Podorder: 
Import Orders from platform
Import Orders from platform by time
Export Orders to CSV
Import Orders from CSV
New Custom Order
Delete
3.2 Create Custom Order Print on Demand
It supports to create order directly on the store.

Open Orders > Add new custom order > Choose product type and map with fulfillment provider.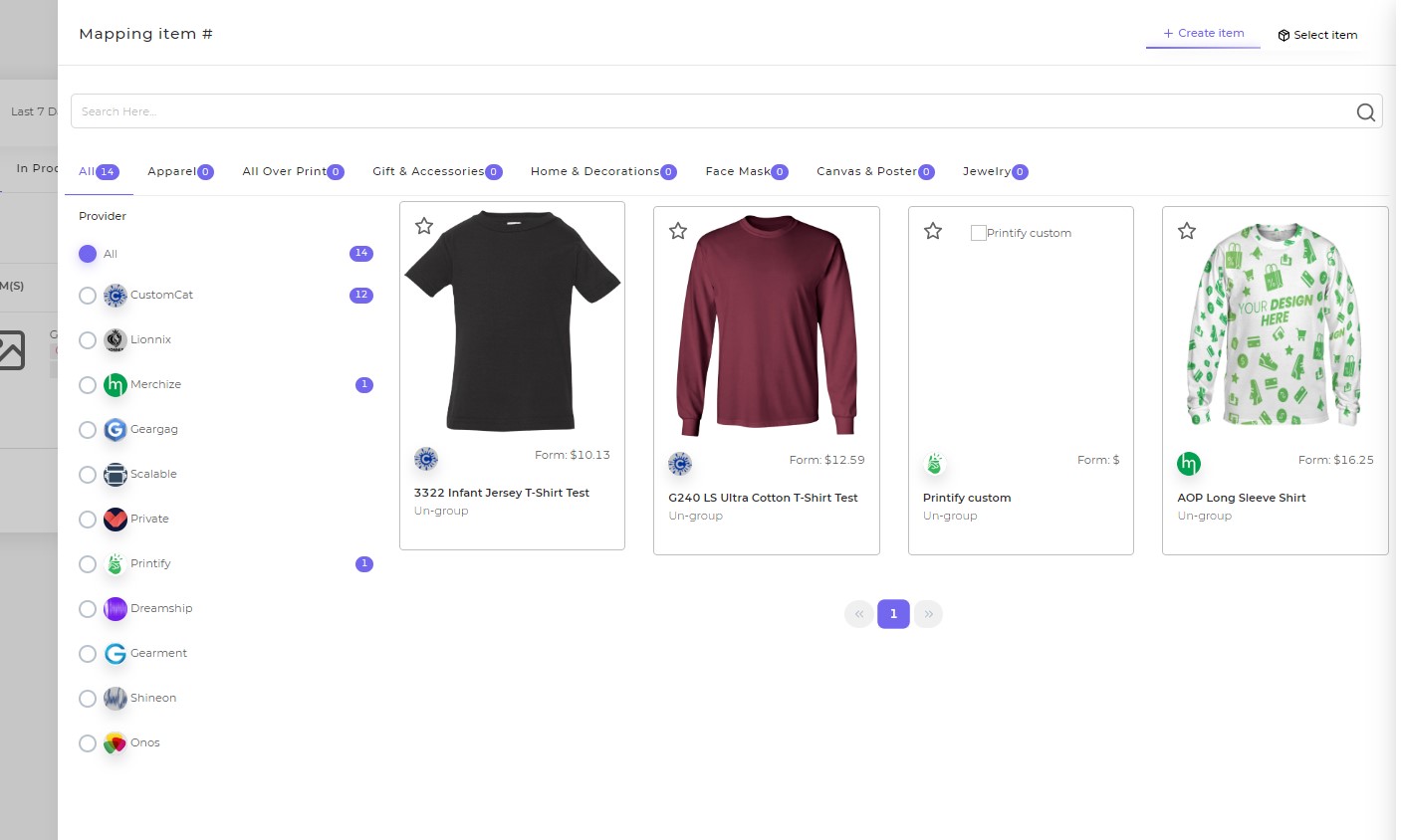 And fulfill Print on demand information: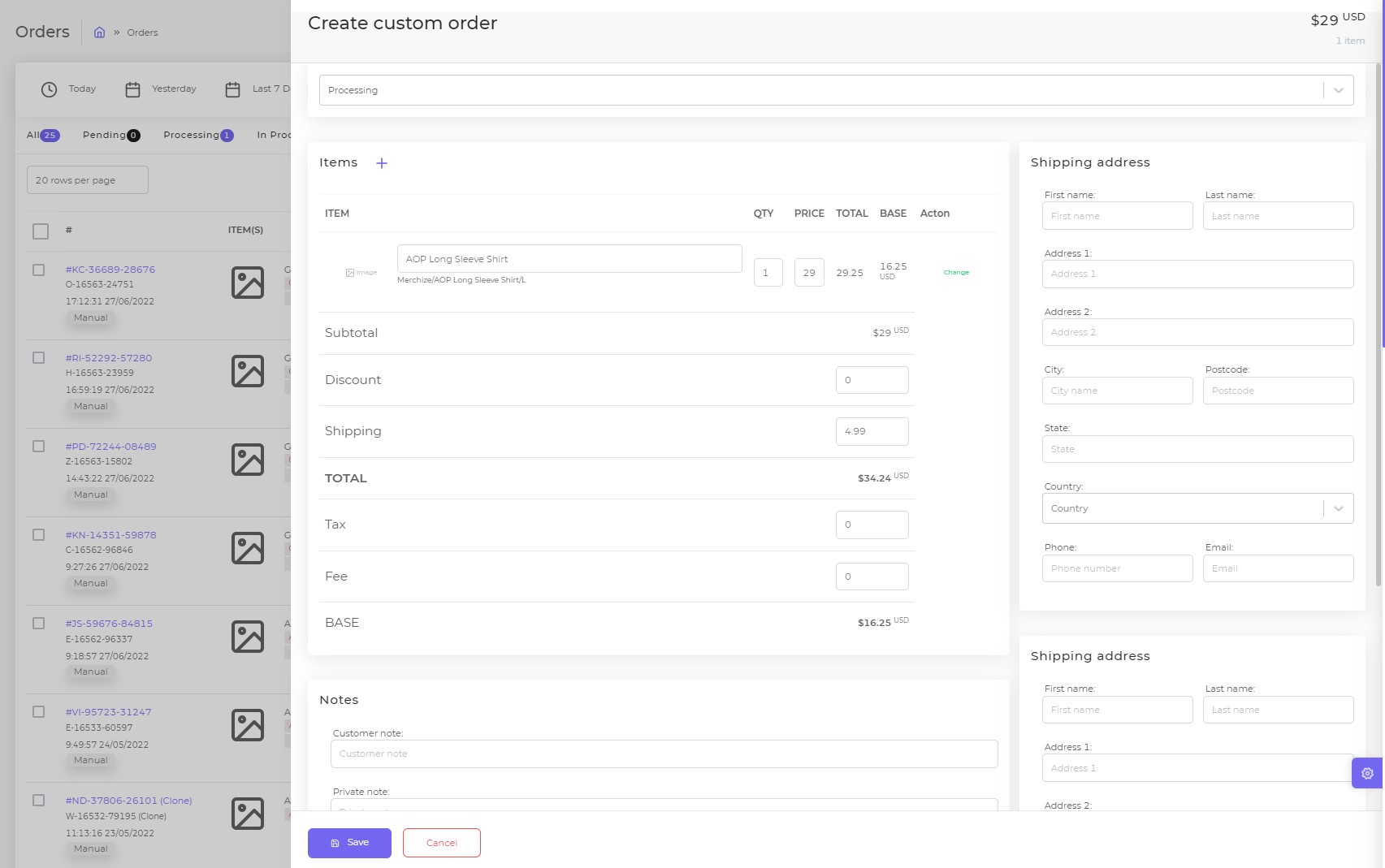 4. Print on Demand Order tracking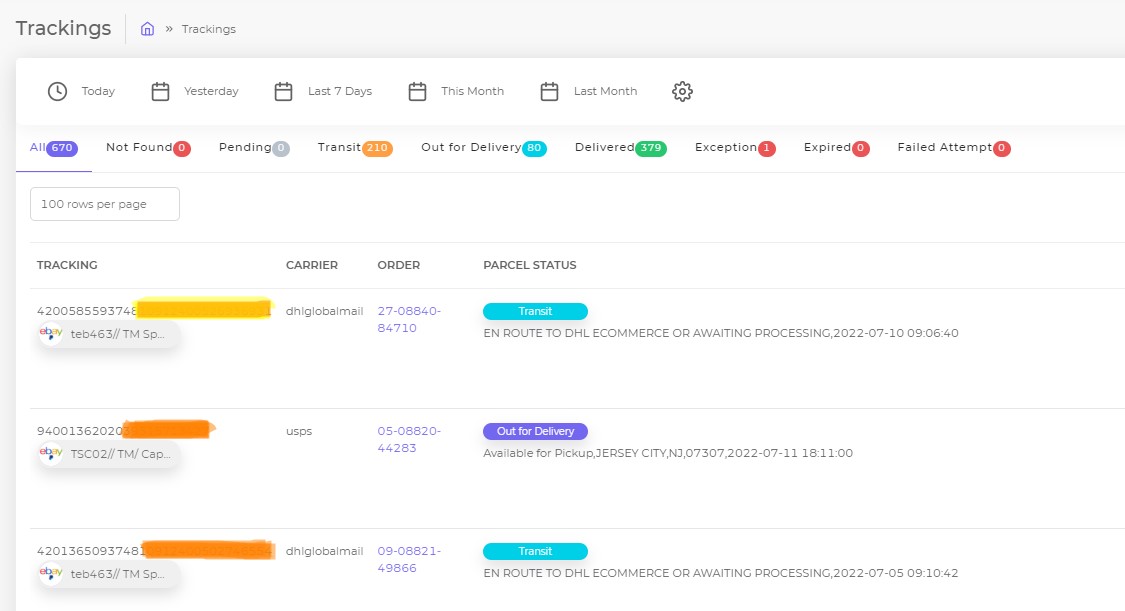 If the order has tracking info, they are synced automatically to Podorder system. All tracking orders are managed here. All order tracking status are here:
All
Not found
Pending
Transit
Out for delivery
Delivered
Exception
Exprired
Failed Attempt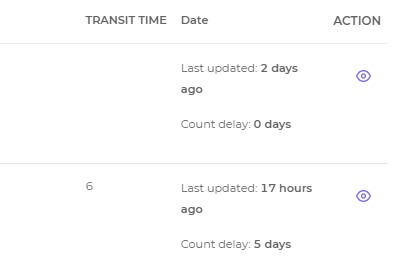 Tracking order:
Carrier: Name of carrier
Order ID
Parcel status
Transit time
Date:
Action: Order quickview
5. Hub Support
All messages from multi-selling channels are integrated into stores.
Order notifications
Items
Action required
Invoice
Refund
Other issues
All
Starred
Trash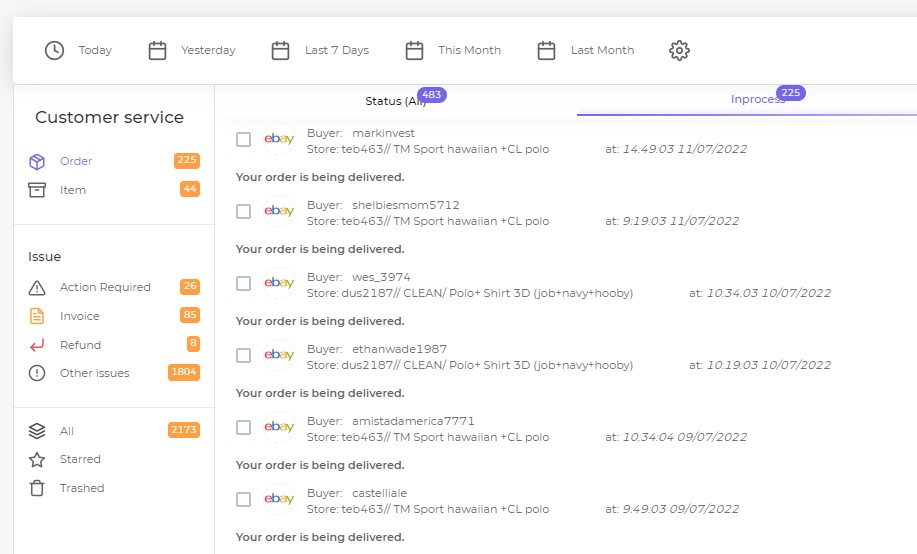 6. Insight Report
Get insight report for all print on demand business.
Get all report about fulfillment activities: Fulfillment orders, fulfillment cost, revenue, product type chart and attributes.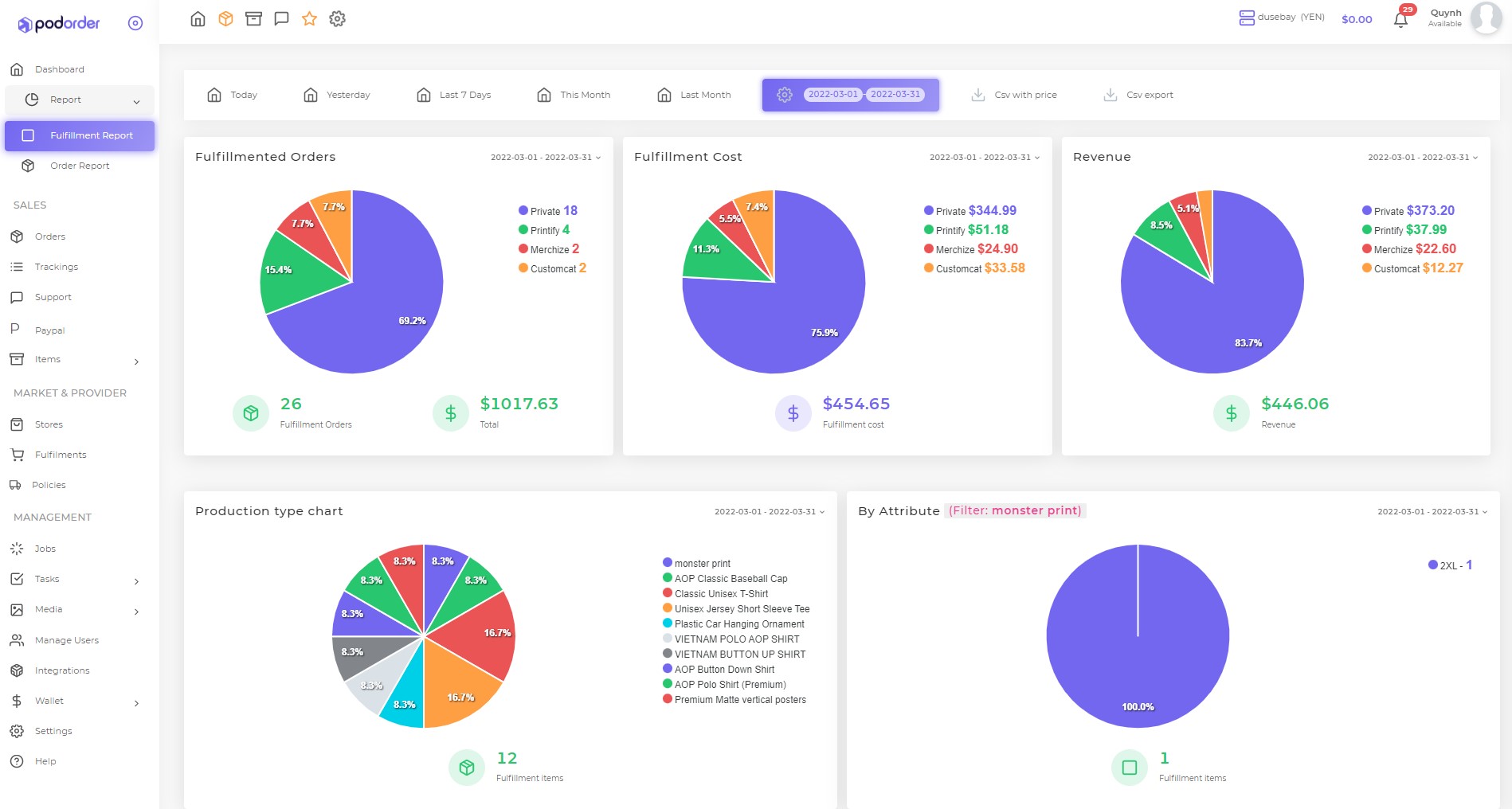 Full report about order: store fulfillment order and order fulfillment.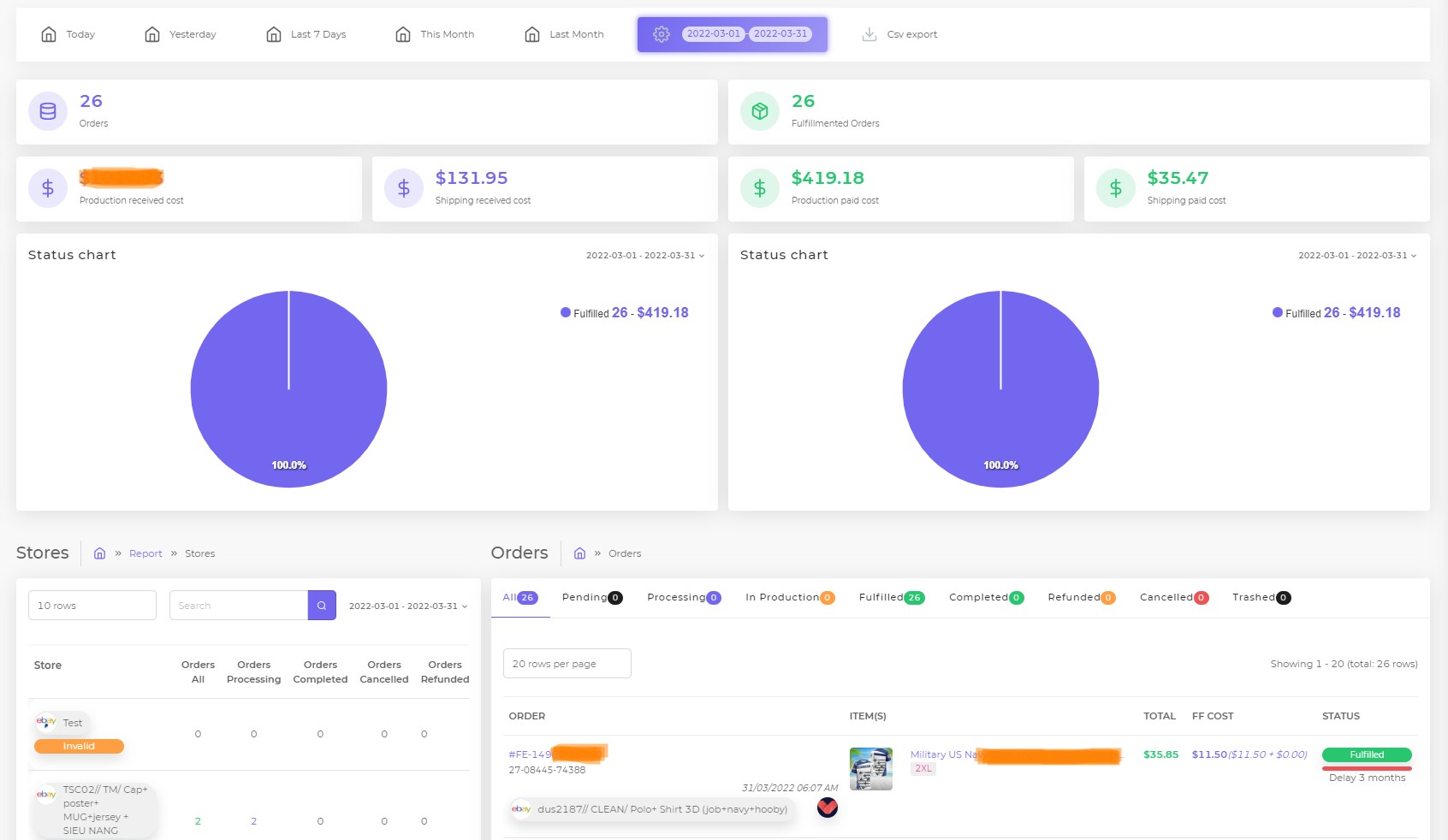 Export CSV with price and CSV Export
7. Theme Customizer
Menu colors: Change color for menu like purple, green, red, blue, orange, black
Theme mode: Light, dark, semi dark
Collapse sidebar: Enable/disable
Navbar colors: White, purple, green, red, blue, orange and black
Navbar type: Hidden, static, sticky, floating
Footer type: Hidden, static, sticky
RTL
Hide scroll to top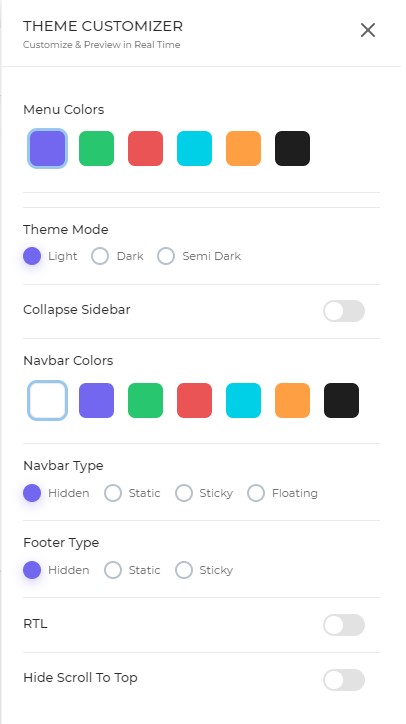 This is end of tutorial "How to Sell Print on Demand in Shopify with Podorder"