How can I increase my Etsy sales? or How can I increase my Etsy sales? How can I get more traffic on Etsy? If these are the nightmares that prevent you from concentrating on your Etsy shop, you've come to the correct spot. These Etsy tips and methods have been hand-picked to help you make more sales for print on demand products on Etsy.
Sellers like you are always looking for a better and more intelligent approach to get around Etsy's security. Furthermore, Etsy's regular updates provide helpful information for merchants. These Etsy tips and methods are geared toward raising Etsy sales by enhancing product visibility based on their experiences. The majority of them, however, are simply rhetoric or spun information.
However, before we go into the answers to these concerns, shouldn't we take a moment to talk about Etsy? What exactly is it, and how does it function? How can we do to make more sales for print on demand products on Etsy?
Etsy is a website where artists, crafters of handcrafted items, and collectors of old items may sell their wares. Etsy is a fantastic online commerce platform that operates on a customer-to-customer (C2C) or peer-to-peer (P2P) basis. Art, apparel, jewelry, and other decorative goods, as well as arts and crafts materials, are among the items sold on the Etsy marketplace.
1. How Popular is Etsy?
GMS and revenue had increased by 132 percent and 141 percent, respectively, over the previous year. Etsy's quarterly income has been increasing in recent quarters, as evidenced by the latest numbers for Quarter 1 of 2021.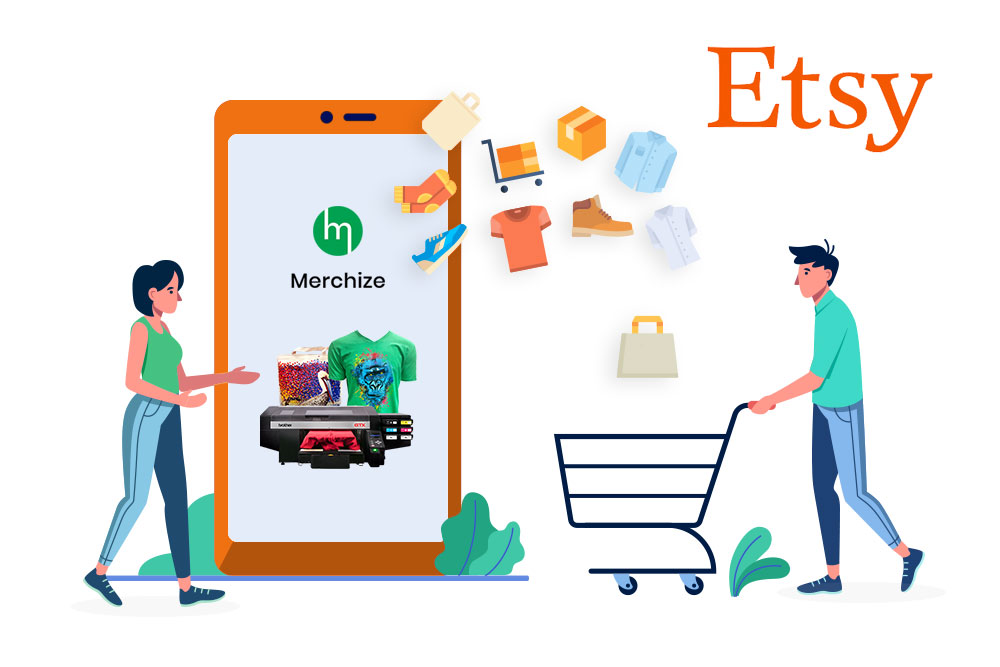 The marketplace division generated the majority of the company's revenue. It largely consists of the 5% transaction charge that a seller must pay for each transaction. It includes shipping costs as well as $0.20 listing fees for each item that will be listed on their marketplace for four months. Also, recently, Etsy Payments has started on Etsy, the company's payment processing service.
These are common concerns among the seller community, as evidenced by the site's enormous user base. There has been a year-over-year growth in active buyers, which raises the question of how to make more sales for print on demand products on Etsy Business, because logically, as the number of customers grows, so should the number of sales.
Etsy now has 4.5 million active sellers and over 90 million active shoppers who have purchased items on the platform at least once in the previous year. According to the first quarter of 2021 figures, Etsy sold things worth $10.28 billion USD. This was a major deal!
Although these figures are reassuring for Etsy, they are also concerning for Etsy sellers. The rising number of merchants has heightened the competition among them to gain the desired visibility for their wares.
Simultaneously, to level the playing field, Etsy has established precise rules for sellers to follow in order to produce a conversion-worthy catalog. However, if you want to stand out from the crowd and avoid having no sales in your Etsy shop, you must do something different.
Apart from developing good and SEO-friendly listings that rank high and attract a large number of visitors, higher conversion rates and, as a result, make more sales for print on demand products on Etsy are a must.
Let's get to the good stuff now. We'll go through the finest Etsy tips and strategies for making more sales on Etsy.
You can enhance your sales by doing these simple, effective measures. You don't have to implement all of these suggestions at once; instead, try one at a time to determine what works best for you and your items.
Let's get started.
2. 10 Successful Tips to make more sales for print on demand products on Etsy
It's critical to follow all of the methods that will make more sales for print on demand products on Etsy shops if you want to be a really successful Etsy seller. As a result, it's critical to follow all of the crucial suggestions in order to make more sales for print on demand products on Etsy. The following are some of the methods you can significantly enhance your Etsy sales. Let's have a look at some of them:
2.1. Connect Your Shop with Your Social Media Accounts
Social media is without a question one of the most significant and congested platforms in the modern world, and it is in desperate need of improvement as a means of reaching out to an ever-increasing number of people. Putting your store handles on your social network profile is one of the most innovative ways to promote Etsy sales. Additionally, when making a listing on your social network account, you can include images.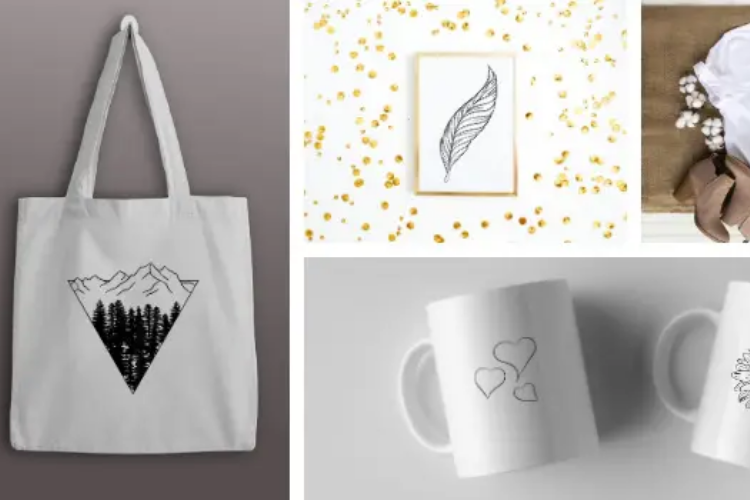 Using social media in a more engaging way while focusing on your devoted social media following can be really beneficial. At the same time, you can increase traffic to your shop by doing so, which will increase your shop's visibility on Etsy. Here are some suggestions about how to use social media to increase sales:
Engage your visitors on a personal level, and aim to keep them on your site to increase traffic.

To get your users to follow you, come up with interesting and significant news on a regular basis.

Create continents that are worth sharing in order to reach out to individuals who might be interested in buying.

You can launch a highly targeted giveaway campaign to increase the efficacy of your store and sales.
2.2. Use the Trick of Engaging Social Media with Coupon Codes
Buyers adore the concept of using coupons to gain a discount on their purchase. As a result, you'll need to use your wits to persuade individuals to gather more discount coupons from you. To earn more coupon codes, you can urge your potential consumers to share things on their social media sites or with their friends. For you, this will simply be a two-in-one notion. You are not only attracting purchasers in this manner, but you are also expanding your reach to include more clients who will assist to raise brand awareness.
This is one of the most popular social media campaigning concepts, and it's working for most online retailers. You may also use the promo codes to encourage potential customers to sign up for your newsletter. You can easily limit the use of promo codes to a very small percentage of the total cart value. These tips will assist you in making more sales for print on demand products on Etsy.
2.3. Opt for a Discount on Etsy for the Abandoned Shopping Carts
When someone goes to buy something on Etsy, they have second thoughts. As a result, they abandon it in their cart. This is extremely popular among online consumers. I'm not sure about other eCommerce platforms, but Etsy includes a function that allows you to send out coupon codes to people who are about to abandon their basket before making a purchase.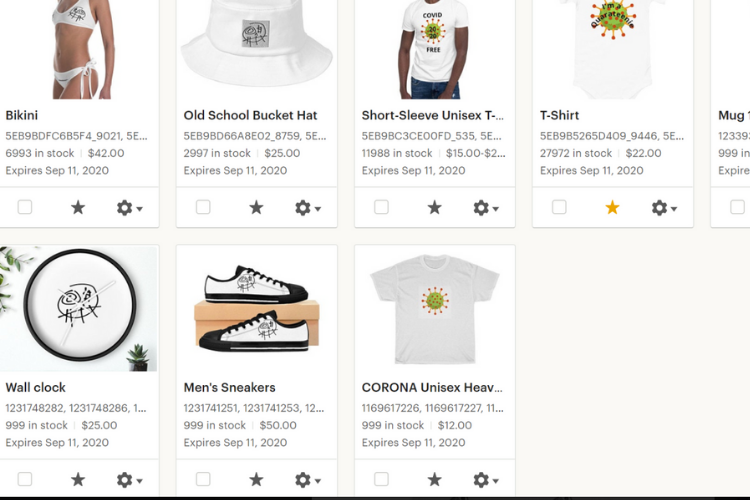 This is a fantastic function that works exceptionally well. As a result, the small discounts on the things remaining in the shopping basket make it worthwhile to sell. Whether you provide a 10% or 15% discount, you will undoubtedly receive a positive response from your customers.
2.4. Keep Changing the Etsy Tags or Headline for the Item
It is critical to constantly altering your Etsy tags and headlines on a regular basis in order to provide your sale a healthy and easy boost. You can add the keyword to your item title for sale if a special occasion is approaching. You can quickly add the name of the festival to your tags or headline to give your products a seasonal boost in sales for print on demand products, whether it's Christmas, Easter, or any other holiday.
As a result, it will be a highly effective way of thinking about how to make more sales for print on demand products on Etsy. You can also choose from a variety of additional eye-catching ways to refresh your tags, making them far more appealing to your users.
2.5. Have a Better Practice on Your SEO
The most significant approach to increase traffic to your Etsy shop is through SEO. Many interested buyers will undoubtedly turn to the internet to learn more about the product they have discovered. As a result, it's critical to stay current with SEO in order to keep your Etsy business visible.
It's critical to optimize your Etsy shop for search engines. Boosting your shop's SEO by including keywords and SEO-friendly continents can help it rank at the top of all web searches with ease.
Make sure you evaluate everything that pertains to your business while improving the SEO on your page. Everything from your company name to the product description and title will be considerably more effective. When writing product specifics, make sure to include all relevant information such as size, color, delivery, use, and conditions. This will readily alleviate buyers' anxieties, and you'll have a simple way to make more sales for print on demand products on Etsy.
2.6. Focus on Blogging
There will always be some sellers on Etsy who sell the same things as you, no matter how unique your products are. As a result, it's critical to ensure that your product stands out from the competition. You must also inform your potential customers that your product has distinct characteristics. As a result, blogging will be a very effective technique to promote your products.
Starting a blog to share important information about your products will be an efficient method to boost your Etsy store's visibility. It's also crucial to think about providing all of the facts about your products while combining them with relevant keywords and SEO. You can also write about items that your customers are interested in. This will assist you in educating your target users about your product while also providing them with relevant information.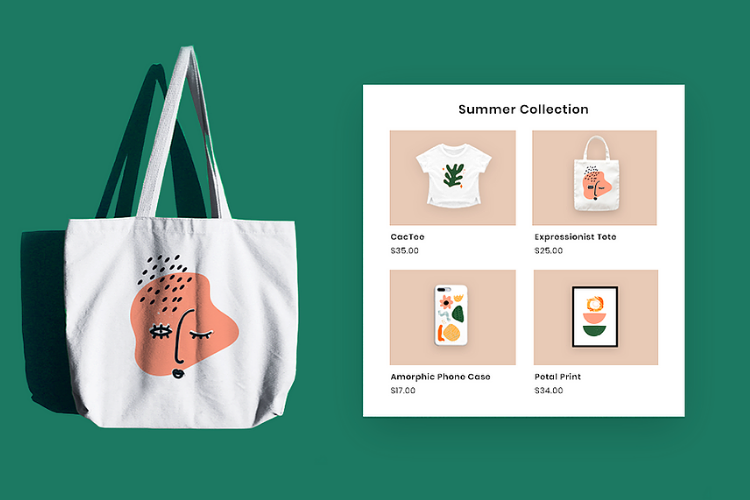 2.7. Consider Researching on All the Successful Etsy Sellers
Every seller is different when it comes to selling. As a result, you'll require a deep understanding of the tactics used by other Etsy merchants who have had great success. Not your typical business books will always be of assistance. It's all about getting out in the field and collecting real-world experience rather than just knowing theoretical techniques.
Take a peek at the stores that regularly appear in the search results. Try to figure out what they're doing to run a successful Etsy shop. Place your focus on other Etsy shops and begin your research to use their success strategies to promote your shop's growth.
2.8. Create a Mailing List
Emails can help you make more sales for print on demand products on Etsy in a far more efficient method. Despite the fact that email marketing is a fairly conventional method of making more sales for print on demand products on Etsy, it is still quite effective and still reigns supreme in the marketing world. As a result, sending email campaigns might assist you in informing your clients about new products that you are offering. It is also one of the most profitable means of informing your sellers about changes or sales in your business, which will cause them to hurry to your shop if they find something fascinating and appealing.
Additionally, it is preferable to aid your customers in obtaining feedback via email. This will not only help you retain your brand awareness while appearing in your shopper's email, but it will also assist you in maintaining a very good shopper and seller connection. To make proper use of this system, you can employ email authentication systems.
2.9. Consider Using Free-Shipping Bait
Free shipping is a big hit with buyers. It's a proven fact! This is one of the most prevalent methods used by sellers to raise the value of their goods. To qualify for free shipping, set a minimum order value. You can also come up with a price for your products that will not result in a financial loss due to free shipping.
As a result, offering free shipping in a unique method while saving money will be a very efficient strategy to make more sales for print on demand products on Etsy. According to surveys, customers prefer products with free shipping to those with a price tag. Therefore using free shipping to treat your customers is simply going to be a very effective way to make more sales for print on demand products on Etsy.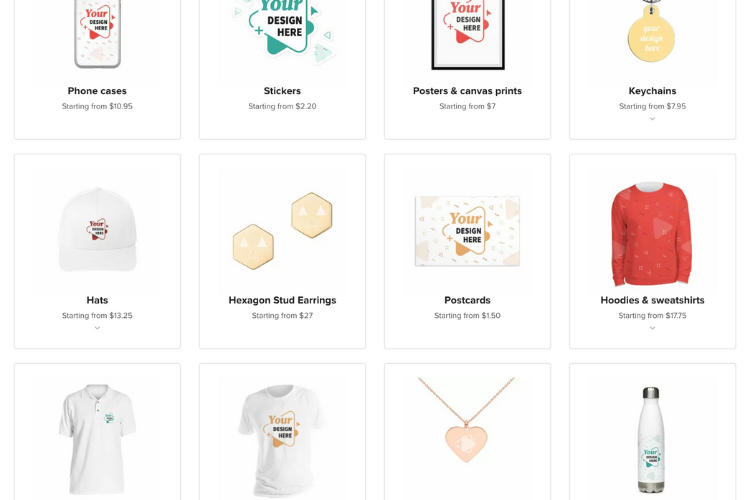 While you can choose to display any search phrase, Etsy's algorithm considers free shipping when displaying results. When you cover the expense of delivery, you may easily undercut your competitors' prices. As a result, it's a fantastic approach to promote your store.
2.10. Focus on Making Your Return, Refund, and Shipping Policy Seamless
Users simply want to be able to rely on a brand that provides them with the most convenient purchasing experience possible. So, if you're wondering how to make more sales for print on demand products on Etsy, focusing on your refund, return, and shipping policies is a wonderful place to start. As a result, look over the shipping policy and strive to keep it simple and straightforward.
Customers will certainly adore having a pleasant shopping experience. Furthermore, making the replace and refund policy more user-friendly can aid in the development of consumer trust, which is critical for increasing your shop's conversion and income in a more efficient manner.
3.Final thoughts
There is no one-size-fits-all solution for getting your product into the hands of everyone in your target market. Yet, with a strategic plan and a well-executed marketing campaign, you'll be well on your way to building a strong brand and increasing your Etsy sales. Remember to know your target market, take stunning images, engage with your audience, and connect with other Etsy sellers.