The prevalence of Print on demand eCommerce is on the rise, and it is not likely to slow down anytime soon. If you are a part of this trend, you must have heard about a global online marketplace to sell your creative designs. That's Etsy marketplace. However, in order to succeed with your business on this site, it is important to choose reliable Print on demand partners. In this post, we will provide you a list of " 5 best Etsy print on demand partners you can work with and some tips to select the most suitable ones.
1. What is Etsy? 
Print on demand (or POD) is an order fulfillment method where custom products are printed and shipped to the customers after they order your products. There is no need to handle any inventory, shipping, and customer services. You only need to focus on designing unique custom items and the rest will be done by your print on demand partners, from sourcing and storing products, printing and packaging materials and shipping orders to customers.
Etsy is a global eCommerce platform that connects artists and sellers to thousands of customers looking for unique, creative handmade pieces or vintage that are unavailable on the current retail market. It offers a universe of extraordinary products, including custom-made jewelry, clothing, art, or vintage items.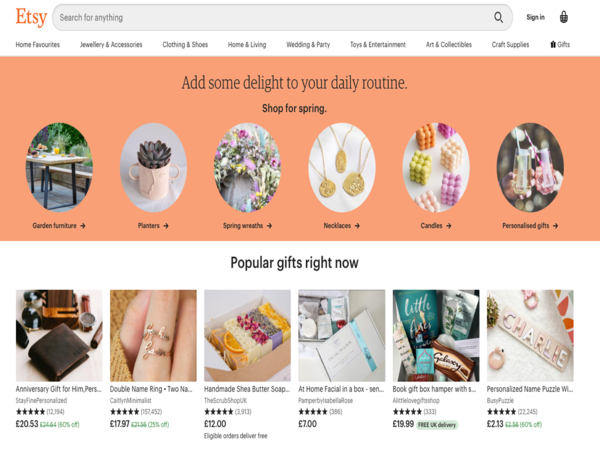 2. Print on demand on Etsy: What can you do? 
Amongst the handmade gifts and vintage supplies, Etsy offers a lot of room for print-on-demand services.
All you need to do is to create creative and unique concepts, and then choose a company from the list of Etsy print on demand partners, they will take care of the rest, from printing to shipping to customers, leaving you to focus on sales and build your brand. This is definitely an ideal business model for any independent artists and crafters with low risks and no upfront stock investment.
You also don't need to worry about copying or mass production. Because in order to ensure the authenticity of every item on the platform, you are required to give some proof of your involvement in your designs, which helps to prevent anyone else from being able to copy them.
Print on demand service is a real potential market these days when everyone is looking for creativity and uniqueness. However, with your creative designs, how can you make sure they are well printed on suitable products and transferred to your customers?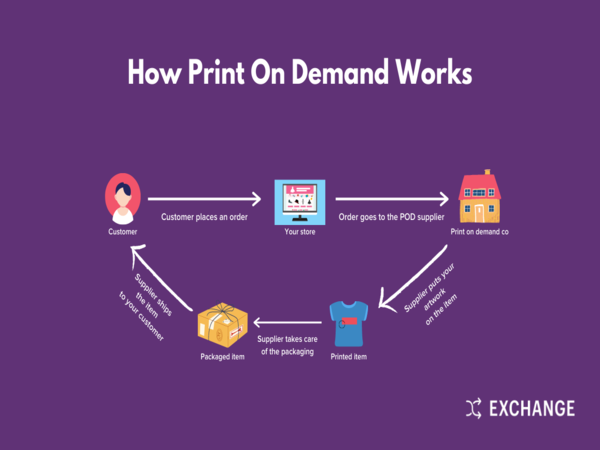 Here are the top 5 best Etsy on demand partners that you can rely on to ensure the quality of your products and maintain your brand.
3. 5 Best Etsy print on demand partners
3.1 Printiful – Etsy Print on Demand Partners
The first choice you should take into consideration is Printful, an Etsy Print on demand partners with seamless integration with the site. Since its launch in 2013, the platform has sold over 32M customized products to customers around the world with more than 1M registered users. So what are the key features making Printiful rated as the leader in POD service?
Firstly, Printiful does a great job offering good-quality products, with the investment of over 29M USD in printing equipment, their modern printing methods will definitely make customers satisfied with the value they deliver. If you have any concerns about the product, you are allowed to order a sample with a 20% discount for the first time.
Another unique selling point of Printful is that they offer branding options and designs, adding your labels and logo to the products, helping your business create an image of a professional brand. In terms of price, it can be seen that Printful charges you a little higher price than other platforms, but they offer a wide variety of options for sellers to set up competitive selling prices and preview potential margin profit to create further strategies.

3.2 Printify 
Printify is another excellent alternative when you are looking for a reliable Etsy Print on demand partner.  According to statistics, in June 2020 alone, there were more than 400,000 orders on Printify stores, which indicates a growth of 311% compared to 2019 in the same period. Why not register and connect with Printify to receive the one of the best print of demand service?
The most prominent strength of this platform is the connection with about 90 print providers worldwide. And there is also a growing number of production facilities around the globe. Sellers should take advantage of this feature to not only choose the most suitable print partners with their designs, but also significantly increase shipping time and reduce cost for customers.
You should carefully select suppliers based on the type of your products, designs to ensure the quality of your items as well as the shipping service in order to pay as least as possible, which will improve your profit margin immensely. However, you do not need to worry much about the quality of different printers as Printify will check and control the final resuls to reduce possibility of misprints.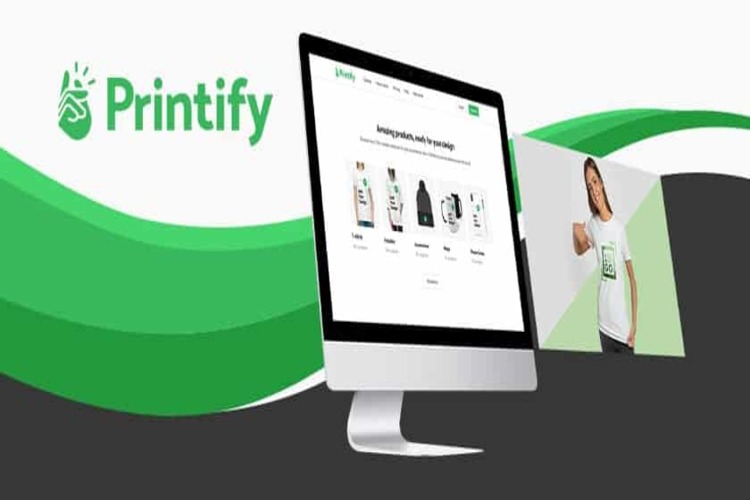 3.3 Gooten
Another trustworthy and well-known print-on-demand partner you can collaborate to start your business is Gooten. With its three-year revenue growth rate of 191.4%, Gooten is recognized as one of New York City Metro region's fastest-growing private companies which provides innovative smart solutions for brands to optimize print on demand manufacturing and supply chain.
Becoming a partner of Gooten, you reap a lot of benefits from this simple-to-use but profitable site. Firstly, constant benchmarking and trends updates will keep you informed of what the customers are looking for to develop your business further, give you an overview of the current market to set your strategic plan.
Moreover, the global network of more than 70 manufacturing partners at different locations makes it possible for Gooten to finish orders much more effectively, and sustainably. In contrast to Printify, you don't need to spend time considering a lot of partners, Gooten will hand-select the most compatible Print on demand supplier for you to ensure the efficiency of manufacturing and logistics. The rate of under 2% error and 95% on-time shipping with over 4 million items definitely assure you not only high-quality products but also faster shipping time and reduce costs. This is the chance for you to increase your customers' satisfaction and build your brand.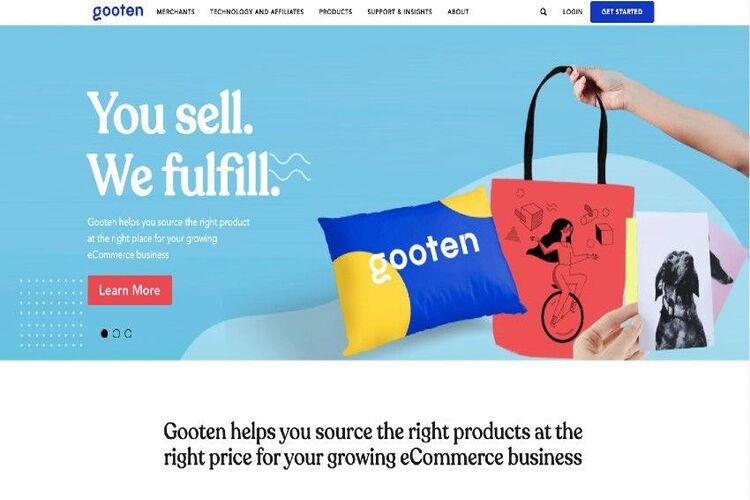 3.4 Prodigi
A must-mentioned Etsy's partner is Prodigi, a leading Print on demand technology supplier. Although they do not offer direct integration with Etsy like Printful and Printify, there is no difficulty in registering and working with Prodigi.
Using a large amount of investment in innovative printing technology dedicated to print perfection and stunning 3D effects, Prodigi promises to optimize your products and increase customers' satisfaction. You are also allowed to order samples in advance with 50% discount on your first sample order to check the quality of this Print on demand partner. Another noteworthy point, Prodigi offers chances for you to magnify brand recognition by adding white labels with some free options like flyers, which play a significant part in your long-term development.
Most of Prodigi's products are low-priced and you can set the price for each of your items at any amount to optimize your profit. However, due to the lack of direct connection with Etsy, in order to use Prodigi on Etsy, you either have to pay $69 for Etsy plugin or manually submit and manage each Etsy order to Prodigi. This process may become a problem at some point, so carefully consider it when choosing it.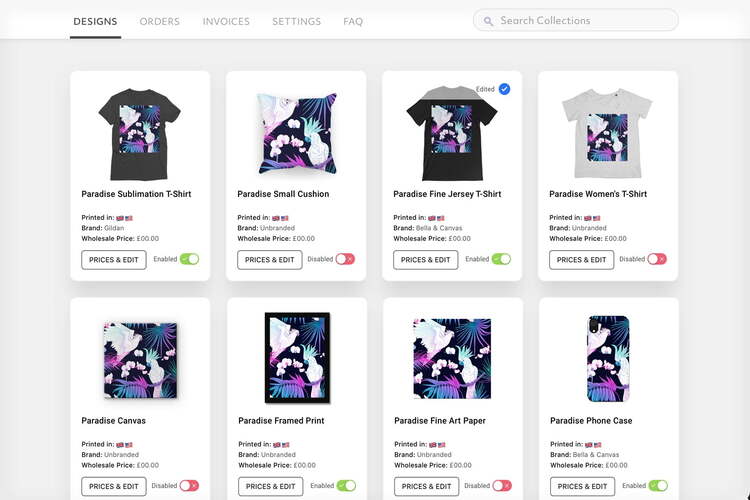 3.5 Art of Where 
The final of this list is Art of Where, a less well-known print on demand service due to its small-sized business model, but it is highly rated for its diverse range of custom items that other platforms do not offer including notebooks, pen cases, headbands, and sustainable and environmentally friendly printing on-demand methods.
Your designing process is optimized with a beautiful 3D design lab, giving you a mockup version of your creation. You can also add your logo, slogan to start building your brand.
The most important thing is, for those who emphasize environmental concerns, Art of Where consistently makes every effort to minimize environmental impact. They only print the proportion of the fabric needed to make each pattern, maximize fabric efficiency by laying out patterns with the smallest space between and recycle paper and flawed products. Partnering with Art of Where, it is highly likely that your brand will become the favorite of Gen Z, who crave not only creativity but also sustainability. This is a long-term strategy that sellers should seriously consider.
In the manufacturing process, Art of Where takes control of every step and the quality is well checked several times: after printing, during prep, after sewing and during packaging. However, unlike other platforms, they do not offer global shipping and only ship to the US and Canada.
What are you waiting for? Let's connect to these special Etsy Print on demand partners to focus on your niche market.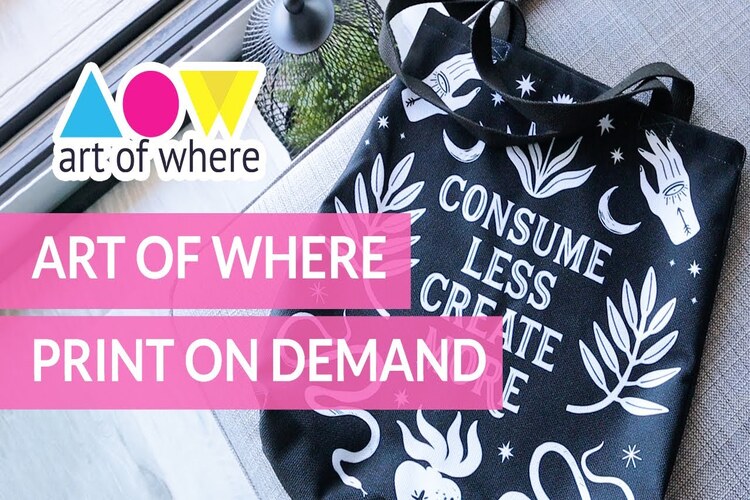 4. How to choose reliable Print on demand partners? 
Each print on demand companies have their own strengths and weaknesses, so there is no best solution for your unique items, you need to pick the most suitable ones based on your own criteria.
Here are some basic standards you should take into account when choosing your Etsy Print on-demand partners.
4.1 Quality 
When almost every company is equipped with innovative technology, the quality of products is not a big issue anymore. However, you need to be concerned about the sublimation products and embroidery, which is quite complicated as it requires hands-on work and the quality of print files as well. Besides, despite the modern advancement of printing methods,  misprints still can happen and be sent out to customers. This requires a thorough checkup from both sides.
4.2 Speed
The second factor should be considered is the speed of fulfillment. If you choose a small-sized supplier, it is easy for your customer to get angry during peak time when they are unable to handle a large number of orders at once. Fast shipping times not only optimize customers' experience with your service but also affect you financially as each provider offers different shipping costs. Therefore, remember to choose Etsy print on demand partners based on the location of your target market.
4.3 Price
The most critical one every merchant must contemplate carefully before partnering with Price. There is a wide range of prices from different Etsy Print on demand partners from many types of membership to shipping costs. So how to keep a cool head and decide the best financial strategy for your business?
Firstly, ask yourself: what is the most important to your business? Quality or price or fast shipping time?
Secondly, think about the hidden cost. It may be very attractive to read all the offers from suppliers but bear in mind clearly what you have to give up when choosing this.
Answering these two questions will help you to best calculate your margin profit and develop your business.
4.4 Option 
Another aspect you should have an eye on is customization and printing options. Whether or not their printing methods allow your certain types of designs and unique items will largely influence your business. Smaller providers may cause a lot of hindrances and limit the potential of your business. It would be better to choose the ones that give you as much room for your unceasing creativity to diversify your designs as possible.
4.5 Capacity 
Last but not least, it is very important to know in advance the production capacity of your suppliers as it will have a profound impact on your business's development. You will end up feeling anxious and disappointed and running serious risks when your supplier is unable to fulfill piling-up orders during peak times. Therefore, it is recommended to choose bigger brand names to make sure you are less likely in this situation.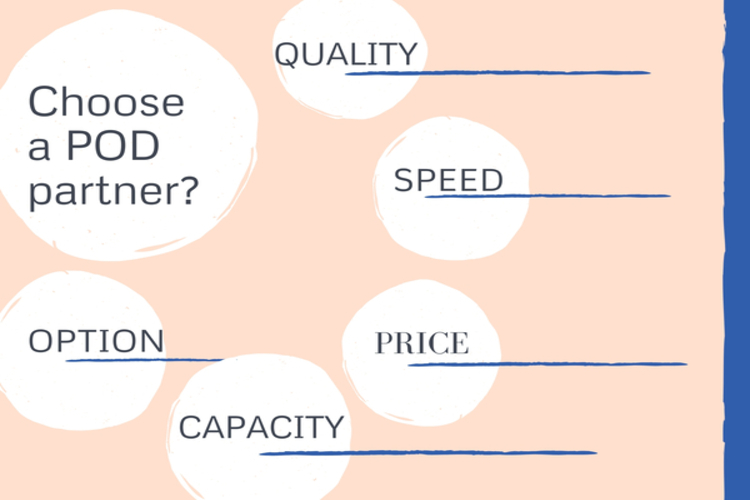 5. Final thoughts 
The greatest thing about Print on demand service is that your partners will take care of everything related to inventory, manufacturing and supply chain, leaving you to focus on creating exceptional designs and build your brand. And Etsy will be a great connector assisting you in finding your supplier.
So it's of critical importance to collaborate with a reliable partner who can best support you to grow your business. Based on your own priorities and targets, choose the most suitable Etsy Print on demand partners for your store to flourish.