We appear to be sending more e-cards than Christmas cards in this digital age. When it comes to presents, though, there is no choice but to wrap them on paper. No one loves non-recyclable gift wrap, thus the most popular trends this year are also the most eco-friendly gift wrapping ideas. Of course, a neatly wrapped Christmas present looks great under the tree and offers delight to your loved ones, but there is a lot of waste after the item is opened!
Are you looking for methods to make your holiday season more environmentally friendly? Using eco-friendly gift wrapping ideas instead of typical wrapping paper and bags is a simple approach to reduce your environmental impact this year.
It's estimated that Americans toss out an extra 1 million tons of garbage every week over the holidays, with single-use gift wrap being one of the worst offenders. The suggestions in eco-friendly gift wrapping ideas might assist you in creating environmentally responsible yet attractive parcels for everyone on your list.
1. Wrap Boxes With Brown Paper Bags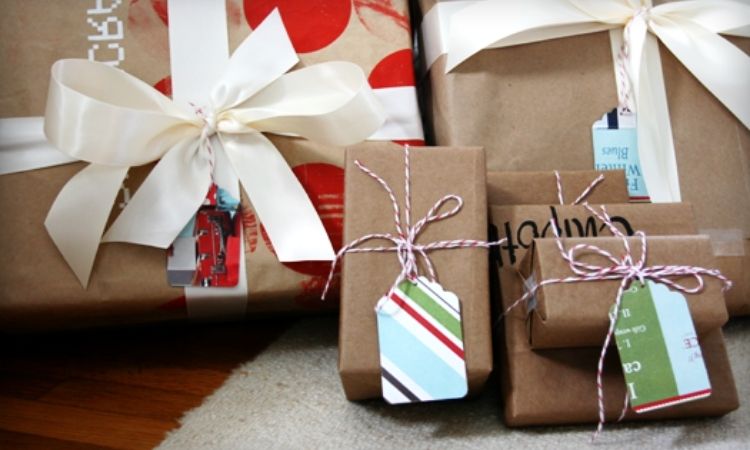 It's quite great to save old wrapping supplies and reuse them later – especially if you've been the receiver of beautifully wrapped gifts with real ribbon and pricey paper.
Look out for decorations that you could come across in your regular life, such as perfumed tissue paper and ribbon on luxury shopping items. You may use pages from newspapers or magazines as wrapping paper, and even simple brown paper bags can be used in place of a roll of gift wrap if you're feeling really clever.
Brown paper is a low-cost choice that has the most potential to appear amazing – you can use a stamp cutter to make the paper seem more ornamental and add tissue paper behind the stamps to make it look even more impressive. You may obtain recycled brown paper for as cheap as £3.99 for 12 meters at your local Post Office. Furthermore, the brown paper looks fantastic when combined with a fabric tie, creating a very distinctive Christmas gift presentation.
Newspaper is the ancient norm, but recyclable paper bags work well for those of us who don't receive real paper – or who just want to make our presents more personal. You can cut the bags flat and use the non-printed side as a canvas if you have a stack of them taking up space in your cupboard. Add a personal touch with a handwritten note, a sketch, or a stamped design.
2. Reuse Shipping Boxes
One of the simplest eco-friendly gift wrapping ideas is to use your delivery parcels instead of store-bought gift boxes. You may reuse more than just the boxes from your internet purchases. Save the tissue paper sheets and brown or white packing paper that firms typically use to transport their items throughout the year. When the holidays arrive, you'll be prepared with your eco-friendly gift wrapping ideas. The reflective bubble wrap that comes with your meal kit delivery service can also be used to wrap presents for the holidays.
When you purchase gifts online, many products will arrive in a nicely sized box that is ready to wrap. If you've recently relocated or had a delivery of major appliances, you can create a cardboard maze to keep the kids occupied for hours. Cut a doorway or two into each box and use durable plastic clips to connect it to the others.
You should never underestimate the value of a box, and if you do a lot of online shopping, you may already have several on hand that is great for your gift. Use these boxes to store your gits and customize them with paint, fabric ribbons, twine, and even biodegradable glitter – this is also a fantastic method to hide your present if you're trying to keep youngsters from peeping before Christmas!
Just remember to recycle or compost all of the cardboard after you're done. It's sometimes great not to overthink things. This cardboard paint palette, equipped with a convenient thumb hole to keep everything in balance, will make any creative job easier.
3. Gift Items In Recycled or Repurposed Bags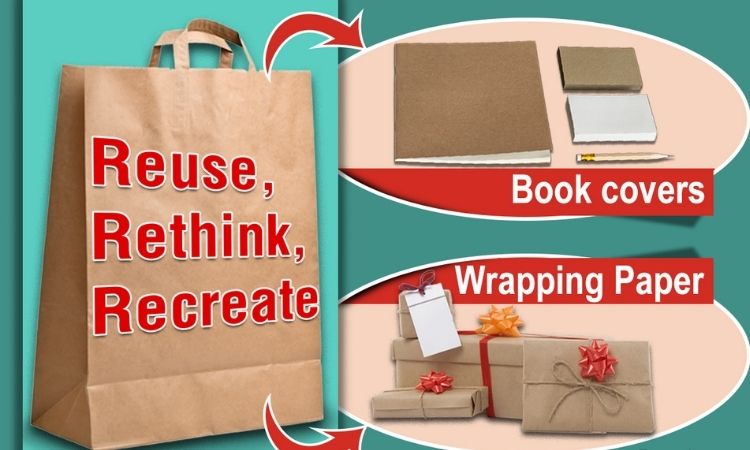 Instead of wrapping your gifts, pass them on to their new owners in a recycled gift bag. This means less ripped-up paper that will very certainly never be used again, and the element of surprise is preserved. The best part is that your gift bag will (hopefully) stay intact during the present unwrapping, allowing you to reuse it. The RSPB has a cute collection of recycled gift bags with forest themes, with sales going to help safeguard birds and animals in the UK.
Instead of wrapping your gifts, pass them on to their new owners in a recycled gift bag. This means less ripped-up paper that will very certainly never be used again, and the element of surprise is preserved. The best part is that your gift bag will (hopefully) stay intact during the present unwrapping, allowing you to reuse it. The RSPB has a cute collection of recycled gift bags with forest themes, with sales going to help safeguard birds and animals in the UK.
This is one of the most straightforward ways to wrap gifts. Simply stuff your thing inside, knot it, and you're done! This is a lovely gift – from eco-friendly gift wrapping ideas. The element that is sustainable is that it will be used again and over again for years before ultimately falling apart.
4. Make Your Own Stamps
Naturally, not every gift comes in a box. Another popular option to send tiny products is in padded envelopes. Repurpose bubble-lined mailers into stamps before recycling. You may make interesting polka-dot patterns by cutting out seasonal figures like stars and gingerbread men, or by painting individual bubbles in different colors. You can even make it more environmentally friendly by using crushed berries as ink.
A thank-you note written by hand is always appreciated. So, what could be better than creating your statement on the original presentation box? No envelope is required to send cardboard "postcards."
5. Add Natural Festive Touches
Wrapping paper can't be recycled in most cases. An excellent alternative to shiny, laminated, or any form of glossy paper is kraft paper, which is biodegradable and recyclable. It also gives your items a charming rustic appearance. For an added Christmas touch, add some string and a pine tree sprig. Keep in mind that because the butcher's paper is waxed, it isn't recyclable.
Use tree branches, cotton buds, cinnamon sticks, little pinecones, rosemary, fallen leaves, or whatever else you can responsibly get in your region instead of a gleaming plastic bow. Clipping sprigs from your own Christmas tree is the easiest method to obtain eco-friendly gift wrapping ideas garnishes, but you can also pick some from the ground at your neighborhood tree lot or get leftovers from nearby farms.
6. Swap Paper for Fabric Gift Wrap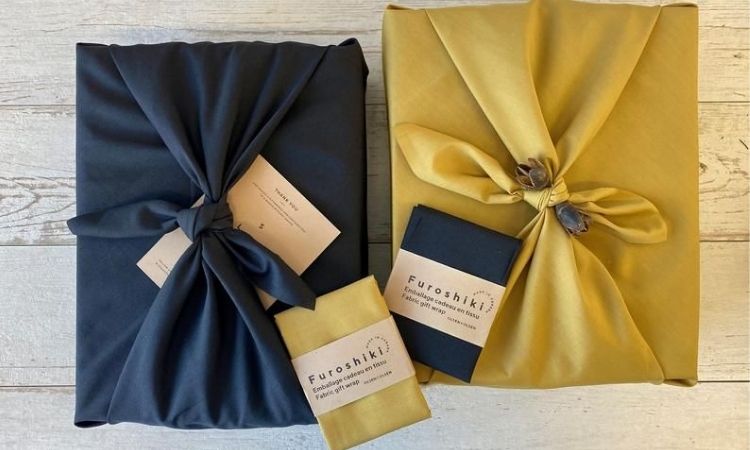 Do you have any leftover Christmas tablecloths from the previous year? Then consider using them to wrap your eco-friendly gift wrapping ideas gifts! Simply tie the knot as a bow or cut an additional piece of cloth to use as a makeshift ribbon to make it seem old and stand out among the other gifts. Also, if your recipient doesn't want to retain the fabric, you can easily return it for next year's usage.
Consider using cloth gift bags instead of paper if you truly want to save trash. Drawstring pouches are simple to construct and may be utilized by the recipient of your present – either as a gift bag or for travel and storage – if you're up for a little sewing.
In Japan, a custom is known as 'Furoshiki' involves wrapping gifts in fabric. Wrapping presents is done with square-shaped ornamental textiles that are a more environmentally friendly alternative to paper gift wrapping. Fabric not only creates a distinct and lovely aesthetic but can also be reused several times. We recommend utilizing our linen napkins or placemats since they may also be used as a gift. Alternatively, you may utilize Furoshiki, a Japanese wrapping custom that uses reusable fabric cloths; simply send a letter with the gift that explains how to reuse the cloths. If you must wrap anything with paper, go for recycled and recyclable solutions above anything else (for example, glitter and foil-covered cards and wrapping paper are said to be non-recyclable, as they can clog recycling machinery).
Avoid making the annual trip to the shop to buy holiday eco-friendly gift wrapping ideas bags. These fabric drawstring bags will last for many Christmases to come. You may save time on the tiresome process of wrapping by using this easy solution instead, which comes in a range of sizes including 10 tiny gift bags, 10 big, five medium, and five extra-large. You may use these drawstring bags to keep seasonal décor when they aren't packed with gifts.
Choose a scarf, shawl, pocket square, or handkerchief over the standard paper to make your eco-friendly gift wrapping ideas packaging a part of your gift. As seen in the video above, utilizing the Furoshiki method of cloth wrapping to package products takes only seconds – and you don't even need to box the item beforehand, which eliminates even another piece of holiday trash.
7. Use Biodegradable Paper Tape
Many individuals may not realize how dangerous regular duct tape is. Biodegradable tapes, on the other hand, are now widely available to fasten goods. For eco-friendly gift wrapping ideas, you can use washi tape produced from tree fibers and bark, biodegradable paper tape, or natural adhesives. The tape is also available in a range of colors and designs, allowing you to create really adorable present wrapping that will make anyone feel like an expert.
What binds your packing together is a less-obvious source of Christmas waste: single-use plastic Scotch tape. Consider using biodegradable paper tape or washi tape for eco-friendly gift wrapping ideas. Wood fibers, pulp or bark, and natural adhesives are used to create these biodegradable alternatives. They're available in a variety of designs and colors, including plain brown, and you can even buy festive rolls with environmentally friendly glitter.
8. Ditch the Tape Altogether
To learn the art of tape-free wrapping presents, you don't need to be an origami expert. As you can see in the video above, folding your wrapping paper into itself and securing your present with no tape is rather straightforward. There are ways to add amusing folds into your wrapping if you are an origami master (or if all the Christmas excitement has left you optimistically ambitious).
9. Turn Old Clothes Into Ribbons and Bows
If you're worried that all of the ribbons and gift tags you've spent so much time buying and wrapping your Christmas gifts will end up in the trash after they've been opened, there's a method to adorn your gifts in a more environmentally friendly way.
Ribbons and gift tags make items appear extra nice and polished, but have you ever considered that once they've been opened, they'll be tossed in the trash? Fortunately, there is a more environmentally friendly option for decoration: simply get some gold or silver sharpies and scribble on a colorful bow; you'll be astonished at how decorative and exciting they look, plus you'll save money!
You can upcycle unused button-down shirts, flannel shirts, or even T-shirts into reusable fabric ribbons and bows. To add color and texture to any eco-friendly gift wrapping ideas gifts, cut strips as thin or even as thick as you'd like, then wrap them around your boxes. For a more lasting ribbon, stitch over the edges, or leave them frayed for a rustic look.
10. Tie Gifts Up With Compostable Twine
You don't have any clothes you want to give away? You're not completely out of luck, though. Organic cotton, hemp, and other natural fibers are used to make many thin ropes and twines that may be reused as eco-friendly gift wrapping ideas paper time after time or composted after usage.
Wrapping Up
Make it a habit to employ these attractive eco-friendly gifts wrapping ideas for all gift-giving occasions once you've used them to make your holiday celebrations more eco-friendly. You'll now have materials on hand to utilize anytime you need them. Make a list of your favorite ideas, try them out again, and share them with your friends and family.
As previously said, we are working to become more sustainable, but we also recognize that every tiny move matters. As a result, as we work on our own goals to become more environmentally friendly, we want to urge you to do the same.