Do you know that some best Shopify podcast apps we are going to introduce in this article will do more than just drive the excitement? Are you ready to get engaged with your audience and enhance conversions with podcasts? Let's get started right away!
8+ Best Shopify Podcast Apps To Generate More Sales and Conversions 2022
1. Elfsight Podcast Player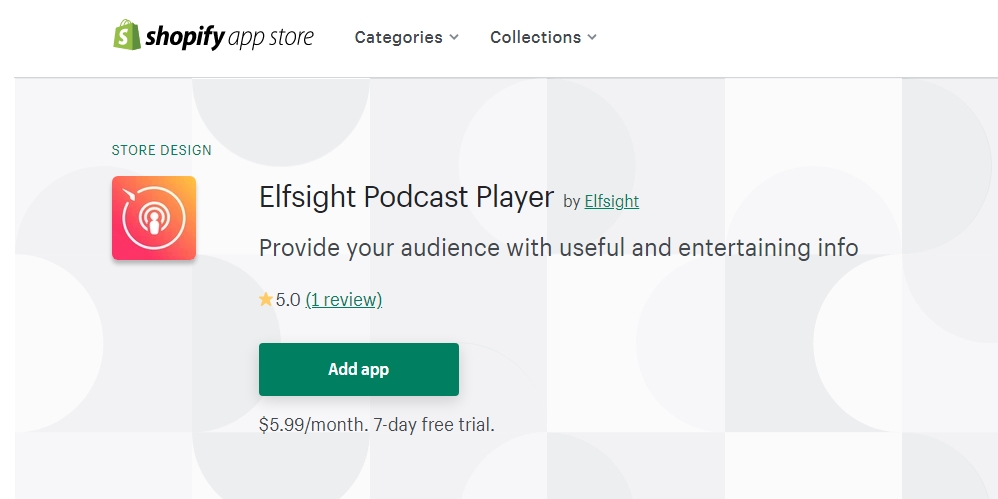 Developed by Elfsight
Pricing: 7-day free trial ($5.99/month)
Overall rating: 5.0⭐️ (1 review)
Elfsight Podcast Player is among the best Shopify podcast apps, which will upgrade your customers' experience with stunning and informative podcasts available directly on your Shopify store. 
Tediously browsing products for hours, customers may want to know more information about your available products and their benefits. You can amuse them by making your podcast attractive with its catchy title, relatable cover image, and author name, or organize your playlist chronologically. What's more, don't forget to recolor or utilize dark mode to make every plugin match your store. Plus, the autoplay feature and various layouts are also pre-made to live up to your audience's expectations. 
With Elfsight Podcast Player, building meaningful and long-term relationships with your customers now is a piece of cake. Based on the overall rating, we believe that this tool will provide you with the best customer service and draw loyal audiences effortlessly. 
2. Elfsight Background Music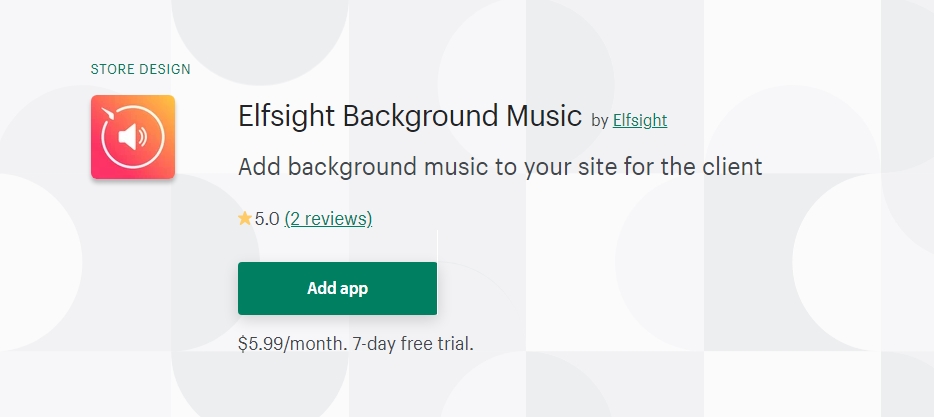 Developed by Elfsight
Pricing: 7-day free trial ($5.99/month) 
Overall rating: 5.0⭐️ (2 reviews)
Another not-to-be-missed app from Elfsight is Background Music, whose manageable widgets and direct songs on stores will immediately energize your visitors. 
Retaining your audience now couldn't be easier with Background Music. Not only playing background sounds on-store, you can also raise brand awareness by selecting suitable music matched with your target. There are various platforms for you to generate tracks: Soundcloud, Youtube, Google Drive, etc. 
What's more, you can mix and loop limitless track songs, or utilize the autoplay feature and put it in the most noticeable place on your website. Plus, numerous design options are also available to make your website more attractive towards customers. 
Most of Elfsight's clients reviewed that this app is easy to customize and 100% responsive. We hope that this information is helpful for you to launch your ideal shop. 
3. Custom Background Music: Xmas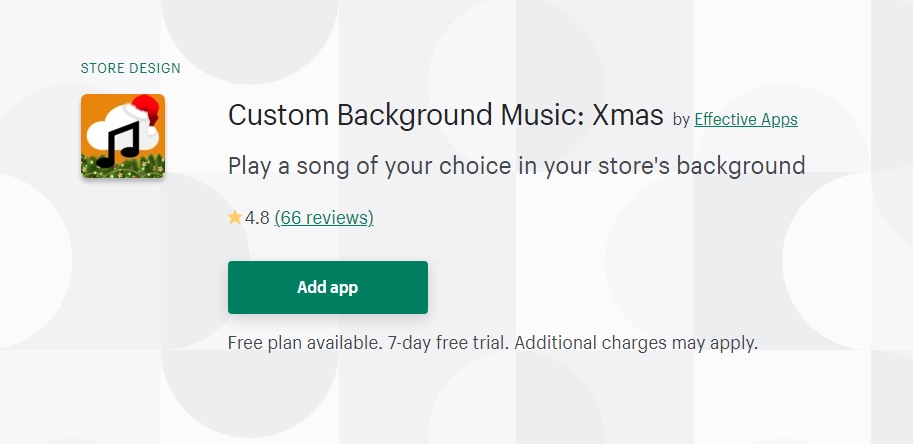 Developed by Effective Apps
Pricing: Free and Basic ($1.99/month)
Overall rating: 4.8⭐️ (66 reviews)
As the name stated, this app developed by the Effective Apps team allows you to upload media files and play background music in your Shopify store. 
Custom Background Music offers numerous awesome features that you don't want to miss. XMas is coming, and probably you might want to add some audio to bring this vibe and encourage customers to stay longer and browse for products. There are hundreds of free songs available on this audio player app for you to choose from. What's new is hot trends Tik Tok songs are also set up for you to inspire your visitors!
Additionally, you don't have to be skillful at coding to manage this app. Everything will be taken care of by the support team. Just one click to install, and you are ready to give customers an epic shopping experience. 
The main features on this app for you to take reference are auto-loop, playing songs with one click, easy volume control, catchy and free songs, etc. All are easy to set up! What's even more surprising is this app got 58 reviews which are 5 stars out of 5 among the other best Shopify podcast apps! It will definitely bring your experience to the next level!
4. Single ‑ Music & Video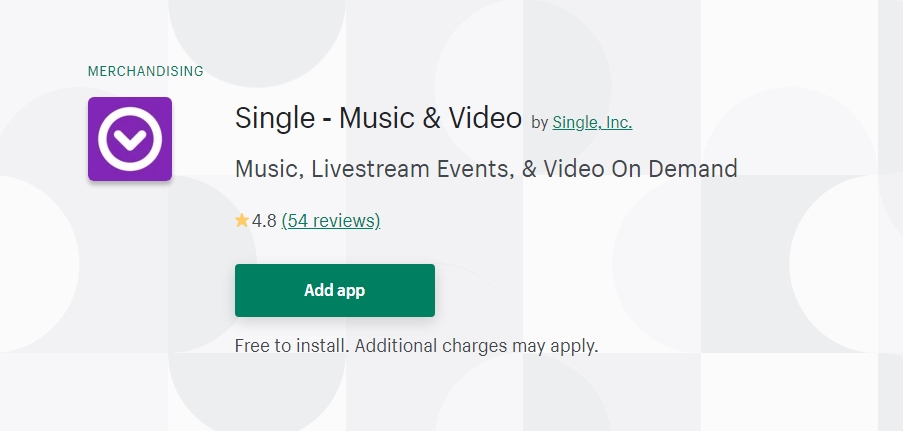 Developed by Single, Inc.
Pricing: Free to install. Additional charges may apply.
Overall rating: 4.8⭐️ (54 reviews)
With Single, you can create a merch store and start selling live streaming, on-demand or rental video access directly to fans. What's more, Single also supports you in terms of music and audio digital sales with its amazing tool. You can capture your audience's interests by "Know Your Fans" feature with given insights, or grasp opportunities to gain more profits than ever. 
The BoostLink tool is also a big plus when using Single. Know how to enhance streams, subscribers or pre-saves as well as email your purchasers with the list of links within a few simple steps. Plus, Upsell Campaign and Automated Chart Reporting are the two features that you probably need to upgrade your business. 
5. Easy Background Music ‑ Musica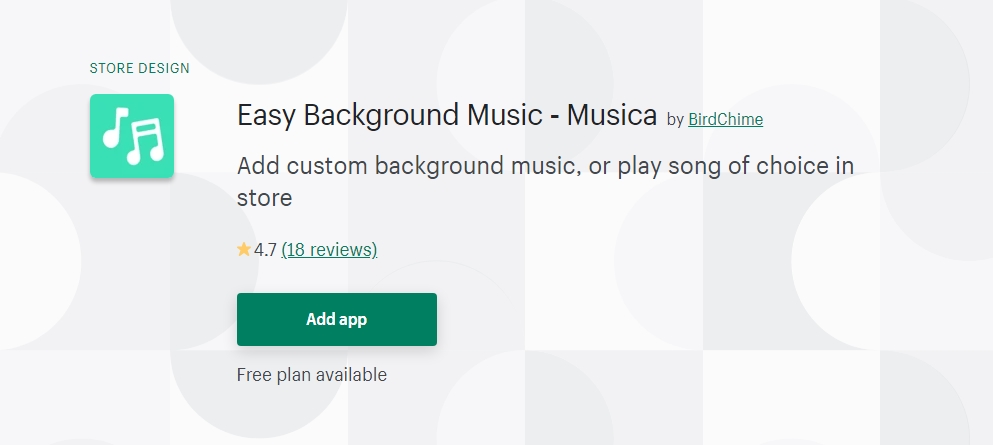 Developed by BirdChime
Pricing: Basic, Pro and Vip Plan. 
Overall rating: 4.7⭐️ (18 reviews)
What can 16 reviews given 5 stars out of 5 can tell you about this amazing Shopify podcast app? – Easy to set up, awesome music, and helpful in attracting customers. 
Yes! Easy Background Music can totally live up to both app users' and visitors' experience! Some wonderful features on this app are installing with ease, resuming audio when page refresh, remembering the status (play/pause) even when customers leave your store, and 100% responsive on any devices. With a wide range of pricing options, you can select the one that best suits your business.
6. Osaria Audio Player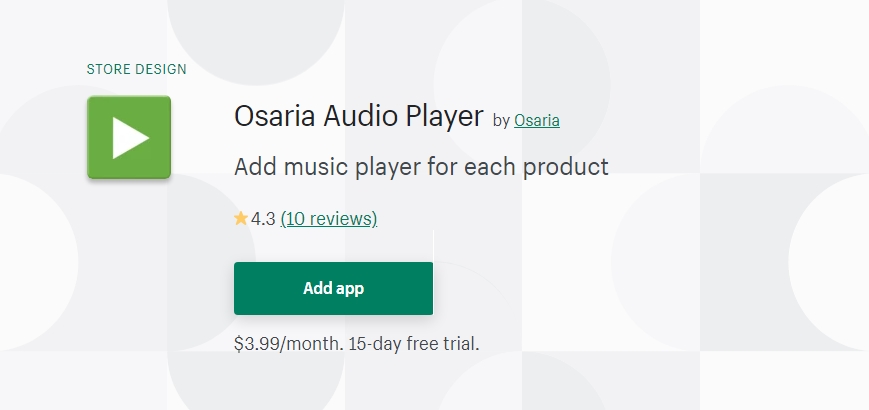 Developed by Osaria
Pricing: 15-day free trial ($3.99/month)
Overall rating: 4.3⭐️ (10 reviews)
What Osaria Audio Player can offer you is an ideal podcast app for selling audio products by playing an audio player for a specific item on both homepages and product page. Furthermore, you don't have to worry about whether this tool is mix-and-match with your website or not, as you are provided with 3 ready-to-use skins and 2 available sizes (thin and normal. Plus, your audience can preview your audio before purchasing in any types of devices, ranging from smartphones, tablets to PC. 
Osaria is one of the best Shopify podcast apps allowing you to add audio to your products at an affordable price. Most of the reviews who already experienced this app stated that the amazing customer support of Osaria's team has helped them a lot figure out ways to build their successful business. Perhaps now it's your turn to give it a try!
7. Music Player by Websyms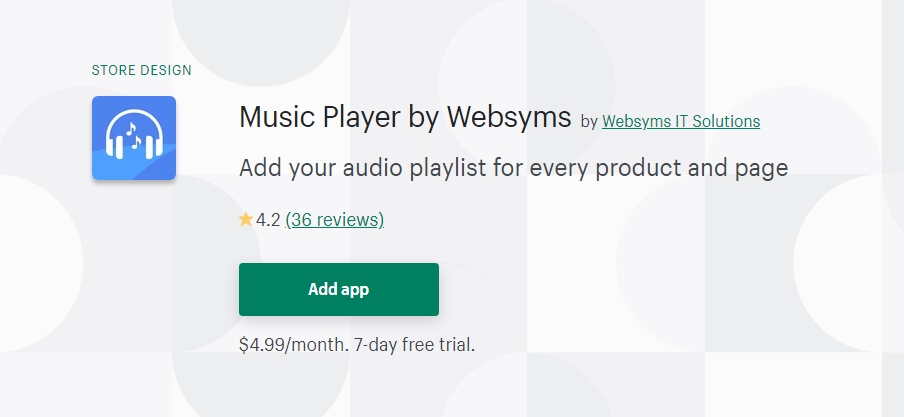 Developed by Websyms IT Solutions
Pricing: 7-day free trial ($4.99/month)
Overall rating: ⭐️4.2 (36 reviews)
Shopify audio player apps are introduced to bring customers the best experience while enjoying their shopping. With Music Player created by Websyms, you can add unlimited songs on your product page and amuse your visitors. 
Outstanding features you can receive from Websyms are free music player themes, configurable icons, list of hit songs, custom colors, autoplay option, and Non-stop Music. 
Websyms developers offer their clients a supportive technical team, so you don't have to worry about where to start and how to build your Shopify store with music. With 22 reviews given 5 stars out of 5, we believe that this marvelous tool won't disappoint you. 
8. Widgetic (Audio Players)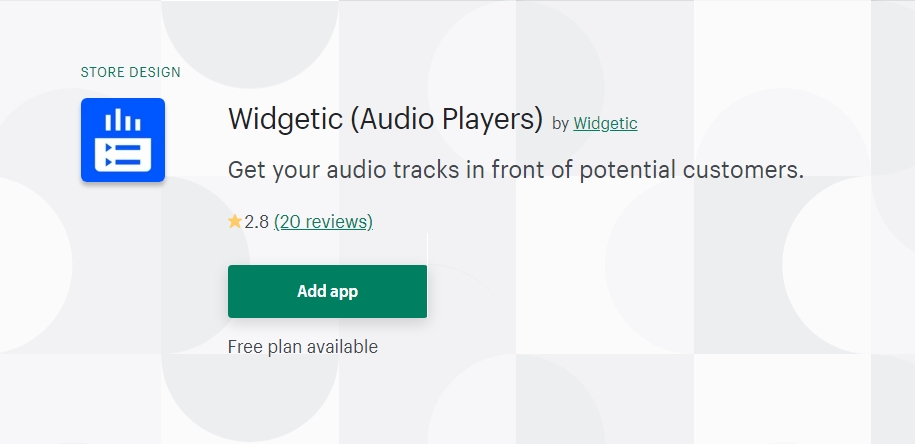 Developed by Widgetic
Pricing: Free and Premium ($6.99/month)
Overall rating: 2.8⭐️ (20 reviews)
With over 11 reviews saying that they are satisfied with Widgetic's features among other best Shopify podcast apps, we believe that you can give these Audio Players a go and see how it can upgrade your business to a new level: 
Widgetic provides 4 different players with various useful functions. You can use them to preview individuals, albums, or audio content if you have the intention to sell tracks online. Also, this amazing Shopify audio player app can do even more to keep your audience engaged by assisting you in offering audio tutorials, responding to FAQs, and sharing podcasts.
Apart from customizable and fully responsive features, Widgetic enables you to add limitless items, adjust your layout, remove branding, as well as provide technical support. 
The free plan is available, but we bet you don't wanna miss any bigger chance with 10GB storage and 100MB/file when you get started with the Premium option.
What's next?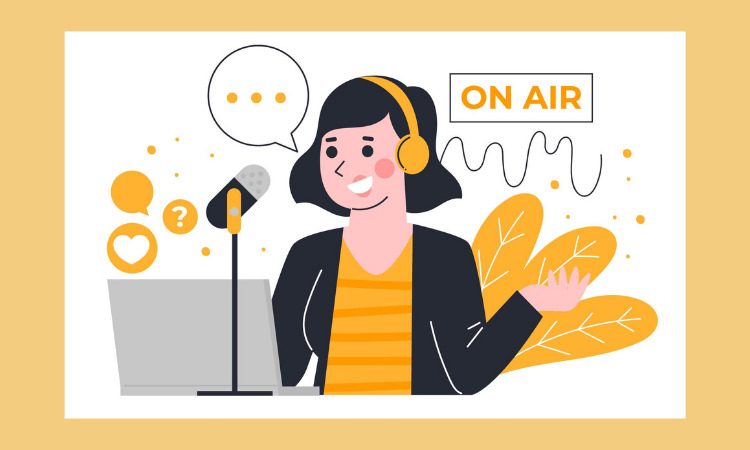 Have those best Shopify podcast apps with top-notch features above satisfied you yet?
After choosing the perfect app for your business, perhaps you can start building your plan in order to effectively utilize those podcasts and generate more sales and conversions. Don't forget to keep yourself up-to-date, and get ready for the Christmas season!