No matter how unique and attractive your products are, best print on demand websites will guarantee the profit of your business in the long run. There is a myriad of available print on demand websites in the market for you to choose from, but which one is the best for your business niches and demands might not be an easy question to answer. This article will help you review best print-on-demand sites for designing, selling, and shipping your customized products to narrow down the option. 
I. What is Print-on-demand?
Print-on-demand or POD is an order fulfillment method in which items are printed right after customers make an order. Once the order is made, it will be sent to a fulfillment center where the items are produced.
POD is a type of drop shipping. With print-on-demand, you are free to design and customize all your products including T-shirts, Hoodies, Towels, Phone covers, Bags, Posters, Mugs, Notebooks and many more. The only limitation of POD products is your imagination because the available print-on-demand products are uncountable. 
II. Types of Print-on-demand websites
In general, there are two primary types of print-on-demand websites that you can turn to when you first step into the POD market.
The first type of print-on-demand websites are print-on-demand fulfillment services. These services allow you to sell products on your own website or a third-party marketplace like Etsy. Order received from your store will be imported for fulfillment service to produce and they will take care of shipment under your brand name as well. All your work is to provide customized products, they will take care of the rest.
The second type of print-on-demand websites are print-on-demand marketplaces. These marketplaces are print-on-demand platforms, in which you can sell your designated products along with other sellers. As all sellers will compete in the same market, it is essential for your brand to stand out amongst other competitors. Once an order is made, POD marketplace will take care of the fulfillment and shipping progress.  

III. Best Print-on-Demand Websites
1. Printful
One of the best print-on-demand websites on the market is Printful. Without any upfront cost, Printful provides more than 220 products with thousands of printing options to cover all customized products your store can think of.
The customization process is made easy thanks to Printful's mockup generator, so even when you have little or no experience, you still can make a perfect product of your own. 
Shopify integrates with almost all majors e-commerce platforms such as Shopify, WooCommerce, Etsy, and eBay.  
2. Printify
The next best print-on-demand websites is Printify. The most advanced feature of this site is to provide access to a variety of print-on-demand suppliers all around the world. As a result, you can pick the most suitable supplier to ensure fast and cost-effective shipping.
You are allowed to customize more than 300 products in many ways. There are two membership options for you to choose from, including Premium and Enterprise plans with different discounts for high turnover.
3. Gooten
Another popular print-on-demand site is Gooten. Gooten supports you to sell products in an easy process. You only need to sign up, upload the design and make your own customized product. 
All the POD services are available for use, including printing, keeping inventory, and shipment. Gooten even supports an automated delivery system and a dashboard to help you track orders.
4. TeeSpring
Teespring is one of the best print-on-demand websites that helps you make and sell designated products with no upfront cost and minimal risk. All you need is to create a unique design when Teespring takes care of fulfillment, customer support, and shipment. 
Teespring includes integration with Facebook, Etsy, eBay, Youtube Merch Self and Google Shopping.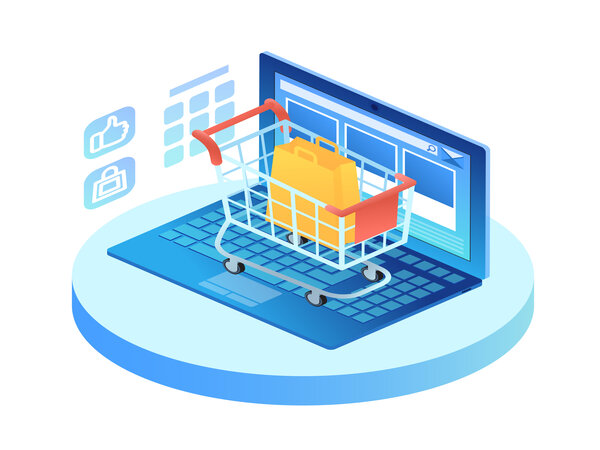 5. Merch by Amazon
One of the best print-on-demand websites is Amazon Merch. In this platform, sellers can register an account, upload designs, and Amazon will handle everything else. 
Amazon Merch will take care of product storage, fulfilment, shipping, and customer service, so you only need to worry about your design. There is also no upfront costs until customers buy your product on Amazon platform. 
The best point about Amazon Merch is that because it is a huge retail marketplace, the worldwide sale of your POD design can be guaranteed. Increase your monthly revenue through the sale of your unique designated products and produced, sold, and shipped by Amazon. 
6. TeeChip
Compared to all other POD marketplace, TeeChip runs in a quite different way as it allows you to create your brand by offering a custom domain shop.  
Once you receive your own domain shop, you can start creating campaigns on TeeChip to promote your store, which is absolutely free. You can select from a wide range of products to start and run your campaigns to boost sale as well.
You don't have to pay any fee for uploading products until you make a sale here. Don't need to worry when uploading too many products because you will not be charged anything on TeeChip.
7. Redbubble 
Redbubble supports merchants to sell high-quality products with unique designs. It's up to you to choose which product you should print your customized design. The main category can be listed here are Clothing, Kids & Babies' Clothes, Phone Cases, Stickers, Wall Art, Stationery and Accessories.
Although artists can promote their store and designs by themselves, that isn't necessary to generate sales because Redbubble already has organic traffic from search engines, and has a loyal range of audience.
8. Sunfrog
One of the best print-on-demand websites that helps merchants sell POD products is Sunfrog. The whole selling process is super easy for both beginners and experienced artists. Firstly, you need to sign up as a seller or an artist, upload your customized design on the products and display it on the Sunfrog marketplace. 
Sunfrog also offers an affiliate program that allows you to make money even if you are selling others' designs. This way you make a commission on each sale even when the design doesn't belong to you.

IV. Things you should consider when you choose the best print-on-demand websites
1. Product quality
While your design might be the first thing that attracts customers, it is indeed the product quality that helps you build a long-lasting customer relationship. Therefore, the first thing you should take into consideration when choosing your  best print-on-demand websites is the quality of printed products, as this is the thing customers will care about most when they buy any online product rather than the design.
2. Delivery time 
Slow shipping time is also one frequent reason that leads to high order return rates. As the online shopping service is developing faster than ever, customers now want rapid shipping time when shopping online. Therefore, it's worth noting that the average shipping time of your best print-on-demand websites might decide your brand's reputation in the future.
3. Reasonable product costs
After all, the most important thing to any business is profit. Therefore, if you choose a POD site with high production costs and shipping fees, your business margin might be smaller. You should calculate carefully the profit you can make per sale when you consider the best print-on-demand websites.
4. Print options
Each print-on-demand company offers a variety of printing options for different product types. Your business niche will decide which best print-on-demand websites is the best fit for printing and customization.
Wrapping up!
Print-on-demand is promised to keep on growing in the near future, especially when the internet opens the door for online shopping all over the world. Each print-on-demand site has its own features that are built to fit certain business niches and demands. It's up to you to decide which one will be the best print on demand websites for your business to make the most profit. We hope this article can help you narrow down the options when choosing your best print-one-demand sites.