Looking back to the 2021 year with many trendy graphic designs for social media posts, we can see those trends have played an important role in your marketing strategies as well as building relationships with your customers. 
What's next? Check out the top 12 on-trend graphic designs for social media that will dominate the year 2022 in this article!
1. Flat icons and illustrations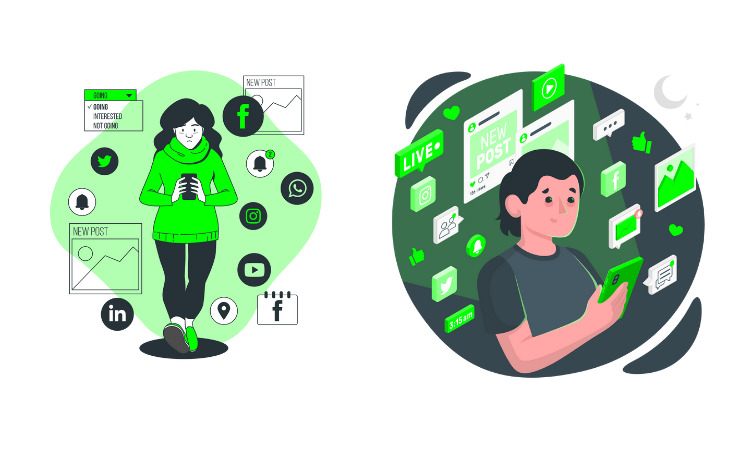 Not every audience can bear with a wall of text on your social media. Especially when you want to present some abstract idea, a post without illustrations and flat icons may not help retain your customers. Adding icons or creating illustrations to your design post can turn some cumbersome topics into vivid information, thus encouraging your customers to scroll for more posts. 
For this style of graphic design, do not try to add many icons or vectors into your post but rather make it look unique and make sure it's related to what you want to convey to customers. Some sources for you to browse for free icons and illustrations are freepik, storyset, undraw, opendoodles, etc. 
2. Text-heavy videos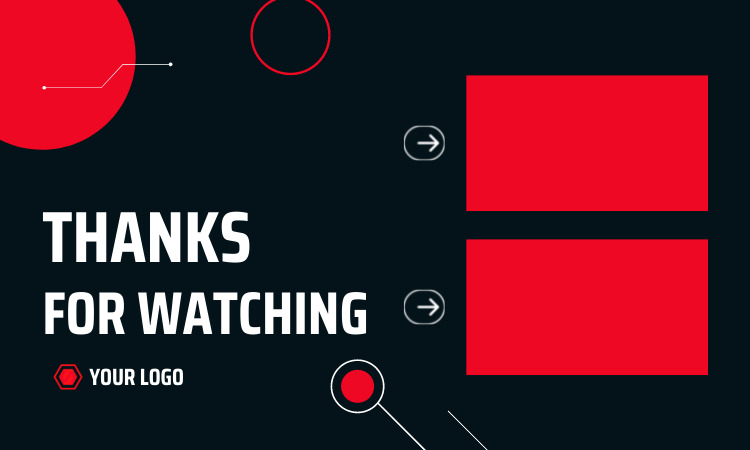 If you need something new to present your content on social media, videos can be a choice. An ideal text-heavy video may consist of outstanding and catchy headlines, branded colours and easy-to-read fonts, and a Call To Action statement to attract customers. 
You may think that a video without sound or subtitles may not retain your audience. However, if you know how to apply these trendy graphic designs and credible video editing programs, you can attract up to 65% of visitors to watch your content until the end!
3. Simple data visualizations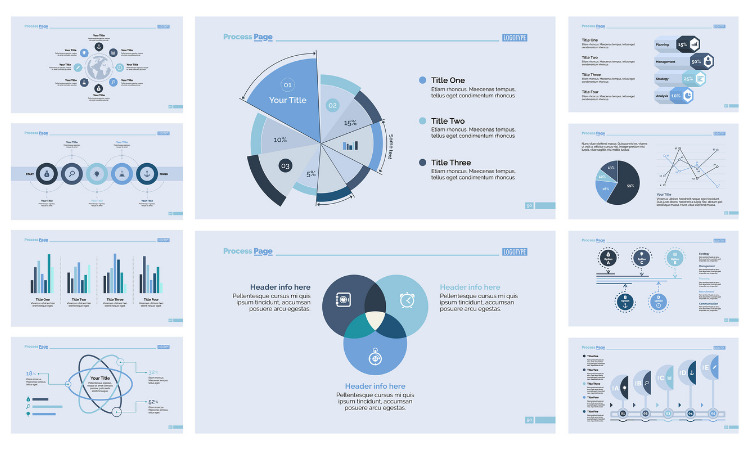 Infographics, Charts and graphs, Diagrams, Maps,… All of them are simple data visualizations that you can utilize in your graphic designs. This can be considered a win-win situation when you have a chance to make quick decisions based on the visual data you draw while engaging with your customers coherently and briefly. 
When applying graphic designs for social media through data visualizations, remember to provide credible and outstanding data if you want to retain customers via real statistics. Don't get your audience confused by providing various charts of data. Instead, choosing the best one with clear fonts and colours as well as highlighting important information you want to convey will increase the percentage of customers staying longer for your social media. 
4. Geometric patterns
Basically, geometric patterns and graphic designs for social media use shapes and lines to retain your visitors. Acknowledging the shape of psychology to create content can inspire your audiences to browse for more products. 
For example, geometric designs with squares or rectangles represent the stability, reliability or connection with structure and strength, while rounded and curved shapes show harmony and creativity. Therefore, choosing shapes and lines to create your design also depends on the purpose of your business or related to customer insights. 
5. 3D Design Elements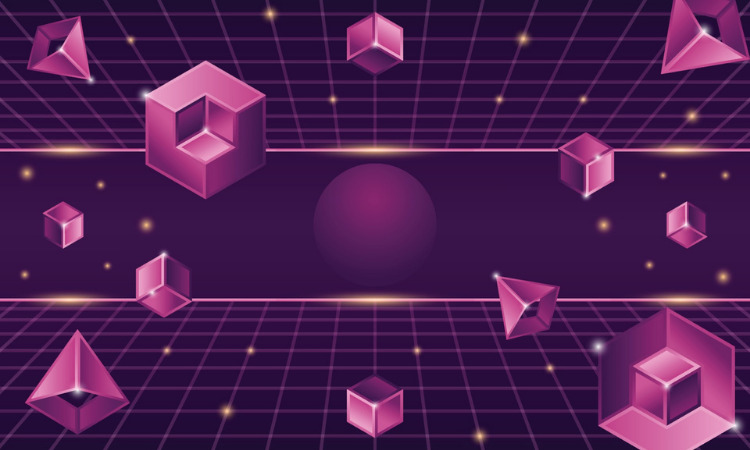 3D graphic designs for social media is not a new trend. However, due to the existence of various easy-to-use 3D rendering tools, designers at the beginner level can also create stunning 3D designs while showcasing their content. Some trendy websites and programs for businesses to try are Canva, Figma, Adobe Illustrators, Sketchup, etc.
As expected, 3D modelling is beneficial to making your packaging outstanding or promoting products. 3D elements are also crucial for print-on-demand business when showcasing product demos and helping customers visualize what you are selling. 
6. Graphic symbols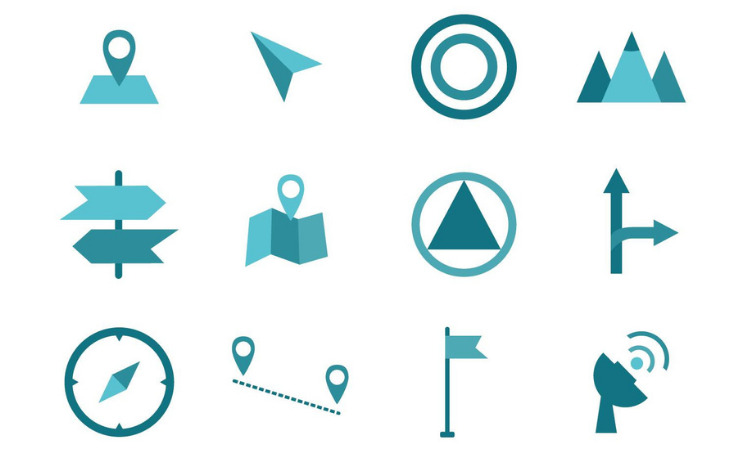 By knowing how to create symbolic graphic designs for social media, you can communicate with customers by representing your brand identity or telling your company history through simple but effective symbols. 
In 2022, designers will use symbols to build distinctive and adaptable online designs. As an example, consider medieval crests, deity symbols, and other traditional aesthetic effects. It is time we used symbols to educate customers about our brand in a more professional way!
7. Inclusive designs
According to the University of Cambridge, inclusive design underlines the importance of recognizing user diversity in guiding these decisions and, as a result, ensuring that as many individuals as possible are included. User variety encompasses a wide range of capabilities, demands, and goals.
Therefore, the key to mastering inclusive graphic designs for social media is to focus on diversity. This type of design may be suitable for some celebrations, such as LGBTQ+ Day, Black Lives Matter, World Inclusion Day, and so much more. Although those special days are not holidays, they bring a specific, meaningful message that you can utilize to tell your brand stories or celebrate with the community. 
8. Branded Memes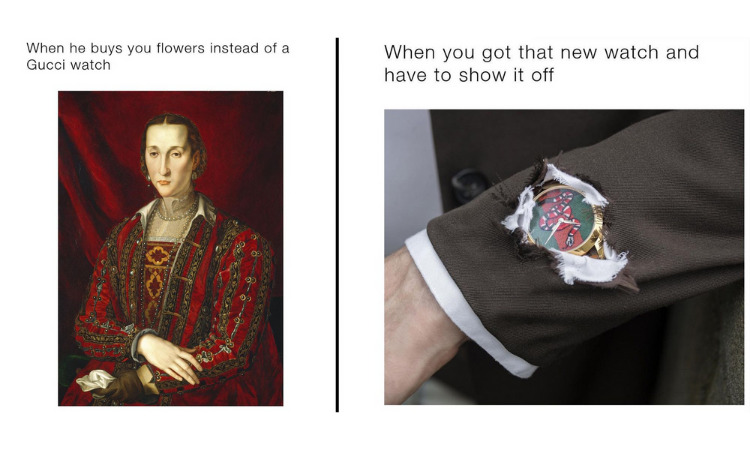 Memes are, actually, not a graphic at all, but it works as effectively as other graphic designs for social media. Branded memes can be any memes related to your brand identity, products that customers love, or upcoming deals.
Take Gucci's 2017 #TFWGucci campaign as an example, which chose to attract customers while collaborating with artists and creating a sense of humour through relatable memes. Using branded memes means you have to understand your target, keep up-to-date with the latest trend, and don't forget to focus on marketing purposes as well. 
9. Nostalgic Retro Design
Recently, designers have brought back the retro vibes on their graphic designs for social media with vibrant colours and chaos of fonts. Following trendy fashion styles, the 70s and 80s elements can also be applied to attract customers. 
Canva's design inspiration once showed that designers could fill their products with emotion and sentimentality that connects with their audience and generates a joyful experience by tapping into people's yearning to feel a sense of connection, significance, and security. 
In order to create a retro-inspired design to catch up with 2022 trends, take into consideration your colour palettes, research vintage elements and apply fonts that bring the vibes. 
10. Serif fonts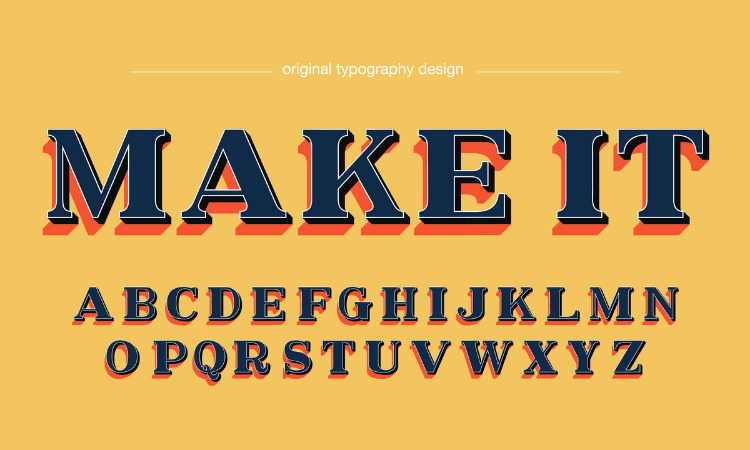 "Old but gold" is what we can describe Serif fonts in the 21st century. In each phrase serif fonts create, they conjure a sense of nostalgia while also exuding elegance. That is why businesses have found that using serif fonts in the design of their landing pages enhances the importance of security and credibility.
Print-on-demand businesses can consider using serif fonts to enhance customer trust through logos, printed designs, posters, and other professional, relatable social media posts. 
11. Muted colour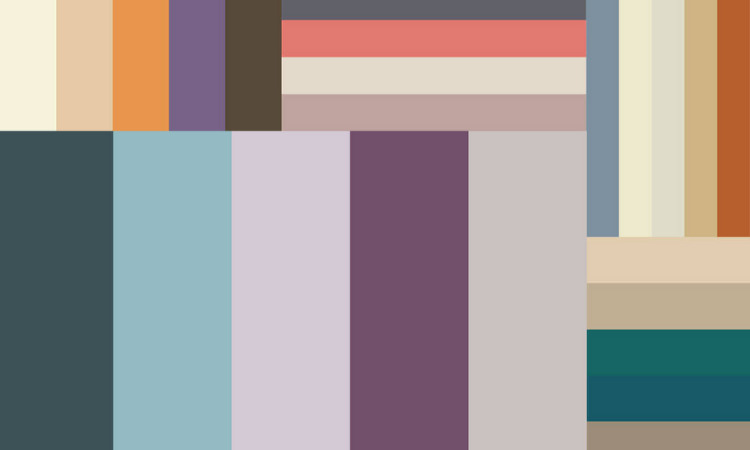 Muted colours are those that have low saturation. These are muted, dimmed, or greyed-out hues that are not brilliant. 
So, what makes those "dull" colour palettes become a trend in 2022? For the print-on-demand healthy and fitness category, applying muted colour graphic designs is perfect for highlighting the sense of organic and authenticity. 
Take a look at Linkedin, which chooses a muted blue tone of colour, making the website more light and credible. Therefore, using subdued colours can merge well with your content, thus making your social media more outstanding towards customers. When used as a background, these colours help text pop out on any graphic designs for social media posts. 
12. Social media slide decks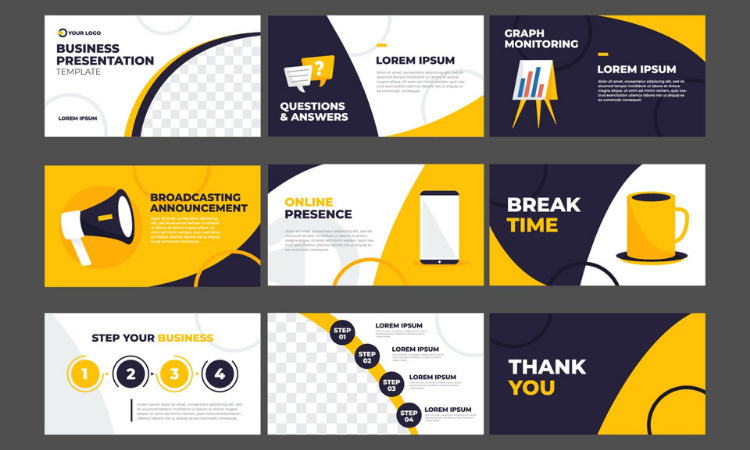 Slide decks are designed for social media with well-organized and stunning elements making your posts look like a professional presentation. To put it simply, sliders can help redevelop your essential information from blog posts or even to sum up an article. 
Applying slide decks and graphic designs for social media are very advantageous for motivating your followers to take action without the need for a direct link. They may be utilized effectively by print-on-demand firms when introducing items since they communicate messages in simple visual effects as well. You can enhance audience engagement by using videos or images created with their assistance.
Wrap up!
After checking top graphic designs for social media, have you identified your design styles for the following outstanding posts? 
However, applying all the trends is not a good idea. We suggest you select the most suitable designs for your website in order to enhance brand awareness and engage with your audience. Best of luck!