This documentation will guide how to connect Podorder system with Amazon Integration.
I. Register Amazon Seller Accounts and Fulfillment Service
1. Register Amazon Seller Accounts
Podorder supports managing your print-on-demand business on Amazon. Sellers can manage products, orders, fulfillment, and tracking support from multiple Amazon businesses.
To create Amazon seller account, see more ->
How to create Amazon sellers account Tutorial
2. Register Fulfillment Service
Go to the fulfillment website and sign up for an account.
3. Connect a fulfillment Provider with Podorder Hub system
Dashboard > Fulfillments > Connect with Fulfillment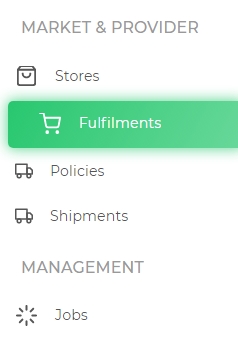 Connect with fulfillment provider: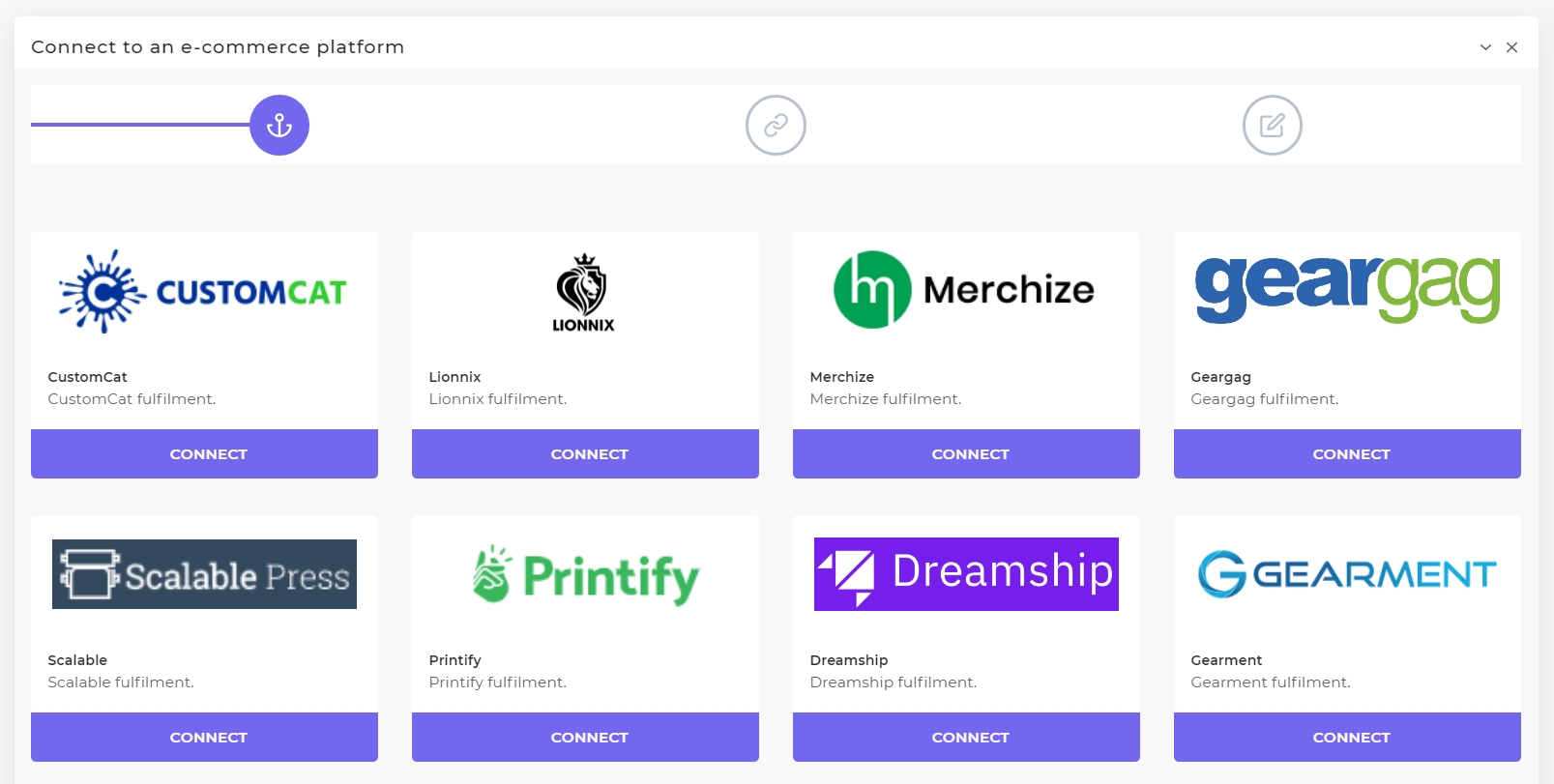 II. Connect Podorder Hub with Amazon stores
Install and connect the Amazon Podorder Addon with Podorder
The Podorder addon extension acts as a bridge between the amazon website and the Podorder hub. Help import Amazon orders to the Podorder Hub, manage fulfillment at the hub, and copy the tracking code from Amazon stores to the Podorder system. Then the Podorder system will send the tracking code to the customer and support the customer at the system.
Step 1. Go to chrome browser or Firefox extension, add an addon extension and Install for your browser
Step 2. Login Amazon store on the browser which has been installed with Podorder addon.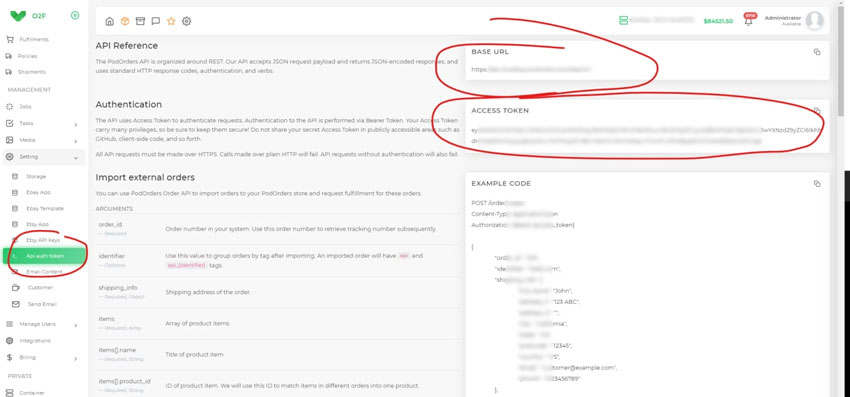 At Podorder hub, on the Dashboard > API Auth Token to copy API link and API Key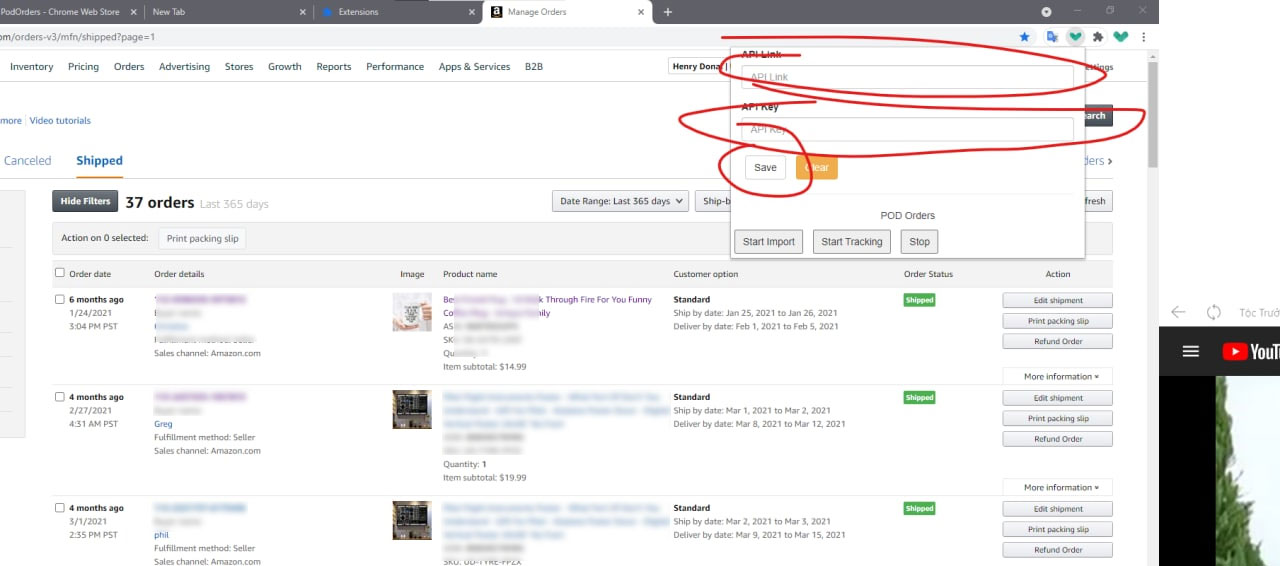 At Podorder extension, paste API link and API key and Save
III. Get Amazon Orders and Tracking Orders
1. Export Amazon Orders to Import to Podorder System
Login Amazon Store > Manage Orders > Open Podorder addon, Start Import Orders to Import order to Podorder hub.
The color of the order will turn yellow when the order is imported successfully.
This addon helps to copy and paste all order information: Product image, product name, address, customer's shipping information, and automatically saved to your Podorder hub. At Podorder hub, you can manage all Amazon orders from multiple selling accounts.
2. Fulfill the Amazon Orders
2.1 Map order with fulfillment
Thanks to being imported all Amazon orders and manage them at the hub. For each order, the seller can map directly orders with any fulfillment provider (the fulfillment list that has been integrated above). After mapping with fulfillment, Podorder system will send automatically order information to the fulfillment service.
2.2 Manage Order fulfillment
At Podorder, sellers can manage entire Amazon orders fulfillment. Order fulfillment status:
Order status
Processing
In Production
Fulfilled
Completed
Pending
Refunded
Canceled
Trash
3. Manage Orders Tracking
When orders have been fulfilled, sellers have to go Amazon store > Edit Order > Get Tracking > Save Tracking
After clicking "Save tracking" > Copy order tracking and paste automatically to Podorder system. When importing all order tracking to the system, sellers can manage order tracking and send a message tracking to buyers. Manage and control whole support on your multiple Amazon account business.