POD (Print on demand) industry is a booming sector of the e-commerce world, and with good reason. It's a simple method to get your items into people's hands without having to worry about inventory or logistics. It also has a number of advantages for both store owners and customers!
We've made a list of 10 successful print on demand store examples that are prospering in 2021 to help you make sense of an ever-growing sector. But first, let's review what print on demand is all about:
About Print on Demand
In the fast-paced world of E-commerce, Print On Demand is a popular approach to create and sell items. POD works by printing your own designs on items such as t-shirts or coffee mugs, which are then sold on your website. After someone buys one, your provider will print your design on it before sending it to the customer. Take a look at the following infographic: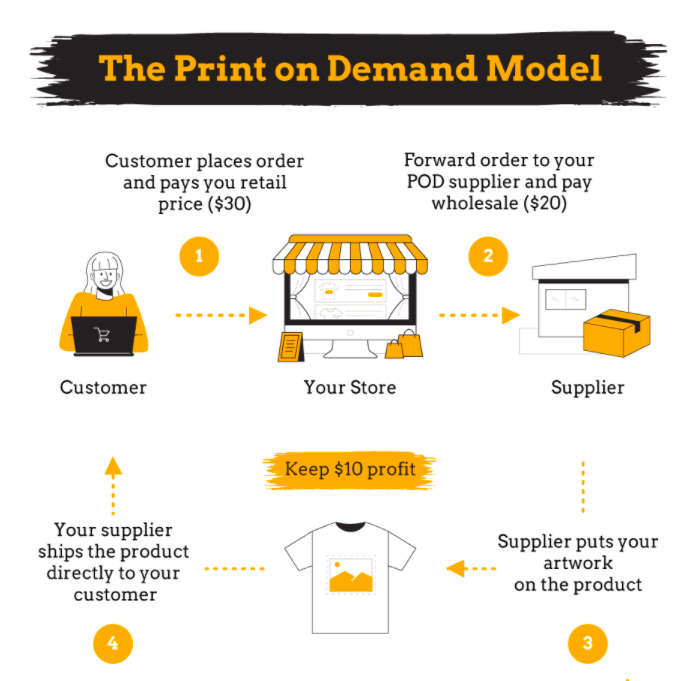 What is the most enjoyable aspect of this process?
You don't have to spend more funds on things that may or may not sell! This also means that you'll be able to focus on marketing and design work while the procedure is mostly hands-off.
List of 10 Print on Demand store examples
Learning from others' experiences is one of the most effective methods to own a successful business. This is also true for print-on-demand businesses, so let's have a look at 10 famous print on demand store examples! You'll understand what makes this store stand out among its competitors and eventually drives it to success as we go through each firm in depth.
Are you prepared to be inspired? Let's get started!
Afro Unicorns is one of Print on demand store examples created by a single African American woman who was motivated by motherhood and the women in her culture to use clothing to promote a sense of belonging.
Their success stems from their well-coordinated designs and a compelling message of solidarity for other women in similar situations. One of the apparel's biggest assets is its community-driven effect, which helps the company's entire goal.
What makes this Afro Unicorns example outstanding?
Powerful descriptive words
The words are frequently used by Afro Unicorn:

They linked their unicorn logo to an inspiring message for women of color. This helps their target audience feel better about themselves, and when they wear their gear, they may believe in sense magic since they now feel like they belong to something bigger than themselves.
You can accomplish the same thing by putting out terms that you want your shop to be connected with and using them anywhere you can. The more people who see it, the more they will associate those terms with your shop.
Branding Colors
Colors like browns and blacks are used extensively by Afro Unicorns. They did, however, employ reds and blues deliberately to make the brighter colors pop more than the darker ones.
You can do this by utilizing specific hues sparingly, such as red. So, when you have something significant to say in your store, that hue will stand out without the need for capital letters or other means of expression.
About Ferris Built
Lindsey founded Ferris Built after being forced to reassess her life after losing her event production company due to COVID-19. She embraced her creative side to establish her own fashion company, which leverages POD to help her boast a catalog to be proud of, inspired by women's problems and current events.
What makes this Ferris Built example great?
Have an impactful 'why'
This implies that every company is conducted for reasons other than profit. Lindsey's tale is about grief and adjusting to a new way of life, similar to how COVID-19 affected everyone's lives.
People love to hear a good narrative about overcoming hardship, and Ferris Built is founded on that. You can also apply your 'why' to your business's 'about us page, which will assist your consumers to say, 'This store is for me.'
Supporting a great cause
People don't like to support businesses; they prefer to support people who are using their businesses to help others. This is especially true when it comes to Ferris Built's support of autism and mental health awareness.
25% of their profits will be donated to an Autism Empowerment group, which is a major part of their brand impression and makes you feel like your money is being put to good use.
You may put this into practice by seeking local organizations that share your store's goal and donating a portion of your revenues to them. You may take things a step further by collaborating with them as well.
About Black Fathers Exist
Charles, a single parent, is the creator of Black Fathers Exist. His issue was hearing stereotypes about African-American communities lacking father models owing to a lack of duties.
Charles recognizes that this is an unjust mentality, and he wants to show the world that members of his culture can be caring and responsible parents to their children. That is why they have clothing designs to demonstrate that they are excellent fathers and can set an example for their children.
What can we learn from this store?
Have a powerful message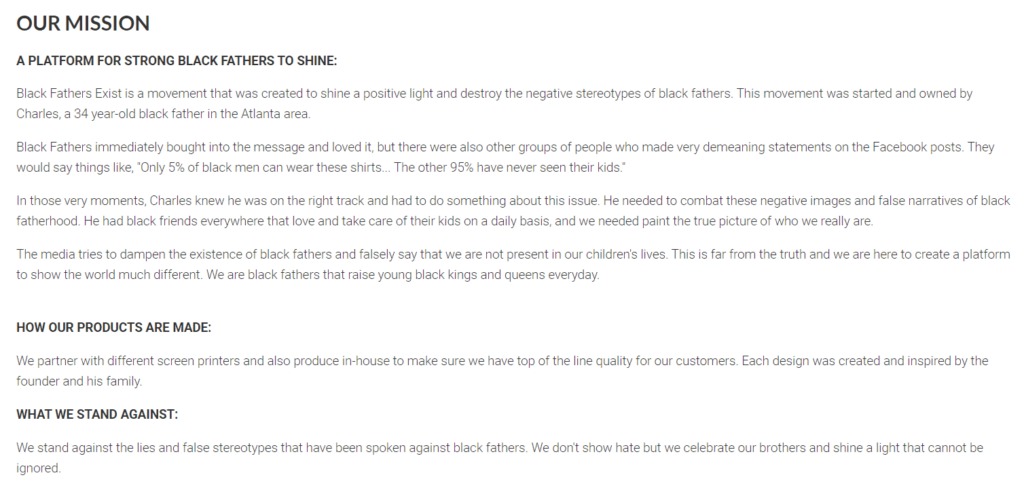 Emotions are there in every excellent narrative. Hearing all the cliches and jokes about forsaking their new family irritated, saddened, and infuriated Charles. He is debating this notion by demonstrating it in his community of African American men who support their families.
Talking about what annoys you in your profession may also send a powerful statement. Now you can show your consumers what it would look like if you were to do it, and they will be more inclined to support your message.
Have a simple navigation system
To get to your chosen website conclusion, you must travel around and click on buttons on all websites. By keeping their designs basic and arranged in their header, Black Father's Exist makes it incredibly easy to locate and buy them.
About The Happy Givers
The Happy Givers is also the next Print on demand store example and a non-profit POD store for clothes and accessories that benefits The Happy NPO, which assists people in Puerto Rico find a place to call home.

What makes this The Happy Givers example great?
Combine your store with another company.
Their success is due to the fact that they are able to build on the success of other organizations with similar missions. As a result, if one nonprofit succeeds, the other will inevitably follow suit.
Consider how you may incorporate a side business into a POD firm if you have one. Your consumers would be delighted to help you in various ways, and this makes it much simpler.
Use an ambassador reward system
Rewarding individuals who are most involved in your business is a great marketing strategy. This might be in the form of special items or discounts that they can use to promote your products on your behalf.
As an ambassador, you have complete control over what they can and cannot do, and it's a fantastic opportunity to share your accomplishment with those who made it possible.
About Famous in Real Life
Pop culture is a joyful phenomena that brings people together to laugh and share common interests. Famous in Real Life (IRL) employs pop culture-inspired graphics to highlight the customer's personality and interests.
What makes this Famous in Real Life example great?
A photo gallery
Photos of your items are essential for determining whether or not they are worth purchasing. Famous IRL understands this, as seen by a gallery page showing their appeals in action. Having your own gallery creates a fantastic website where you can showcase all of your items in one place.
Have a mystery product

Finding your next shirt might be tough with so many styles to pick from. That's why Famous IRL offers a mystery shirt option, in which you may purchase a shirt from their collection that will be shipped to you at random. It's thrilling to figure out what it may be, and it adds to the mystery's enjoyment factor.
About GearBunch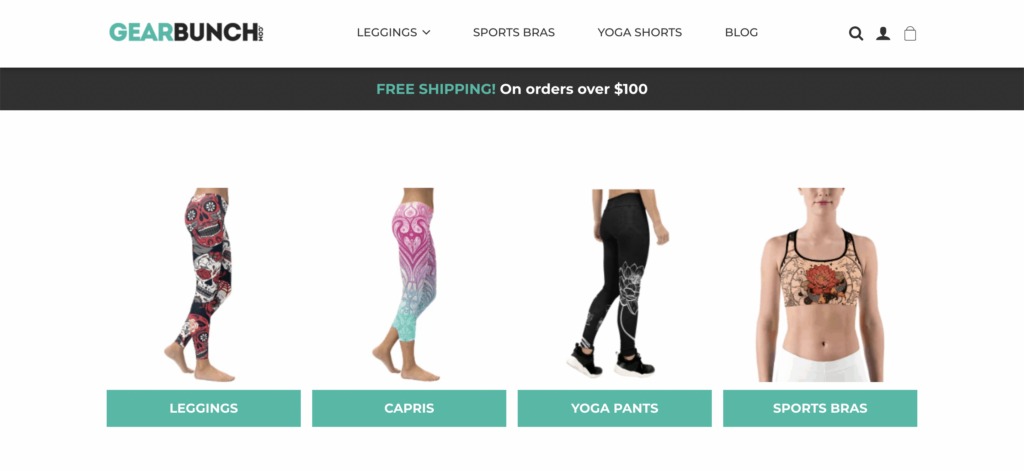 Women's yoga trousers and leggings from GearBunch are well-known. It all started with a quest to discover the greatest exercise pant styles. It turns out that figuring out the solution might be beneficial!
What makes this GearBunch example great?
Product images
When you look at a legging product, the photographs will show you a selection of angles that capture the entire 360-degree view of how it appears. This is beneficial since you can view it from all sides to determine how well it will appear.
When you view a product, it's usually just a front-facing image of it. We can utilize additional views of it with this concept to ensure what it will actually seem like without surprises. So, when you're introducing a new product to your business, consider whether it needs more photographs.
About PassionFruit
PassionFruit's simple yet powerful narrative is about using apparel and accessories to show pride all year long. They also give back to the communities that have influenced their work.
What makes this PassionFruit example great?
Use a blog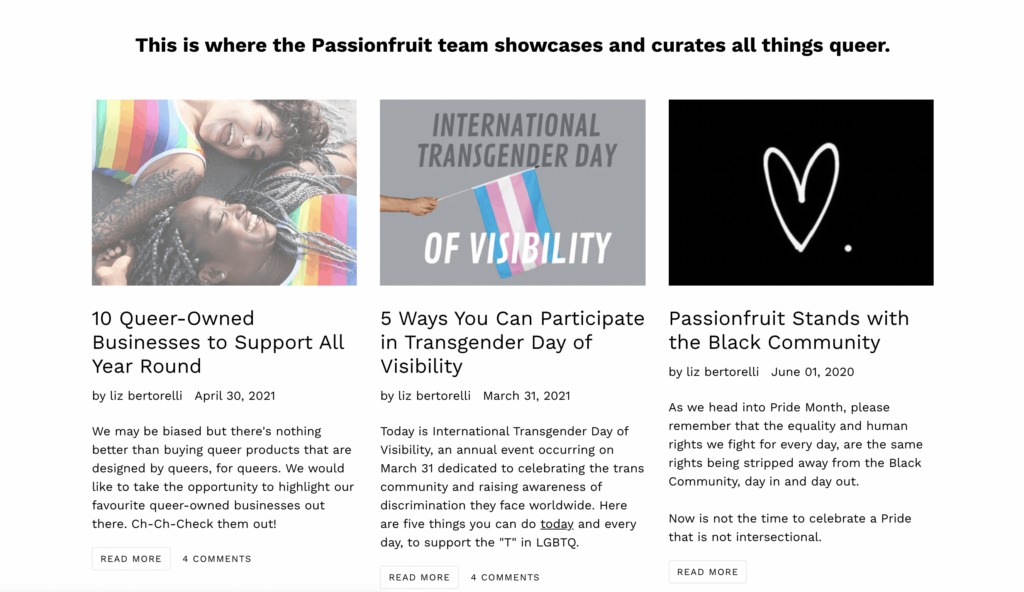 Passionfruit is so active in the gay community that they want to promote the culture of fashion, music, art, and cinema on their site. As a result, the focus is on the individuals connected with the business rather than the brand itself.
They even want to help other firms in the same sector since, rather than being afraid of competition, they want everyone to thrive!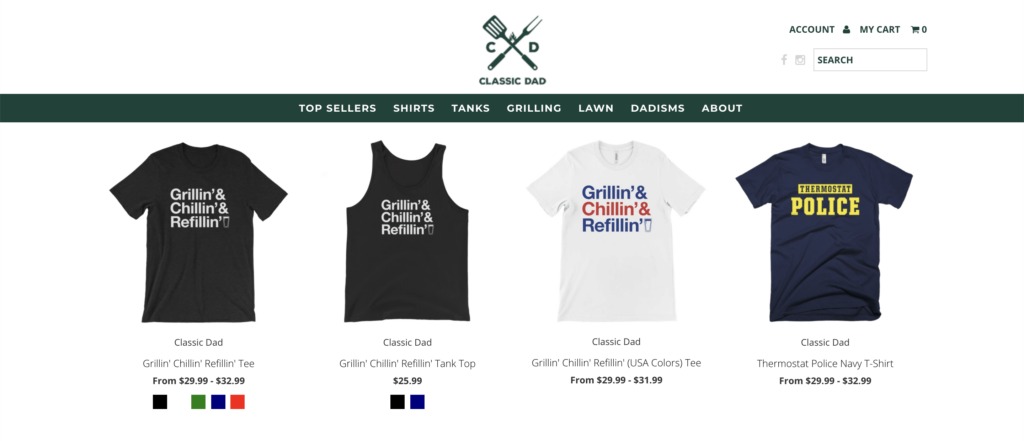 The Classic Dad is a t-shirt collection that pays respect to the classic Dad style of jokes, grilling, parenting and being a family guy. There's success in every father who sees a little (or a lot) in these hilarious drawings. Which are filled with comedy and classic phrases.
What makes this The Classic Dad example great?
Website design simplicity
Because the website is the sole storefront for a POD firm, web design is critical. This implies that how well you make it is a significant determining element in your success. Because it is dead basic, the Classic Dad's design works.
The shirts are all shown in plain sight and are simple to read and navigate. There's no need to waste time clicking around or looking for what you're looking for. While this isn't going to win any awards for creativity, why fix something that isn't broken?
Vegan Savage began with a vegan lifestyle based on health and environmental consciousness. The vegan culture gets stronger as more people join it, thus this POD niche is strong.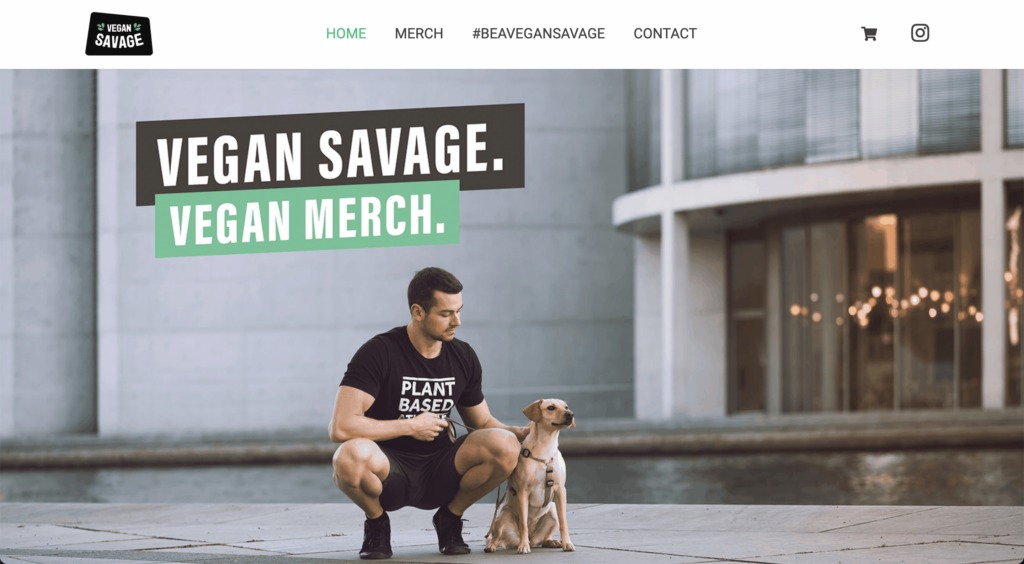 What makes this Vegan Savage example great?
Using other social media platforms
Vegan Savage excels in promoting itself through content marketing on a variety of channels, including YouTube and Instagram. This expands their reach in their aim to promote vegetarianism.
Hashtags are used
#BEAVEGANSAVAGE is a simple yet effective hashtag. Since it not only states the business name, but it also implies that you want to show off what it means to be a vegan. To a lot of people, this means standing up to the stereotype that vegans are weak because they don't consume meat.
The societal expectation that is being challenged is a fantastic approach to have a distinctive voice and be heard in society. Vegans may be proud of their health decision since others have demonstrated how beneficial it can be.
In Latino culture, House of Chingasos is a fun and playful brand. They eat, sleep, and breathe comedy, and they want to share it with everyone.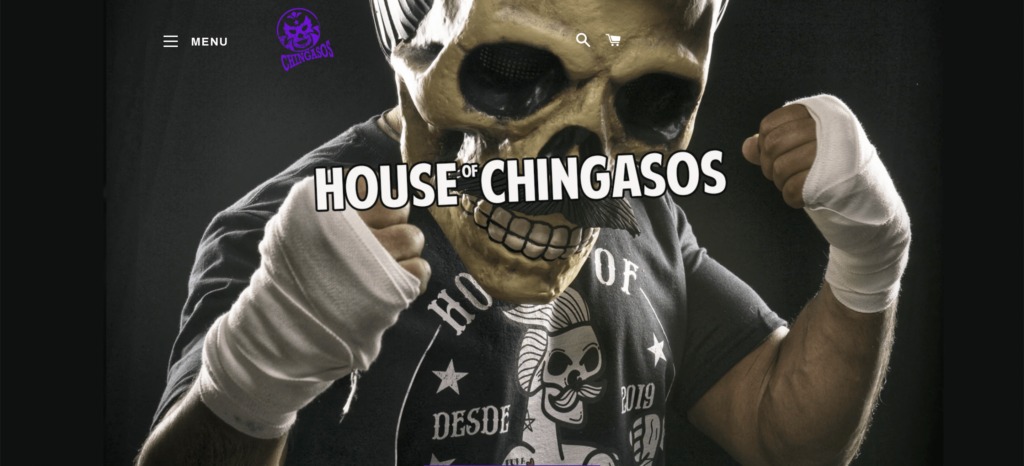 A keen sense of humor
You'll be welcomed by an aggressive design that combines a play on words with large, strong images. There's a lot of fun to be had, and it all adds up to a great experience. When it comes to comedy, it's all about bringing joy or finding a method to express yourself based on current events or cultures.
Have a well-organized design collection
House of Chingasos does an excellent job of offering a variety of product sorting options. It makes things more accessible, especially when they have a large number of designs to choose from.
How do you find successful Print on Demand stores?
That's an excellent question because Google alone won't provide you with the results you want. Exploring other POD communities is a fantastic approach to locate more successful print on demand shops. They may be found all over the internet and on social media. There are several print-on-demand communities that like sharing their success stories and are supportive of others who are just getting started.
However, the first things you see are almost always by successful account users, and you can look at their profile and other designs to discover what they're good at.
Conclusion
It's crucial to note that not every store offers every function listed here – 10+ print on demand store examples. Some don't perceive a necessity, while others may be ineffective or incompatible with their objectives.
It's all about figuring out what works best for you and your clients! Don't be scared to try new things; this is a journey, not a destination.